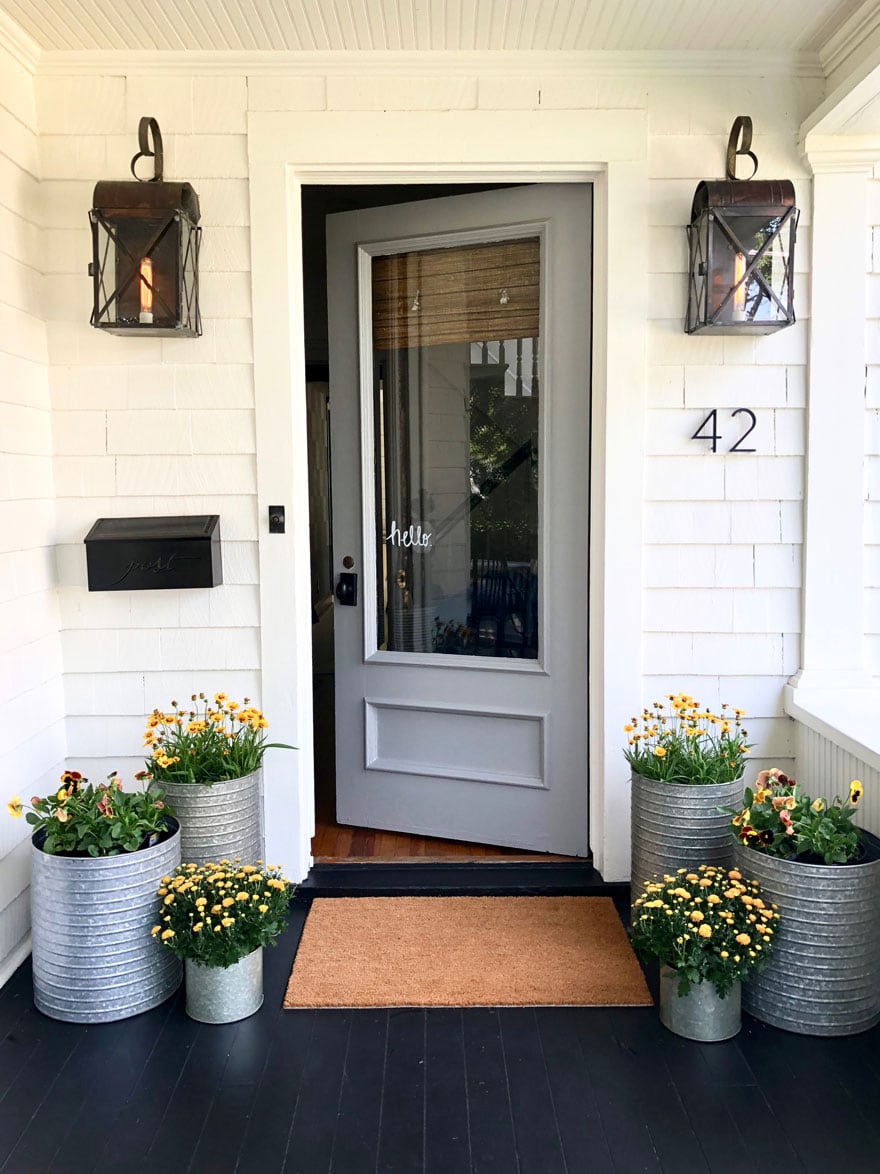 Every season is a reason to update and make a few changes on the front porch and the side door on our black garage, and early fall might be my favorite. I think because it usually means not once, but several times I can make changes that include new plants and maybe even a color change on the door!  The biggest change was of course the new hardware from Emtek.  We used the flat black egg shape for the front door and a round knob for the garage side door.  We have always been big fans of Emtek using them on our last several houses for door hardware and kitchen and bath hardware.
The Hello is simply writing on glass with A Sharpie water-based paint pen!
Our pink door continues to get lots of attention on Pinterest & Instagram
Let's face it, I did it for Pinterest!  Sort of…I also knew Madeline invited friends for Easter, so a pink door for spring seemed like a great idea. By the time Patrick came home from Syracuse in May, he was not a fan of the pink.  Big surprise!  So now it's Storm Gray and we love it!
When one project leads to another…
Don't they all? When we painted our front door Storm Gray, of course the porch floor could no longer be gray.  So we painted the floor black. Sort of a reverse of this. We used Behr Paint from Home Depot.  It has proven to be the best quality and at a great price. We used it on our garage a few years back and recently needed to do a little touch-up and we were surprised how little it had faded.
Too early for Mums?
My friend Steve (An Urban Cottage) gives me a hard time every year about my need to replace summer plantings with mums the second they arrive in the stores.  I don't know…It's like grown up school supplies.  "If I knew your name and address, I would send you a bouquet of freshly sharpened pencils." My favorite movie line. Ever. Mums and fall plantings in the color of a Ticonderoga pencil?  Why yes, thank you!
Here's how we keep our porch looking fresh
To keep the porch clean and fresh looking I use a small leaf blower almost everyday to get the dust off.  And about once a month I use this portable pressure washer that's so easy to use and it makes everything clean again.  I use Sprayway to clean our glass door and a simple solution of vinegar and Dawn to wipe down the furniture and ledges.  Check out this:  70+ Wonderful Uses of White Vinegar.
The ribbed galvanized metal planters from Rejuvenation ship free!