I Love Copper Lanterns
I've talked about curb appeal, front doors, door hardware, pink doors and making a good first impression at your front door…and what could make a better impression than a beautiful copper lantern?  Whenever I post a photo of our New Canaan house I get comments, DMs, and emails asking, "where can I find those lanterns?"  It doesn't seem to matter if the door is pink, black, or gray, or if there are mums and pumpkins, boxwoods, or evergreens in the planters…people want to know about the copper lanterns.  Keep reading to find out where to find beautiful lanterns today!
This is our current situation: the door is painted Storm Gray using Behr Paint from Home Depot. We chose the color because Caitlin used it on her house and she always finds the best colors! The porch is painted tar black using Behr Porch & Patio Paint.
A porch ready for trick-or-treaters
A black door and gray porch floor, we now have just the opposite…a gray door and black porch floor.
Black door and winter evergreens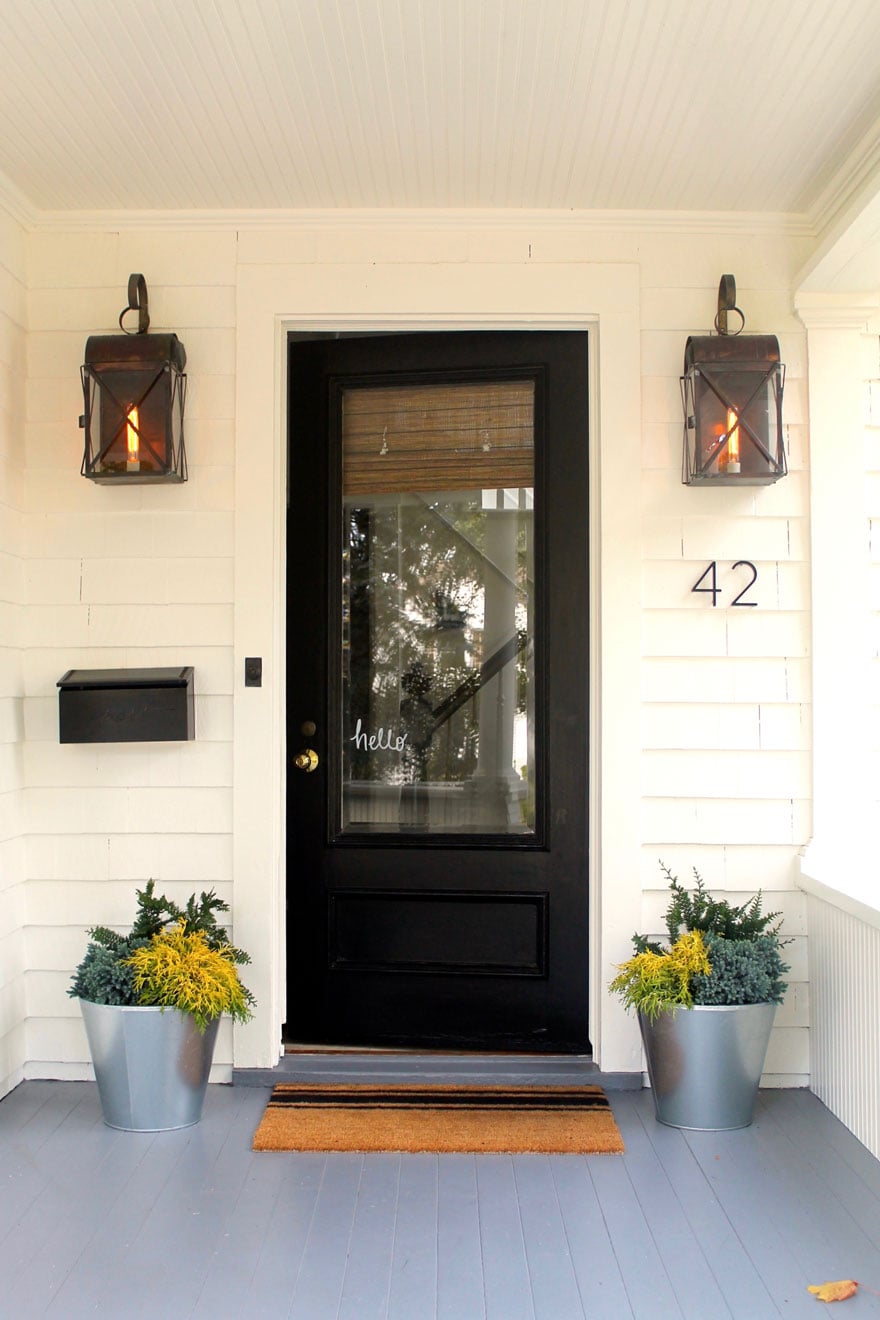 This was the first winter porch after we painted the house Could White.  I loved the small evergreens that took us from fall mums to springtime.  They are perfect for the holidays, but after Christmas they look wintery instead of holiday.  Because once the holidays are over…you'll never find a wreath on my door. I have always loved the idea of boxing day and really the only time I don't observe boxing day is when we travel during the holidays.  And I think I even took down the tree one year before Christmas when we were leaving right after school got out. Of course we had to meet the kids at the bus and head straight to the airport… We could not let them see that we took down the tree! 
The following year we used a little bit of a larger galvanized planter from Ikea and found evergreen topiaries from Home Depot.  We collected pinecones from the yard and the local park and placed them on the soil.  This helps keep the soil from splashing up in the rain in places where planters are placed in unprotected areas.  Plus, it looks wintery.
Note:  The writing on the glass door is done with a water-based wide tip Sharpie paint pen and it removes easily with window spray!
That Pink Door!
Speaking of holidays…this was our porch and front door last Easter. Perfect for Spring, but we're happy to have it back to gray. Although…pink mums and pumpkins and fall leaves would have been lovely with a pink door.
Copper Lanterns
So here's the story with the copper lanterns on our New Canaan house…our home was built in 1900 and the lanterns appear to be handmade and perhaps original to the house.  They seem very old and there are no markings on them.  We love the generous size of the lanterns and use these light bulbs to keep the look consistent.  There was a small company in Silvermine, Connecticut many years ago that made copper lanterns and I have often wondered if these were made by the local Silvermine artisan.  I guess we will never know.  You can read more about the history of our New Canaan home here  and keep reading to find out our favorite source for copper lantern today!

Bevolo Copper Lanterns
New Orleans, Louisiana
Bevolo Gas & Electric Lights is a company based out of New Orleans, LA, and they have been making copper lanterns since 1945.  I first discovered them when we were building our home in Dana Point, California. Knowing we would need quality lighting that would hold up to being so close to the ocean, we chose Bevolo. They have many styles to choose from and you can customize the size, which makes it perfect for every outdoor area where you need lighting. We chose tall traditional style lanterns called the Williamsburg for the front of the home and smaller, but similar for the back and side doors. We also selected a beautiful copper mailbox from Bevolo.  Right on their home page, Bevolo says, "Built to last a lifetime."  I love that!  There are certain things like lighting and mailboxes that should last as long as your home…not as long as you choose to live there, but as long as the house stands.  If you are in search of quality lighting, I encourage you to look at Bevolo.  It's worth the investment, because why buy something every few years when you can buy to last a lifetime?
Bevolo Williamsburg Lanterns and Mailbox
But don't just take it from me about how wonderful Bevolo Copper Lanterns are…read more here about Why Bevolo?
We are about to start a new project and we can't imagine looking for outdoor sconces for our front door anywhere else. Follow along right here and on our Pinterest board here as we begin our new project in October!

Title:
Copper Lanterns make statement at your front door
Mentions:
California House, copper lanterns, entryway, fall front porch, front porch, New Canaan House, winter front porch
Keywords:
outdoor copper lanterns
Last Updated:
September 18, 2018