I LOVE pink and have been thinking about painting our front door pink for a while now.  It just seemed like our house could be one of those houses with a pink door!  Everyone loves That Pink Door in Palm Springs so after a trip to see it for myself, we painted our door pink!  Spring seemed like the perfect time to do it and while we love it, it's only paint, so it can go right back to black in an hour or so.  But for now I'm enjoying things that are pink!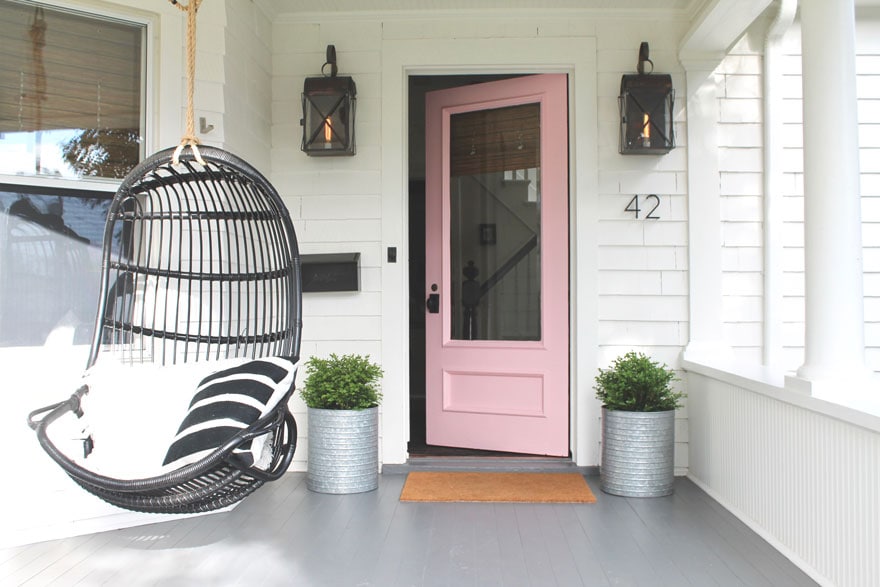 Our New Door Hardware from Emtek
But what really prompted this project was our new door hardware from Emtek! Our door is probably original to the house built in 1900, so we had to keep the lock above the new door hardware because there's no way to remove it, trust me, we tried!  We chose the egg shaped oval knob because where the door knob was placed, there was just barely enough room between the door jamb and the door.  The egg shape knob solved the problem and no more cursing when you open the door!

Tips on Planters by a Front Door
As with all project both large and small, one thing leads to another.  Of course our winter porch planters were not going to cut it, so after several trips to every nursery in the area, I found bright new boxwoods.  A type that requires part-sun and shade, perfect for a covered porch.  I use liners from Home Depot inside the tall planters and place bricks in the bottom to make it the right height.  Small clay pots also work. The planters do not have drainage holes, which is great in an area like a porch with a painted floor.  The liners drain into the planters.  Every couple of months, I take the liners with the plants out and pour out the excess water that drained into the planters.  (You don't want your planters at your front door to smell like a swamp)!
Adding Pink in the Kitchen
Pink dishes and amber glassware from Ikea mixes beautifully with a vintage stoneware plate found at Black Rock Galleries on the Fairfield/Bridgeport line in Fairfield County, CT. The cups are from The Studio Arhoj in Copenhagen as well as the Tea Tin from A.C. Perch's. 
Pink peonies look so good against our checkerboard chalkboard wall calendar. 
Happy Spring! xo annie
Keep reading . . .
you may also like these posts:
DIY Checkerboard Chalkboard Wall
Make the BEST First Impression with your Entry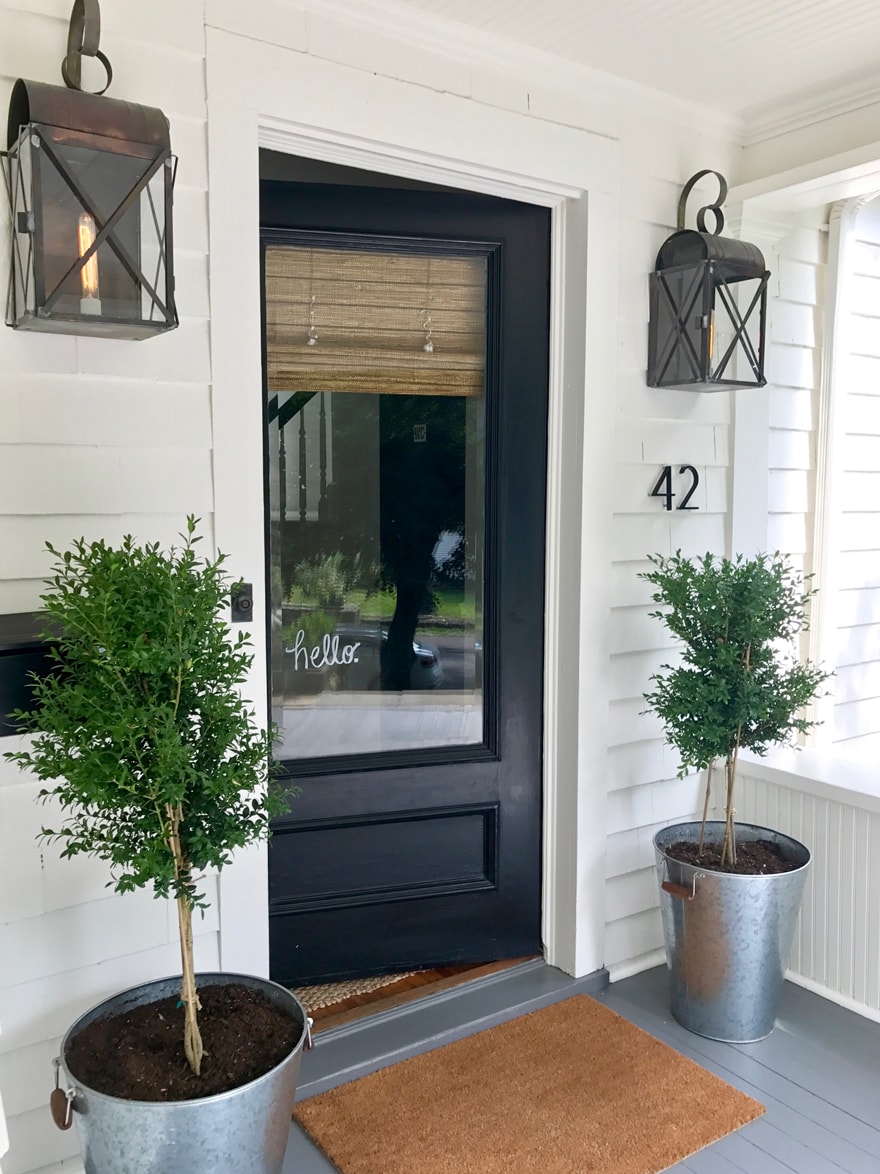 The "hello" on the glass is written with a water-based wide-tip Sharpie paint pen.