We needed a new sofa and I had heard great things about Maiden Home.  After doing my research, I came up with 9 reasons to choose Maiden Home for your next sofa, chair, or sectional.
1.  Style  2.  Quality  &  3.  Price
The most important factors were the obvious ones.  Style, quality, and price. There are a ton of options if you start searching for furniture online, but we were not going to compromise on style or quality.  Maiden Home is the first company to partner with respected North Carolina workrooms and bring their quality directly to consumers online.  They skip showrooms, wholesalers, and countless middlemen and ship their product directly from the workroom floor to your door. This allows Maiden Home to offer a level of quality previously unseen at this price point. For example, the 8-way hand-tied springs and performance fabrics on our Carmine sofa are rarely found in sofas under $3,000.
4. Choose from 4 Styles in 8 Sizes
Maiden Home has four very different sofa styles, plus sectionals and chairs.  We loved them all, but ruled out the Ludlow because it has a tufted back and we thought it would be too much with our Knoll Barcelona chairs.  We decided on The Carmine.  It's 37″ deep and you can select your length.  Normally you have the option of just a sofa or a loveseat.  But Maiden Home lets you choose your length from 60″ wide to 100″ wide.  We measured the chairs and drink table opposite where the sofa would be placed so that it would be close to the same length.  We went with 80″ and it's perfect.  Four styles seems just about right. Often you have so many choices when sofa shopping that it becomes confusing.  The curated selection of styles makes it easy to decide on a style and then the fun part comes in selecting a fabric, length, and leg options.

5. 37 Fabrics or Leather
Choose from crisp linen, luxurious velvet, tweed, leather, or performance fabrics.  For our casual lifestyle we chose the Performance Linen.  Performance fabrics repel liquids and stains can be easily cleaned with a damp cloth. Maiden Home features Crypton Home, a state-of-the-art technology for stain resistant fabrics.  It is Greenguard Gold Certified — free of harmful chemicals.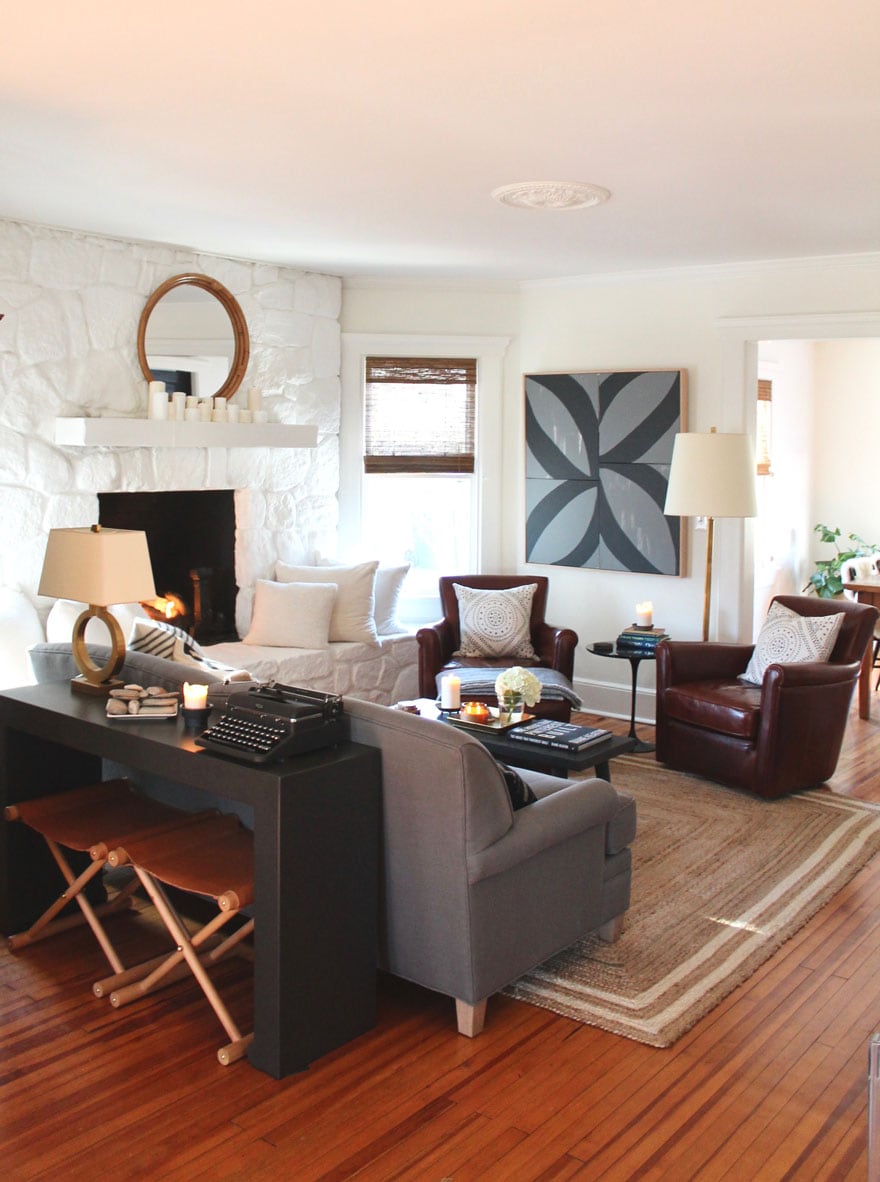 6.  Made in U.S.A
Maiden Home furniture is handmade in North Carolina which is home to some of the world's most skilled furniture craftsmen.
7.  Six Weeks from Order to Delivery
Once you select your piece and place your order, it takes only six weeks to receive your new sofa.  Along the way you'll receive emails with "Build Updates." I found it reassuring to know that everything was on schedule.  Once the sofa was complete, I received an email that let me know I would be getting a call to set up White Glove Delivery.  The delivery was seamless.  I selected a date and they arrived right on time, calling me 30 minutes prior to the arranged delivery time.  They removed all the packaging and took it with them.  They actually offered to take my old sofa to the garage!
8.  Free Shipping
Maiden Home does not charge for shipping! You'll receive your furniture with special white glove delivery with no fees.
9.  Guarantee
Maiden Home skipped the showrooms so that they could bring you designer quality furniture at a fraction of the price for custom furniture.  And they will let you return it within 30 days if you're not happy.  But trust me, you'll be happy.
So what are you waiting for?  Go online and order your samples and start measuring.  In 6 weeks your room could look beautiful! Once I received my fabric samples I started playing around with the other things I already had in the room.  Leather chairs, leather stools, an overall neutral palette with colors ranging from coffee color to black and every shade of white and cream.  While I only changed the sofa, we feel it makes the entire room feel fresher and more modern.  You can see how this room looked before right here.

This post contains affiliate links which do not affect your price.  All words and opinions are my own.  Thank you for supporting brands that help keep MLT going with fresh content!
SaveSave
SaveSave