My dear friend Cindy Hattersley of Rough Luxe Lifestyle has an Ageless Style series along with Elizabeth of The Vintage Contessa. I like fashion, I do, but I'm more of a behind the lens kind a gal.
I do have a pretty strong opinion on my own style and I love following fashion.  I collect my favorite ideas on a Pinterest board that I named Street Style.
Since I'm 5″10, it's taken me a while to figure out what works for me, fashion-wise. Over the years I've found styles and pieces that work well with my height, so I thought I'd share that today.
Lately I've been loving wearing a long or midi dress over skinny jeans.  It feels effortless, but still polished for work.  I wear a tower of black under it so when I get home, I can take off the dress and throw on a sweater or long linen shirt.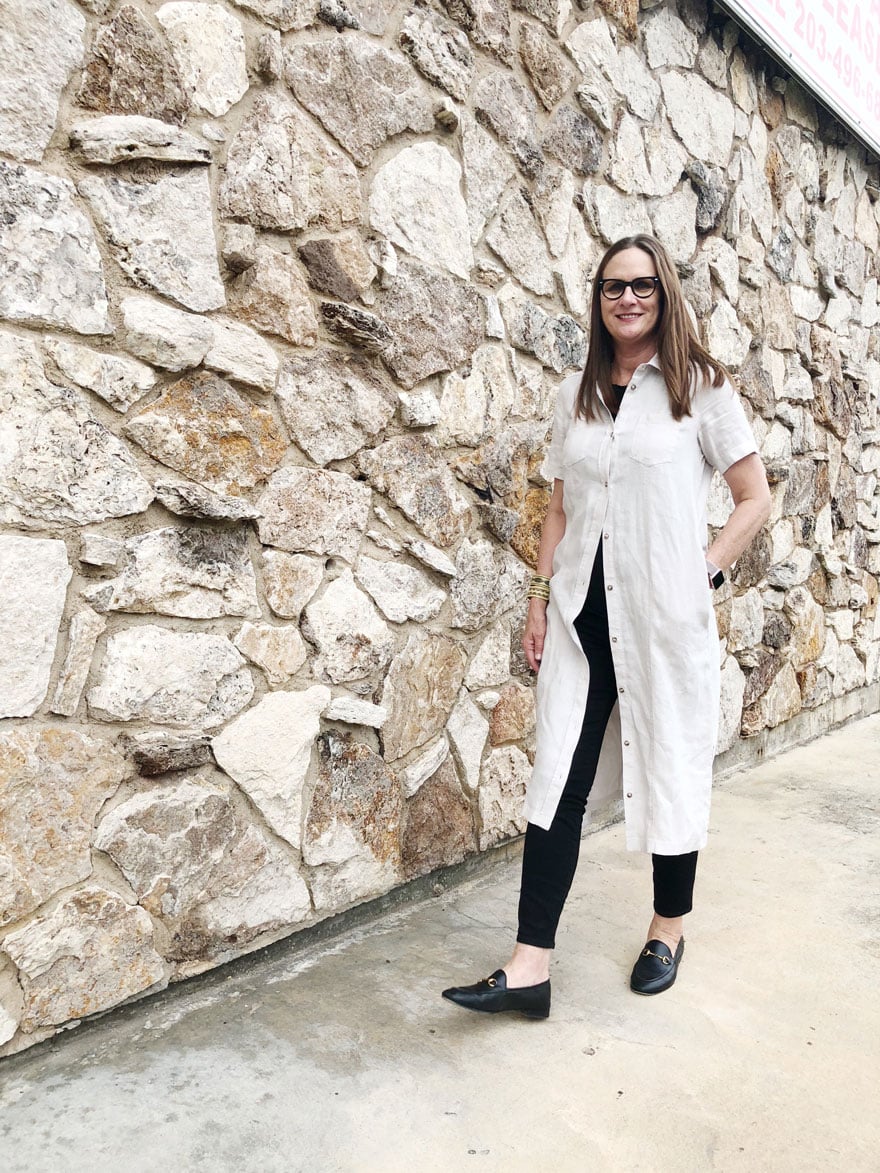 My go-to look for just about anything is a tunic over jeans.  This photo on my about page pretty much sums up my style.  When I'm not wearing a version of this, I'm typically wearing jeans (old Levis), a white t-shirt (either Rag & Bone, James Perse) and a pair of Birkenstocks or clogs.  Throw on a rain jacket or coat, a long sweater or a parka, and this would be what I wear 90% of the time.  So with that, I think you get the idea of why I'm most certainly not qualified to participate in a fashion post.  The one good thing about all of this is that it has taken me out of my comfort zone.
I personalize my own denim
I almost always wear denim.  Light, dark, black, or white.  If I have a pair of jeans that just don't seem like the right cut anymore, I'll cut the hem and either give them a step hem or just straight and fringe the bottoms.  I've saved quite a few pairs by making a slight alteration and they have rotated from the back of my closet to the pair I most want to wear.  All you need is a tape measure and good pair of scissors.  The washing machine will do the rest.  Each time I wear them I trim any stragglers and marvel at how I almost threw away a perfectly good pair of jeans. It's the little things!
Garnet Hill Linen is my favorite!
In the above photo I am wearing an Easy Linen Tunic from Garnet Hill.  Garnet Hill has the most beautiful and luxurious linen to wear and for home.  I wish I had bought this shirt in blue and gray chambray and white!  It's my favorite go-to piece for work or just about anywhere.  I give it a quick press when I wear it to work, but when I'm just wearing it for running errands, I'll just roll up the sleeves and go.  It's tunic length and has a curved hem and front, straight in back.  Although it's oversized, I feel like it's very flattering.  It's my one piece that I'll wear as a shirt or as a light weight jacket over a sleeveless t-shirt.  I hope they come up with a fall/winter version.
Check out Cindy's Post here and La Contessa's post here!
My favorites jeans, shoes and dresses: