1. Wearing Fall Colors
Fall colors look good on everyone and I love how easy they are to mix in with denim and even white jeans. I could't help myself, as we were leaving for the city and I realized I matched my door and mums, I had to ask Brent to snap a photo! This brings up something I think about…do you dress like your house? I think many of us do! We talked about it with Kelly Wilkniss on her podcast, Decorating Tips & Tricks. It's Episode 431.
Some of my fall favorites include the Everlane Cashmere Crew Neck Sweater, the Icon Denim Jacket from GAP (I've had mine embroidered by Mermade Brooklyn, The Muscle T-Shirt from Gap (I'm wearing it in copper orange and I love it! It's the perfect layering piece. I have since ordered it in black and cream). I have a few of these VOTE bracelets. I love this bandana from Madewell. It's in fall colors, but the motif is very much hanging onto summer, which I love! I just received this Chore Jacket from Everlane and have been wearing it everyday over t-shirts and will soon wear it over sweaters! It's the perfect fall jacket! The Madewell canvas tote is one I have had for 2 years, and it's on sale!
2. Melted Camembert with Rosemary Honey
A few weeks ago we had dinner with our daughter who just moved to Brooklyn from Manhattan. French music was playing that we could hear from a half a block away, candles flickering on every table, it was a lovely evening and I came away with an idea for a fun way to serve cheese as an appetizer or even a weeknight dinner for two, which is what we did. I love going out and coming home inspired to create something similar at home. Even something as simple as melted cheese with honey and bread. Sitting in our backyard with our own French music playing on our Alexa made us feel like we on vacation…even if just for an hour!
Melted Camembert is not a new idea obviously, but serving it in the wood container, I had never had it that way. We removed the plastic wrap and placed the cheese back inside the wood container and put it on a baking sheet lined with foil. It took about 5 minutes in a 400º oven. Add some grapes, prosciutto, walnuts, and honey with rosemary. I didn't have fresh , so I added about 1-2 drops of Rosemary Essential Oil to about 2 tablespoons of regular honey and it made all the difference.
Remember the napkins we dyed using a bottle of black RIT dye? We over-dyed these that we had attempted to tie-dye. I kinda love them now and need to do buy another bottle for a few more over-dye projects using old linens! Many of you said you've been doing this for years!
Rosemary Honey
3. Gayle Kabaker
I love Gayle Kabaker's art. She has six New Yorker covers and has illustrated Vital Voices: 100 Women Using Their Power to Empower. She also designed these VOTE t-shirts. I ordered one for me and one for Madeline!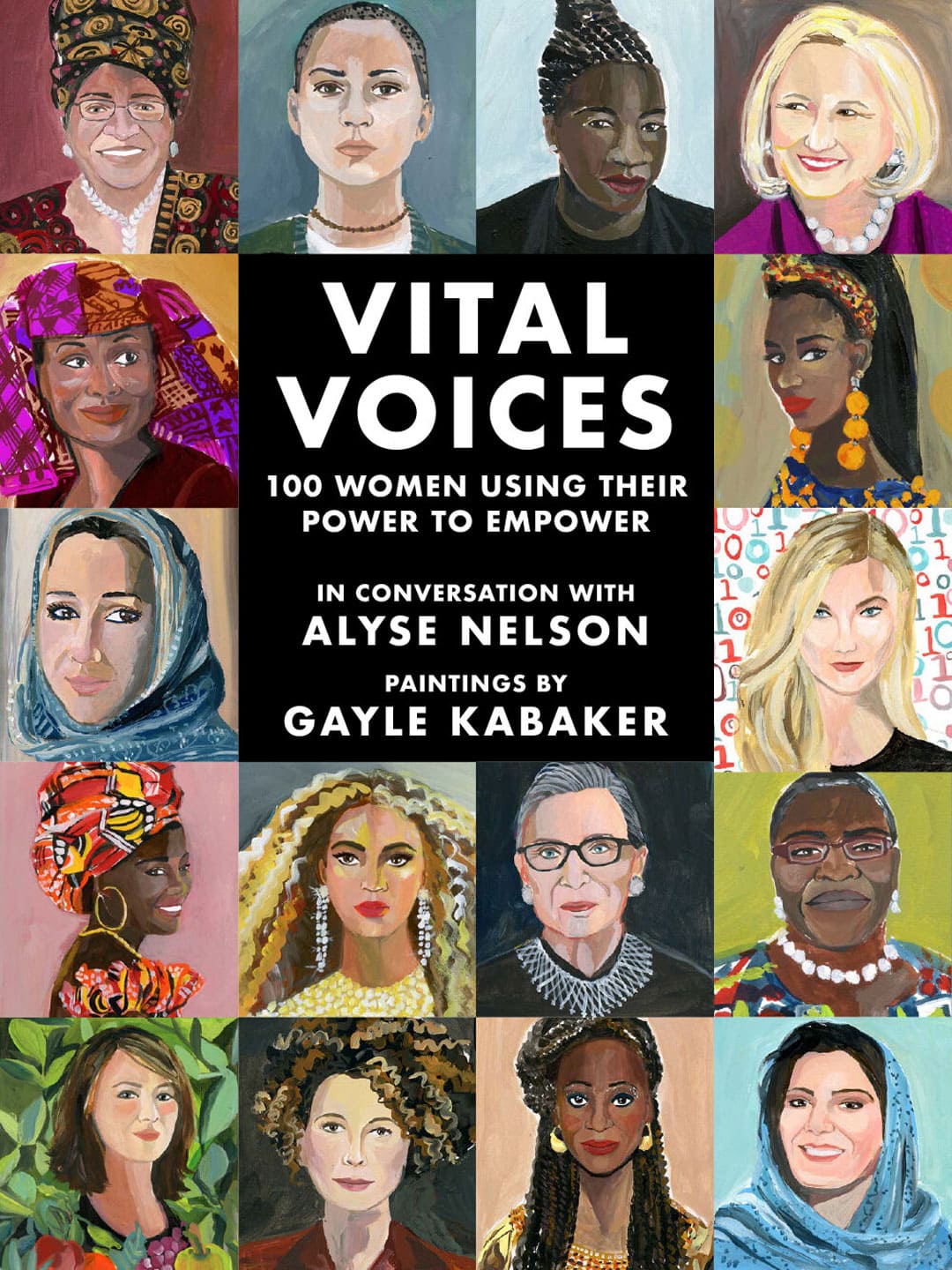 4. Slice
We all have been getting more packages delivered since March. Having the proper tool to open all of these packages is key! I discovered Slice Manual Mini Cutters and sent Patrick back to school with one and made sure Madeline took one to her new apartment. Slice tools fit nicely in your hand and they are even ambidextrous. And if you've ever seen a lefty using a tool that's made for a high-handed person, you know what I mean! The ceramic blades only protrudes 1/4″ and will last 11x longer than a steel blade. The Mini Cutter is magnetic. I keep it on side of my washer in the laundry room where I open all my packages.

5. Trader Joe's coffee vs. Nespresso
If you are a Nespresso coffee drinker then I have big news for you! Trader Joe's has started selling coffee pods and they are almost half the price. We always drank the Ristretto from Nespresso and Trader Joe's has a Ristretto Blend and we can't tell the difference! Have you tried it?
Make sure to check out Mary Ann and Cindy's five favorites this week. I love these two women and doing these posts have been something we all look forward to! We talk a few times a week and what a bright spot in the week it is to talk with good friends about favorite things! Share your favorite finds in the comments and I will include them next week. Thank you from the bottom of my heart for reading. Have a beautiful Sunday!
xo
annie