Do you ever wish you had a bigger kitchen?  I have set up 15 kitchens over the years and have enjoyed both large kitchens with big pantries and smaller homes with limited storage.  In our current home, the kitchen is the perfect size.  It wasn't that way when we purchased the home, but after a kitchen remodel and getting creative with finding a pantry in an unlikely spot, it feels like a big kitchen without adding square footage.  We just made the most with the space we had and here's how we did it!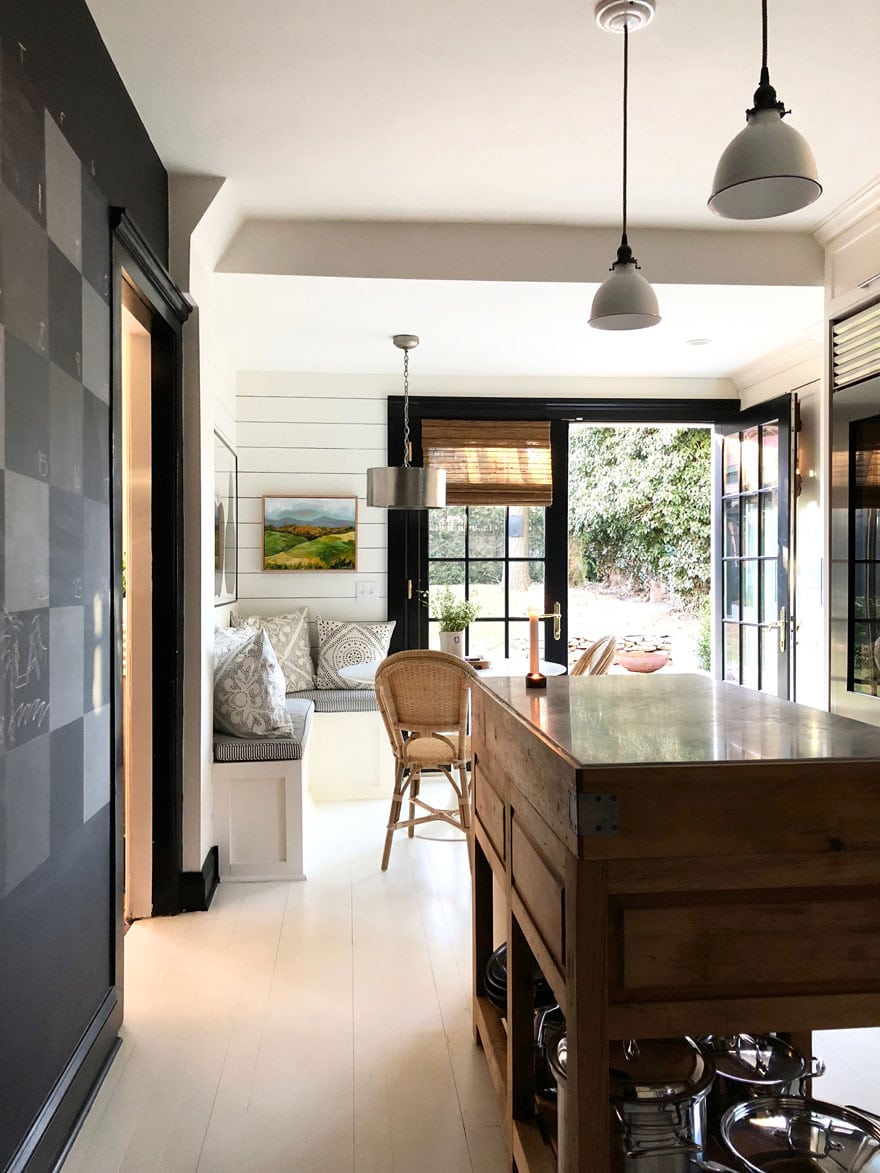 14 Ways to Make Your Kitchen Look & Feel Bigger
Some things to consider whether you are planning a full remodel, a mini makeover, or just moving things around to improve the functionality of your kitchen:
1. Edit Like You're Moving
What I mean by that is: take everything out of your kitchen and then begin to edit as if you were moving.  Throw out or donate items you never use, or have duplicates of. We somehow end up with random spoons from frozen yogurt shops, straws, etc…  Moving or renovating is one way to really address this, but I try to do it every year.  I make a list of items that need replacing, like silicone spatulas. I use these bins in various sizes and depths to keep everything organized.  We have only three drawers in our current kitchen, but we manage to find a place for everything.
2. Make a List of Everything You Need in Your Kitchen
Trust me, this may sound like a big job, but it actually makes you think about each item and where you'll store it.  This is especially important when you are doing a full remodel because this is your chance to get the storage you need.  Here's our list:
Baking Sheets (3 Sizes)
Trash Bags, Trash Can
Dish Washing Liquid, Dish pods, pot brush, sponges, cleansers
Ice Cream Scoop, apple corer, vegetable peeler, can opener, metal and silicone spatulas, Cookie Scoops, basting brush, mushroom brush, meat tenderizer, lemon juicer, cookie  and biscuit cutters, cocktail picks, tea ball, wooden skewers, sugar shaker, cake decorating spatulas, melon baller,
Olive Oils & Vinegars, Salt and Pepper
Kitchen Knives
Cook Books
Cheese Grater, Small Kitchen Scale, Bagel Slicer
Pasta Strainer
Cutlery
Bags, Plastic Wrap, Aluminum Foil, Parchment Paper
Pots & Pans – We have a combination of Sitram Cookware from France (Purchased at Bridge Cookware in NYC, now available on Amazon). We also use All-Clad Cookware.
Cake Pans, Madeleine Pans, Loaf Pan, Square & Rectangular Bakers
kitchen Twine and Tape
Jar of Coffee Capsules
Sugar, Tea
Extra Oils & Vinegars, Baking Items (Vanilla, Baking Soda, Baking Powder)
3. Consider Open Shelving
I know a lot of people either love or hate open shelving.  Personally, I love the look and it does make a kitchen feel bigger without upper cabinets.  When we renovated our kitchen I originally planned to have open shelving on both sides of the sink.  On the left side it would be very small and it would have been nice to have shelves for coffee mugs, but seeing the open space made me realize it was better to lose a small amount of shelf space for the overall openness of the kitchen.   Yes, open shelving does get dirty, but I only keep what we use on an everyday basis. Every couple of weeks I run everything through the dishwasher and wipe down the shelves with soap and water.
 4. Free Standing Furniture (Kitchen Island)
Do you have either a built-in or free standing kitchen island?  When we bought our house it had a very large built-in island with cabinets on the bottom and two drawers.  The top was butcher block that was way too big for the space.  They had two large wooden bar stools with backs and three stools.  In the corner where we now have our Saarinen table they had a very large built-in desk.  We removed both the built-in island and the desk.  We chose an island that was much smaller, but had two drawers and open storage on the bottom.  Since our kitchen only has three regular drawers, we needed an island that had drawers.  It would have been nice to have an island that could accommodate bar stools, but with the space worked and looked much better with an island that was smaller scale.
5. Small Appliance Storage
Small electric appliances like a coffee maker, slow cooker, panini press, stand mixer, and a blender take up a lot of real estate in any size kitchen. Decide which ones are absolute must haves and consider storage for the rest someplace else like a basement or garage.  Brooke uses her built-in banquette for storage. The Kitchen-Aid Stand Mixer is super heavy and so keeping it out just makes sense.  When our son is home from college I make paninis every day so I created a space on a shelf in a cabinet in the kitchen.  The slow cooker is something I only use in the winter and maybe only a few times a month, so that is stored in the basement freeing up some kitchen cabinet space.
6. The Microwave
I never understand when people design a kitchen around a microwave.  It always throws off the symmetry of a kitchen and even small microwaves take up too much counter space.  We always hide ours in a kitchen cabinet.  It's a small microwave and not super powerful, but it does the job if you must have one.
7. Store Your Most Used Pot in Plain Sight
I use my 7 1/4 quart Le Creuset Dutch Oven almost every time I cook.  So it makes perfect sense to leave it on the stove.  Mine is white and looks beautiful on a back burner on our stove. A Le Cresuet is an investment, but clean it properly and you'll have it forever, making it well worth the $300!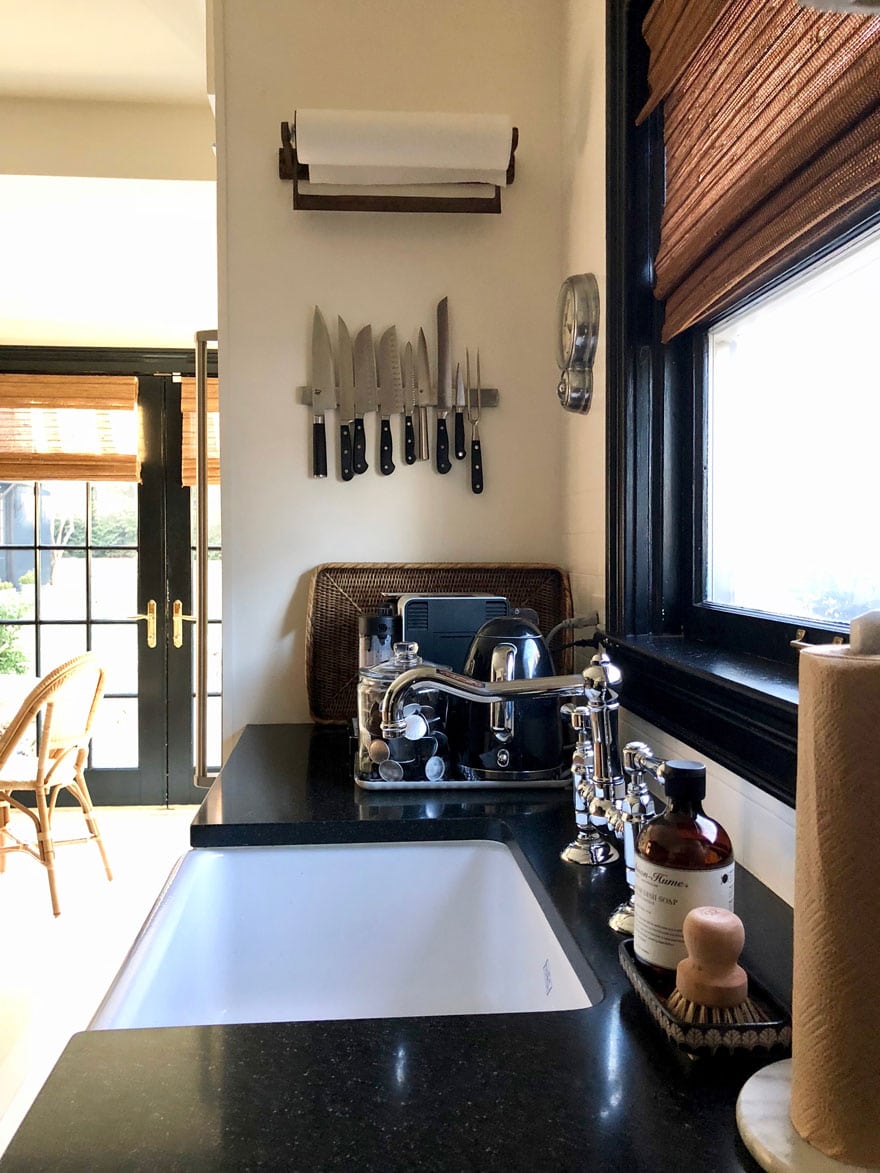 8. Knife Storage
We bought a $10 knife magnet from Ikea and it holds almost all of our beautiful knives. It frees up drawer storage or counter top storage if you normally use a knife block.  I love the look and it's so convenient. If you have small children, they are out of reach.
9. Choose Furniture Wisely
So we already talked about the kitchen Island, but another mistake people make is choosing furniture that is too large for a space.  If space is an issue, choose a table that has a pedestal. A pedestal over four legs frees up a lot of space visually.  If you have a table with legs and four chairs that means you have a total of 20 legs!  Our table is a Saarinen 42″ Round that we've had for at least 15 years. In our kitchen we made a built-in banquette. What I love about a banquette is that you can always squeeze in one more.  Four chairs means seating for four, a banquette means seating for four or maybe five or six.  The Tucker chair from Serena & Lily is a great option for a good sturdy chair that takes up little space.  (Shown here with three chairs). The Riviera chairs are also a great option. (Shown with two chairs). See this post for more round table options.
10. The Kitchen Pantry
If you are not lucky enough to have a nice big walk-in pantry in your kitchen, get creative and find a place elsewhere.  Our house is 118 years old and as soon as we moved in I noticed the ledge going down to the basement (which is right off the kitchen) as optimal space.  It shocks me that no one ever thought to use it, but by the looks of it before, it was space never considered for storage of any kind. Brent painted the shelves cloud white and added ship lap to make it extra lovely.  He added brass hooks from Anthropologie to hold shopping bags, brooms and a dustpan.  We used extra large Anchor Hocking glass jars to hold things like pasta, rice, extra flour, and sugar.  It keeps everything dry and pest free. (Below is the small pantry/storage space that we do have in our kitchen).  Blog post with our new found pantry space coming soon.
11. Under the Sink Storage & Trash
Having a pull out with trash and recycling would be wonderful.  Having trash under the sink is an option, but in our small kitchen, even that seemed to take up too much space.  So we chose an attractive trash can the sits beside the island.  The style of the Wesco suits our kitchen, but there are many options for any style kitchen.  We had our cabinet maker build a partition in the cabinet under the sink for storing baking sheets, cooling racks, and pizza stones.
12. Art in the Kitchen
I love the idea of art in the kitchen, but in a small kitchen I didn't want a lot of  little pieces.  I chose the Enzo Mari Apple Pear Poster for its graphic bold look in black and white, but then softened the look with the commissioned painting by Lizzy Love.  She is a Nashville artist so I sent her a photo of one of our favorite places (the hills behind Borgo Scopeto near Siena in Tuscany) and she painted this lovely abstract for us.  It's my favorite thing in the kitchen and since I often work at the kitchen table, it makes me happy!
13. Kitchen Lighting
Lighting is always important.  It's my number one thing to adjust when I walk in the door.  Lighting has to be soft, beautiful and the kitchen might be the only place (besides the bathroom) that I could even consider overhead lighting.  While I love the look of glass lanterns in the kitchen, I would avoid it.  It's impossible to keep them clean and having foggy glass lighting is the worst.  The pendant over our table is lovely and we moved it from our house in California because I loved it–however a pendant like the Capiz would fill the room with light instead of sending it straight down onto the table top.  We used two satellite pendants from Schoolhouse Electric, they seemed small, but anything larger would have overwhelmed the space.  We used an additional sconce over the sink.  All have Edison Bulbs for the softest light possible.
14.  Keep it Clean & Simple
When I'm photographing our kitchen for an Instagram post or a blog post I'll realize that the kitchen island is almost bare. It may have a simple candle, but that's it.  I think that's okay. Having a bare surface gives the kitchen an overall uncluttered and clean feel.  I like that. Remember Caitlin's kitchen that I posted here?  I loved how she had open shelving and one entire shelf was bare. She wanted it that way and it gave her whole kitchen an uncluttered feel to it.  So, do you love it, do you need it?  If you do, then keep it!  That's it, that's how we make our small kitchen look and feel like the perfect size! If you are struggling with a small kitchen and need some tips, leave a comment or send a few photos and let's see how we can help.

SaveSave
SaveSave
SaveSave
SaveSave
SaveSave
SaveSave