Soft and cozy lighting makes all the difference in a home and how it makes you feel overall. When you open the door, I want it to feel like you are getting a warm embrace. There's no time more perfect to get it right than in the winter! January can seem dark and long. However, with the right lighting, it can look and feel so cozy.
The first thing I do in the morning is wake up the house with warm and cozy lighting. I have Edison-style bulbs in low-wattage or on dimmers in all our lamps and sconces. I turn on lights in every corner to create that hygge feeling.
I leave lights on during the day as someone is always home. I never use overhead lighting. I feel very strongly about avoiding overhead lighting other than pendants and chandeliers.
When we think of hygge and light, we might think of candles, but it's way more than that. Soft lighting from carefully selected lamps emits the perfect light.
The Danes love their lighting. They have an obsession and for good reason. From October to March, Denmark has an abundance of darkness making Hygge a necessity. A well-lit home in Denmark will almost always have at least one lamp designed by architect Poul Henningsen.
When Madeline and I took a trip to Copenhagen a few years ago, I could not stop talking about the lighting. At dusk, I would look at the buildings and see the cozy lighting. Something a lot of people seem to sort of misunderstand the importance of in other places.
My husband and I take long walks at night in the city and in our neighborhood and we are always pointing out good (warm) and cozy) and bad (blue and harsh) lighting. This has definitely had an impact on our grown children. They do not like overhead lighting and they are always searching for the right balance when they move into a new space.
Too bright lighting in a restaurant is a deal breaker
There's a restaurant in New York that's like your neighborhood spot where the owner knows you…or does a pretty good job of making you feel like he remembers you. This is the place you keep going back to year after year. It's a little Italian trattoria with homemade pasta that you dream about. You know exactly what you'll order even before you arrive. The walls are dark red, the lighting is soft and cozy and then one day, they renovate. The lighting goes from cozy to way too bright. The white tablecloths are replaced by white paper and not a single votive candle anywhere. I'll miss this place, but that's how much lighting plays a part in the overall experience.
Equally important as the right lamp is the right kind of light bulb
I always look for incandescent light bulbs. I buy in pairs or sets of 8 for the chandelier. It's so important to use the same light bulbs in a chandelier or in pairs for lamps or sconces.
I look for low-wattage bulbs and also use dimmers on almost every lamp.

Much of our lighting is from Serena & Lily & Schoolhouse Electric
Santa Barbara Pendant in Black
We used the Santa Barbara pendant in black in our New Canaan house with the Tucker chairs.
Everly Ceramic pendants and a small lamp from Target
An Ion Lamp from Schoolhouse Electric on the Coffee Bar Shelves
Ion Lamp on Industrial Shelf in Living Room
Lighting in Primary bedroom similar to Claremont Sconces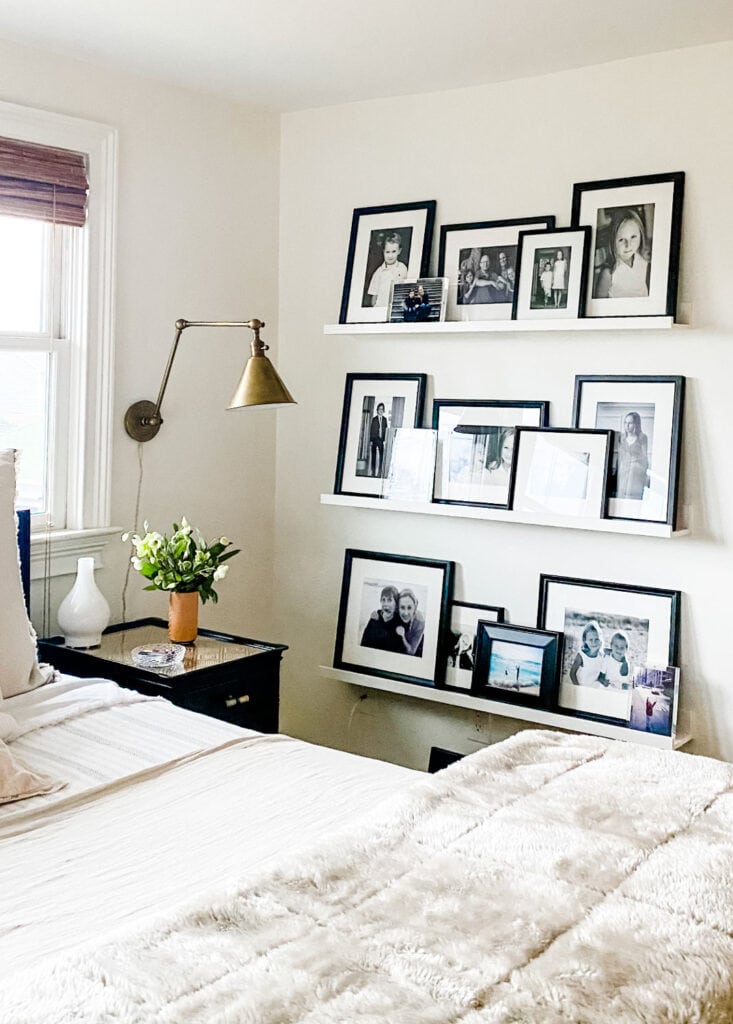 Lighting up dark corners
I love a mini lamp in places where there's no room for anything more than a tiny lamp. If there is NO room, then I use a strand of 20 twinkle lights with a white cord. I talked about that in this post. I have a few School House Electric Ion Lamps. They work well in small areas like the shelves above the coffee bar and the tall shelf in the living room. These areas would seem way too dark without some sort of small lamp.
I love mini lamps for closets and Target always has a good selection for around $20!
I hope this post has given you some ideas for simple ways to light up a corner and make it cozy! Stay safe my friends!
Lighting from Serena & Lily on sale!
Fairmont Chandelier // 2. Claremont Sconce // 3. Fisher Table Lamp // 4. Everly Ceramic Pendants 5. SoHo Floor Lamp // 6. Flynn Wall Sconce // 7. Brass Ring Lamp
Shop the post