Talking trends today and bringing nature indoors is a trend we love! We think it's here to stay, and we are okay with that! I'm joining Mary Ann, Cindy, and a few friends to talk about design trends. I've been gathering my ideas for months. Making notes in my Notes section on my iPhone and saved photos on Instagram.
I finally narrowed it down to 10 trends that we are embracing with all our hearts. Most of them blend from one to the next, which makes sense!
My List of Trends:
Bringing Nature Indoors
Gallery Walls
White Walls
Floating Cabinets
Vintage, Souveniers & Thrift Finds
Houseplants
Hygge
Skirted Sinks
All Things French
Diffusing
1. Bringing Nature Indoors
Bringing Nature Indoors – It can be large branches that make a focal point or on a smaller scale. A branch in a vase can instantly bring warmth and earthiness to a room and can make it feel a little less traditional in some cases. In big open spaces, it adds warmth.
Large Branches
Cuttings from trees or bushes can be cut and used year-round, changing them to reflect the season. In the winter it may be a bare branch with a few dried leaves clinging to the branches, but as you can see below in Leanne Ford's Yoga studio, the branch brings in a little life, even in the form of a branch leaning in the corner.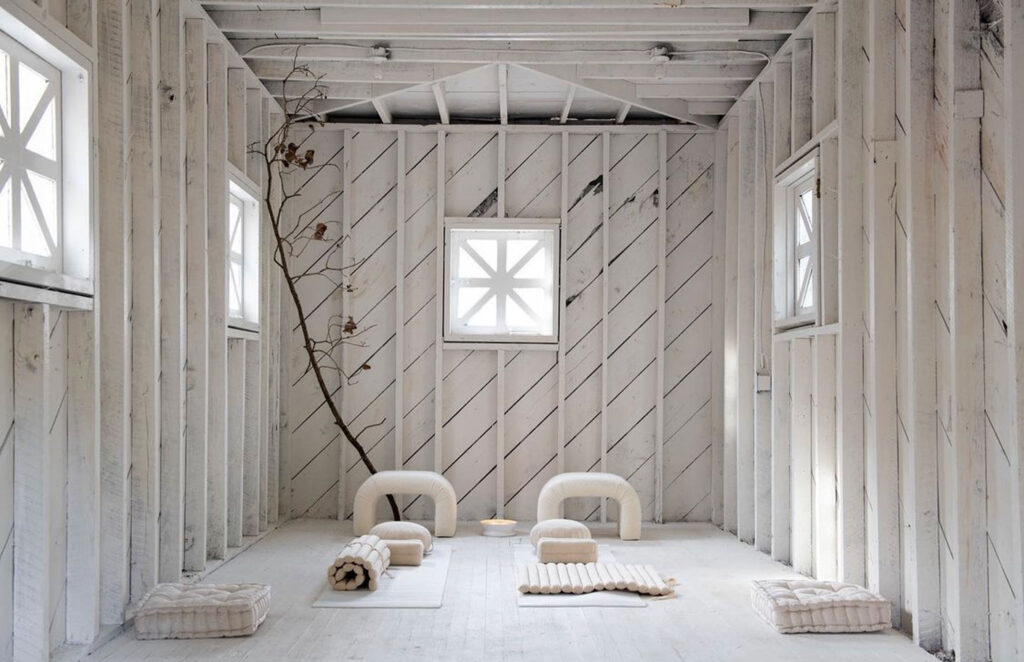 Small Cuttings
I love equally an arrangement or grouping of small cuttings and even mixed with a few dried flowers and other comforts of home. It makes it feel authentic and not too perfect.
Favorite Books about bringing nature indoors:
2. Gallery Walls
Done right, gallery walls will always be on-trend. I am most drawn to those that don't seem forced. I think we have gone wrong with them when we try too hard to create a gallery wall.
Minted is a great place to find inexpensive art to fill in while you look for that perfect piece. Minted has a great article on How to Build a Gallery Wall. I always say start with a few favorite originals, photographs and then add missing pieces from places like Minted. Another favorite source for this type of thing is Hotel Magique.
A gallery wall can also be as simple as art leaning against a wall or on a table. It's a collection of things that all together have some sort of synergy.
3. White Walls
White walls will always be on-trend. White looks good with everything. Plants, art, leather, texture, everything! White is a blank canvas that always works. I love this article from Leanne Ford on her favorite white paints from Behr. We used Behr Swiss Coffee in our primary bedroom that we painted right before the holidays. Read that post right here!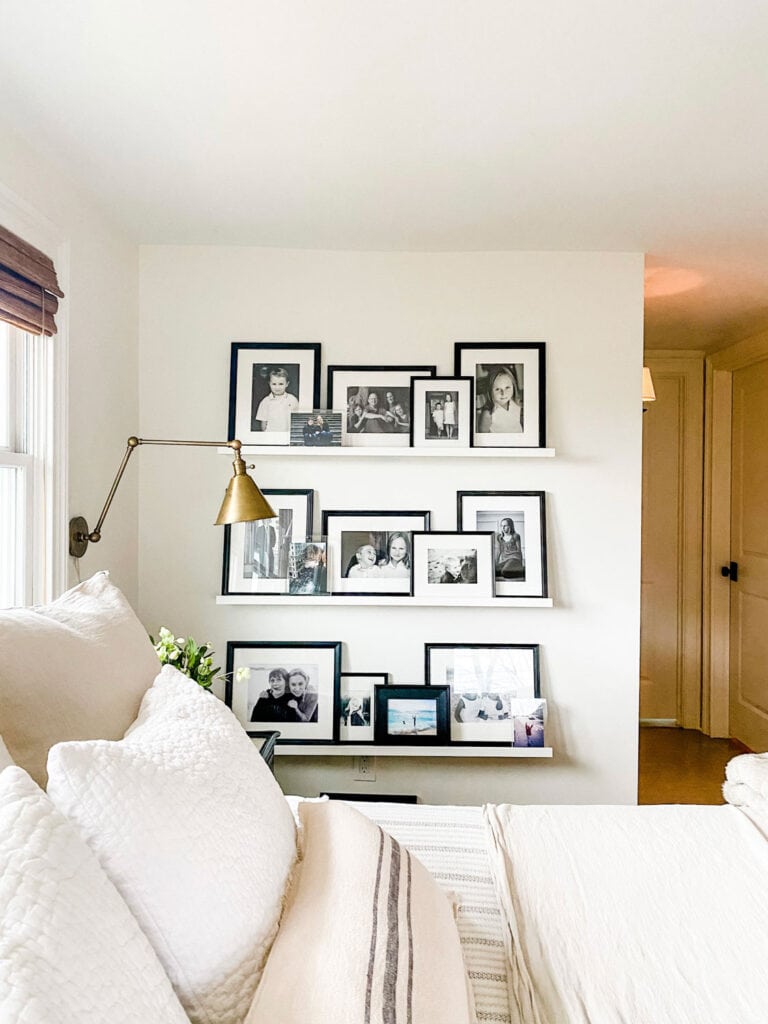 4. Floating Cabinets
Brady Tolbert Brings nature Indoors on a floating cabinet that we love!
I added this to the list when I saw a floating shelf/cabinet in the home of Brady Tolbert, then a few days later, SF Girl did an entire post on the floating cabinet!! I was so excited to see that. I think floating cabinets can make a space feel lighter, less clunky, and still provide some closed storage and a ledge for display. What more could you ask for?
5. Handmade, souveniers, Vintage and Thrift Finds
I love mixing vintage with modern. Vintage comes and goes for some, but it's what adds the soul to a room for others. If everything in a space is just a little too perfect, it feels like a showroom or a hotel. Vintage adds a story to the room.
Currently, vintage is often called "granny," which is funny because it's exactly what many of us said when we brought home a vintage piece. We would put it in the room, stand back and say, "It's not too "granny," is it?" And now we are embracing everything "granny" from floral quilts to wallpaper.
Handmade items will always be in fashion. For some it's a way of life, others include them in their favorite things. Just like souvenirs, thrift finds, and anything else we love that has an interesting story.
Favorite books on collections and display
6. Houseplants
Houseplants add so much to a room or space. I wrote this post about what our home looked like with and without plants. It's amazing what difference plants make.
Hilton Carter has made a career out of being a plant stylist. I listened to him on the Domino podcast and he talked about how he started and really forged his own path in plant styling. I love following him on Instagram. He often talks about propagation. And his collaboration with Target! I love love love my wall vases!
Bringing nature indoors with plants is a trend we love
Favorite Books with and about plants:

7. Hygge
It's not easy to describe Hygge, but it's more of a feeling or an atmosphere than it is about things. But that said, there are certain elements that help create that atmosphere. Coziness is at the top of the list. Things like sheepskins, pottery, throws, pillows, and of course soft lighting help make a space have that hygge feeling.
Favorite Books about Hygge and Danish Living:
8. Skirted Cabinets and sinks
I love this look. It may be a little country, but I have a soft spot for skirted sinks and cabinets. I recently added a skirt to our coffee bar and we have one in our laundry room as well. They conceal the storage, but it also helps keep dust away in the coffee bar.
9. All things french
People continually love all things, French. This was certainly apparent at Elsie Green when I had the chance to visit the shop with Mary Ann in October. I wrote about it in this post. And then there's The Cook's Atelier in Beaune, France. Every time I see a post on their Instagram, I want to book a class or at least pay a visit to their beautiful shop in the French countryside.
Favorite Books
10. Diffusing
A few years ago I gave up scented candles and started diffusing instead. I love that I can choose the scent that I want to fill my home or even different parts of my home. In the kitchen, I always diffuse something citrus, in my office and in the living room, it's maybe Bergamot, Patchouli, and Cedarwood or Cypress. I love the earthy, a little bit masculine blends. If you want to know more about why I love diffusing, read this post.
So many of these images start with white walls and are filled with elements that say Hygge! Things like plants, cuttings, branches, small objects both new and vintage, some very much French. Skirted sinks and tables and cabinets filled with pretty things. Bringing nature indoors is a trend we love and we think it's here to stay!
Let's see what these women have to say about trends today!