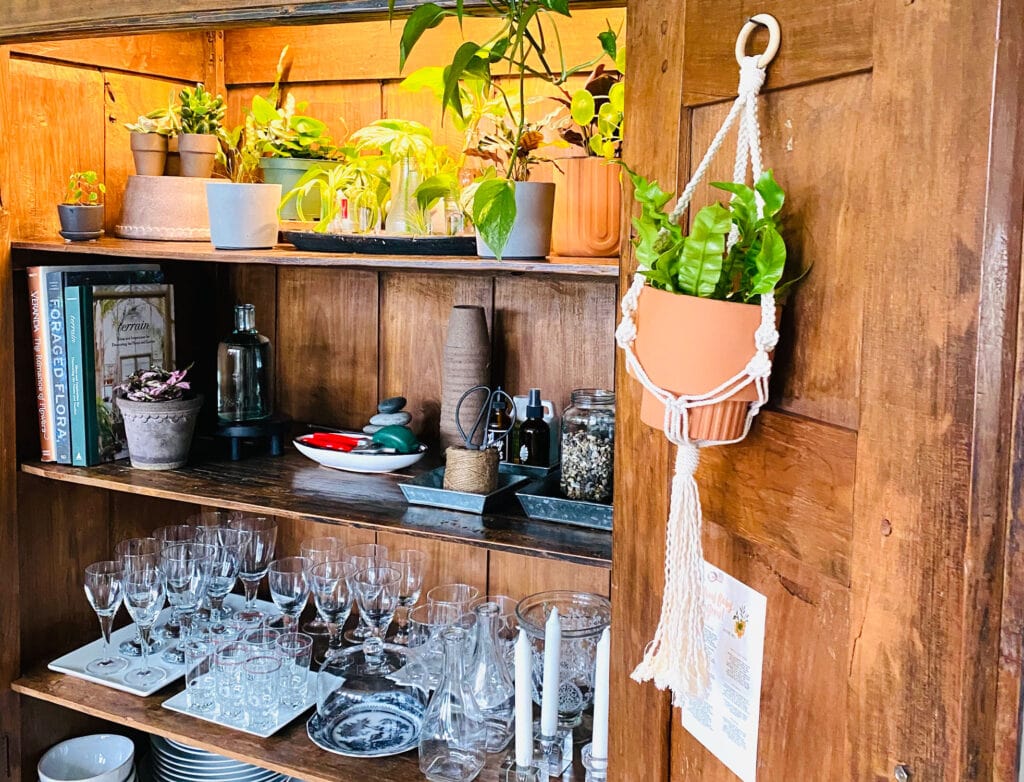 How to Create your own personal greenhouse in an armoire and a chance visit to The Moss & Green in Brooklyn inspired this post today along with my friends Cindy, Mary Ann, and a few friends. I adore plants and have written a few posts on plants and even this post showing spaces in our home with plants and without plants. It's so dramatic that it feels empty without them. I can't imagine a home without plants.
I am no expert on plant care, propagation, or the best plants to have with kids/pets or which plants do well in low-light versus direct sun. I leave that information to the experts like Hilton Carter who just released his third book, Wild Creations.
I also use a few plant apps that can help with the details on how much water, light, soil, etc. The apps I find most helpful are Picture This and Plantin.
A recent Sunday, we were walking in Brooklyn to meet Madeline for lunch when we walked by The Moss & Green. It's a small shop, but instantly I could tell it was a must-stop.
Hanging plants on a railing and a beautifully painted sign in the window is what drew me in . . .
Hanging plants lined the railing and through the sparkling clean window, you could see Mother of Pearl plants hanging. When we stepped inside I was immediately smitten. A small shop, but every detail was lovely and well-considered.
The Moss & Green in Brooklyn, NY
On one wall, half was painted white and lined with narrow wood shelves holding things like little dishes or plates that are the perfect size to rest a small plant on and several Kokodama. I had no idea about Kokodama. Later I read about the art of Kokodama on the Moss and Green website. May Carroll is the founder and creator of The Moss & Green, a Japanese Kokedama Bonsai studio. Kokodama is a style of Bonsai using moss balls.
There was also a wood armoire against a black wall with the doors open and plants filled the inside. I took a closer look and realized they were just small greenhouse lights on the underside of each shelf.
Mother of Pearl in the Shop Window at The Moss & Green
How to Create your own personal greenhouse in an armoire
This is when I got the idea to take two shelves of our armoire in the dining room and make it into an indoor greenhouse of sorts for small plants, cuttings, etc. We don't have a lot of places for small plants and so this seemed like an excellent solution.
I combined my dish & glassware storage with plants & supplies
I still needed the armoire for dish and glassware storage, so I took everything out and put it back a little more carefully. I arranged the glassware on plates and stacked all the dishes on the bottom shelf.
We ordered three light strips and since they are attached by a cord, they could only be used on one shelf. I may order another set for the second shelf or just use the top for plants and cuttings and the second shelf for supplies.
How to make your own leaf shine
Print
Leaf Shine
I used to use a highly toxic can of Leaf Shine to clean my plants and make the plant leaves shine, but aside from taking my breath away while using it, it actually made my plants look fake. Not at all what I was going for. Now I use all-natural leaf shine that I make and it's good for my plants and me!
16

-ounce glass bottle

one tablespoon

Thieves concentrate

15

drops lemongrass
 water
Instructions
Add everything to the bottle and top off with water. Spray on leaves to clean broadleaf plants.
Now make sure to pop over and see what these creative bloggers came up with on the subject of plants & florals
Shop the Post