Beet Hummus is the vibrant recipe you need this winter for a colorful healthy lunch, snack, or appetizer. I'm back for Sunday favorites with Cindy and Mary Ann and this simple recipe makes the list!
Ingredients for Roasted Beet Hummus
Print
Roasted Beet Hummus
The beets make this hummus vibrant in color and taste! 
Prep Time:

20 minutes

Total Time:

20 minutes

Yield:

6
1/2 cup

sesame tahini

1

can chickpeas rinsed, drained, and shelled

2 tablespoons

lemon juice and zest of one lemon

1

large garlic clove, chopped

1

–

2

roasted beets (I buy them already prepared at Trader Joe's)

1/2 teaspoon

salt
Force Factor Total Beet Powder Supplement

1/4

to

1/2

cup olive oil
Instructions
Remove the skins from the chickpeas – My technique is pretty straightforward, just take each chickpea and hold it between your thumb and first two fingers and make a slight side movement and it slips right off.
Put the chickpeas into a food processor and blend for a minute.
Add in the garlic, lemon juice, salt, sesame tahini, beets, and blend.
With the motor running, add in the olive oil a little at a time until the consistency is very smooth.
Notes
Put it into a bowl and smooth it out, then top with fresh herbs or I used lemon zest, Maldon sea salt, and a few pinenuts. it's winter, so I didn't have fresh herbs! I just like to add a little something to play off the gorgeous and vibrant pink color of the hummus. 
Keywords: hummus, appetizer, healthy snack
I used 2 scoops of Total Beets and one roasted beet and then made this colorful hummus that tastes as good as it looks!
Beet Hummus is the vibrant recipe you need this winter! I made this roasted beet hummus for a sponsored post that I shared earlier on my instagram and I love the color and the taste so much that I thought I would share it here too!
What's in Beet Hummus?
Well, beets and then just the basics of all hummus.
Sesame Tahini
Chickpeas
lemon
garlic
salt
olive oil
Is Roasted Beet Hummus good for you?
I think it's safe to say that beet hummus is in the healthy snack category. There's fiber and protein in the chickpeas and makes you feel full longer. (Read more in this article).
Beets are loaded with potassium, vitamin A, antioxidants, and iron. Plus they are low in calories.
Sesame Tahini has plenty of benefits. It contains a variety of vitamins and minerals and it's also rich in anti-inflammatory monounsaturated fats.
Olive Oil has beneficial fatty acids. It's loaded with antioxidants.
Force Factor Total Beets – A heart-healthy powder supplement that supports healthy blood flow. I made hummus using 2 scoops, but this is optional to the recipe.
Finally, a compression sock doesn't look like it's from the medical supply store! If you've never worn compression socks, you might be wondering why you would wear them? I wear them often, but always when I travel.
What I like about Comrad Compression socks is that they come in sizes and the knee-highs just provide that much more support and comfort.
Why wear compression socks?
Reduce muscle recovery time
Relief for muscle stiffness and pain
Prevent strain, injury, and fatigue
Long-distance travel

3. Skirts, We need Skirts
Maybe these midi skirts would have brought a smile to Miranda's face in The Devil Wears Prada! I adore these skirts and can see Cindy wearing one. Maybe with combat boots! I love how it's shown here. It's all about the skirt, a simple sweater, and worn with oxfords. The skirts are by Lunatica Milano. Each skirt is made by artisans in Italy. They are so beautiful! Follow them on Instagram here @lunaticamilano
4. Leanne Ford's new Yoga Studio
Safe to say that I'm dying over Leanne Ford's new yoga studio. Wow! She converted a tool shed into a yoga studio with a lot of Behr Paint in Cameo White and then the stools are from her line with Crate & Barrel. The floor cushions, bolsters and mats are all in creamy off-whites to add to the minimalism. I could go on and on, but go see it on her Instagram! She shares all the details and the before too!
Minimalist Yoga Studio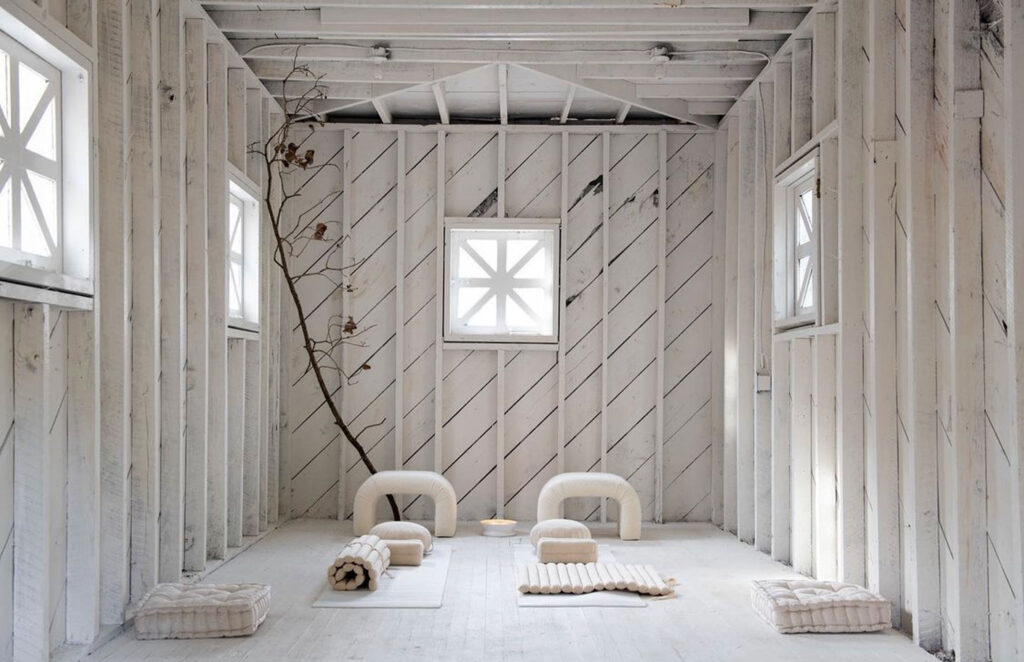 The Exterior of Leanne Ford's tool shed turned yoga studio
I saw this on a friend's Instagram and now I seem to be seeing it everywhere and even received a postcard in the mail about their 30-day reset! Have you heard of Sakara? Sakara is a meal delivery program based on a whole-food plant-rich diet. I love the idea of the 30-day reset, but they have other plans too. Would you do this? Or maybe another meal plan program?
Let's go see what Cindy and Mary Ann are talking about this week!