9 things you need to buy at Walmart right now or at least over the next few months! Restock your pantry, lighten up a dark corner with a strand of twinkle lights, or line your walkway with candles to welcome friends for dinner in the new year!
1. Glass Jars and Storage
Designer Diane Karmen uses Glass jars in her open pantry
Madeline uses one as a cookie jar on her open shelving
Walmart is the best place to buy jars of all kinds. They always have Anchor Hocking Heritage Hill Jars in several sizes, Cracker Jar, and all kinds of glass food storage containers. I use jars to keep food dry in my pantry and on open shelving in my kitchen.
They also have a good selection of Ball jars too! I used these Ball jars from Walmart for homemade granola.

2. Twinkle Lights
When we moved, I left a strand of twinkle lights on in the corner and an extra box in the glass jar with all the keys to the house!
I've been using twinkle lights in dark corners for years. Walmart sells 20 light strands of incandescent lights on a white cord that gives the perfect light in a dark corner. They are perfect for sort of a night light left on in the bathroom too. I stock up at the holidays, but they sometimes have them year-round.
3. Flour Sack Towels
Save your pretty dishtowels from getting stained with a stack of flour sack dish towels to use for the dirty kitchen work. So many clean-ups in the kitchen will stain your pretty dish towels.
I love having a stack of flour sack towels that work well to clean counters and dry dishes, glassware, and pots and pans, but not have to worry about stains. Flour sack towels come in packages of 10 for around d $8 and they will last for years. So now I have two rows of dish towels. The pretty ones that I like to leave out by the sink and then the flour sack towels that clean up after cooking and baking.

4. Lunch Bags
Walmart is the best place to stock up on things like lunch bags. They have kraft bags in two sizes and white lunch bags in the traditional lunch bag size. I go through a lot of bags when I make paper bag snowflakes!

5. Non-Stick Wok
We bought this non-stick wok for our kids when they were in college thinking it would never make its way home at the end of the school year. Turns out that we all love this non-stick wok. Most of our pans are Sitram Cookware from France or All-Clad from Williams Sonoma. But when we need a non-stick wok, we reach for this one from Walmart that costs around $6!

6. Olive Oil, Almond Butter and other pantry basics
Olive oil, almond butter, and all our pantry basics are purchased at Walmart. I stock up every few months and Walmart has the brands we love at great prices.

7. Revlon One-Step Hair Dryer Brush
I first used this at Mary Ann's last October and ordered one from Walmart on my home! It is the best tool if you like to get ready in a hurry. With long hair, it used to take me forever to dry my hair. Now, I use this One-Step Hair Dryer Brush and not only does it seem to shorten the time it takes to dry my hair, but it leaves it looking like I just came from the salon. You can read more about what I use to keep my hair healthy in this post.

8. Lodge Cast Iron Pans
Everyone needs at least one cast iron pan and if you buy a Lodge, you'll never need to buy another. Walmart has a great selection of Lodge Cast Iron Skillets in different sizes. We love our mini Lodge Cast Iron Skillets. You can see how we use them for individual s'mores and also this one!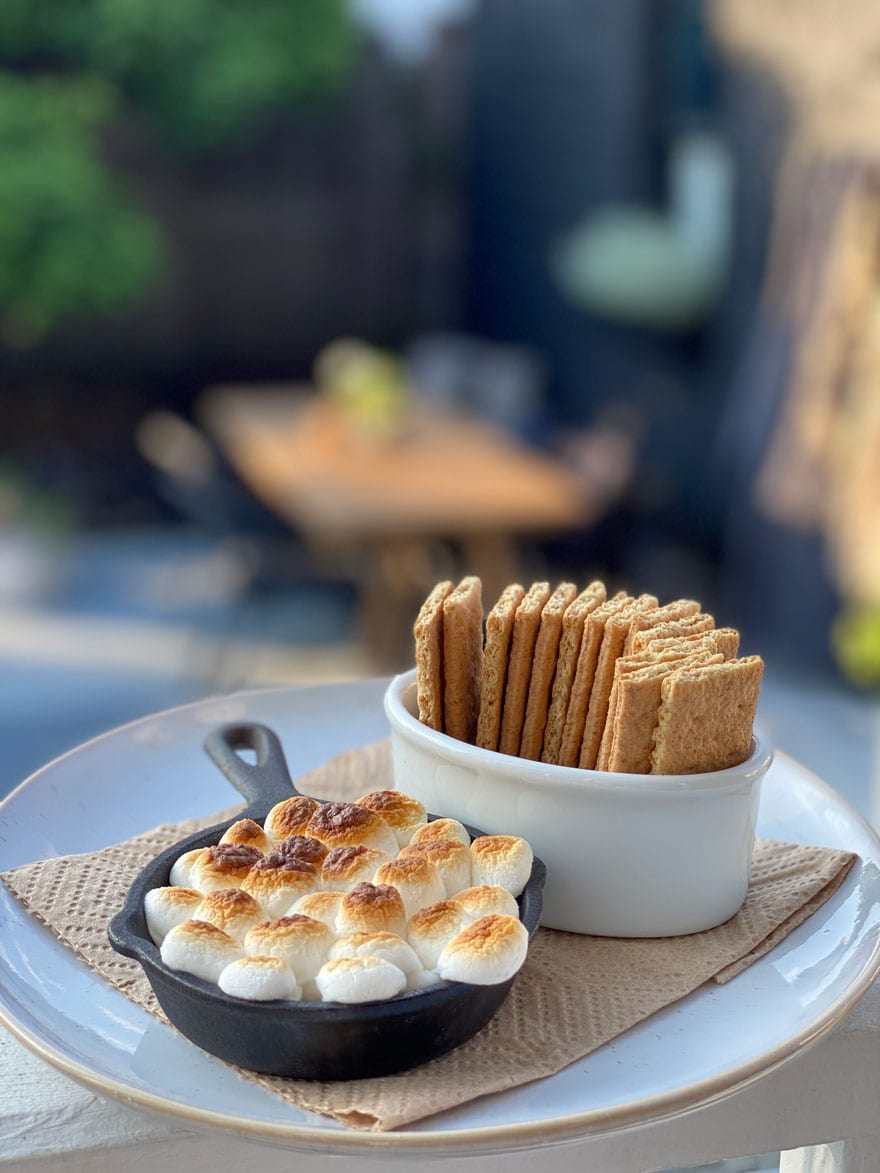 9. Religious Candles

The perfect thing to line the porch or walkway to welcome friends. Have you ever arrived at a home for a dinner party and wondered if you had the right night? Like there were no extra cars on the street and you start to wonder if you got the date wrong! Believe me, when friends come to dinner at our house, they never have to wonder! We line the porch railings with long-lasting white religious candles from Walmart for a warm welcome!
Have I missed anything? I would love to know what you buy at Walmart?