Make these rustic star gift tags from twigs for something a little different this year! I've made almost every other kind of gift tag, so twig stars just sort of happened naturally.
I've kind of been focused on staying with my all-natural Christmas theme this year, and when you live in Connecticut, twigs and branches are everywhere. I remember many years ago, as a young mom, reading Martha Stewart and how she said, go out and gather some twigs….but at this point, I was living in Southern California in the land of perfectly manicured lawns, and there were no twigs lying about. Many, many years later, and here I am in Connecticut again where I could pick up enough twigs to start a bonfire every day if I wanted. Or at least enough to make a lot of twig stars! So that's exactly what I did!
Larger Twig Stars Hang in the windows
I made larger rustic twig stars to hang in our windows and then made miniature stars to use as gift tags and place cards. The best part is that twig stars are free! You only need to grab some twigs and your glue gun. Elmer's glue would work, but the drying time is quite long, and I like to move on from one project to the next. So a glue gun makes it so quick and easy! You can hold it for about 5 seconds and move on to the next.
Where Can I find Twigs?
Living in Connecticut means there's no shortage of twigs, but even if you live in the city, a walk in the park and you'll find plenty of twigs at the base of trees. Wear gloves and wash them, just in case! I use Thieves for cleaning everything!
What other supplies/tools will I need to make twig stars?
5 twigs cut the same length per star
Glue gun and a few glue sticks
Natural twine or ribbon
Scissors and garden clippers
If you don't want to use hot glue, use rustic brown floral wire instead. It's very close in color to natural twigs.
I used kraft paper from the hardware store to use with the rustic twig stars and jute twine.
You probably don't need directions to make twig stars, but here they are anyway!
You'll need five twigs per star. Cut each piece about the same size. Maybe keep one just a little longer and then you can go back and trim if necessary.
Work on a piece of cardboard or heavy paper to protect your work surface from the hot glue.
Layout two twigs in "V" and glue the two twigs together at the "V" intersection.
Then turn it around, lay one twig across, forming an "A," and glue the points that connect to make a capital "A."
With the "A" facing you, glue the fourth twig from the left side down to the bottom right side of the "A."
Then with your last twig, slip it under the one that you just glued and glue it at the bottom left part of the "A" to the middle crossbar of your original "A". For this one, you will need to add a little extra glue and hold until dry, just a few extra seconds.
Add some berries, greens, and jute twine.
Attach some berries, mini pinecones, greens, and holly, and tie them with natural jute twine. You can add twine at each connection point if you want, but it's not necessary, in my opinion.
Where and how to use your natural twig stars
Make these rustic star gift tags from twigs and simply tie them to packages, napkins, bottles, or anything! It might be the tag that no one throws away! Hang it on the tree, attach it to a wreath, or garland, endless possibilities.
You might like some of these ideas for gift tags too!
Shop for supplies to make your rustic twig stars

12 DIY Christmas Tag Ideas To Try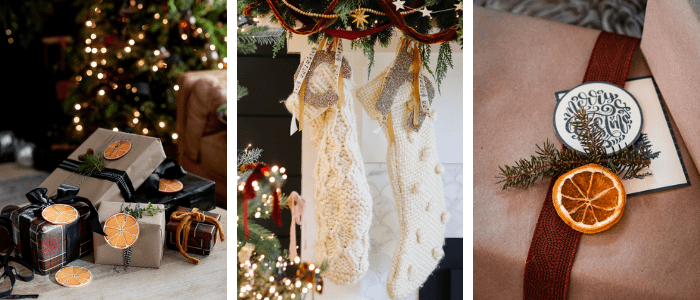 Hand Painted Orange Slice Gift Tags // Craftberry Bush
DIY Christmas Stocking Tags // Modern Glam
Free Printable Gift Tags Perfect for Christmas // Twelve On Main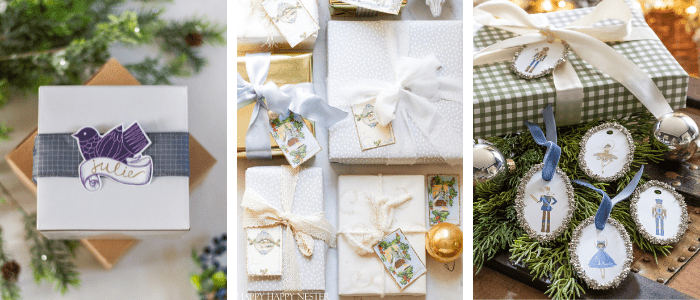 Christmas Dove Gift Tag Printable // Zevy Joy
Free Printable Gift Tags // Happy Happy Nester
DIY Printable Nutcracker Gift Tags // Sincerely, Marie
DIY Christmas Gift Tags // My 100 Year Old Home
Scandi Farmhouse Free Printable Christmas Gift Tags // The Happy Housie
DIY Gift Tags With Cardboard, Paint, and Baking Soda // My Sweet Savannah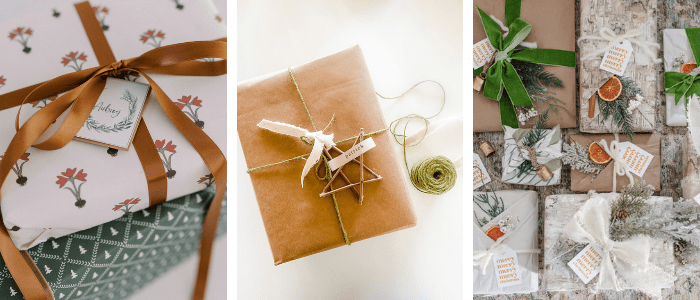 Christmas Gift Tag Printable // Finding Lovely
Rustic Twig Stars // Most Lovely Things
Free Printable Christmas Gift Tags – Carol of the Bells Tags // The DIY Mommy