All foraged and natural Christmas decor you'll love! I decided to lean into the natural, earthy elements of Christmas this year. You can see that in the way I decorated the outdoors, inspired by Terrain in this post, but indoors, I've always taken a slightly more traditional approach. But I decided to go all in on all-natural DIY Christmas decor and it was so much fun creating it!
The first thing I did was forage some branches, berries, and evergreens. I brought it all home and sorted it on the front porch so I knew what I would need more of as I started decorating. The one thing I've learned with foraging is that you can almost bet that you'll need to go back for more!
I did buy a few things at Trader Joe's to make dried orange slice ornaments. I came home with three bundles of baby's breath, one bundle of Eucalyptus leaves, and a bag of oranges. Natural decorations are so easy to make and you can create your own by adding in some other plant material, beads, berries, or whatever you have on hand.
Make your own frayed ribbon that's so trendy right now
I added some ribbons that I made by ripping a leftover piece of cotton canvas into thin strips. I used the canvas for making this DIY wall art for our stairway. I thought about buying frayed velvet ribbon from Anthropologie, but it was just too tempting not to try and make my own from something I had on hand. I find when I limit myself to not spending a lot of money, I am most creative!
Dried orange slices, baby's breath & eucalyptus
I used dried orange slices (you can use any citrus fruit), baby's breath, and eucalyptus leaves for Christmas tree ornaments. Not only are they fun decorations but they leave your house smelling great as well! There is just something fun and satisfying about natural Christmas ornaments.
Make sure to position each dried orange ornament in front of a light for that magical warm glow.
A little foraged natural Christmas decor in the entryway of our cottage
It was last year that I started using Baby's Breath again…during the holiday season when my friend Sandy of The Collected Garden brought it to add to our Christmas wreaths. I never thought about using it for anything until I saw the way Sandy used it in such an earthy and natural way and it was all the inspiration I needed. You can read more about how we made natural foraged wreaths in this post.
I also strung together some fresh evergreen branches, pine cones, and fresh berries on twigs for some garland.
Some foraged seed pods that are so beautiful mixed with eucalyptus for the entryway table
I was sure to give the seed pods a good shake at the beach leaving the seeds behind, but nevertheless, I dropped them on the kitchen floor, and out came thousands more seeds. I scooped them into a tiny bag and will return them to the beach in the same spot next week. Seems like the right thing to do!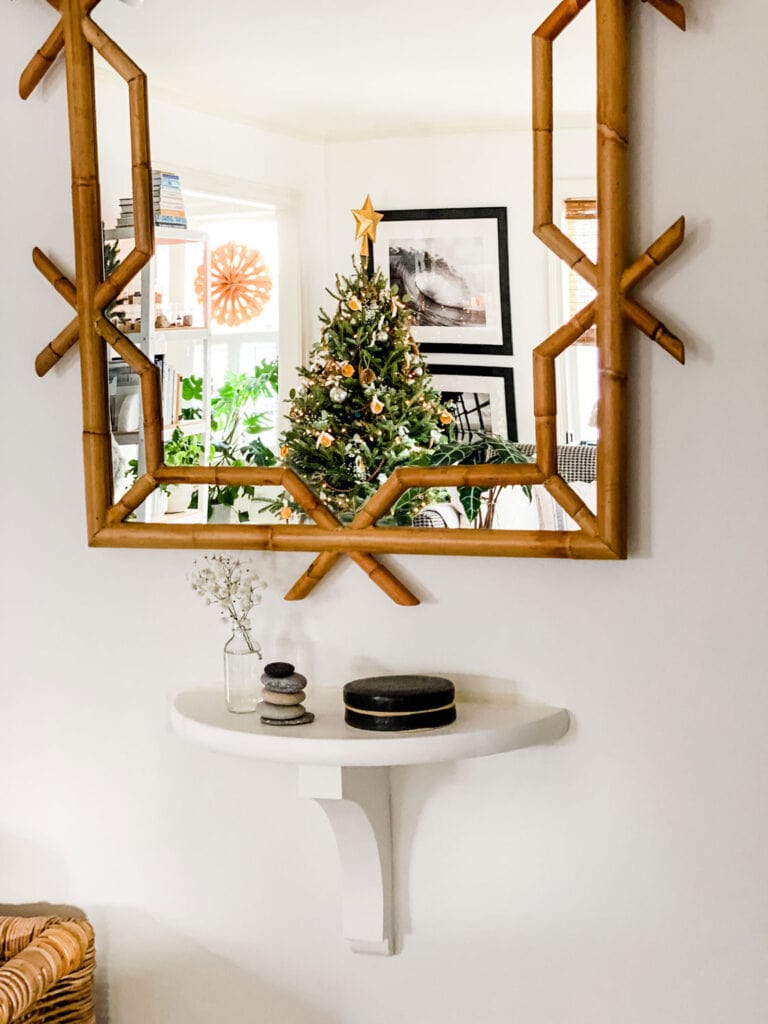 A few stacked stones from the beach, a clear glass bottle with a sprig of baby's breath and a ceramic box from my friend Diane (I love all the different textures), and of course the reflection of the tree and the paper bag snowflakes make the entrance a little bit more festive while still keeping with the foraged and natural Christmas decor theme!
More all natural christmas decor
Adding a sprig of foraged red berries (you could also add some fresh greenery) to the driftwood on the mantel is a nice touch of natural Christmas. It would also look good on a coffee table, in a basket, or in a bowl.
Our built-in corner bench with foraged branches, DIY paper ornaments, and a string of pinecone lights
I filled this large Anchor Hocking jar with white beach stones, foraged branches, homemade paper ornaments (you can see how I made them in this reel), and then added a string of mini battery operated pinecone lights I found at Target for $10. The bench cushion is custom-made by Patio Lane. You can read more about it in this post!
Twig Stars with foraged berries in the window
Sometimes it's the simplest of things that make me so happy. Making these stars from foraged twigs was the easiest project, it took very little time and only 5 twigs cut in the same length and then glued together using my mini hot glue gun. I tied a sprig of foraged berries with twine to each one to make them a little more Christmassy, but I think we will be making a few more of these homemade Christmas decorations tomorrow for more all-foraged and natural Christmas decor you'll love!
Be on the lookout for a reel on Instagram showing how easy and fun it is to make these charming rustic stars! Make sure you are following me on Instagram @most_lovely_things and on Pinterest! The lovely French stripe pillow is from Garnet Hill.
Now let's pop over and see what my friends came up with for Christmas inspired by nature
Classic Casual Home How To Create Classic Natural Holiday Décor
Cindy Hattersley Design A Collected Christmas Home Tour
Most Lovely Things All Foraged and Natural Christmas Decor
My Soulful Home Christmas Inspired By Nature
Kelley And Company The Natural Home: Christmas Inspired By Nature
Crazy Wonderful 2021 Christmas Home Tour