Pesto: The pasta of summer
Pesto is one of those things that I remember distinctly the first time I had it. I was in my twenties and we were having dinner with friends who worked with my husband at Surfer Publishing. They had a very cool cottage in Laguna Beach. At the time I probably did not appreciate just how cool and bohemian it was for the early 90s. Both are artists and so it makes sense that they were into boho before I even knew what to call it.
It was mid-summer and they made us pasta with fresh pesto made from their tiny hillside garden with ocean breezes that had basil growing wild. I had never even tasted pesto…this was even before we had Trader Joe's in South Orange County, California so it never occurred to me to buy it in a jar. Years later I still have a hard time buying store-bought pesto when it's so easy to make and the result is nothing like fresh basil pesto that coats pasta unlike any store-bought pesto could.
What I love about this dish is how a few simple ingredients make such a stunning bright sauce for a perfect bowl of comfort food. I also love that it's a dish that's best made in the summer when basil grows. It's the perfect dish for picnics or dining outside. It's delicious hot or served room temperature. And it makes great leftovers…if you are lucky enough to have leftovers!
5 ingredients for a simple dish
Print
Easy basil Pesto
A simple recipe for pesto in case it's been awhile since you made it.
1/2 cup

pine nuts

3/4 cup

freshly grated Parmesan

2

garlic cloves, grated

3

bunches fresh basil, washed and dried

3/4 cup

extra-virgin olive oil
Instructions
Toast pine nuts in a 350º oven on a baking sheet, until golden brown. Watch closely! It takes only 2 or 3 minutes.
 Transfer to a food processor and let cool. Add cheese and garlic and pulse until finely ground, about 1 minute.
Add the basil (thick stems removed and discarded).
With the motor running, add oil in a slow and steady stream until pesto is smooth, about 1 minute.
Notes
Some think pesto is best served with long pasta like spaghetti, but I prefer fusilli pasta. It holds the sauce just perfectly.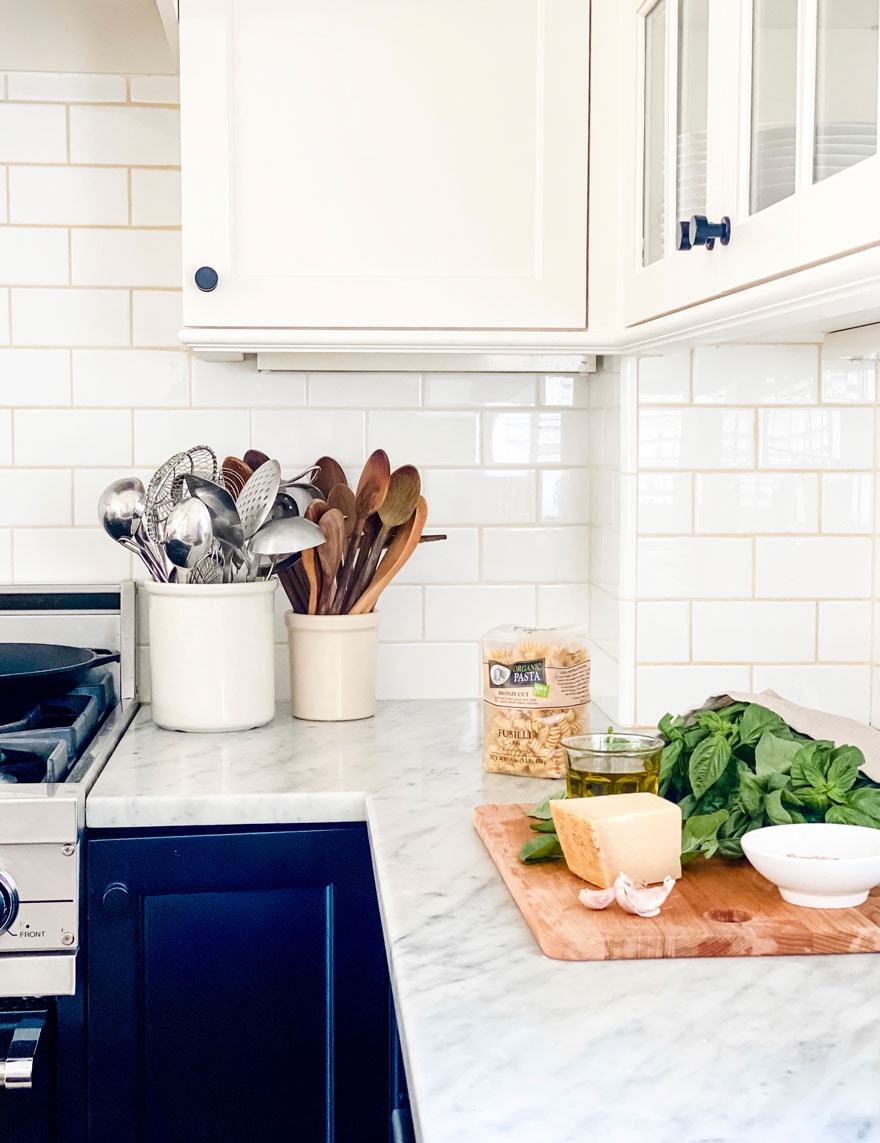 If you like 5 ingredient recipes (or less) for summer…here's a few more!

Layered Hummus Dip – Modern Glam
Appetizer Trio With Roasted Rosemary Cashews – Classic Casual Home
Have you Made Pesto Lately? – Most Lovely Things
Homemade Hummus – Lemongrove Lane

How to Make Bubble Tea (Boba Tea) – Happy Happy Nester
Lemon Rosemary Shortbread Cookies – Finding Lovely
5 Ingredient Blueberry Crepes – Zevy Joy
Raspberry Lemonade Sorbet – Jenna Kate At Home

Easy Pasta Recipe – My 100 Year Old Home
Easy Italian Sausage Pasta – Maison De Pax
Creamy Grape Salad – Twelve on Main