What if I told you that you could visit a beautiful garden just outside the city for free and get there in about an hour! It's true; this exists, and believe it or not, it's in Yonkers.
[mv_video doNotAutoplayNorOptimizePlacement="false" doNotOptimizePlacement="false" jsonLd="true" key="scuajwhh2fahwr0uxmmt" ratio="16:9″ thumbnail="https://mediavine-res.cloudinary.com/v1655924198/jtxjs5sdhxz8vzjgzla7.jpg" title="Untermyer Park and Gardens" volume="70″]
A visit to Untermyer Park and Gardens will leave you wondering, how did I not know about this place? At least that's how we felt the first time we visited.
How do I get there from New York City?
From NYC it's an easy trek. Jump on a Metro-North train on the Hudson line at Grand Central and enjoy a 40-minute ride (11 stops) up the beautiful Hudson River. For a moment, it feels like you're in Europe.
You'll get off at the Greystone train station in Yonkers. From there, Untermyer Park and Gardens is one mile away. For those that want a little exercise, it's a nice 20-minute walk. And if you're not feeling up to it or have the little ones in tow, you can take an Uber or taxi for a quick ride.
From Stamford/Greenwich, CT, it's about a 50-minute drive. And from Northern NJ, it's about the same. As an added bonus, parking is free which you don't find very often in NY.
A bit of History about Untermyer Gardens
The park and gardens are located in the heart of Yonkers. As one local politician once said as they were trying to lure big tech and pharma companies to relocate, consider Yonkers the Upper, Upper West Side of Manhattan – which in our minds is a bit of a stretch. Nevertheless, it's an enjoyable way to spend a few hours.
43 acres of public parkland overlooking the Hudson
The gardens are approximately 43 acres of what is now public parkland and the site is what's left of Samuel Untermyer's original 150-acre sprawling estate. It's situated on a bluff overlooking the banks of the Hudson River and provides stunning views from certain lookout points.
The gardens' beginnings date back to around 1916 and were developed by Untermyer who was a prominent local lawyer. He hired William Bosworth, an architect, and landscape designer, to create the vision. Other notable artists designed various fountains and sculptures which are prominently featured throughout the gardens.
Untermyer was generous with the property and regularly opened the gardens to the public and hosted concerts and other events featuring world-renown musicians, dancers, and actors.
Untermyer died in 1940 and donated the entire property. Eventually, the city of Yonkers accepted the plot of land that encompasses the gardens and officially named it Untermyer Park and Gardens.
Tips on visiting Untermyer Gardens
Two things you must know: first, no picnics are allowed. And second, the park closes promptly at dusk. We have been asked to leave several times (very politely, of course) as the end of the day is by far the prettiest and when the gardens seem to best show off their natural beauty.
The Walled Garden is the main attraction. A rectangle pool runs almost the entire length of the garden and ends at the amphitheater. About halfway down on the left-hand side is what's left of the Temple of the Sky. There are other nooks and crannies worth exploring and you'll find many little hidden gems along the way.
The Vista
An inconspicuous doorway leads to the most breathtaking stairway with views of the Hudson.
The one thing you can't miss is a walk down the long set of stairs (at the back left corner of the Walled Garden) that lead down to a majestically stunning view of the Hudson River which is probably the most underrated and overlooked landmark of NYC – at least in our opinion.
Events at Untermyer Park and Gardens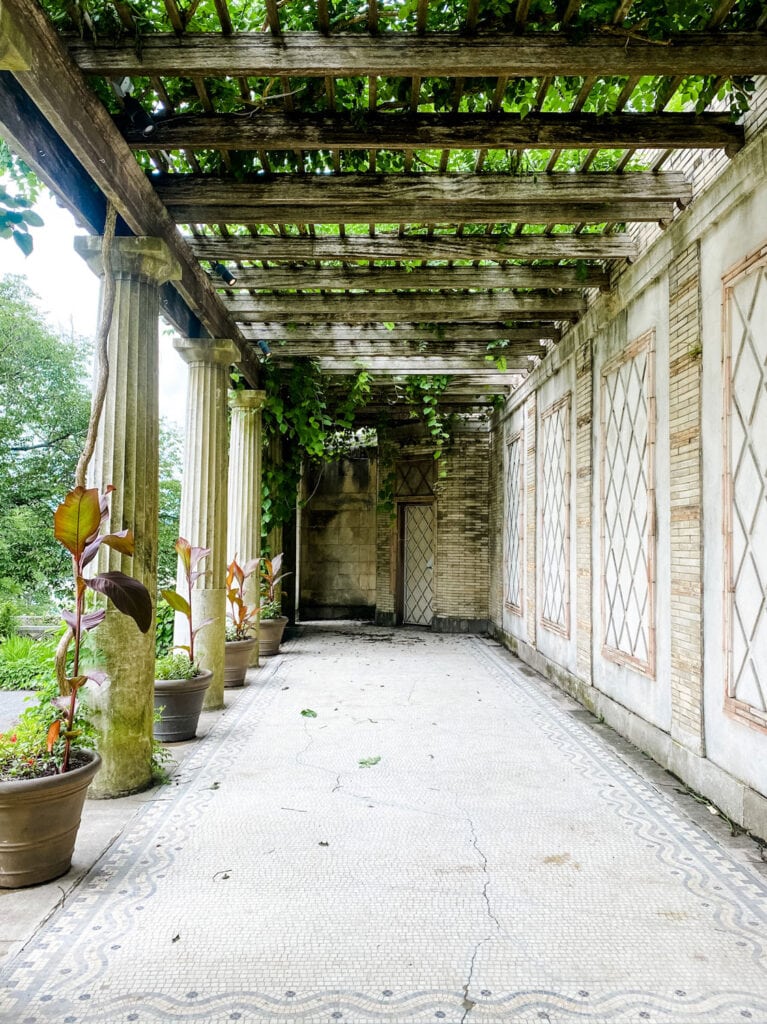 The Gardens play host to many events throughout the summer. For a calendar of events, click here.
They also host many different tours, primarily on Sundays, but they also offer a Yoga class and a concert series that runs throughout most of the summer.
Visit Untermyer Park and Gardens during the Holidays
We couldn't find the holiday schedule for 2022, but assuming it roughly follows 2021, it runs nightly from mid-December through the first of the year and it's a wonderful way to spend an evening. Over 100,000 lights illuminate the Walled Gardens. The evenings feature multicultural seasonal music and they offer free hot chocolate. Admission is also free thanks to their many sponsors.
Where to eat/drink after visiting the gardens
Only about 0.5 miles away and a very easy walk is a fully renovated former factory that features many restaurants and retail shops.
The restaurants include Fortina, The Taco Project, and for those who need a little energy, yes, there is a Starbucks.
Fortina at 1086 North Broadway
If you have a car or don't mind another taxi or Uber ride before you head home, another little hidden gem is a small, mostly unknown except to locals, Italian pastry shop called Dominick's Pastry Shop located at 1457 Nepperhan Avenue in Yonkers. Dominick is the pastry chef and the entire family works there. We love their cannoli that are as good as we've ever had anywhere – including Italy. And their small chocolate mousse cakes have been present at many birthdays in our home throughout the years. Let's just say you won't regret paying them a quick visit.
Untermyer Park & Gardens makes an ideal Day Trip from NYC