Cafe curtains are popular again. I've been obsessed with café curtains for a long time. Like a really long time. Window coverings and window treatments can seem dated, and it's usually the first thing I change when moving into a house. The cafe curtain trend keeps popping up in my feed, and recently, this article from Remodelista featuring Jolene, a bakery/restaurant in London, caught my eye!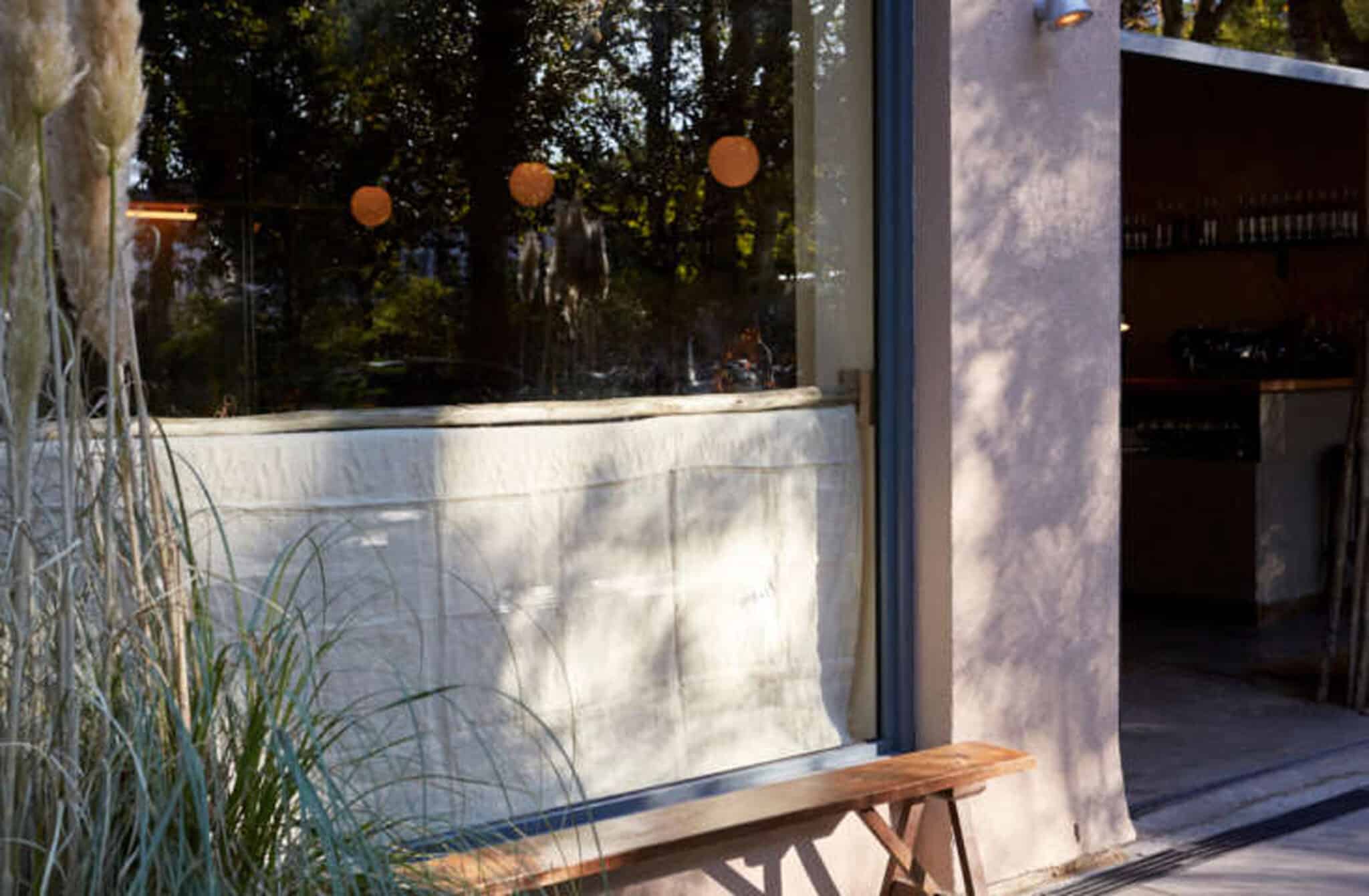 image credit: Remodelista
There is a certain timeless charm to cafe curtains. While they are more popular in Europe, they seem to be making a comeback in the United States too. I've noticed them in several bistro-style cafes and restaurants in New York. Corner Bar is located inside Nine Orchard Hotel on the Lower East Side. Then there's the beautiful RW Guild in SoHo.
Corner Bar at Nine Orchard & RW Guild in SoHo
A few things to consider when choosing cafe curtains
For some reason, I have left the shutters on our kitchen window. They were here when we moved in. They do provide privacy from the neighbors who are quite close in proximity. It's time I switch the shutters for cafe curtains, so I have been gathering ideas. The top of the window can be left bare as it is now.
Light filtering or privacy
I want a classic look that allows sunlight in the morning and natural light into the kitchen all day. The fabric needs to be considered for light and durability. They will need to be washed fairly often as they are above the sink. Since it's the kitchen, there is no need for privacy. I would use a more sturdy panel curtain for a bathroom like we did here.
How to Hang or Install Cafe Curtains
I'm still deciding if I will use a simple tension rod or maybe brass hardware that will show. Then there's the decision of how to hang the panels. Curtain rods with curtain clips or hooks or something else? Retailers like Rejuvenation have options for concealed mount, inside mount, and outside mount options for installing your cafe curtains.
Style
Even modern homes have been using cafe curtains lately. They may have a more flat panel, over-gathered for a more modern feel, but still considered a cafe curtain. A fuller curtain with more fabric over a flat panel is a personal taste. I happen to like both when done right. Neither is a new trend.
Hem or Raw Edge
I've seen a few cafe curtains with a pretty raw edge. I'm not sure if this is practical in a kitchen where they will need to be laundered at least once a month. You can catch a glimpse of simple edge cafe curtains in this post.
Etsy is a Great Resource for Ordering Cafe Curtains
I searched for linen cafe curtains in Etsy. I like this one that has white, cream, and natural linen options. You can order by width and length. Many options are available. They would be easy to diy if you could sew even a little.
They can be used with clips or a pole tension rod.
Hand embroidery is something that I've mentioned before in fashion, like denim jeans and jackets. It's also becoming a trend with cafe curtains. I'm not sure what I'll add to mine, but something subtle and meaningful for sure for a bit of nostalgia. I always trust my friend Meredith of Mermade Brooklyn for all my embroidery projects. She does beautiful work! Follow her on Instagram to ensure you have her information handy when you think of a project that needs custom embroidery! @mermade_brooklynny
image credit: Remodelista
More Sunday Favorites:
If you are new to reading MLT, every Sunday, I join my friends Mary Ann (Classic Casual Home) and Cindy Hattersley to share our favorite finds of the week.
I am thrilled to introduce you to my friend Kate, who recently launched her children's clothing, toys, and gifts company called Spil Kids.
Kate and I first met working at Serena & Lily, and right away, I knew I liked her! Quiet but confident. She knew what she was doing, and I learned so much from her in the short amount of time we worked together.
Kate now has two little boys and just launched Spil Kids. She has impeccable style, so it makes perfect sense, now that she has two children, to turn that into a brand that focuses on children and play.
Kate says her name, Spil, comes from the Danish word for play, but in English it can mean messy. "It's about embracing the play/mess in every day. It's all about being a perfectionist, and now having two young rough and tumble boys is helping me break those old habits."
Personalized Mini Totes from Spil Kids
I hope you'll head over to look at her shop. Use the code ANNIE15 to get 15% off your first order!
Outfit of the Week from Quince/Artemis/Alex Mill/Uniqlo
My outfit of the week features this boyfriend-style cotton sweater from Quince. I ordered a medium, and it's just what I expected…I knew it would be oversized since it's called a boyfriend sweater. I'll bring it to France in a few weeks, knowing I can wear it under a chore coat or over a T-shirt. I love options. And the price, I might order another color!
I'm wearing it with these pants from Alex Mill. I also have them in this color as well. They are sturdy pants (I don't know how else to describe them) that I've been wearing since spring and will most likely be wearing all winter with sweaters. I love that I can wash and hang to dry, and there's no need for ironing or steaming. That's why they are my go-to pants!
The Artemis loafers that Cindy introduced me to elevate every simple outfit. I love this round mini-shoulder bag from Uniqlo.
Serena & Lily is having a sale on everything related to dining, and you know how much I love Serena & Lily. Our Tucker chairs are from Serena & Lily. They come in six gorgeous colors. I love the linen color and garden green.
We love the Riviera Rattan Dining Chairs. We have sunwashed natural, but they now come in black. They have several options.
Our chandelier is also from Serena & Lily and our bar cart! So much of our house has a touch of this brand, but when it comes to dining, Serena & Lily has the best chair options for every style. The Tucker chair is great with our farm table (Brent made it over 30 years ago from reclaimed scaffolding), but we also love it with our modern Saarinen table. They really are so versatile. The sale is only until 08/28/2023 at midnight.
Even their Cayman glassware and vessels are on sale. I have the bowls that I shared last Sunday. The small vessel is perfect for the cosmos growing alongside the dining room windows.
Let's see what Mary Ann and Cindy have found this week!