Back again with Mary Ann and Cindy with our favorite finds of the week! Since we are still home all the time, I've started making green smoothie bowls again. I don't know why I stopped. So easy, so pretty, and in the middle of the New England winter, a dose of color we need some days!
1. Is it a Smoothie Bowl, or an açaí bowl?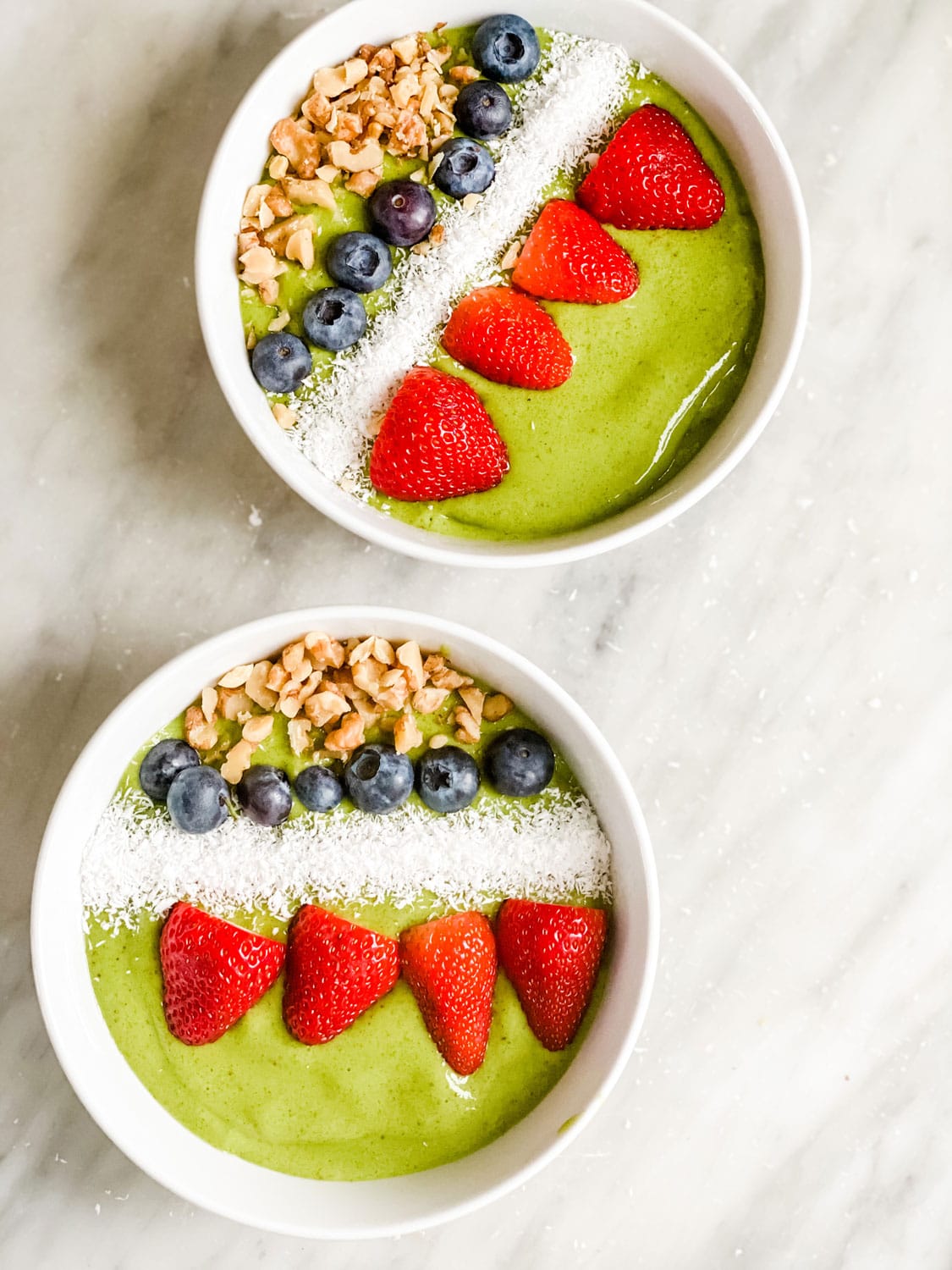 Print
My Favorite Green Smoothie Bowl
Author:
Prep Time:

5 minutes

Cook Time:

none

Total Time:

5 minutes

Yield:

2

-

3

servings

1

x
2

handfuls of baby spinach

2

bananas

1 cup

of frozen mango
I ripe avocado

1 tablespoon

flax seed

2

scoops vanilla collagen protein powder

4

multigrain capsules, opened

 

Almond milk (add as much as needed for the right consistency)
A handful of ice
Instructions
Blend everything in a high-powered blender until smooth.

 

Pour into bowls and now the fun part, add the colorful toppings!
For the Topping:
Granola or chopped nuts
Strawberries sliced in half
Blueberries
Unsweetened shredded Coconut
Notes
To make a "stripe" of coconut, I made a template from a piece of clean cardboard. I cut a narrow strip and place it over the bowl and then pour the coconut or seeds making a narrow line or stripe.
Keywords: breakfast, brunch, healthy food, colorful food, açaí, smoothie
Colorful ingredients for a green smoothie bowl
Check my Instagram today to see how I make a stripe of coconut in my smoothie bowl, or did we decide it's an açaí bowl?
2. Sheri Silver is celebrating 10 years of blogging
Sheri Silver has been blogging for exactly 10 years and has created so much beautiful work that it was difficult to choose just four to show you! She is beyond creative and you can see that in her popsicles series alone! She takes an idea and somehow creates a popsicle based on a food trend like the Dalgona coffee. Sheri has created 84 popsicles and each is a masterpiece! You can see them here. But popsicles is not all she does, she has great ideas and each post is well researched and tested. Sheri and I met via Pinterest and when we discovered we lived only about 30 minutes apart, we've been friends ever since.
3. Balanced Life Pilates with Robin Long
Speaking of being home a lot, I am still enjoying the Balanced Life Pilates workout. It's $24 a month and they have a five-day free trial. I love that she has different length workouts for those days when you're happy if you get even a 25-minute workout in or there are longer workouts too. Yesterday she had a 5-minute arm workout. You really feel it the next day! And it's quite enjoyable to hear the waves as she instructs from the beach in Santa Barbara, California.
Join and save $20 on your initial membership using this referral code.
Instagram – my friend with whom I regularly walk sent this article she saw on the Harvard Review Instagram. Not one that I followed, but I do now and I really enjoyed this article: Don't Underestimate the Power of a Walk.
4. Black Houses
Black Houses – I love homes painted black, stained black, all black, or with white trim. It seems more and more people are going for it, but in many countries, it is not something new. I'm a fan, are you?
I took this photo a few years ago while walking from the train station to the Lousiana Museum of Modern Art in Humlebæl, Denmark. You can see more here: Flower Shops + Copenhagen.
New Canaan, Connecticut

Our Tricorn Black Garage
This is the second garage we painted or stained black. It makes for a pretty backdrop in Summer and in snowy winter. You can see our New Canaan black garage in this post and this post.
Black Carriage house in Gramercy Park, NYC
I love this charming carriage house in New York City and had to do a quick walk-by today as I knew I could include it in this post. It was snowing on and off today…I was so hoping I could get a shot of it with snow falling, but we had to settle for a little snow on the boxwoods!
Now make sure to check out the fun things Mary Ann and Cindy found this week!