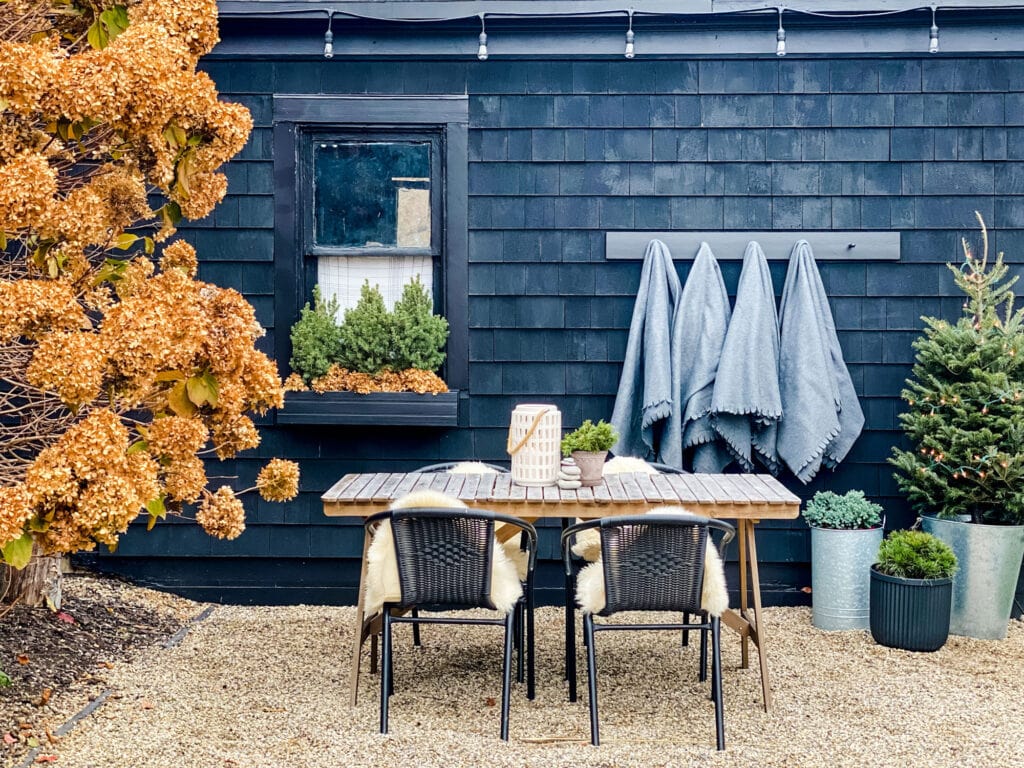 Simple holiday outdoor decor to last all winter! I love to decorate for the holidays, but not make it too Christmassy because winter is long here in Connecticut and once Christmas is over, I don't necessarily want holiday, but I do want winter!
Once again I am joining a wonderful group of bloggers for a holiday home tour. Amy and Christy of Eleven Magnolia Lane and Jenny of Evolution of Style have been putting this holiday home tour together for several years and I so appreciate being asked to join! It sort of forces me to get my act together early, which is a good thing!
I chose to share our porch again this year. I think next year, I am going to choose an indoor space because I'm not sure how much I can change it up with my simple style! Or maybe we'll have to move houses, that would switch things up!
A little repurposed holiday decor and a little bit of foraging to decorate the outdoor shelf
Goodbye pumpkins and mums, and in with all types of evergreens for planters
The minute Thanksgiving is over, the pumpkins and mums are gone and replaced with all types of evergreens. I love the way evergreens look all winter long. So many textures and colors of evergreens can really make winter seem a little less bleak.
Three Cedars Wreath and Garland from Lynch Creek Farm
We've used greens and a wreath for our front door from Lynch Creek Farm for the last five years. Every year they arrive so fresh and last well past Christmas. I always select a delivery date around Thanksgiving so I can decorate Thanksgiving weekend. I love that Lynch Creek Farm never disappoints. You can see how we used Lynch Creek Farm in this post and at our old house in New Canaan in this post. This year keeping it really simple, I chose the Three Cedars wreath and garland for the door.
I always head to Terrain in Westport for outdoor inspiration
I went to Terrain for a little inspiration as I was starting to decide what to keep and what to replace in my planters. I was all set to get rid of the tall grasses I used for our fall porch, but at Terrain, they were using them with evergreens and boxwoods and I loved the warm golden color. Sometimes it helps to see things done well like at a nursery and keep an open mind. I certainly changed my mind and saved some money too by not having to replace everything!
A few holiday pillows and a throw added from Hearth & Hand Magnolia with Magnolia

Side Door that leads to the pantry/basement
I always add a little seasonal decor for our side door. I go in and out of the side door, multiple times of day since our tiny pantry is just behind this door, so why not make it pretty!
Our tiny backyard
A little bit of foraging for small planters
Up next in the holiday home tour is my dear friend Cindy Hattersley
I visited Cindy at her home in October and so I can't wait to see how she transforms her beautiful porch, courtyard, and garden for Christmas! You can visit Cindy's blog, here.
Monday, November 29th (Front Porch/Outdoor Spaces) Southern Hospitality | A Blissful Nest | Most Lovely Things | Cindy Hattersley Design | Shine Your Light
Tuesday, November 30th (Entries/Dining Rooms) 11 Magnolia Lane | Sincerely Marie Designs | The Pink Clutch Blog | Summer Adams | Home by Heidi | Classic Casual Home
Wednesday, December 1st (Living Rooms/Dens) Sincerely Marie Designs | 11 Magnolia Lane | Sincerely Sara D | This is Our Bliss | Thrifty Decor Chick | Dimples and Tangles
Thursday, December 2nd (Kitchens/Laundry Rooms/Misc.) Evolution of Style | Sincerely Marie Designs | A Stroll Thru Life | Pink Peppermint Design | Setting for Four | Citrine Living
Friday, December 3rd (Master Bedroom/Kid's Rooms) Quarters One | Just a Girl | Postcards from the Ridge | Decor Adventures | A Stroll Thru Life | Country Road 407
Title:
Simple Holiday outdoor decor to last all winter!
Keywords:
Simple Holiday outdoor decor to last all winter!
Last Updated:
November 29, 2021