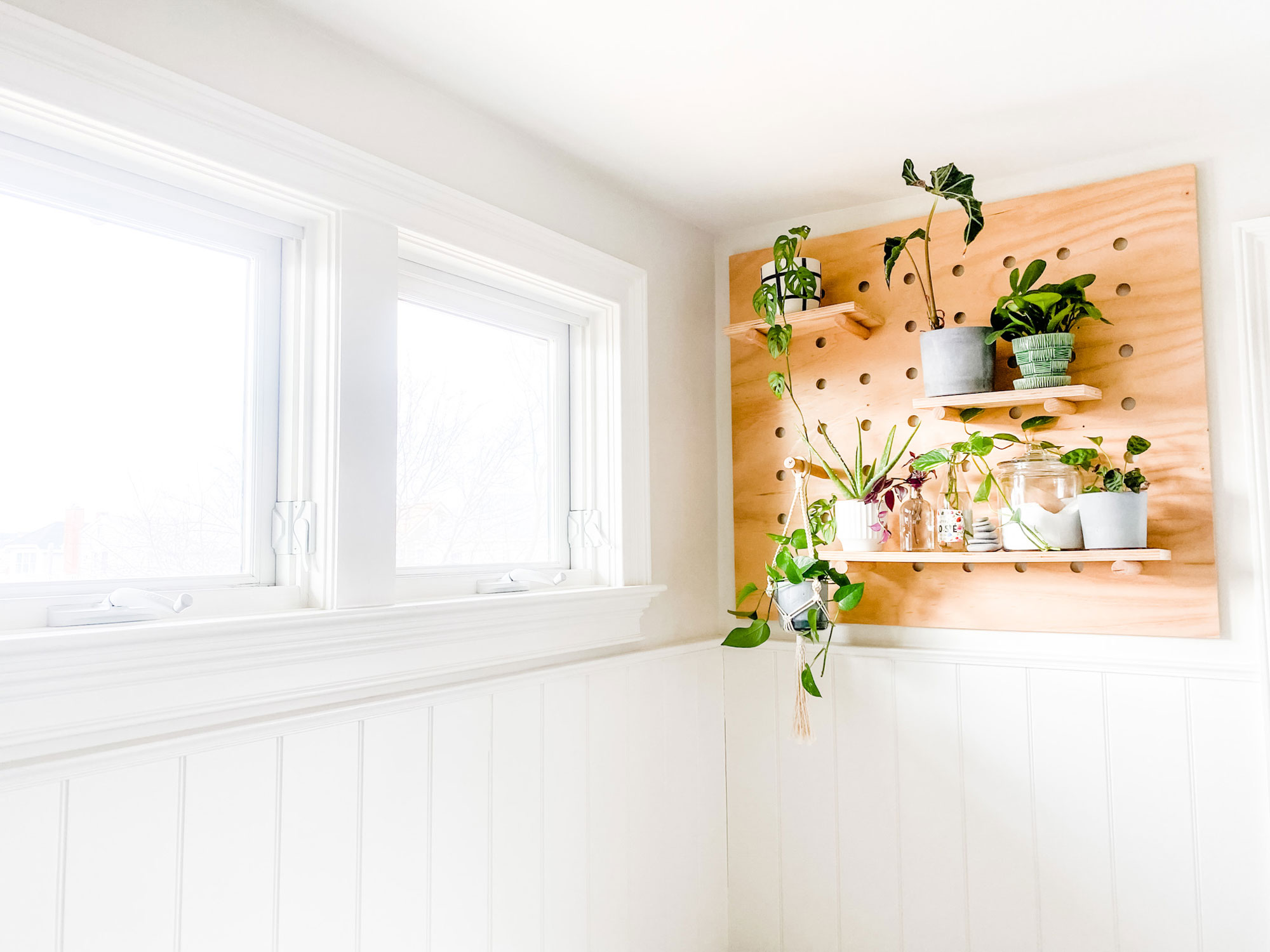 Make this DIY Modern Pegboard for houseplants. When we bought our little beach house, the primary bathroom was already pretty nice. The previous owners converted a small bedroom into a primary bath. The tub is not a freestanding tub like I would prefer, but it's big and it's not a combined shower/tub situation so you won't hear me complaining one bit. The countertops are marble and all the plumbing fixtures are beautiful. A bit traditional for my current taste, but again…not complaining! There's a pretty decent view out the windows and with the reflection in the mirror, I can see the boats going by all year long from the harbor while taking a shower. I'm feeling pretty lucky actually.
So really, all the bathroom needed was a little warming up with some natural woods, a jute rug, and of course plants. Lots of plants. I considered just some simple shelves on the same wall as we have our DIY pegboard, but once I got this in my head…there was no turning back.
This DIY Pegboard is an everchanging display for plants and bottles
The pegboard shelves are the perfect spot to add a few cuttings in small bottles to propagate plants from plant cuttings. The advantage to having it here in the primary bathroom is that I see it often. I can observe the cuttings making sure that when I see roots, I get ready to plant so they don't get confused and think they are water plants.
Where did we get the idea for a DIY pegboard for plants and cuttings?
I found the idea while visiting my twin sister in Arizona. We went to a Berdena's Coffee shop in Scottsdale and they had this huge pegboard with plants and things and I thought…it's perfect and pretty easy. I mean not for me…but for my husband! haha Once I showed him the idea and where I thought we "needed" it, he was one board. A quick trip to Home Depot and in one day we had our custom pegboard.
DIY Modern Plywood Pegboard to hold houseplants & Bath Salts

Add in in a teak ladder and a jute runner from Serena & Lily
Woven Wood Blinds, a Jute Border Rug & a dip-dyed stool warms things up in an all-white bathroom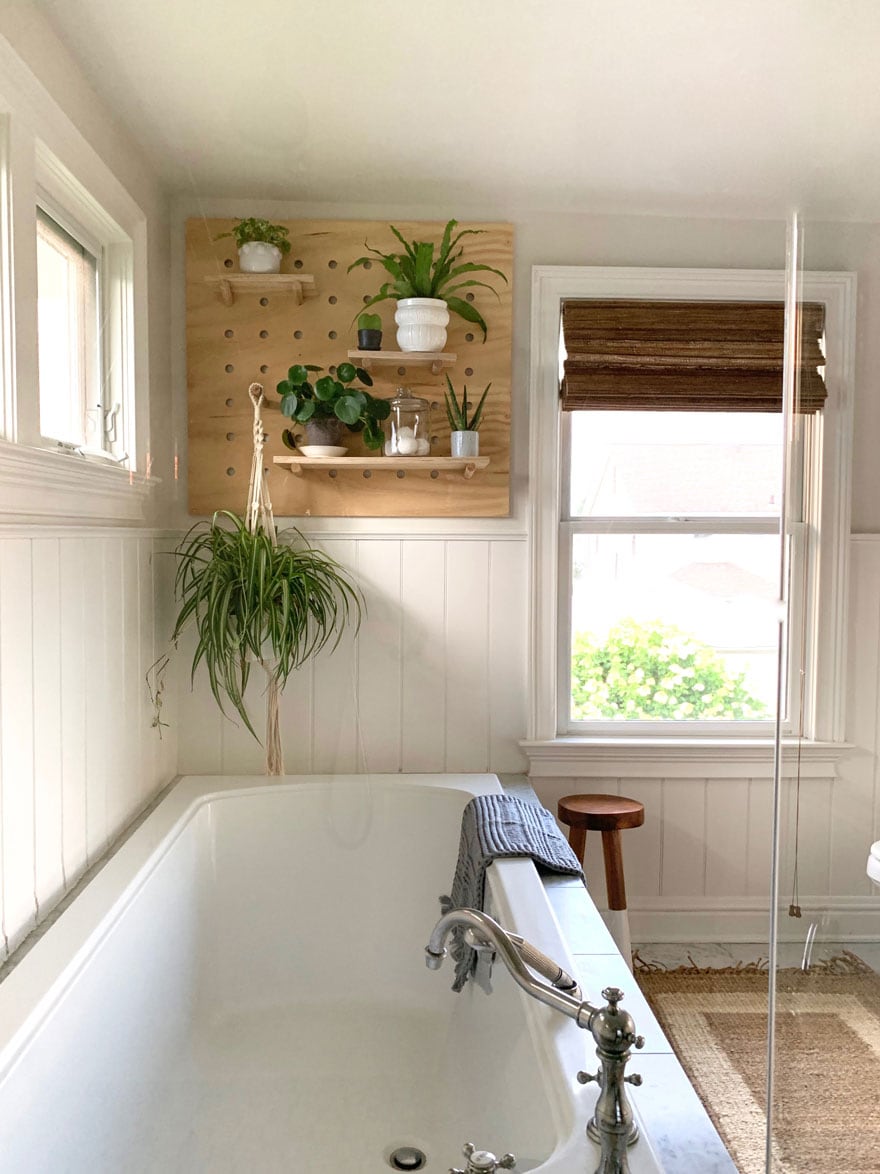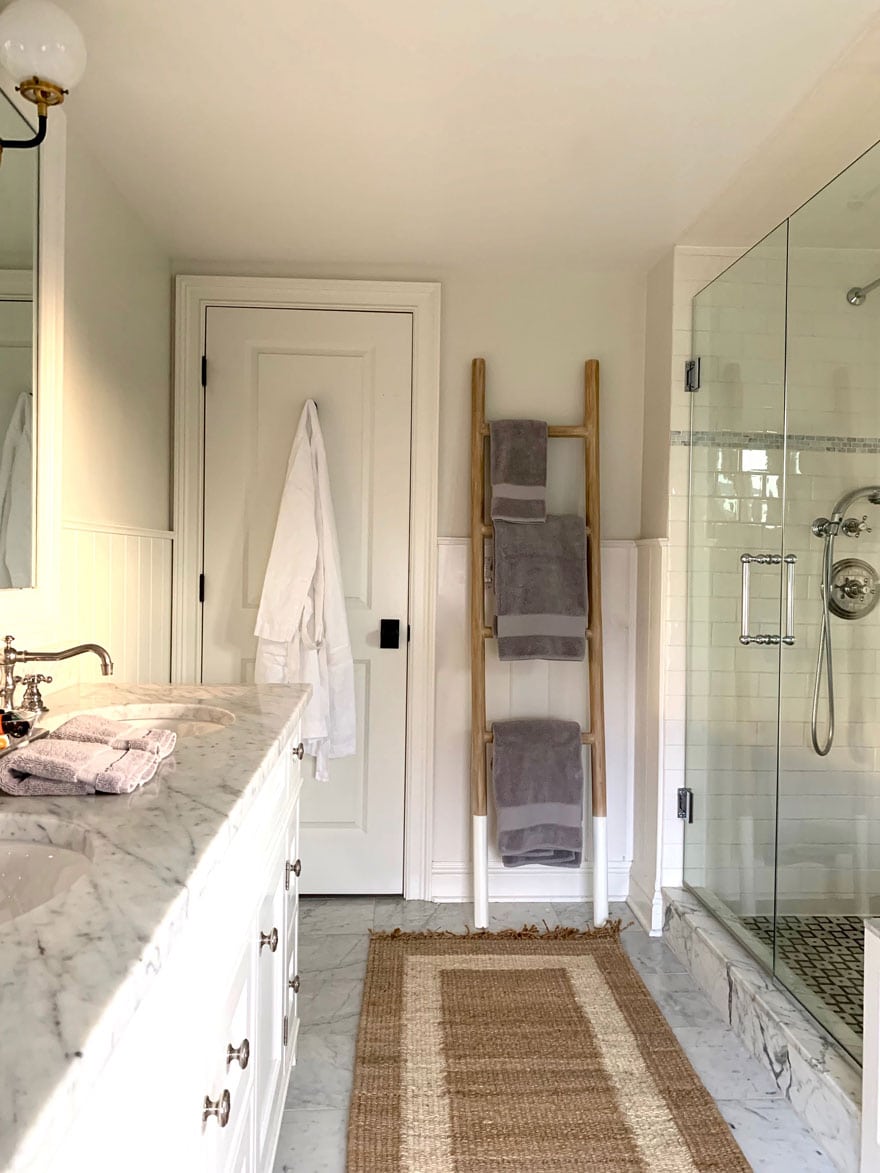 The Lustre Diffuser on a wood trivet from target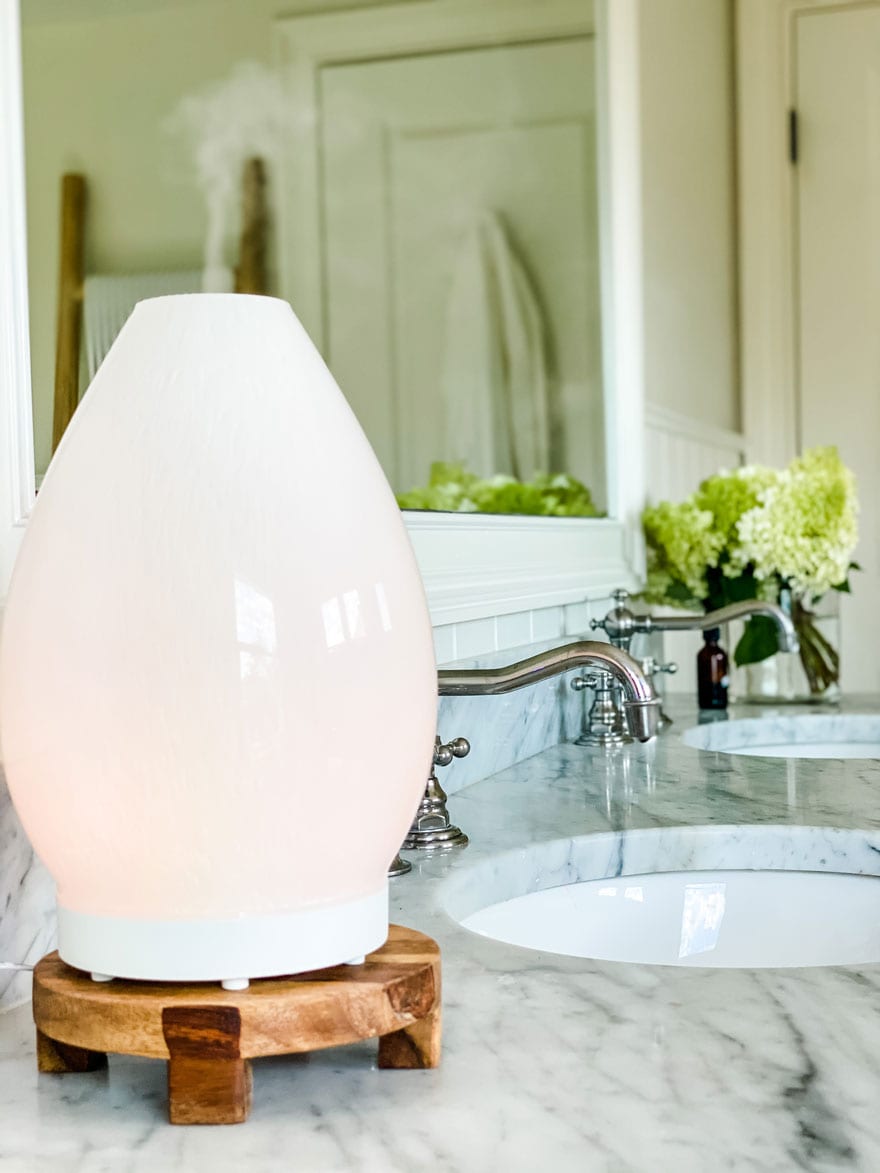 A diffuser is always nice in a bathroom with a tub…I love to diffuse orange and geranium.
Bath Mat, Jute Border Rug, Linen Robe, Napa Towels, Filbert Sconces, Dip-Dyed Stool, Teak Ladder

Here's What You'll Need to make the modern plywood pegboard:
Supply List
Wood:
3/4 inch plywood 4 x 8 (finely finished)
Tools:
table saw (or have the wood cut at Home Depot)

Step 1:
We determined the size of the pegboard by customizing it for the wall space where we were using it. We then determined the size of shelves to balance on the pegs.
Step 2:
We penciled out the grid for where we wanted the holes spacing them 3 1/4″ inches apart with a 4″ border.

Step 3:
We took an extra step (not necessary, but I'm a visual person) so I used a round large hole punch and cut almost the same size pieces of black construction paper and put them at each grid intersection so I could get a good idea what it would look like and also visualize what the border would look like.
Step 4:
Now you are ready to drill the holes at each grid intersection. We placed the board on top of three Home Depot buckets to support the board moving it around as we drilled the holes. Important to note: Make sure to hold the drill level, going in straight so that when you put the pegs into the holes, they will hold the shelf and it will be level.
Step 5:
Once the holes have all been drilled, lightly sand the front of the board creating a smooth surface for finishing. We used a palm sander to sand all four edges. If any pieces of the layers of wood in the plywood chip off, you can leave it or patch with wood filler. Since plywood is made of layers on layers of wood, this will happen a little and you can decide what you want to do. We patched them for a more finished look, but not necessary.
Step 6:
Now you are ready to do the finished work. Spray the varathane on the surface. We used a spray varathane to eliminate drips in the holes.
We used mounting putty that we had on hand so that we could spray the dowels with Varathane.
We then went back and used very fine sandpaper to get a smooth finish after the Varathane.
Determining the size and placement of pegs and shelves…
is just a little playing around with pegs and shelves in different spaces…add in a few plants to get an idea for space and distance between the shelves.
We added one extra dowel without a shelf to hang a macrame plant hanger. All of this is completely customizable and it could change over time, but for now, we are completely happy with the way the project turned out. And we could not be happier with all the items from Serena & Lily! Our once boring all-white bathroom is now anything but boring!