I have known my friend Karen for about 10 years and have never been to her house until last weekend. She used to say, "Maybe when the magnolias bloom." Karen has an incredible eye and her commitment to pared-down living is inspiring. Karen has always been involved in some aspect of the interior design industry.  She currently manages the Lillian August Stamford location, which fuels her passion for simple, beautiful pieces. I asked Karen about where she gets her inspiration… she said many years ago she was searching for a white box with a simple red cross on it and through her search she came across the company Best Made via Remodelista. Karen found the Remodelista site early on and has adapted to that mindset ever since. If you are familiar with Remodelista, then a tour through Karen's house will be no surprise. It follows the manifesto of Remodelista almost to a tee– so much so that I needed to call Karen while I was writing this post just to ask her if she knew the ten rules or the manifesto of Remodelista? She said no, but as I take you through a tour of Karen's house, you'll see that she has a consistent point of view that comes through both inside and out of her charming Easton home.
But before I do, let me share with you the Manifesto of Remodelista and you will see that each of the photos can be assigned a number from the manifesto.
The Manifesto of Remodelista
No. 01  Classic and livable trumps trendy and transient.
No. 02  Ikea mingles well with vintage pieces: A mix of high and low animates a space and allows room for all budgets.
No. 03  Clutter is the enemy.  For a sense of well-being, edit out the extraneous.
No. 04  Thoughtfully designed and produced goods made with sustainable materials are a far better investment than big-box bargains.
No. 05  Ordinary utilitarian items, such as wastebaskets and scrub brushes, can–and should–be as pleasingly elegant as center-of-attention pieces.
No. 06  A room full of neutrals needs a disciplined dose of color. Think throw pillows, textiles, ceramics, and artwork in vibrant shades.
No. 07  Yin want yang:  masculine and feminine elements mix well and benefit each other. Add too much and your space will feel unbalanced.
No. 08  Beauty needn't come at the cost of comfort or utility. Steer clear of unwelcoming furniture and fixtures that don't do their job.
No. 09  A mix of textures makes a room interesting.
No. 10  Stay true; live with what you love.
The home was built in 1880 and this is the original entrance. I love a front door flanked by beautiful planters, especially a white cottage with black windows and a gooseneck light fixture similar to this one from Barnlight Electric.
They recently added new windows on the house in black.  The attached garage takes on its own look painted black with white windows. Rather than worry about having four identical planters for her deck steps, Karen uses a combination which creates an even more interesting and less contrived look.
Karen and her husband Graham have always loved collecting.  Their garage is painted Benjamin Moore Wrought Iron, which makes it the perfect back drop to display a vintage rake and a collection of galvanized tubs and feed bins.
Karen and Graham recently updated the kitchen using Home Depot Shaker cabinets in gray and white shaker cabinets on the refrigerator wall. For the hardware they used simple unpainted round knobs that cost less than $2 each and match the Ikea counter tops. Her white shelves hold items they use everyday.  The porcelain dishes are Aplico and Pillivuyt from Williams Sonoma. I talked about them here and here. Porcelain is very durable and will last for many years without chips or cracks. Even though they are empty nesters, they raised their three beautiful girls, Hilary, Abigail, and Margot in this home and I have to imagine that Karen was intentional in hanging five mugs above the stove.
It's hard to tell in this photo, but the lower cabinets on the wall with the refrigerator are the Shaker White cabinets from Home Depot. I love that they decided to use a combination of colors in their cabinets.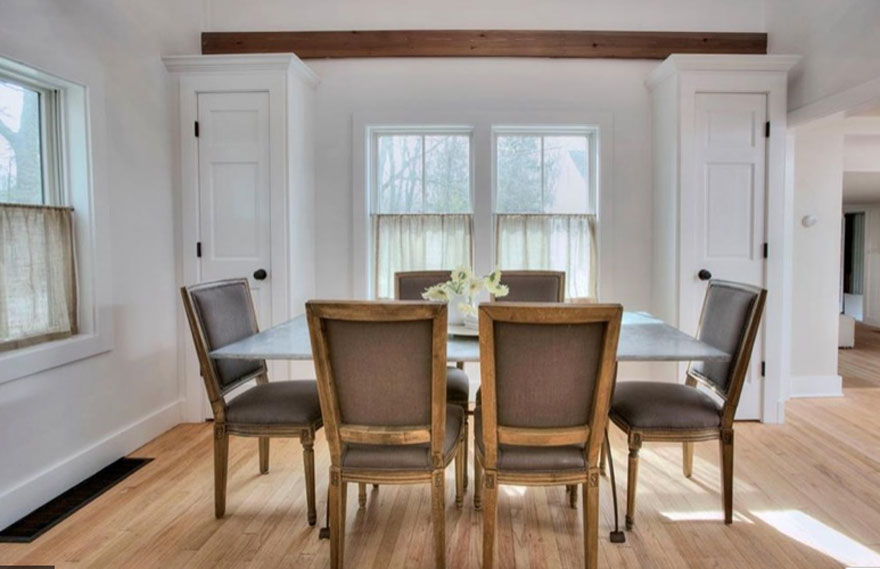 More Verellen pieces here and on the porch.  The sofas from the Verellen Victor and Thibaut Collections.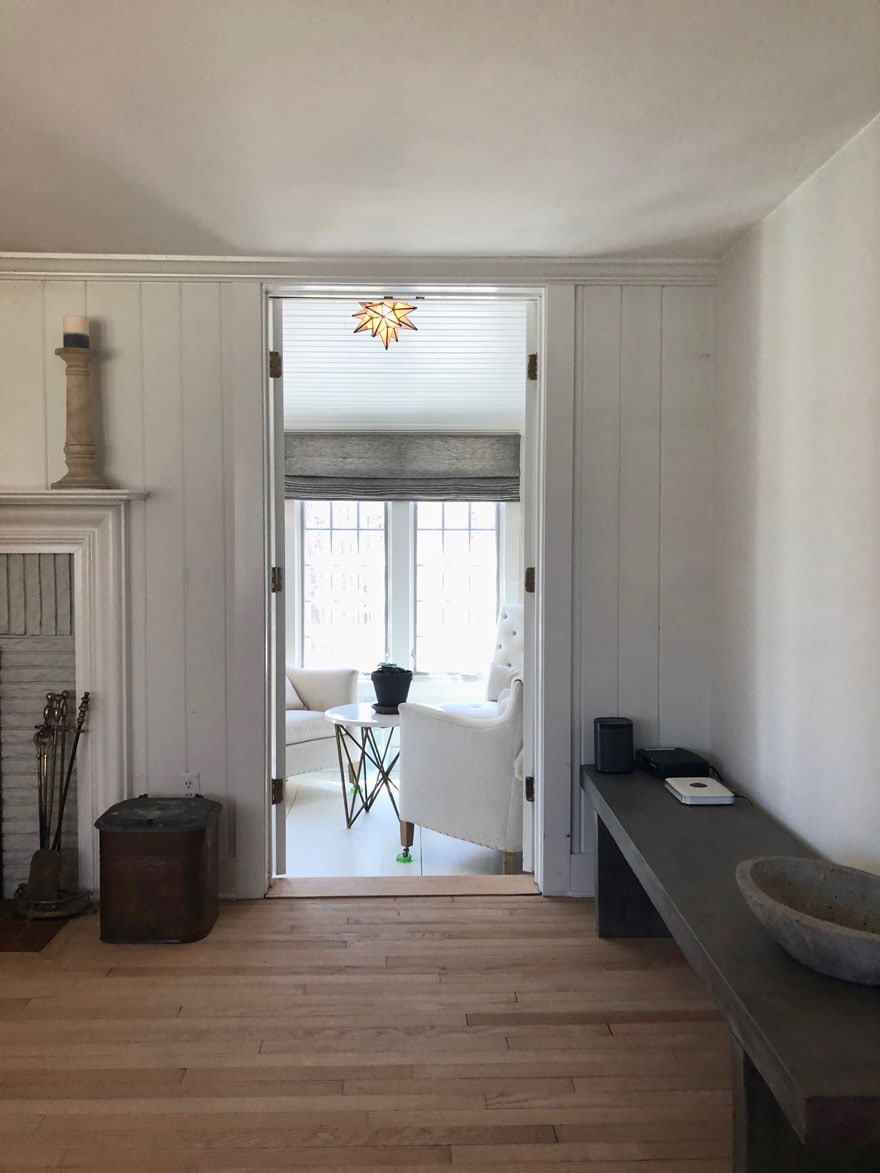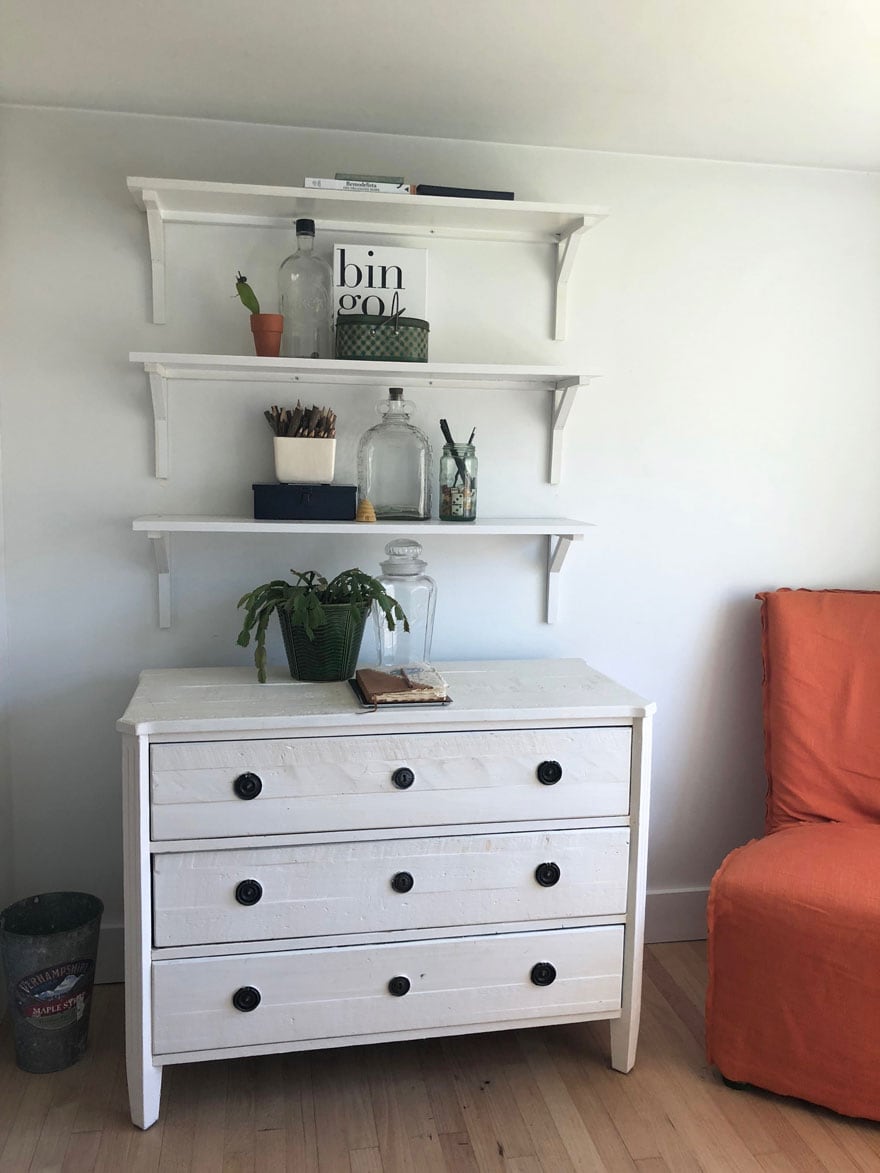 This room and the one below are two small bedrooms that have that disciplined dose of color that Remodelista mentions in their manifesto. Karen loves Verellen furniture for its distinctive details made with elegant materials.  This slipcovered chair and all of her upholstered living room furniture is from Verellen. The yellow bedside lamp (below) was purchased for $5 from an auction.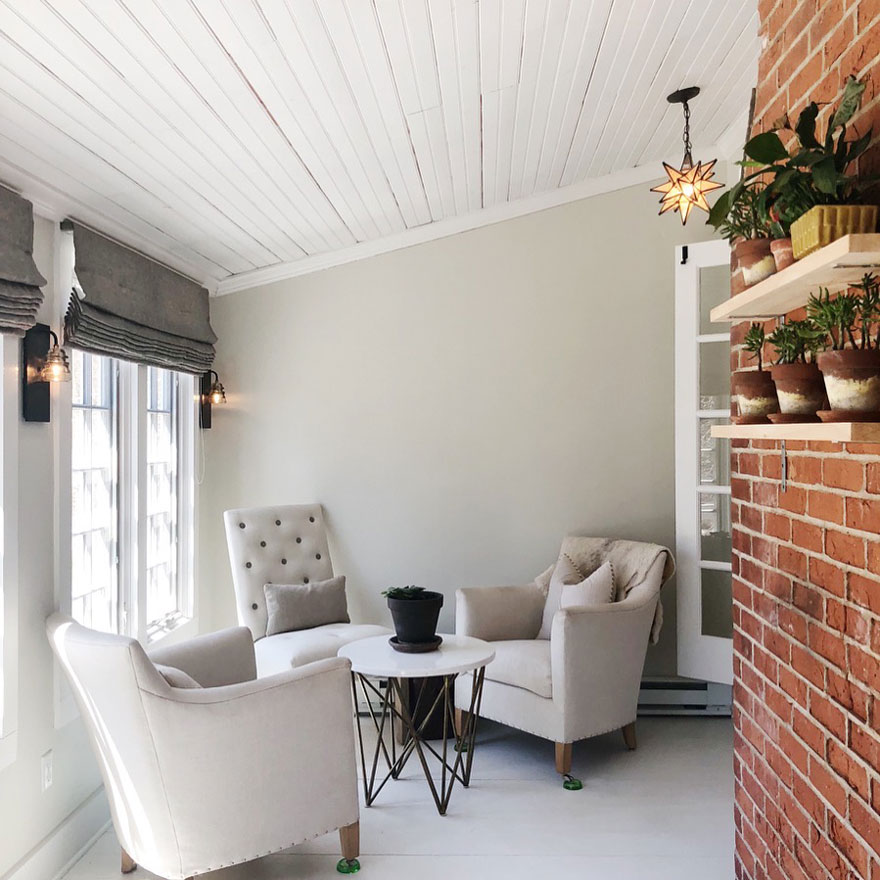 The sunporch is probably my favorite room in Karen's house.  Every detail, from the chairs with casters in vintage depression to the glass coasters and the marble table, is beautiful. The Cisco Brothers sconces and the back of the brick fireplace made into a small garden make use of every space. The opposite side of the room (photo below) has a floating antique cupboard painted in a soft gray.  Karen says in a home with minimal storage and closets, you find spaces everywhere.  I think she said this is her linen closet.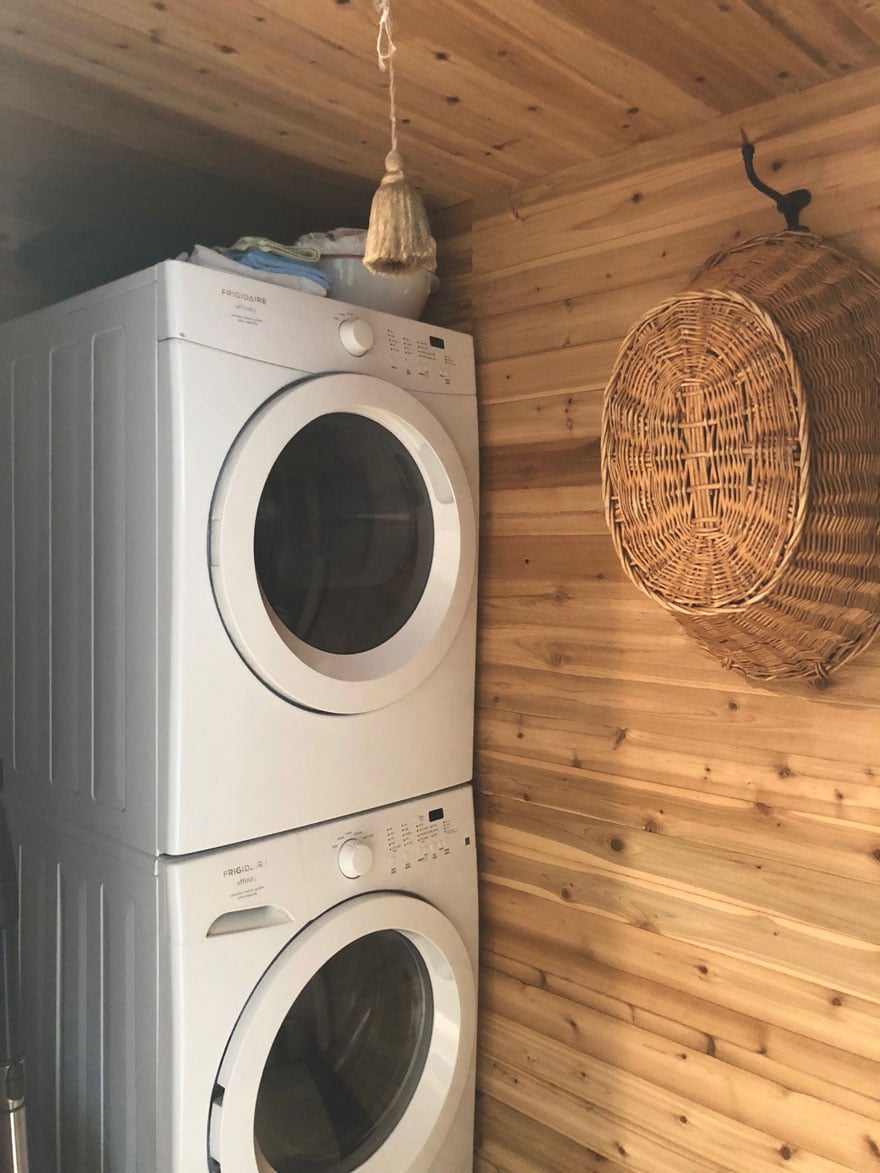 The laundry room is on the main floor, which in an old house is quite a plus!  So why not make it beautiful? They used cedar planking on the walls and ceiling and a vintage tassel as a light pull.
Karen rarely uses her clothes dryer.  She prefers to use her outdoor clothesline.  She keeps her minimal cleaning supplies and household items in her neat and tiny laundry room.
Karen and her husband keep a kitchen garden and plant mainly things that are needed to make their own tomato sauce. She of course uses glass jars like these for canning.  She said she was inspired by zerowaste.com. Karen explained that she loves a challenge and believes in taking preventative measures for the environment.  She says, "Just don't bring it home" and then laughs and says when her husband brings home a plastic bag from the grocery store it's like he's brought home another woman!  "What is that?" she says!  Then she laughs and says, "I drive an '89 Ford Bronco named Rusty and we recently acquired a '72 VW Bug named Lucy that lives at her mechanic's. No ones's perfect!

The magnolia trees in Karen's backyard were not yet in bloom last Sunday so I've already warned her that I'll be back, because I wouldn't want to miss the chance to see the magnolia trees.  This year spring has come very slowly to the Northeast, but soon, very soon, it will be summer and we will all be wondering whatever happened to spring!  To connect or work with Karen, you can DM her on her instagram.
Title:
A Connecticut cottage inspired by Remodelista
Mentions:
black home exteriors, Connecticut, cottage living, house exterior, interior design, interiors, karen angelo, Remodelista, simple living
Keywords:
A Connecticut cottage inspired by Remodelista
Last Updated:
April 24, 2018