It's August 1st! Anyone else surprised how it could be already August? Well, here we are and back with another Sunday Favorites with my besties, Cindy and Mary Ann!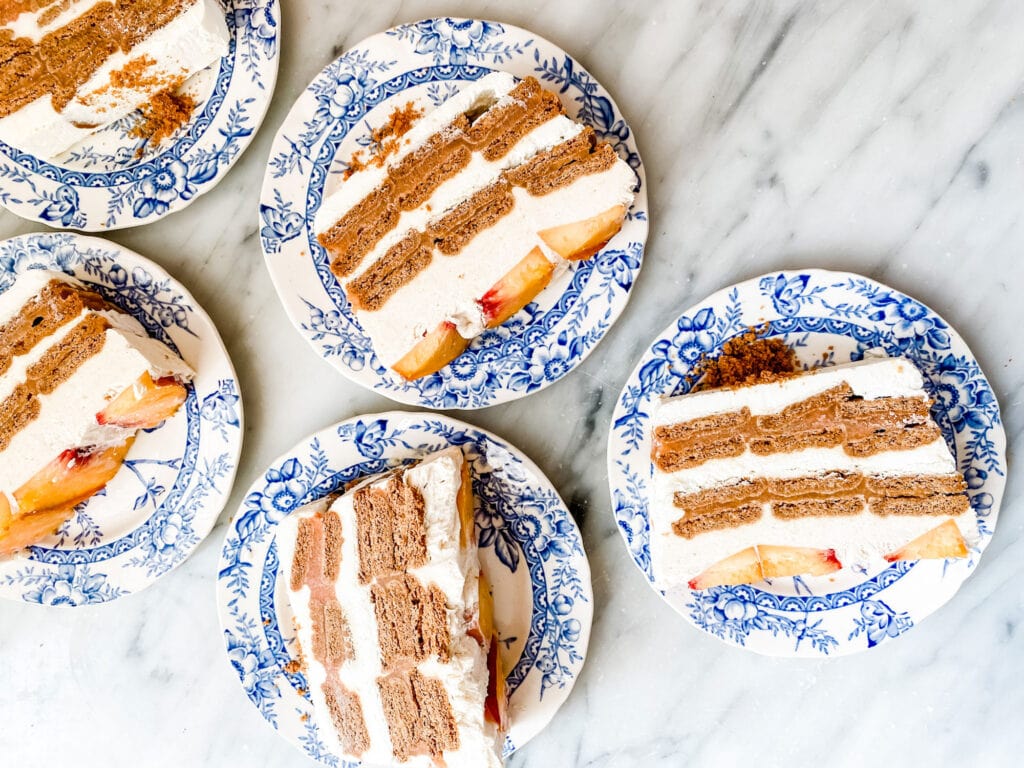 An icebox cake is the best make-ahead dessert! When you receive 2 crates of peaches from The Peach Truck you find yourself looking for "peach recipes" and there's no shortage of ideas! We loved them on their own, but since we had so many we decided to make a peach and cream version of the Biscoff Icebox Cake that we made last week. We started with a peach purée and it was so delicious that we added it to yogurt and oatmeal all week. You can check out the original recipe in this post. For this version, we simply added a layer of peach purée, and then at the very end, we layered on some fresh peaches because peaches are gorgeous!
We started with making a peach Purée and added it to everything!
The Perfect Sconce from Schoolhouse Electric and it comes in 2 sizes & 4 colors
The Alabax has a tulip-like silhouette and is similar to industrial lights found in a 1951 General Electric catalog. They come in four colors and two sizes.
I stopped by my friend Sheri's the other day and while I was admiring all her new plants (She has a plant subscription from The Sill and every month she receives a new plant) I noticed her white Alabax Sconces from Schoolhouse Electric in a whole new way! I love these sconces and they are so versatile. Here, Sheri used it as part art in the room. She has two (one on each side of the French doors leading to the dining room above sketches framed in silver. She chose a silver-tip bulb which is practical in dispersing the light in the room, but it also adds to the overall look she was going for in the room.
Diane used the large Alabax sconce in black for her upstairs hallway and it totally transformed it! She had her eye on something that was about 10x the price when I suggested the Alabax and next thing you know, she ordered four of them and they look amazing! She also used Emtek Hardware in matte black and that just adds to the clean look of this hallway that they did when re-created an upstairs laundry room. You can read more about that in this post and see Diane's Kitchen here!
See how we used Schoolhouse lighting in our New Canaan Kitchen here!
More talk on Laundry Stripping
So many people are still talking about Laundry stripping, so when I saw this article from Martha Stewart, I knew I had to pass it on. It's what I thought, but it was still an interesting read and it reinforced my decision to use plant-based Thieves Laundry Soap over products that are filled with processed petrochemicals. Read that post right here!
This pair of loafers at the Nordstrom anniversary sale
I stopped into my local Nordstrom which is only a few minutes from us and took a walk though the shoe department and left with this pair of loafers. I never (ever) wear heels, so I like to find fun loafers that I can dress up a bit.

Creating an end of summer outdoor space for under $1,500!
Helping a friend create an outdoor space at the end of summer can be tricky with everything out of stock, but we managed to find some pretty fun stuff and kept close to budget! She'll have almost everything within a week which means they still have quite a bit of summer left to enjoy the space!
Here are the items that we ordered!
Sorrento Rectangle Acacia Wood Expandable Dining Table
Abrahamic Stacking Dining Chair (Set of 4)
Metal Slat Folding Chair Black (2)
6 Piece Acacia Wood L-Shaped Corner Sectional
Planters (to be painted black)
Patio String Lights (Incandescent)

Now let's go see what Mary Ann and Cindy found this week!