How to ditch toxins hiding in your laundry. It may seem like a daunting task, but it's the first thing I did once I stopped burning candles! When I first started using essential oils it was to diffuse essential oils over scented candles that I was burning several hours a day. Then I watched the documentary STINK and downloaded the Think Dirty app and decided I would start making changes in the laundry room. It was an easy place to switch over and everything I did was impactful on our overall health. This post will show you the steps I took to ditch those toxic chemicals.
The first thing I needed to come to grips with was the notion that nice-smelling laundry from a detergent full of fragrance was not doing me any favors. There are several ways to make changes in your cleaning supplies and household products, but today I am going to focus on just six things that I do differently now that I am aware of the hidden dangers of fragrance. This article is an excellent read and goes into more depth about all toxins in the laundry.
Start by ditching your current laundry detergent that's filled with toxic chemicals and use a plant-based soap instead
1. Thieves Laundry Soap
I was a huge fan of Tide. I loved it and trusted Tide for years. When my kids were babies, I used Dreft detergent for every load of their tiny clothes. It never occurred to me that fragrance was toxic. When I looked up Tide and then Dreft (just because I was curious), I was shocked to find out that both rated very poorly due to fragrance and other chemicals like Diethylene Glycol.
I now use Thieves Laundry Soap from Young Living. It's plant-based and free from SLS, dyes, petrochemicals, formaldehyde, phosphates, and synthetic perfume.
Thieves Laundry Soap is highly concentrated so you only need a small amount. You can use it straight from the bottle, or you can dilute it in a pump bottle like this and add a few capfuls of Thieves Household Cleaner and a few drops of Lemon Essential Oil to boost the cleaning power. I use it diluted for most loads, but I also keep a bottle on hand that's undiluted too. It's really a personal preference, but either way, your clothes will be cleaner and they won't have the build-up that is caused by fragrance in most detergents.
Laundry Stripping
If you are doing any research on what all of the toxic laundry detergents leave behind, then no doubt, you've read about laundry stripping. I first heard about it on TikTok of all things. I tried it because I was curious. Is it necessary? Not really. If you switch to something like Thieves Laundry Soap your clothes will eventually get rid of the coating that is building up on your clothes. It's like using inexpensive shampoo, you get that build-up that coats your hair. It's not that your hair (or your clothes) are actually dirty, it's the build-up of excess product. You can read more about it in this post in Apartment Therapy.
If you love your laundry to smell nice, add a scent booster!
2. Scent Booster
If you're like me, you love nice smelling laundry. We associate it with clean laundry, but that's just not the case. When using a plant-based laundry soap that is free of any kind of fragrance, you can easily make your own scent booster using pure essential oils to give you nice smelling laundry that's free of any fragrance. I like to add essential oils like lemongrass or Citrus Fresh to my scent booster. To make a large batch, combine 5 cups unscented Epsom salts, 2 1/2 cups baking soda, and about 80 drops of essential oil. I know that 80 drops sound like a lot. A 15ml bottle of essential oil contains about 250 drops, so it's about 1/3 of a bottle. I use about 1/4 cup of the scent booster in each load, a little more for larger loads, so that's approximately 30 loads.
3. All Natural Stain Stick + the benefits of Lemon Essential Oil to get out even the toughest stains
Here's something that works better than any stain remover I've tried and again…free from harsh chemicals and fragrance. I use 15ml roller bottles. Mine is more like travel size so you can get rid of those Tide-on-the-Go. You can use this bottle which is a 30ml bottle and perfect for a family-size stain stick. All you need to remember is to use 1/2 Thieves dish soap, 1/2 Thieves Household Cleaner and 10-30 drops of Lemon essential oil, depending on the size of your bottle. Then roll on stains as needed and launder.
How to treat really tough stains
For really tough stains, add a few drops of lemon essential oil straight from the bottle onto the stain. I have saved many clothing items using lemon! I saw this post on Remodelista and as soon as I read the headline, I knew they must be talking about lemon. In this article, they are referring to fresh lemon juice, but imagine the power of using a few drops of pure Lemon Essential Oil.
The first thing to ditch? Those awful dryer sheets!
4. Linen Spray + Wool Dryer Balls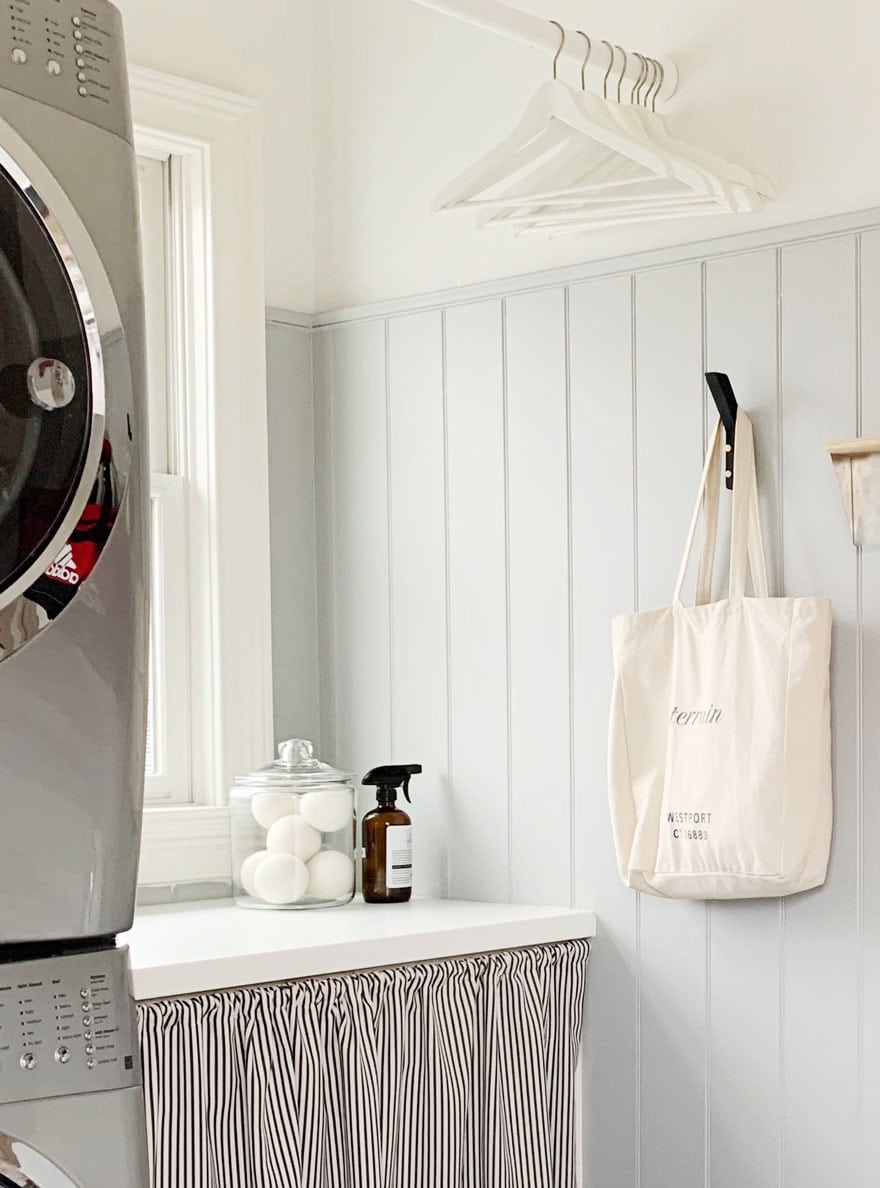 The first thing to get rid of in your laundry room is those awful dryer sheets. I switched to wool dryer balls a few years ago, but then when I started using essential oils, I realized I could add a few drops of essential oils to my dryer balls. You can also make a spray to use on your linens or on the dryer balls and then toss it in with your load. For sheets, I use lavender, towels, citrus fresh, and purification. The trick with using dryer balls is to not over-dry your clothing. That's when the static happens. For large loads with heavy items like towels, I'll toss in 5 wool balls. It helps lift and separate the items and may even reduce the drying time. Dryer sheets add a coating on your clothes and on your machine. Switching to dryer balls is better for you, your clothes and will even extend the life of your machine!
5. Wrinkle Release Spray
Here's another product that I used to spray liberally onto my clothing, Downy Wrinkle spray. It has tons of fragrance (which is clearly evident as you spray) and a few other nasty chemicals like Propylparaben. You can so easily make your own! You can read more in this post.
6. Washing Machine Cleaner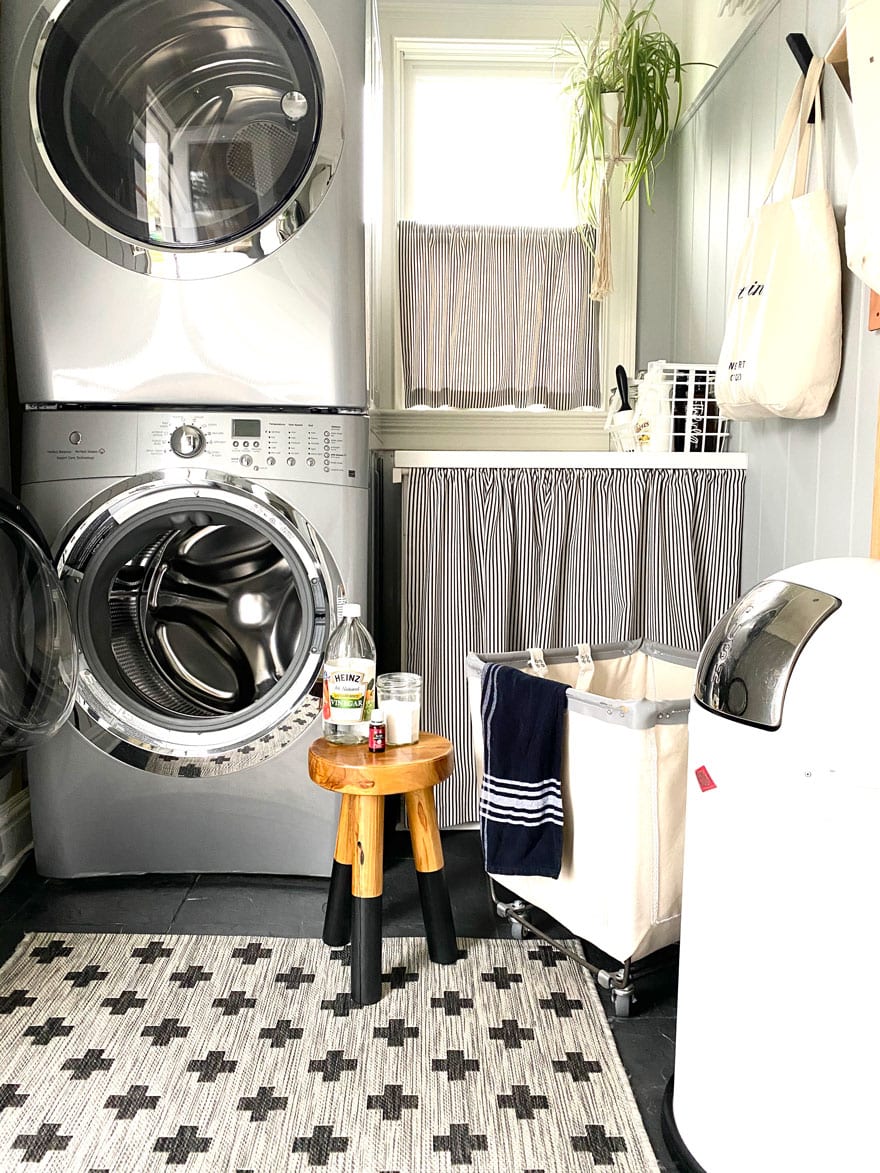 I have a washing machine that prompts me with a warning message when it needs to be cleaned. I do a lot of laundry, so I admit that I bypass it for a good week when I get these messages. Why? Who knows, because it is so easy to clean your machine. Why is it important to clean your machine regularly? It helps with your laundry, it gets cleaner and it prolongs the life of your machine! You only need a few household items like white vinegar, baking soda and I use tea tree essential oil. Read more in this post!
So that's how we made a few simple changes to "clean up" our laundry room, so to speak! If you want to do the same, I have created a Laundry Bundle that gets you started with a clean laundry room free from fragrances and other harsh chemicals. I'll add a shopping list for a few other things, but you probably already have those items on hand!
Here's the link to buy a Haven Starter kit (I diffuse Lemongrass in the laundry room all day) and the items you'll need to switch over to make all of the items above. Reach out if you have any questions or let's customize a bundle for the exact items you want!
Buy the Laundry Bundle starting with a Haven diffuser and then add the laundry soap, Thieves products, and oils mentioned above.
Shop the post