Have leftover salmon from last night and don't know what to do with it? Then try this salmon mousse with cream cheese, cucumbers, and spicy mayo. You will not be disappointed.
We love grilled salmon fillets and have them quite often – especially during the summer. It's one of our favorite dishes, and it goes with so many different vegetables and spices. Salmon, on the grill or in the oven, always feels fresh, light, and savory and is packed with great nutrients.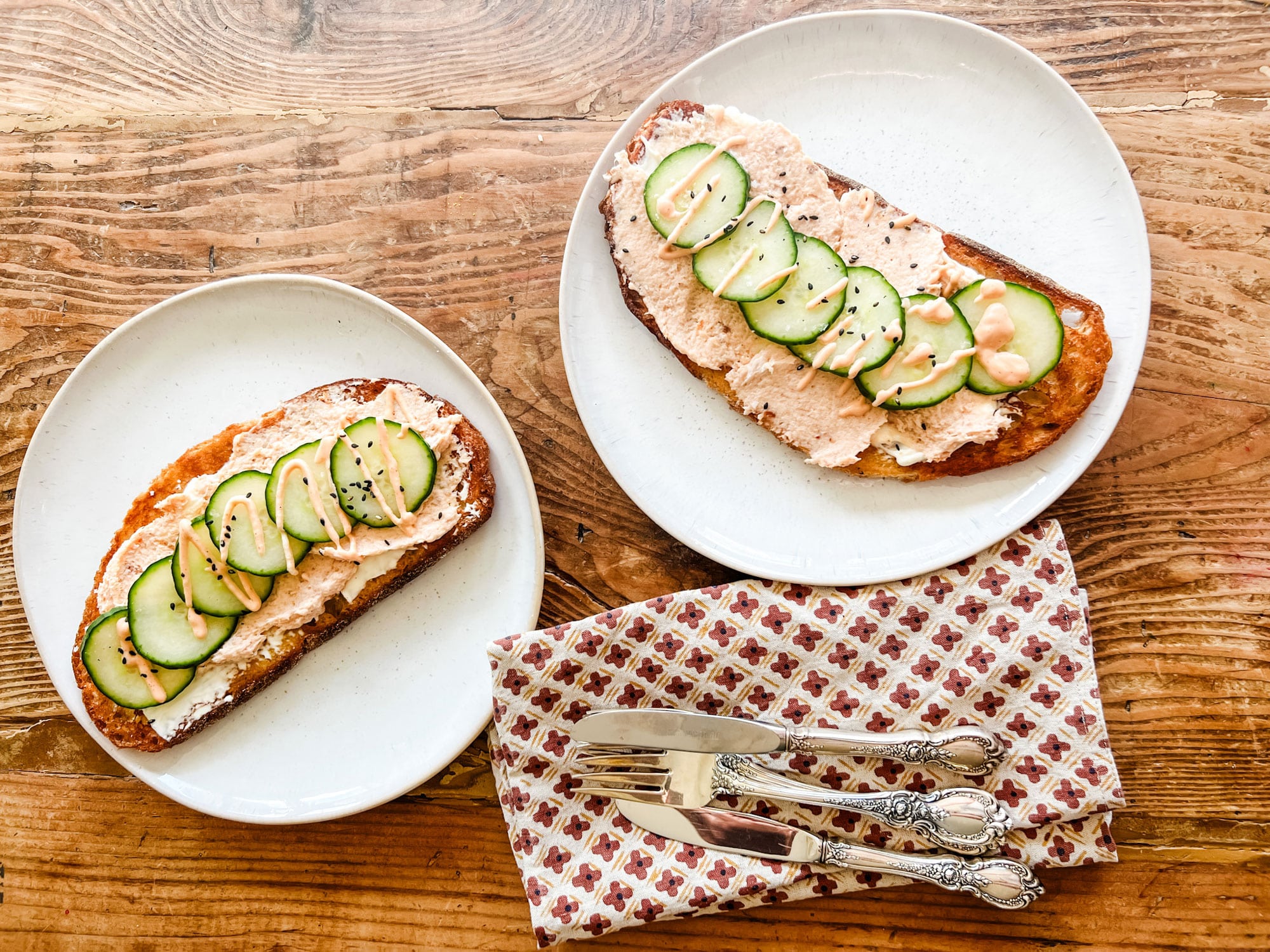 But it's hard to buy and cook the exact right amount. And it doesn't seem to matter whether you buy for one, two, or more people. Since we never want to run short on servings, we seem to always err on the side of more than we actually need.
Sometimes we would use the leftovers but more often than not we ended up throwing them away. And who doesn't always feel guilty doing that?
Then, a few years back, we had the idea of making salmon mousse or salmon dip with the leftovers and had that with some fun crackers. It was a delicious way to use the leftovers the next day. Our rule of thumb is that you have to use fish the next day.
We grilled salmon one-night last week and, of course, had more than we could eat. The next morning while brainstorming about what Tuesday's tartine would be, I remembered the salmon mousse and wondered out loud if it would work as a tartine. So for lunch, I grabbed some cream cheese, a cucumber from the garden and decided to give it a try. It's now one of my favorite salmon recipes and the bonus, it's super easy!
The ingredients:
Whatever amount of salmon you have left over (I estimated we had between 1/3 and 1/2 lb.)
Cream cheese
Cucumber
Mayonnaise
Sriracha sauce
Salt and pepper to flavor
Slices of your choice of bread
Toasted sesame seeds (I prefer to use black sesame seeds)
How to make the salmon mousse
Place the cooked salmon in the bowl of a food processor
Add mayonnaise (approximately 3 tablespoons for every 1/2 pound of salmon) or mix half mayonnaise and half olive oil
Pulse until smooth, pausing and scraping down the sides during the process
Add some sea salt and black pepper to taste
Transfer to a bowl, stir to make sure everything is combined and set aside
How to make the sauce
There is no real secret to making the sauce. And I don't follow a recipe. I simply mix mayonnaise, sometimes a little bit of olive oil, and depending on the amount of heat I want, the sriracha sauce. I then put it in a squirt bottle and place it back in the fridge until I'm ready to use it.
How to make the tartine
Thinly slice the cucumbers and add a little bit of salt and pepper
​Butter one side of the bread slices
Toast the sliced bread in a frying pan (butter side down), cast iron skillet, or panini maker on high heat or under the broiler until it has a nice golden brown crisp
Spread a thin layer of cream cheese on the toast
Spread the salmon mousse on top of the cream cheese
Top with the cucumbers
Drizzle a small amount of the mayo/sriracha sauce combo on top of the cucumbers.
Sprinkle sesame seeds on top and serve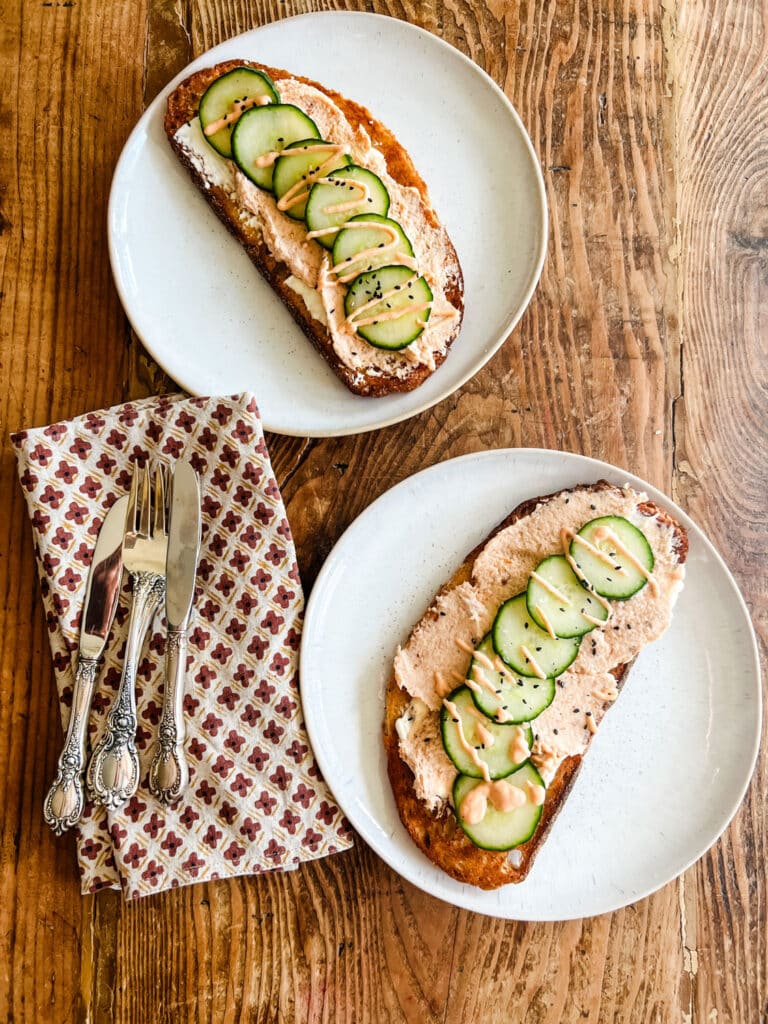 Some potential swaps or additions
If you're not a fan of mayonnaise, you could substitute olive oil for the salmon mousse
Green onions or chives would be good sprinkled on top
You could also garnish the tartine with your favorite fresh herbs (think fresh dill, basil, parsley, etc.)
While I haven't tried it, you could use smoked salmon from the store rather than leftovers (think bagels, cream cheese and lox)
Print
Use Leftover Grilled Salmon For an Easy Delicious Tartine
How often do you cook or grill salmon, have leftovers, and don't know what to do with it? You're not alone, it used to happen to us until we discovered this delicious tartine. 
Author:
Prep Time:

20

Total Time:

20 minutes
Cooked salmon (I estimated we had between 1/3 and 1/2 lb.)

1

Package of cream cheese

1

English cucumber

3 tablespoons

of mayonnaise (for salmon mousse)
Sriracha sauce according to your taste
Salt and pepper to taste
Slices of your choice of bread (we use loaves of either French country or Italian)
Toasted sesame seeds (I prefer to use black sesame seeds)
Butter for bread
Instructions
Thinly slice the cucumbers and add a little bit of salt and pepper
​Butter one side of the bread slices
Toast the sliced bread until it has a nice golden brown crisp
Spread a thin layer of cream cheese on the toast
Spread the salmon mousse on top of the cream cheese
Top with seasoned cucumbers
Drizzle a small amount of the mayo/sriracha sauce combo on top of the cucumbers
Sprinkle sesame seeds on top and serve immediately
Keywords: Tartine, salmon mousse
If you liked reading Use Leftover Grilled Salmon For an Easy Delicious Tartine, you may also enjoy: