Diane Karmen got creative with space in her beautiful new laundry room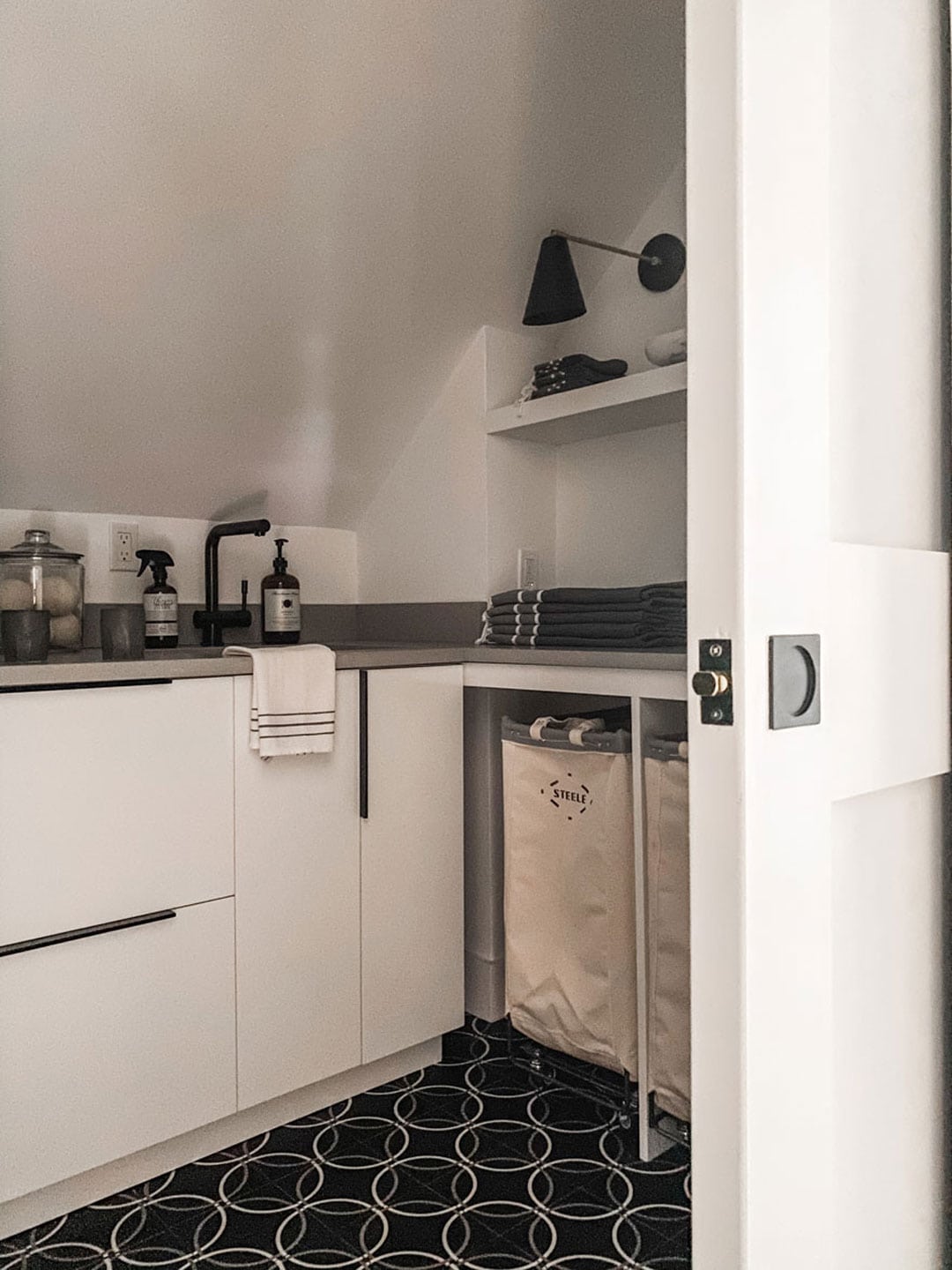 My friend Diane Karmen is an interior designer and I happen to love everything she does! We shop together and we both love shades of black and white. We often show up wearing the same thing…which is not hard to do when we typically wear jeans and a t-shirt, but I'm talking about the exact same t-shirt. Diane has an incredible eye so when she started talking about re-doing her laundry room…I knew it would be enviable.
Diane and her husband have lived in their home for 22 years. They have raised their two sons who now live in LA. So now it's just her and her husband and she has the perfect laundry room…finally. Scroll to the bottom to see the before laundry space!
The Swedish Utility Rack from Schoolhouse is the perfect accessory for hanging fine washables & exercise clothes
Diane's laundry closet was in their upstairs hallway behind dated bi-fold doors. Going back 20 years when they renovated and added on to the kitchen, she knew they had the option to create a larger laundry room. At the time, they just weren't ready for another big project, but it was something she had in the back of her mind…knowing there was some space under the eave of the house that could possibly be used for a real dedicated laundry room. After talking to a few contractors and her original architect who is a good friend…turns out she was right! They were able to remove an old roof under the eave that was not supporting anything but had just been buried away behind walls. This created an additional space of about 10′ x 6′ which for a laundry room is quite significant. The former space was converted to a walk-in closet.
Diane used a Lulani pullout faucet in Steel Black. It's the look she wanted with the ease of the pull-out faucet to rinse the sink after using. It comes in several finishes.
Lulani Nassau Pull-out faucet
And as with most home renovation projects…one project leads to the next as it did in this case. The hallway was once a dark space with textured walls and without ventilation, it was terribly hot in the summer. They opted to install a Mitsubishi Electric split heat and cooling unit mounted strategically in front of the door to the laundry room. So it keeps the laundry room cool while keeping the upstairs hallway cool as well. Diane wanted to install wide shiplap as she used in other parts of her home, but her contractor came up with an idea to get the look of shiplap, but for less money. He used MDF and cut grooves 8″ apart making it look like it's shiplap, but it's just one piece of wood. The matte black Emtek hardware, the floor thresholds painted gloss black, and large Alabax lights make this space shine!
Emtek Hardware in Matte black & Large Alabax Schoolhouse Electric lights make a big impact in Diane's Hallway
It's all in the details
a. Cedar & Moss Sconce // b. measuring cup // c. Flush Mount Light from SchoolHouse Electric // d. Wool Dryer Balls // e. Anchor Hocking Glass Jar // f. Swedish Utility Rack // g. under-mount stainless sink // h. Nassau Pull-Out Faucet// i. Emtek Pocket-Door Hardware // J. Emtek Cabinet Edge Pulls // k. Emtek Round Knob // l. Steel Canvas Laundry Bin // n. Laundress Cashmere Brush // o. Laundress Sweater Comb // p. Murchison-Hume Laundry Soap
To find a dealer that sells Emtek Hardware near you, click here.
Shop the post

Here is Diane's laundry space before the renovation!
The Hallway before and the space used to create the new laundry room
Diane struck gold when she found an extra room in their house! As a designer, she carefully planned out every aspect to make it the functional laundry room and hallway she had always wanted.
If you are local to Fairfield County, Connecticut area, Diane highly recommends her electrician JBG Electric. @jbgelectriccorp.