My friend Diane Karmen is a well-known designer based in Westport, Connecticut, with projects in Fairfield County, Manhattan, The Hamptons, and Beaver Creek, Colorado, just to name a few.  But it is her own home and specifically her beautiful modern farmhouse kitchen that stops me in my tracks every time I see it.  Her home was featured here and yesterday I had the pleasure of having coffee with Diane at her kitchen table.  We typically say, "let's get together" and then I invite myself over…as you do.
Diane uses a combination of modern and traditional touches in black, white and wood that bring it all together into a serene space that makes you never want to leave.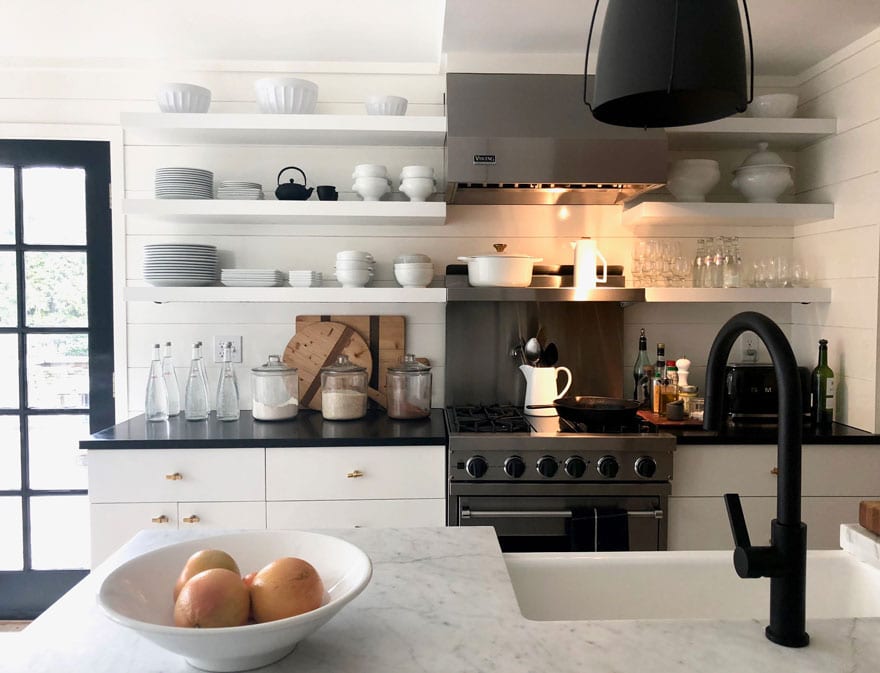 I love how Diane uses a combination of black granite and white marble countertops with a very modern, clean lined faucet combined with a Shaw farm sink.
Diane warms up the black and white space with wood boards and warm brass hardware.
She explained that she re-purposed a piece of granite and had her cabinet maker build a custom coffee counter.  She warms up the space with baskets and everyone's favorite step stool from Serena & Lily.
I adore her open pantry filled with simple Anchor Hocking glass jars.  Even her husband's protein bars are black & White!
Dish soap and hand soap are luxurious and beautiful in a simple white tray.
Everything in white creates a serene space with a garden view.
Diane said she recently went back to her old chairs for a change.  I love the white chairs with white table and so perfect with a winter view.  If only it could have snowed during my visit!
Get the look with every detail in Diane's Kitchen
1, 2, 3.  || 4. || 5. || 6. || 7. || 8. || 9. || 10. || 11. || 12. || 13, 14. || 15. || 16. || 17. || 18.
Check back Monday to see how I bring flowers to a designer.  You know it's simple, but beautiful, well at least in my opinion and check out this post where I featured Diane's outdoor space last Spring.
SaveSave