How to hide a thermostat that's in the middle of the wall! I've been thinking about this since we moved into this house and it's coming up on three years! But before we get into the easiest solution ever to distract from that thermostat that's taking up wall space, let's just say I am so thankful to be joining my friends Cindy and Mary Ann each week to bring you our favorite finds of the week. And of course, I am so grateful that you come back to read them each week, so I'm doing a fun giveaway with my friend Karen as a thank you! (You can read more about that later in the post)!
Using crates on the wall (as art)?
Using crates on the wall is not something new, we used them in Patrick's room in New Canaan and again in this house to display baseballs, books, souvenirs, etc. A grouping of crates was a perfect solution to organizing chaos and it worked beautifully. For kids' rooms, art, or creative spaces, it's such a cool way to organize a lot of little things and it looks pretty too!
But for this purpose, it was a wall right in the middle of our main floor. It had a Nest Thermostat and a light switch. I thought about hanging art, but where on the wall would I hang it? It all looked off. Then I thought, what if we found an assortment of wooden crates and hung them around the thermostat and the light switch? We actually "framed" the Nest thermostat inside the crate by cutting out a rectangle the same size as the mount for the Nest
Here's how we usedwood crates and what we displayed
Then we hung a small crate to the right of the light switch (we wanted to leave that clear for obvious reasons) and then added a larger crate that bent fitted with a shelf so we could display more items. The small painting is a commissioned piece by Aiden Paez of one of our favorite cafes, Buvette in NYC and Paris. You can read more about Aiden in this post.
The bottom crate is a bit deeper so he used several toggle bolts to keep it secure enough to hold heavy cookbooks. The entire project cost around $40. We found the crates at Monger's Market in Bridgeport, CT. Wooden crates are pretty easy to find at flea markets or even on Etsy.
Items we used for display are things we already had, but I am sure this will change seasonally!
A few favorites
A few favorite cookbooks: Buvette, The Cook's Atelier, David Tanis Market Cooking, Back Pocket Pasta, A Kitchen in France, Dinner in French
****GIVEAWAY CLOSED****
I have known Karen for years! We once worked together very briefly at the Westport Williams Sonoma store. That was back in 2006, I think. Then years later, we both worked at Serena & Lily. This is where I saw Karen's creative eye for mixing patterns, colors, textures. Karen is a collector and a minimalist. I know that sounds sort of contradictory, but once you meet Karen and see how she lives, you would understand. She loves beautiful things in her home that tell a story, but most of those things have also to be somewhat functional. Karen has a talent for finding things on the roadside and recognizing a treasure. Sometimes it's something of value (like the Fermob garden chairs she found waiting to be taken to the dump) and just in need of a coat of paint, and other times things need a lot of work by her talented husband, Graham. But she always sees the potential with her well-trained eye!
Karen and Graham are working on their latest project in a small town in Connecticut. A house with a Barn. The detached barn serves as a workshop for Graham and the second floor is Karen's art studio. During the pandemic, Karen started using her time to make handmade weavings. She created natural dyes and experimented with patterns. Over the last 18 months, she has managed to catch the attention of many small independent stores that now sell her goods, and she will be at Field + Supply this October in Kingston, New York.
Let's take a look at the exterior of her studio painted Bejamin Moore Racoon Fur
I think it's fairly obvious why I love Karen's esthetic. They painted their barn studio Racoon Fur by Benjamin Moore, and the door is painted Farrow & Ball, Pitch Black.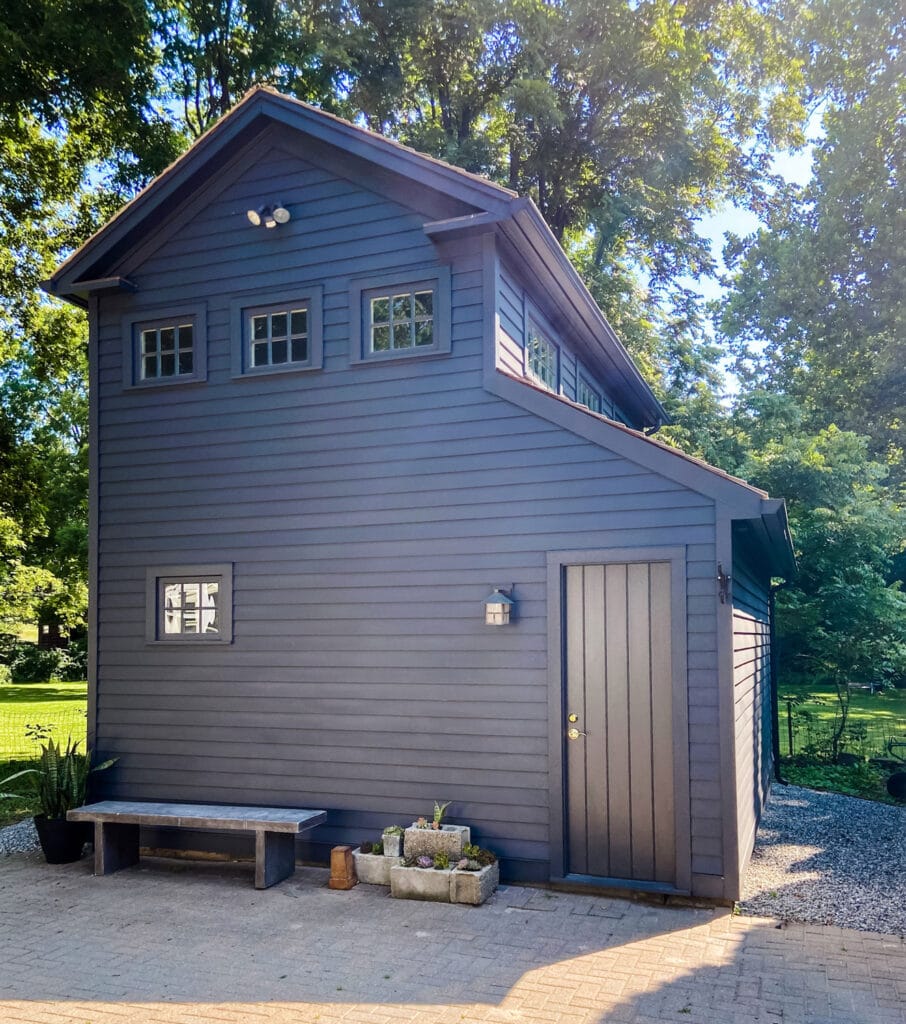 A succulent garden made from concrete cinder blocks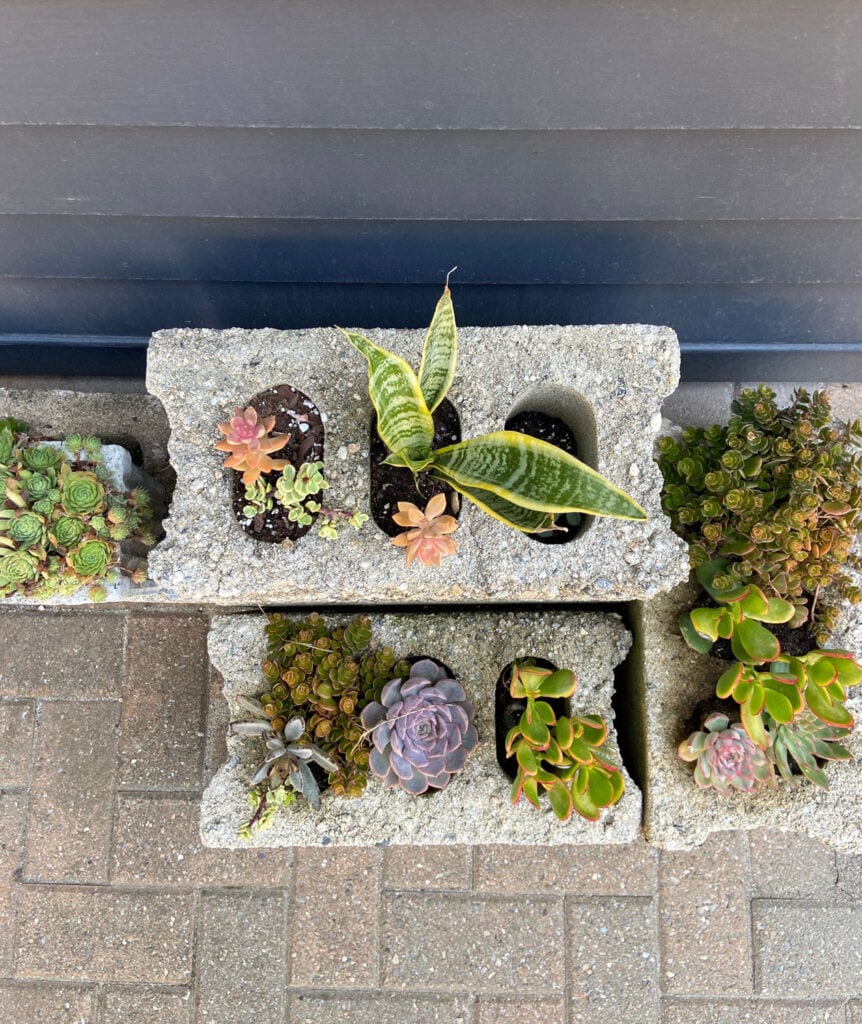 Karen makes everything beautiful. Even forgotten cinderblocks! She created a succulent garden using old cinder blocks that were already on the property when they bought it.
Let's take a look inside Karen's studio
Karen is preparing for the Field + Supply event in October, plus keeping up with her regular shop and website orders, so when I asked if she could send a few photos of her studio, she said yes, and offered, "But I didn't "straighten up." She said the tables are typically covered in white denim but are currently filled with orders! I love to see a studio that's like a typical day, don't you? It makes me wonder what kind of tea she's sipping on and what does her playlist sound like?
Pretty and fucntional storage solutions
Leave it to Karen to find suitable but lovely storage for her loops made of 100% USA cotton. She uses quite a few Steel canvas trucks and bags as well as vintage pieces. She says she's always on the lookout for interesting containers like the speckled enamel pan with handles.
Hand woven pot holders (suitable for framing) and sachets
Now let's talk about the giveaway!
Karen is generously giving away one set of handwoven potholders and a strong cloth. You will also receive a lavender sachet (she includes one with every order) isn't that a lovely touch? For the giveaway, she chose ochre and charcoal. I love these colors together. They make me want my whole house in these cozy colors. To enter leave a comment here (and I'll need a way to get in touch if you win) and head over to Karen's Instagram and leave a comment on the post with a similar photo on Karen's Instagram. @a_handmade_house And if you don't win, you can order through Karen's beautiful website. They make wonderful gifts and she packages them up beautifully!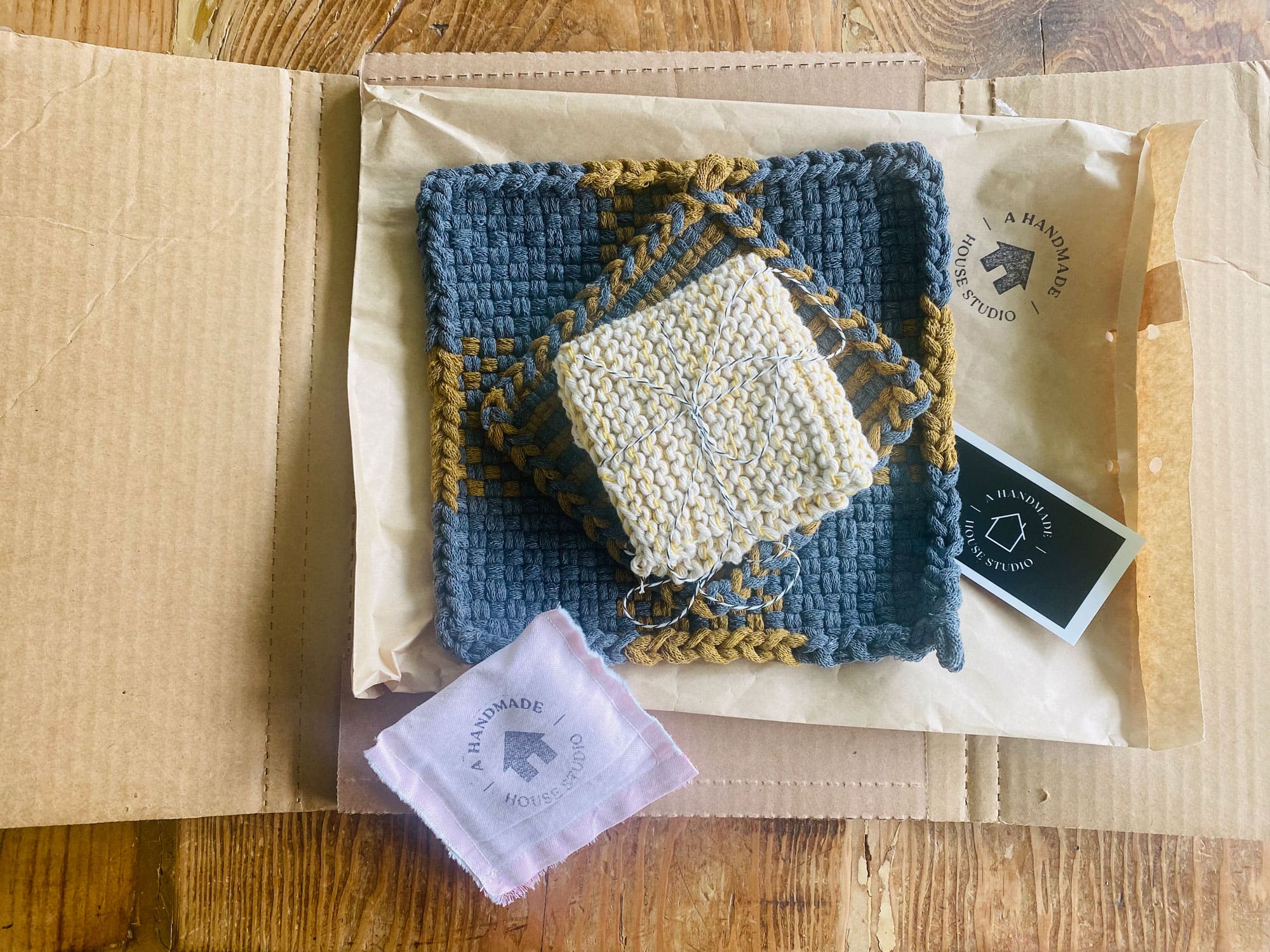 Have you tried Felt? It's a new app for making and sending greeting cards
So Felt is a new app and whenever I come across an app that I love, I just feel the need to share! Felt is a greeting card app, but it's way more than that. Here's how I used it today. I had a photo that I wanted to send to my daughter. I uploaded it from my camera roll to the app and then selected the Square Card, then I chose the Felt Filter (why not), and then the frame that has a border like an old polaroid. Then you can further edit your card with selected features or you can add your own handwriting. At this point, I did need to go back and watch the 5-minute tutorial (that is very well done) and then added a handwritten message and ordered the card to be delivered to Madeline's apartment. It was only $4 and that includes postage! There are many options, but the Polaroid version is perfect for what I wanted! I will report back once we receive it! but it was fast, fun and very easy!
Have you checked the ingredients in your sunscreen?
This is why I started using products from Young Living. I may have started out using essential oils just to ditch my scented candles, but then I realized how many personal care products, cleaning products I was using daily had harmful ingredients. When I read this article today, I was so glad I bought my sunscreen from Young Living. If you are interested in getting started using one or more products that are safe for you, your family, and the environment, reach out. I am happy to help and you no longer have to buy a starter kit. You can buy a bundle if you want, but you can also just buy a tube of sunscreen!
Today I have only 4 favorites! I thought about trying to come up with one more, but I value your time and I don't want to add something just to add it! Now let's go see what Mary Ann and Cindy found interesting this week!