Cindy, Mary Ann, and I are doing another Project Design today and this time it's all about the pantry! We have a big group of super organized bloggers who are showing you how they've organized their pantries. Links at the bottom!
The pantry. How big does a pantry need to be? What constitutes a pantry anyway? According to Dictionary.com: a pantry is a room or closet in which food, groceries, and other provisions, or silverware, dishes, etc., are kept.
A custom pantry built in 24 sq. ft.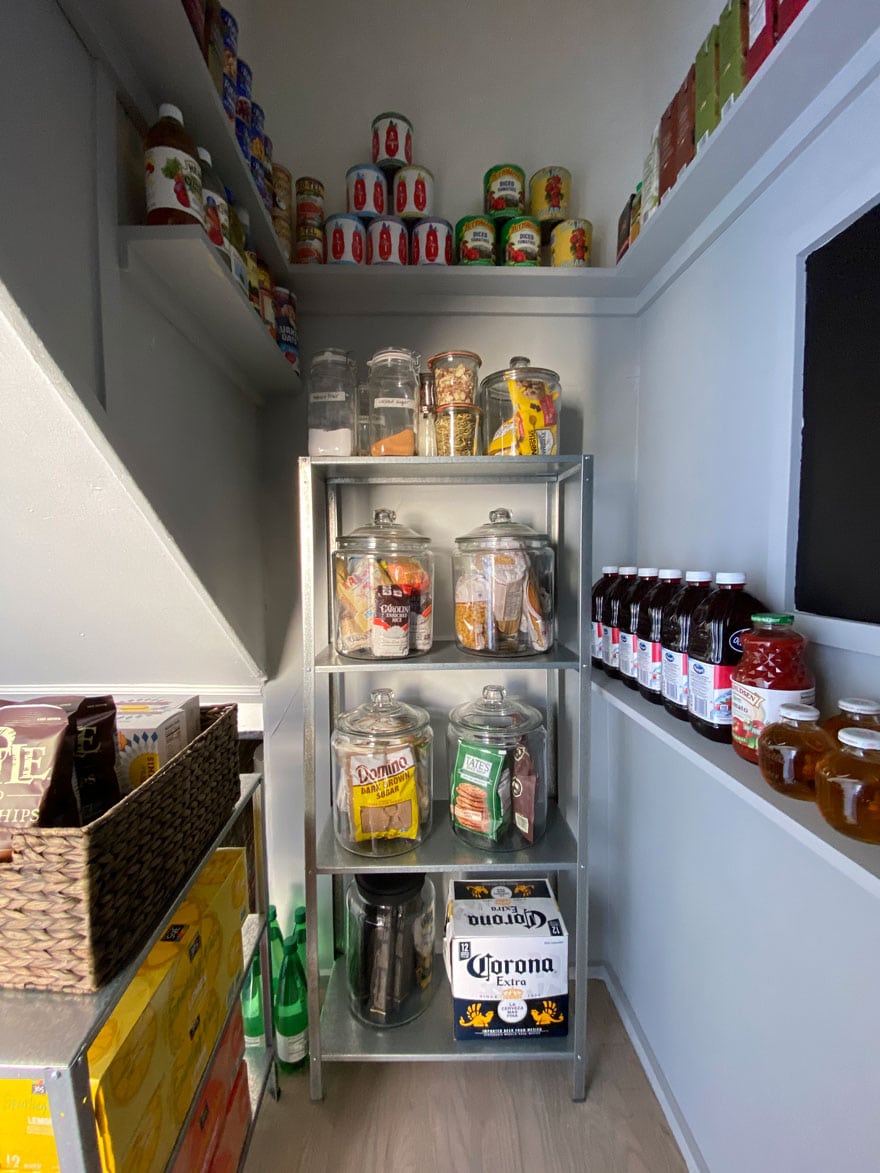 I've had large pantries, small pantries, and no pantries in the houses we lived in over the years. When we had a large walk-in pantry, I used it for storing food and drinks, art supplies and all sorts of dishes, platters and serving pieces. Since it was large and it held all those disparate items, it was messy and disorganized much of the time. It was way before organizing was so popular. We've become obsessed with organizing. That's not a bad thing at all. In fact, we now have so much inspiration from professionals that have made a business out of organizing and stores that specialize in items to make it easier (and maybe prettier), but it still comes down to defining your space.
Define the space and find the right shelves
When we moved into our current home last year, I recognized immediately the need for a pantry. I also realized there was a perfect spot that had never, in the 100 years our house has been built, been used for anything other than collecting dust. Once again, we utilized space in a landing area as you go down to the basement. It's right off the driveway which makes it convenient to take groceries right from the car to their spot in the pantry.
The first thing we did was clear it out. The actual pantry space measures about 4′ x 6′. So not a lot of room to work with, but by choosing smaller scale shelves from Ikea so that it did not overwhelm the space and then custom shelves, we gained a lot of storage. Brent made narrow shelves on three of the walls and utilized the existing ledges by covering them with custom fit shelves. We used the Hyllis shelves from Ikea. This one for $9.99 and this one for $14.99. Madeline also has the tall one in her tiny NYC apartment.
Narrow custom shelves & a chalkboard
We used the HYLLIS shelves from Ikea
You might also like this post on our pantry in our former home in New Canaan. You'll find a check list that is useful when buying for a pantry.
Now, please go check out these posts for tons more pantry inspiration!
Shop the post
This book from Remodelista is my favorite for organizing everything from the pantry to your closets and garage!