In June, Madeline moved into a studio apartment in a beautiful part of Brooklyn with gracious brownstones and tree-lined streets. She settled in very quickly and then this weekend we painted one wall in an alcove dressing area and now it feels like it's hers. It's amazing how paint in a rental space can make it feel so personal.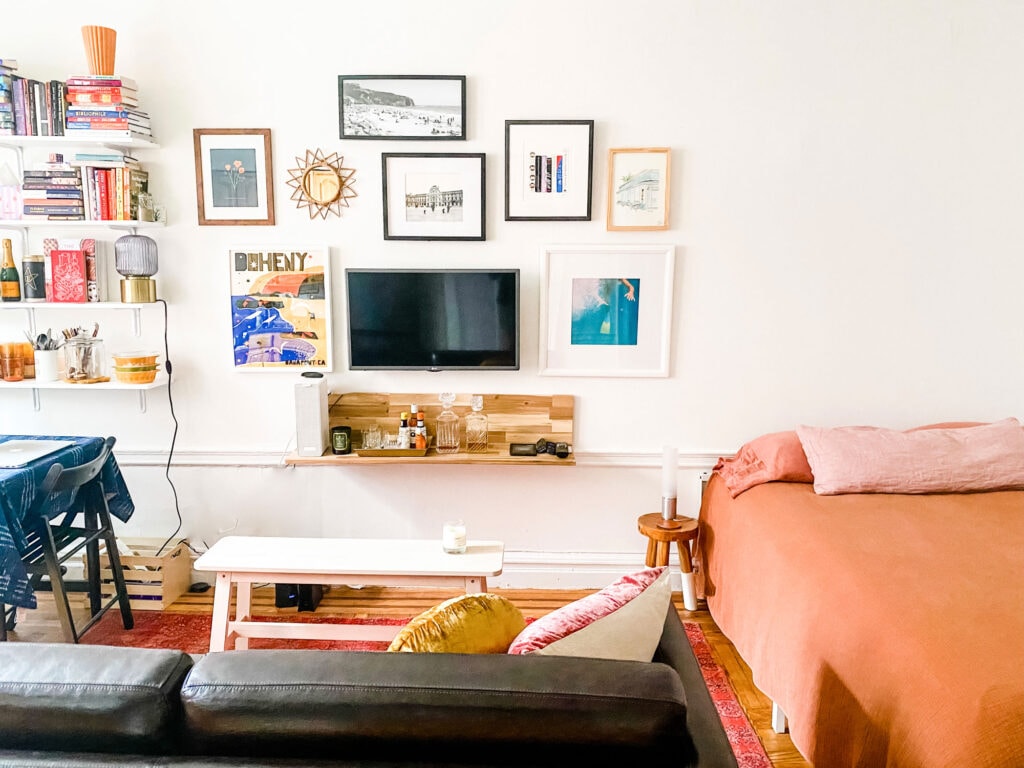 The apartment building was built in 1900. It is basically one room which is of course what makes it a studio apartment, but because it is an older building, there are some quirks that are actually kind of nice. There is a small entryway that is more of a hallway, but at least it's a place you can hang your coat and bags. Then there's a small dressing area off the entryway which makes the actual studio feel a little bigger. The ceilings are 10′ high and the natural light coming into the apartment is amazing. She looks out onto the gardens of some very beautiful homes on the next block. We found a cushion from Target that she can use on her fire escape for drinking her morning coffee while reading.
The Living Area
In the living area of the apartment, we put the rug in the middle and the sofa facing the wall. We hung a gallery wall with television and for the most part, this is where all the art is in the entire apartment. It's in the center and it's very much a focal point. We took art from Madeline's childhood like an underwater photograph of her swimming in The Great Barrier Reef, A Jane Mount original painting of her favorite college books, and several other pieces that are all part of her story.
We added a small shelf from Ikea under the gallery wall to hold a few things without taking up floor space. We again used the bench (also from Ikea) as the coffee table. A narrow bench takes up much less space as a proper coffee table and serves as extra seating for future dinner parties and book club meetings.
The Sleeping Area & small work space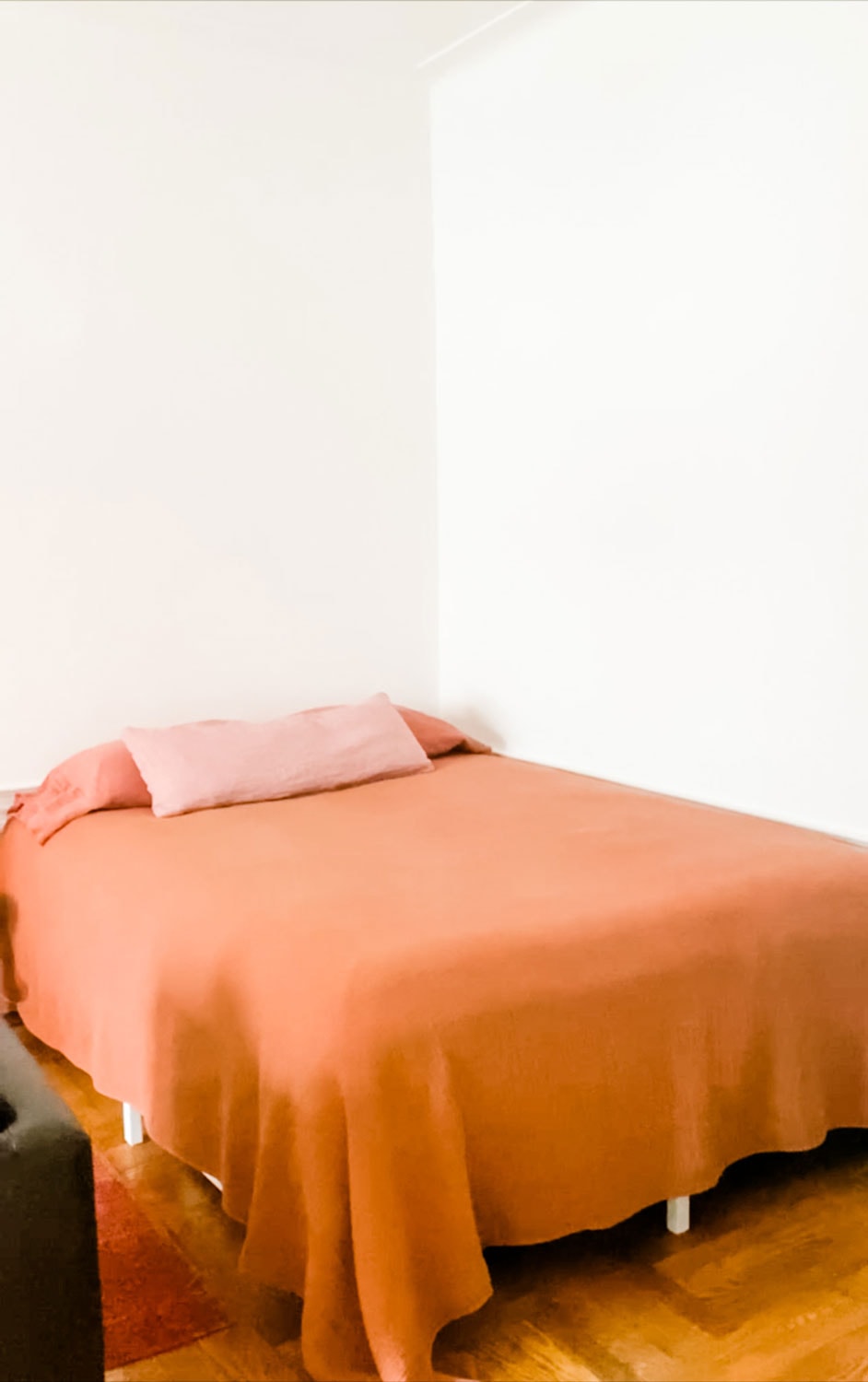 We naturally put the bed in the corner furthest away from the kitchen. The downside is that it's the first thing you see when you open the door. In a studio apartment, these are things that cannot be helped. So we chose this stonewashed organic cotton blanket and linen pillow covers from Garnet Hill that blend into the overall design of the studio space. Simple, no pattern, and no art hanging in the "sleep" zone.
We used the small Ikea desk from her last apartment. It fits perfectly and is necessary as she is still working from home. It's nice to have a separate workspace from the kitchen table.
The Dressing Area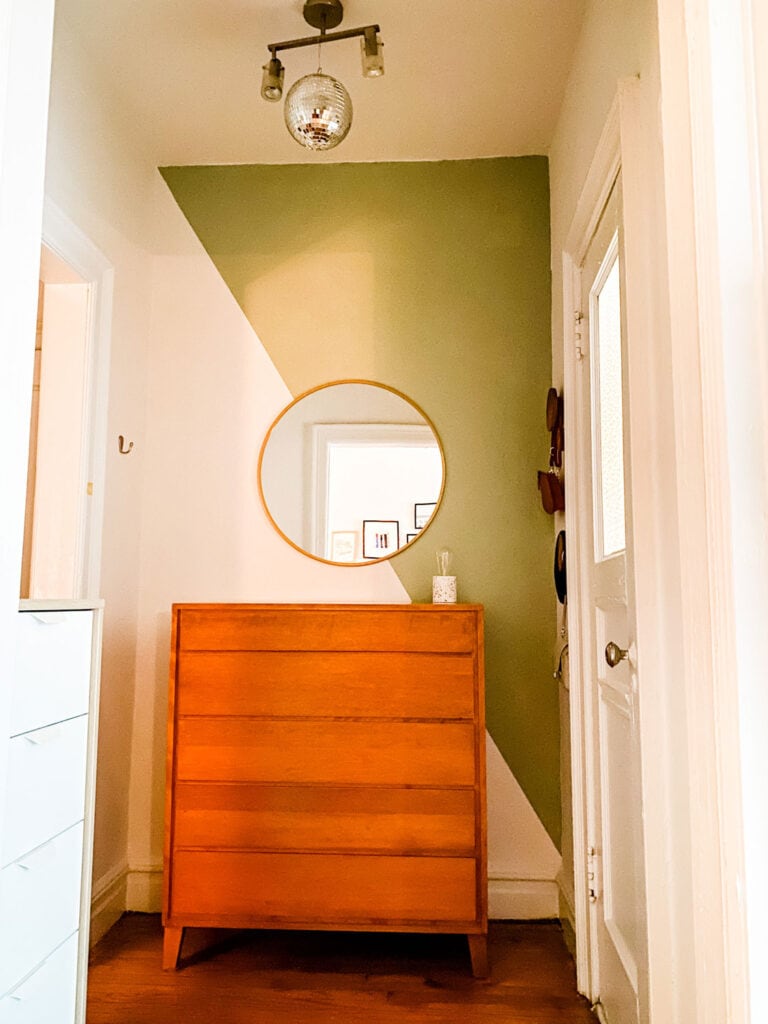 The dressing area is a perfect bonus nook that makes her apartment feel a little bigger. It does not have any electrical outlets and not even a ton of wall space since the bathroom door is on one wall, the entryway has an opening into this space and it opens into the main room. But we did manage to squeeze in her tiny tall dresser from her first apartment into one corner and then her beautiful Mid-Century dresser which was a gift from Diane Karmen. We used Clare paint in the color Dirty Martini to add a little drama to this space. There's just something about painting a wall (or even a partial wall) in a rental that makes it feel personal and like you are staying for a while. We used this battery-operated Terrazo lamp for a little extra lighting.
What we love about using Clare paint!
I've now used Clare paint in three colors for four different projects. Each time I can say that we have been so pleasantly surprised by how easy it is to order samples and have paint and supplies delivered to your door a few days later! The quality is exceptional, goes on evenly with one coat and there's no paint smell! You can see how we used Pink Sky here and here.
The Tiny Kitchen
The kitchen is the tiniest kitchen you've ever seen with almost no counter space. Not even enough to have a small dish rack which is important since of course there is no dishwasher. We used an adjustable sink mount dish rack to save space. Another space-saving idea is to use a small magnetic knife rack. Her spices are in these jars and we used the Ikea organization pegboards with shelves. We would have loved to paint the cabinets, but for now, we added simple hardware. The woven pot holders are made by A Handmade House Studio.
Space Saving Solutions
We did buy this small kitchen cart for food prep and pan storage on the bottom. The middle shelf holds a small microwave. She loves the Always Pan from Our Place. it's perfect for a small space. The Always Pan replaces eight traditional cookware pieces with one pan. She has dishes, bowls, and drinking glasses as well. You can also get the entire set as a bundle.
Open Shelving is part art and part necesssity
The problem with small space living is where to put your "stuff." In this case, it was that and more. Like where to put books, dishes, silverware (there's only one tiny drawer in the kitchen) and the cabinets hold food storage and a few other things.
As soon as I saw the space I knew we needed open shelving. We first looked at Ikea, but could not find enough shelves and brackets in stock so we looked at Home Depot. We actually prefer what we found at Home Depot and it was so budget-friendly. We used these 4′ shelves that are 10″ deep with these brackets. I gave Madeline a few options and said we could spray paint them, but once Mad saw the brackets, she knew it was just the simple look she was going for. The total cost for four shelves and 12 brackets was about $100. We later added one more shelf for Madeline's growing collection of books.
Books were organized somewhat by color on the top two shelves, plus a few things mixed in. The bottom shelf is more function than display, but we love the way it looks too! Madeline has a fondness for vintage pyrex (who could blame her)? and it's perfectly mixed in with her dishes. Did you spot the disco ball planter? Read Madeline's article in Apartment Therapy on disco balls here!
The dining table
This is an Ikea drop leaf table that's perfect for two. With the leaves up, it can easily seat four. She plans to move the table behind her sofa when she has people over. She can easily move the sofa toward the wall a bit, take the bench and use it for extra seating.
The Bathroom
The bathroom is dated, but it has nice light and the tile is white with black. We repurposed her white shower curtain from her former apartment and added a strand of twinkle lights. We used these large amber bottles for shampoo and conditioner and added a plant. A plant or two makes everything better, right?
Natural Light and window coverings
Madeline looked at quite a few apartments that had very little natural light. That is a total deal-breaker. When Madeline saw this apartment I think the light flooding the space is one of the things that won her over immediately. For window coverings, we wanted something minimal that provided privacy. We also didn't want to spend a lot. We used these shades from Ikea. They come in several sizes and worked perfectly!
What we bought new and what we re-purposed
Madeline did buy a new queen-size mattress. She went with a very simple bed frame from Ikea. We used the dip-dyed stool from Serena & Lily as a night table. We used her Ikea sofa that she's had since high school in her little California suite and then her bedroom in New Canaan with a sunroom. The rug is an over-dyed rug we used in New Canaan for a short time and then gave it to Madeline for her previous Brooklyn apartment. It's a faded red which somehow works with the velvet pillows she's had in her last three apartments from west elm. The bench coffee table, dining table, and chairs were all moved from her last apartment as well.
We purchased a round mirror, a kitchen cart, blinds, a spice rack, and open shelving for this space. Everything else, incuding her tiny desk, was repurposed. A few things like the full-size bed and a lamp went to Patrick's apartment which happens to be two blocks from her first NYC apartment. So that concludes our tour! I hope this gave you some space-saving and re-purposing ideas for your small space living!
Shop the Post