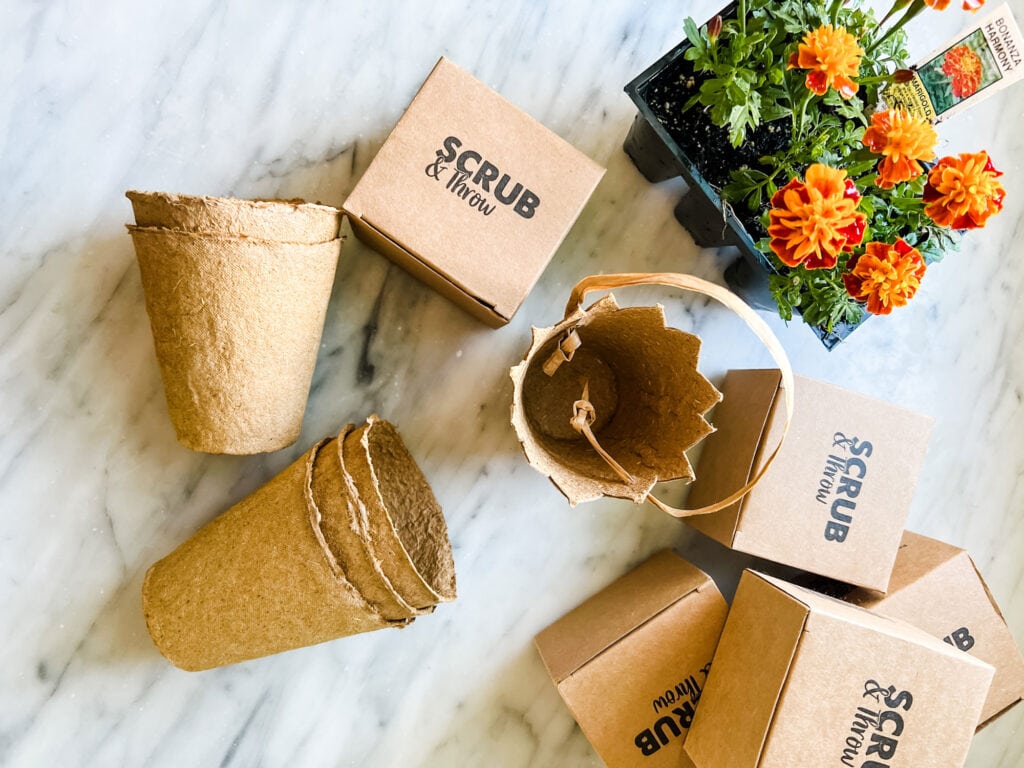 Remember May Day? I'm sure I'm dating myself, but May Day was a big deal when I was young. Today, I'll show you how I made simple May Day baskets using seed pots.
What is May Day, and Why is it Celebrated on May 1st?
The History & Traditions of May Day
May Day started as a European festival marking the day between the spring equinox and summer solstice. There's Maypole dancing, bonfires, and a collection of wildflowers and green branches to weave floral crowns.
Later the tradition came to the United States. A homemade basket of flowers and a small gift would be left on your neighbor's doorstep with or without a note.
When I was a child, making the baskets was only half the fun. Hanging them on door knobs, ringing the bell, and running away was also part of the tradition. My kids grew up between Southern California and Connecticut, and no one seemed to "celebrate" May Day as I did as a kid growing up in Minnesota and Colorado. So who knows if it's more of a regional thing, or has the years changed this fun tradition?
What are May baskets made of?
Paper Cones
Baskets are usually homemade using supplies on hand. Construction paper or even newspaper made into a cone with a ribbon handle and filled with spring flowers. The flowers are usually what's in bloom in the yard or garden. Nothing fancy or store-bought.
Berry Baskets
Berry baskets can be used with ribbon weaving through the basket to make it more festive. A ribbon handle could be added to hang on the doorknob or gate post.
Fiber Pots or Seed Pots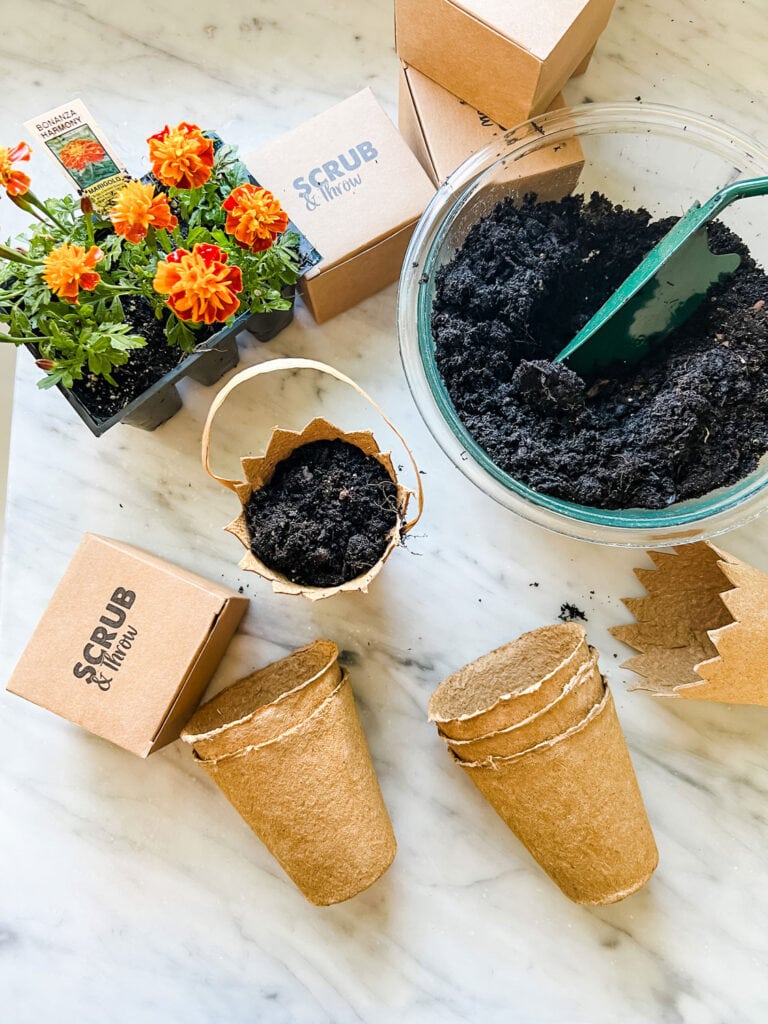 We use fiber pots, also known as seed pots, for this project. They are easy to find in almost any store with an outdoor seasonal department.
What I love about using fiber pots is that you can then plant these little pots into a garden bed or a larger pot. The fiber or seed pot is biodegradable and will dissolve into the soil once it becomes wet. This makes it sustainable, so I used a natural raffia twine over a more colorful ribbon.
I first used seed pots for Easter candy baskets.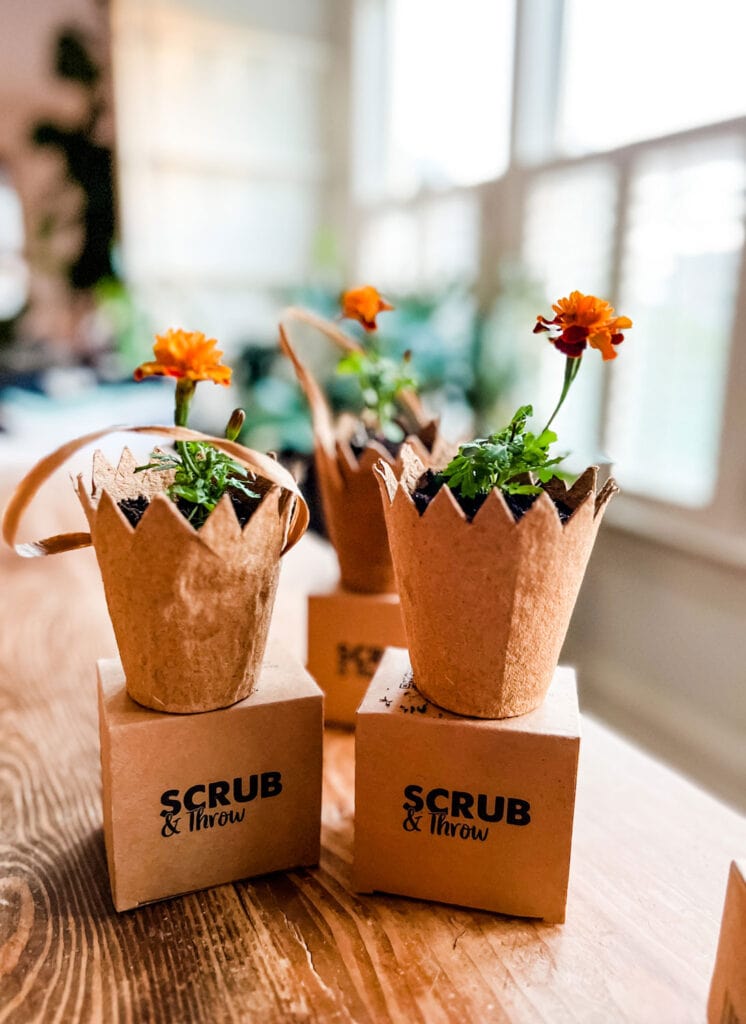 Part of the May Day basket tradition is to include a small gift. It could be candy, or a packet of seeds, anything really. I am adding a box of Scub & Throw sponges as a gift with my little basket with a single marigold.
I first learned about Scrub & Throw sponges two years ago and have used them ever since. You can read more in this post. Scrub & Throw sponges are one-day sponges made of loofah and meant only to last a day. They are completely biodegradable (like the seed pots), so I think they make the best little May Day gift! It sort of ties into Earth Day, which is Saturday, April 22nd.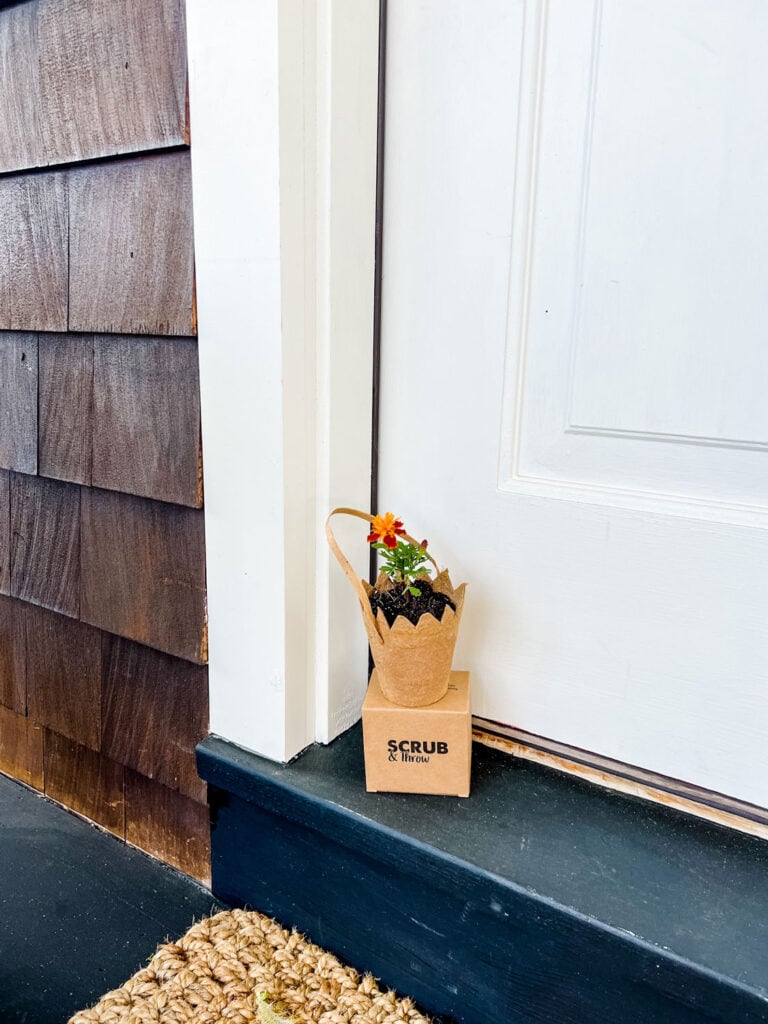 Gather Your Supplies for May Day Baskets
Fiber or seed pots (readily available at any garden center)
Small flower plants
ribbon or raffia for the handle
Scissors (This is my favorite pair of scissors. I have two and use them for everything).

How do you make the baskets?
Decide if you want a scalloped edge like this or a zig-zag edge. For the zig-zag edge, cut 1/2″ at the top of the pot at an angle, then cut again from the other side to the point. You'll cut about 13 little triangles around the top of a pot that's about 3.5″ high and 3″ in diameter.
Punch a hole into the pot about 1″ from the top using the tip of your scissors. Then one on the other side.
Using raffia, make a handle and tie it on the inside of the pot on each side.
Fill each pot with a small amount of potting soil.
Take your plant from the carton, loosen the roots, and place it in the pot. Add a little more potting soil as needed to support the little plant.
Add some foraged or store-bought moss if you like. I like the look of the fresh potting soil, so Ieft mine bare.
If you liked, Make Simple May Day Baskets Using Seed Pots, you may also like these posts:
How to Make a Natural Stick Vase
How to Make a Stock Tank Garden
Tips for Hosting a Simple Dinner in the Garden