Want to know a secret? I have a few creative ways for decorating with tree branches for a bit of spring decor, and it's sustainable and free!
I'm joining a few friends to share ideas for spring decorating. It can be as simple as bringing in some branches or a few spring flowers. Nothing makes a house feel more like spring than bringing in branches with bright green leaves.
The Benefits of Using Tree Branches in Decor
Where do I begin? If you've read even a bit of my blog, you know I am slightly obsessed with decorating using nature. In fact, I was even featured in the BHG December issue. The article's title- "In Her Nature," I could not have been more flattered.
The appeal goes way beyond saving money, although I never mind saving money. Bringing in a little nature instantly freshens your home. It's like opening a window. Depending on your home and space, even a single branch of any size can be put into a jar and set on the table, on the bathroom sink, or on a bookshelf…any place where you'll see it often so you can enjoy it!
Using natural tree branches is sustainable too!
How to Find and Prep Your Tree Branches
I use a lot from my own yard and the woods behind a friend's property. I clip only from overgrown limbs, never anything that has been planted as part of a landscape or on private property.
When is the Best Time to Collect Tree Branches
I love to go in the rain. The leaves are wet, and a simple shake before bringing them into the house is all it takes.
If it's not a day when the leaves are wet from rain or mist, bring them home and give them a light rinse. I usually lay them out on the driveway and use the rain setting on the nozzle. Then shake gently and let dry in the sun for a few minutes.
Creative Ways for Decorating with Tree Branches
First, gather tall, heavy vases so the branches won't tip them over. Add a few jars in different sizes for the smaller branches that you'll clip from the large branches.
Fill vases and jars with cold water and give each branch a fresh cut as you put it into the vase.
A Few Options for Vases that Work Well with Tree Branches & Clippings to create simple arrangments
Terracotta Urn // Terracotta Vase Ribbed//Asher Ceramic Vases // Clear Glass Bottle Vase Designed with Hearth & Hand Magnolia // Large Cream Vase Designed with Studio McGee // Handcrafted Ceramic Vase (Gray)// Tall Clear Cylinder Vase
One Oak Tree Leaf in a Tall Clear Glass Vase
One tall oak leaf branch in a clear vase might be enough. Or add several to a large vase at similar but varying heights.
Save Smaller Tree Clippings for Jars
Use clippings from the larger branches in smaller jars and vases. I was able to use almost everything I brought home.
Small Clippings in Jars & Vases for the Bathrooms
How do you maintain natural tree branches?
Enjoy the branches while they are fresh. They may last several days or even a week before dropping leaves. Then toss them with your yard clippings.
What about using faux branches?
There are so many beautiful faux branches that look like the real thing. I think one thing to remember is to use what's in the season to make sure they do look, in fact, real. I prefer using foraged finds, but that's certainly not for everyone.
You can still get the look with faux branches. Pottery Barn and Terrain have the best options for realistic-looking faux branches.
If you like: Decorating with Tree Branches, you might also enjoy the following:
12 Spring Decorating Ideas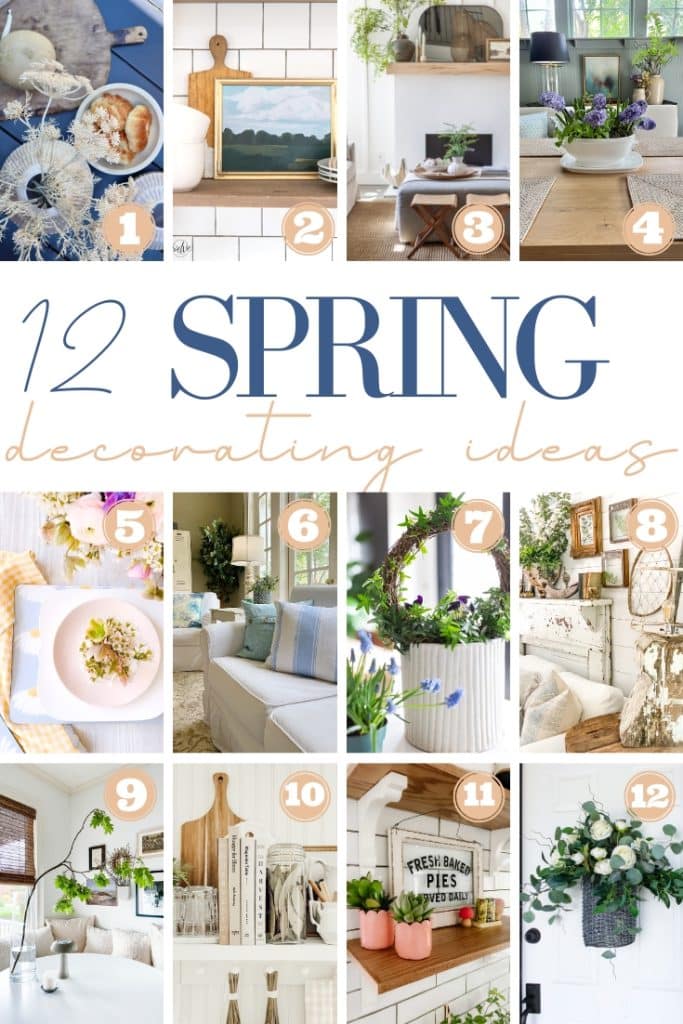 Blogger's Best Spring Decorating Ideas