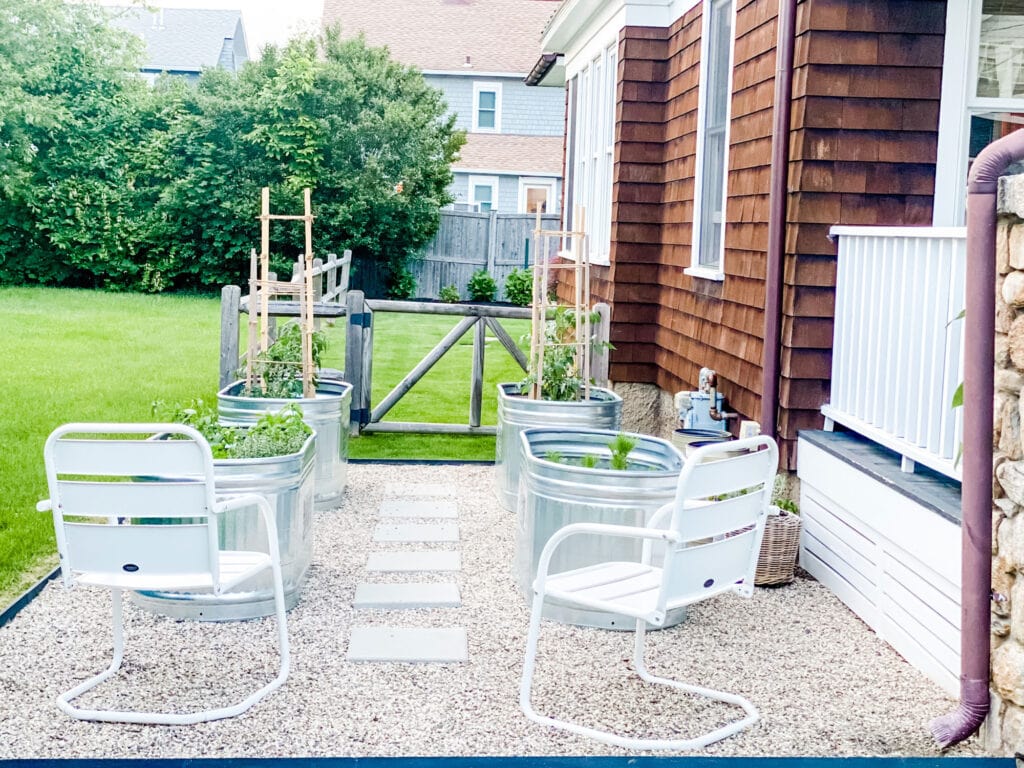 *We have updated this post with new content based on what we learned over the last two years of enjoying our stock tank garden.
Why choose a stock tank garden?
If you're looking for a creative and practical way to manage a tomato and herb garden, you might consider using stock tanks as a container garden. In addition to being a nice alternative to a raised garden bed, it's quite an easy DIY project that takes a little time and some hard work.
We live in the Northeast, and the typical growing season isn't long. We also have bunnies and other not-so-cute critters that are often spotted around the neighborhood. They usually dine on all of our tomatoes and herbs before they are ripe and ready for us to enjoy. So we decided to create a stock tank garden for several reasons. The first is that most of the animals can't scale a galvanized stock tank. And secondly, it keeps the garden small and constrained enough to keep us from overplanting and trying to grow too many different variations of vegetables. And last, it enhances the look of any outdoor space.
What are the benefits?
The are many benefits to a stock tank garden. Because they are a small and constrained space, there is far less weeding. And if you're not installing a drip irrigation system, hand-watering is very manageable. Another benefit is because of the limited space; it makes you prioritize only the tomatoes and herbs you will really use and eat. The planting is quick and easy, and because the tanks are raised, tending and harvesting are much easier on your back and knees. And last, the garden looks neat, organized, and well maintained – up close and from a distance.
Our tomatoes, herbs, and small plants have never been better. It's easy to step outside and harvest what you eat that night.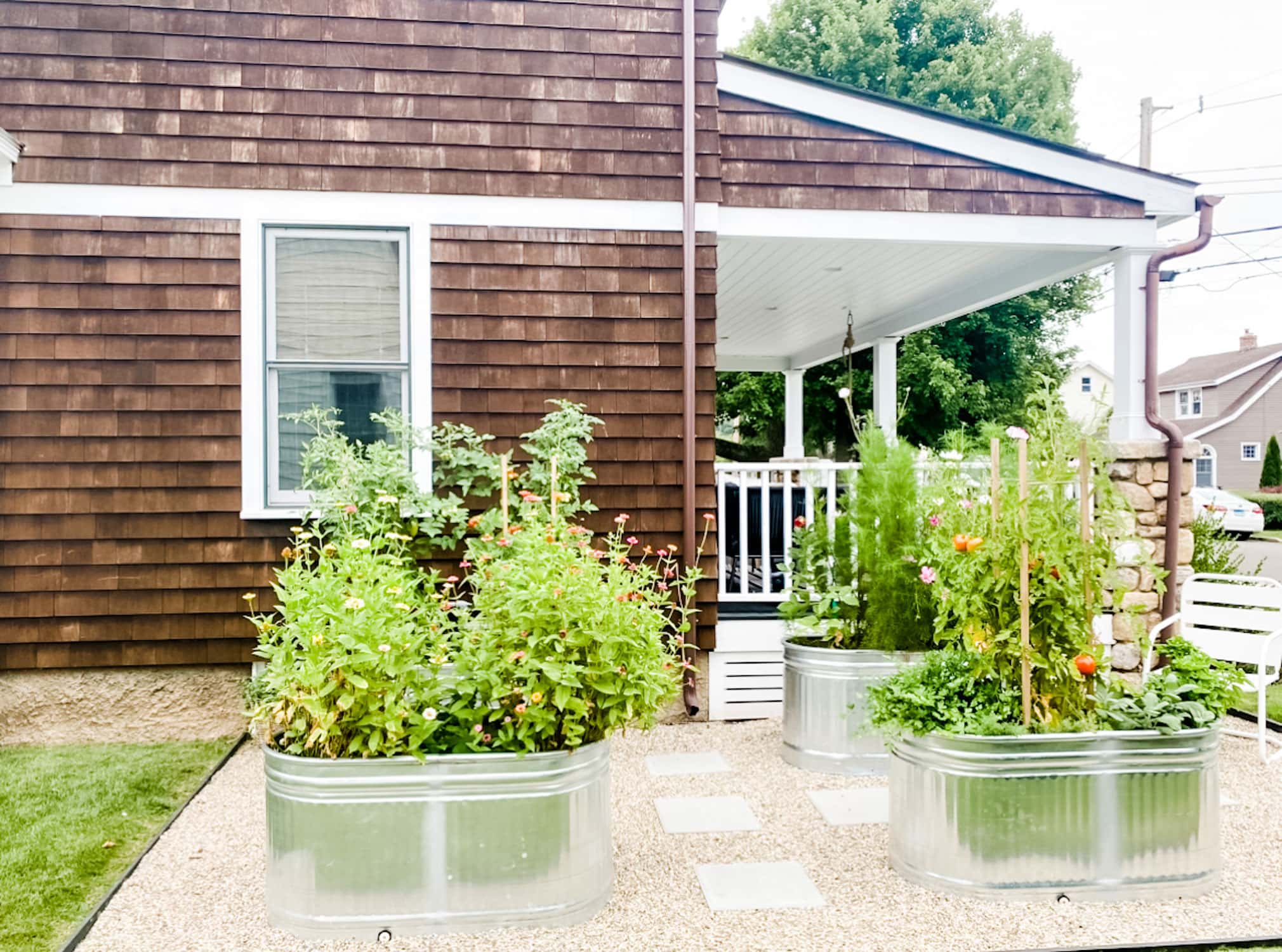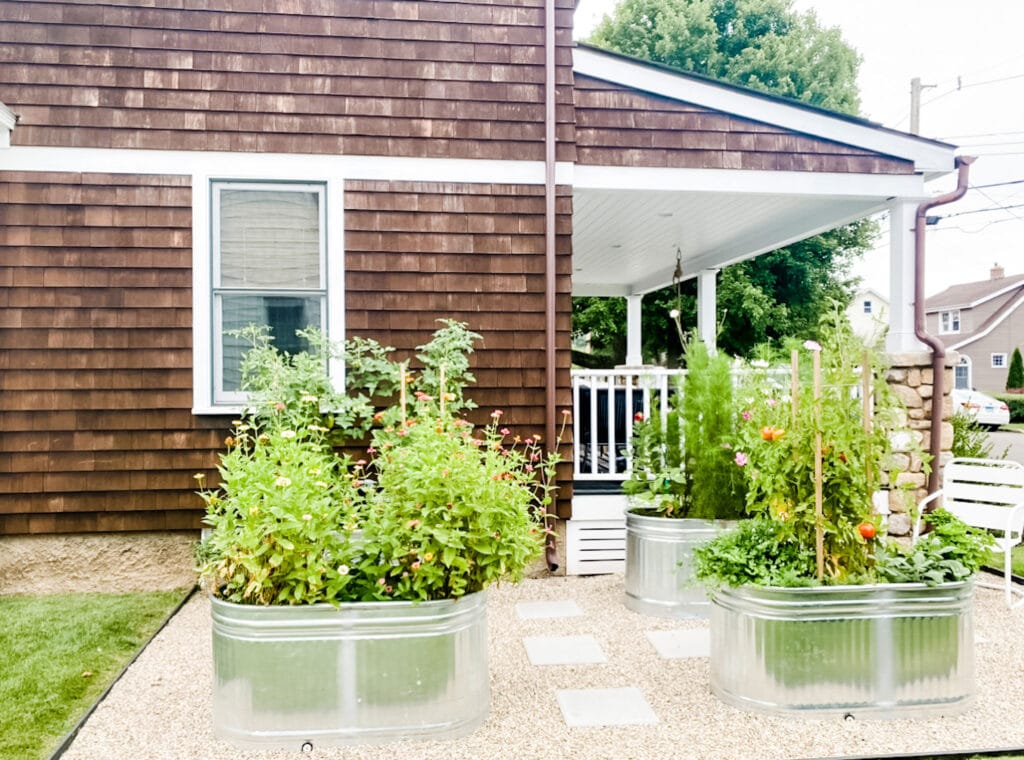 What materials do you need when making a stock tank garden?
Surprisingly, or maybe not, you don't need that much! The best way to determine where to place your garden most is to make sure it's in a space that gets as much sun as possible. Since a garden needs six to eight hours of full sun a day, that meant our side yard was the only option. When we were getting started, a few of our neighbors were a bit skeptical. But once we finished and it started growing, the compliments came in.
Gravel for the stock tanks to rest on (a good rule of thumb is approximately 4 inches of gravel).
Traditional stock tank (we used a total of four 2′ X 2′ X 4′ tanks (from Home Depot).
Landscape fabric to place under the gravel as a weed barrier
Topsoil to fill the first half of the tank (you don't want to fill the entire tank – soil depth of 2-3 feet, closer to 3 feet)
Garden soil for the middle layer
Semican mulch for the top layer (a couple of inches)
Round wire mesh is to place over the drain holes for proper drainage
Drill bit and drill for the drainage holes in the bottom of the tank (the tanks need good drainage to avoid excess water buildup)
Wood stakes
Bamboo rods
Concrete pavers
How much do the materials cost?
The question I get most often is how much your stock tank garden cost. We spent approximately $1,000, excluding plants/seeds.
Here's how it broke down.
Four Stock Tanks 2 x 2 x 4 size – $500
Pea Gravel – $75 (delivered)
Filler materials:
Top Soil – $75 (delivered)
Garden Soil – $60
Semican Mulch $15
Weed Control Fabric – $30
Pavers – $30
Wood Stakes and Bamboo Poles for Tomatoes – $50
Mesh Circles for Drainage Holes – $10
Labor $200
How to get started building a garden
Determine the size and how many stock tanks you'll need/want based on space
Clear the area and lay down weed control landscape fabric
Place the stock tanks in the position you want because there is no moving them once you fill them with soil
We used 16″ square pavers as a path in the middle
Save room for garden chairs as an extra touch. I adore the Catalina Chairs from Serena & Lily!
Filling the stock tanks to prepare the beds for seeds, herbs, and tomato plants
Step 1
First, prepare the stock tanks by drilling drainage holes in the bottom of the tanks. We used a 1/2″ metal drill bit and made nine drill holes in each tank.
Step 2
We then put small mesh circles over each drill hole to prevent the holes from clogging. We secured them with a glue gun.
Step 3
Fill each tank halfway with topsoil.
Step 4
Then fill the remainder of the tank with potting soil. Every year you can add fresh soil as needed in the spring.
Step 5
When planting in early spring, when there's quite a bit of rain, it's a good idea to add a thin layer of Semican Mulch to cover the soil to protect your seeds from getting washed away. It's chopped hay and straw. It also helps control weeds, adds organic matter to the soil, and helps control moisture. It decomposes naturally throughout the season.
What to plant in stock tanks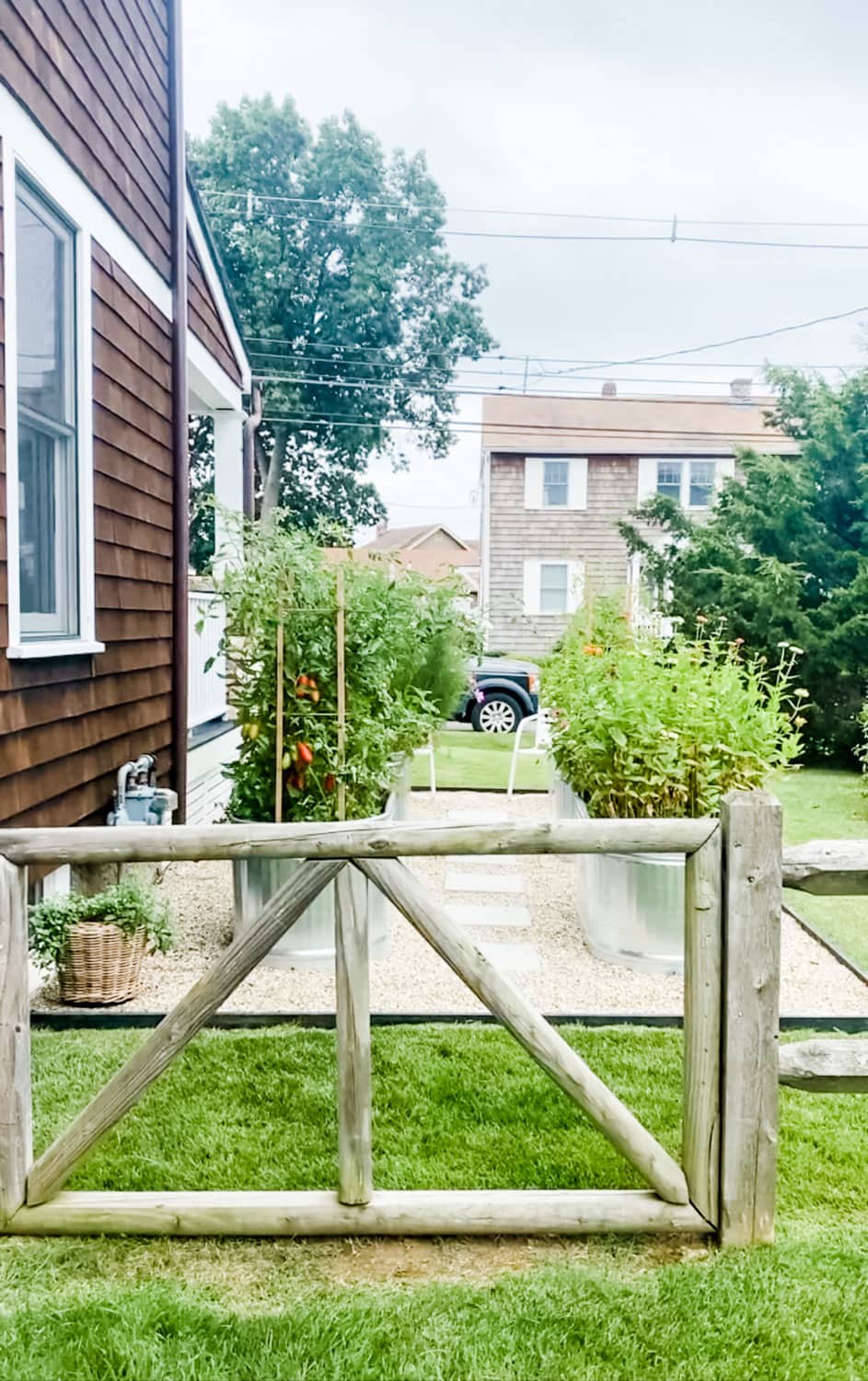 Flower Seeds
Since it was our first year, there was a bit of trial and error. We probably put too many flower seeds in each of the two tanks we reserved for flowers, but we still did get a great supply of cutting flowers that lasted through October. You can see the beautiful pink cosmos in this post from late September.
Tomatoes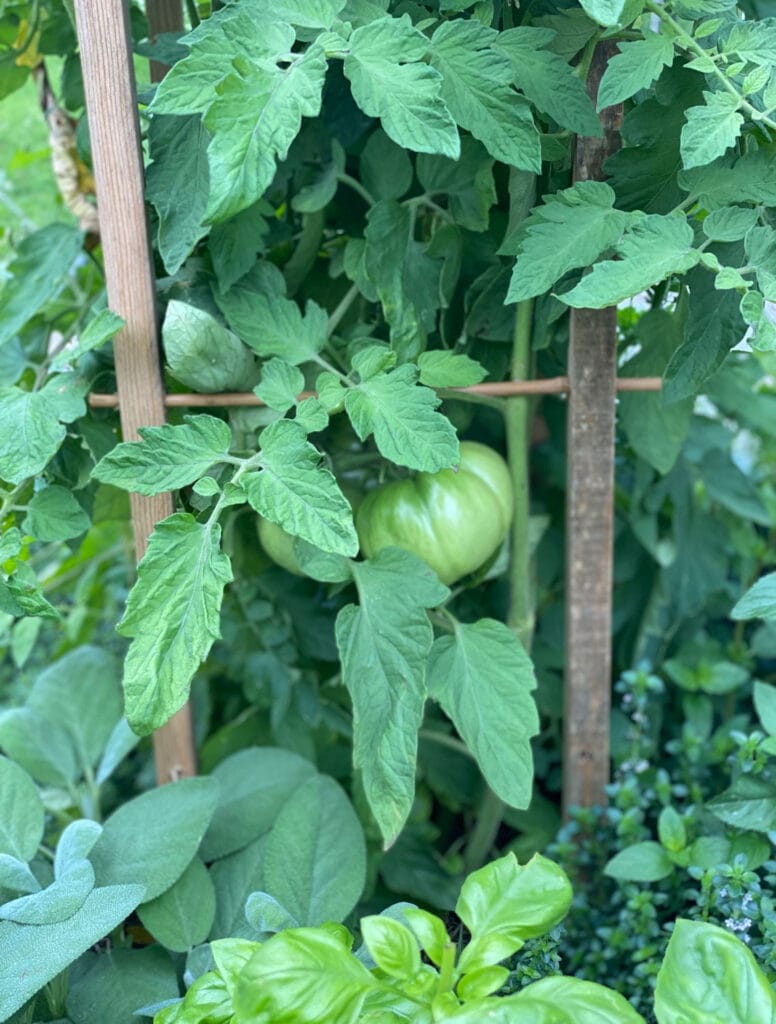 We planted two tomatoes each in two of the tanks. That seemed about the right amount of space. Brent made simple cages from wood and bamboo stakes. This kept them growing straight and also supported them. We have tried basic round tomato cages, but they were never sturdy or tall enough to support them throughout the growing season. The stakes did the job, and we had tomatoes well into late October.
Herbs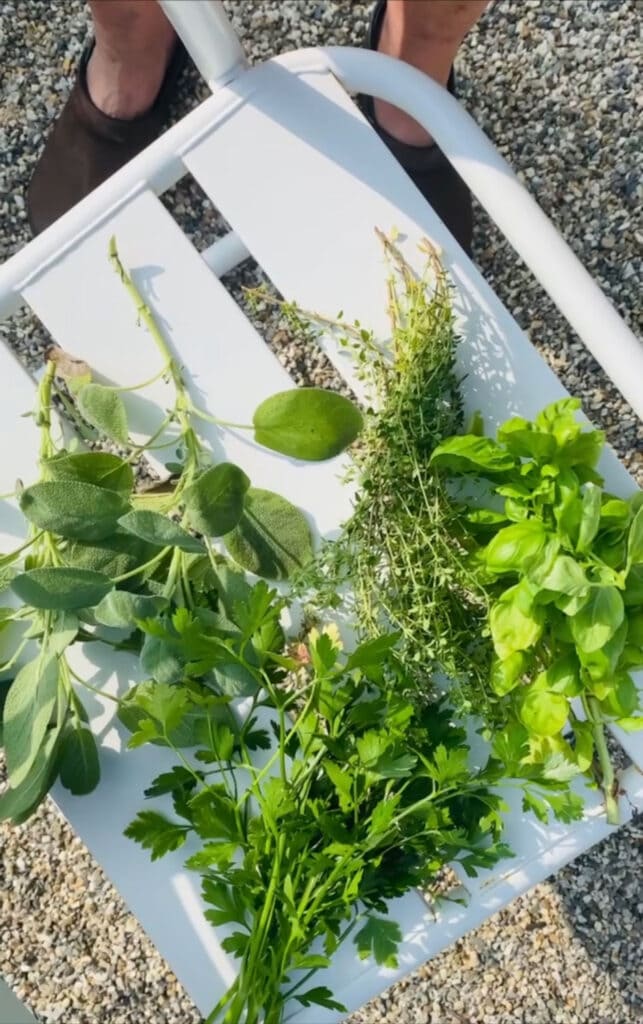 This year, we used one entire stock tank for herbs. We have been propagating basil all spring and have several plants. The thyme came back from last year, and we filled in with a few other herbs.
Herbs in the stock tank garden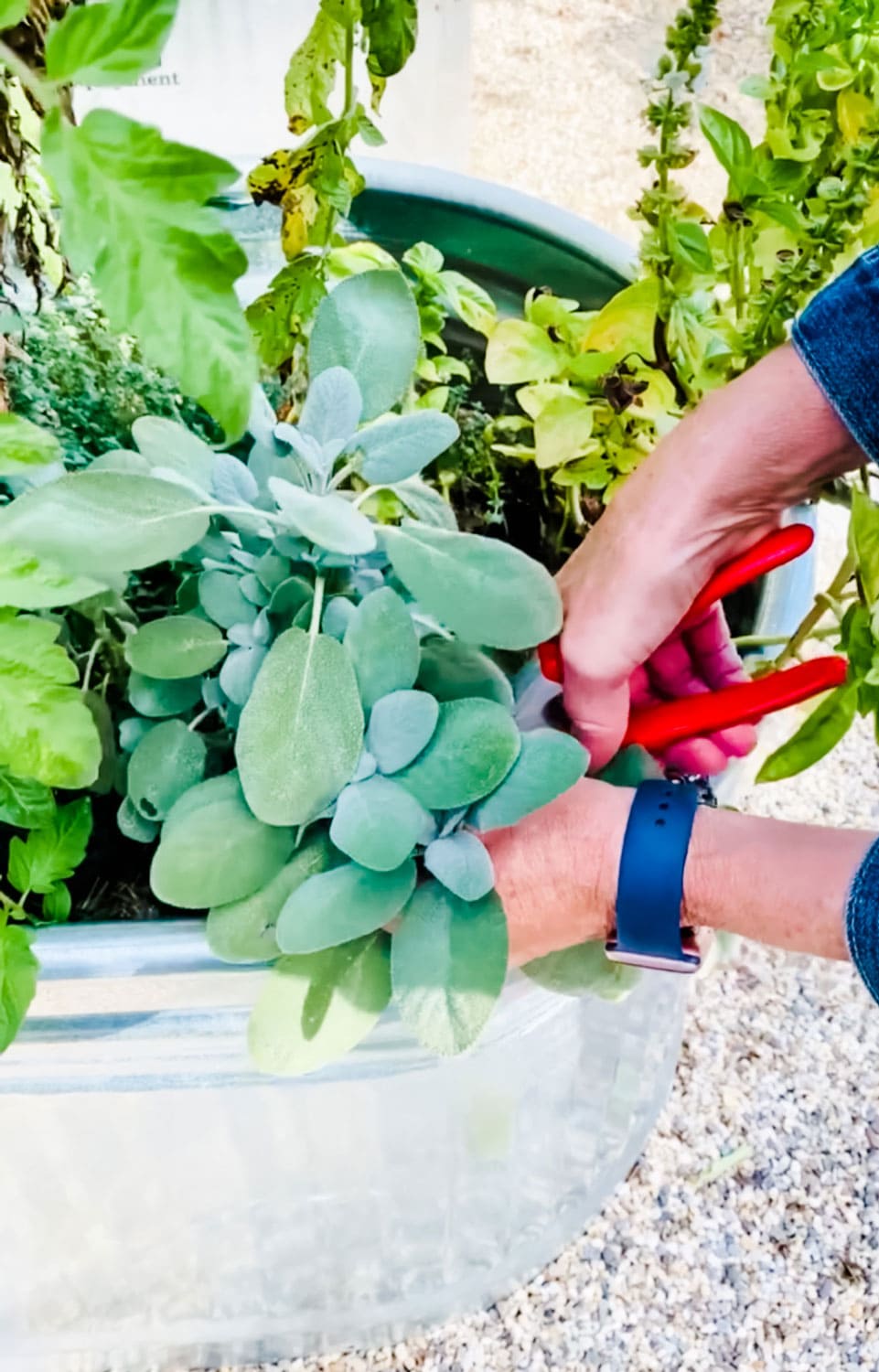 The herbs last until late November. We covered them if there was even a little threat of frost, and most stayed resilient throughout the fall.
Pin for Later
Shop the post

You may also like this post: