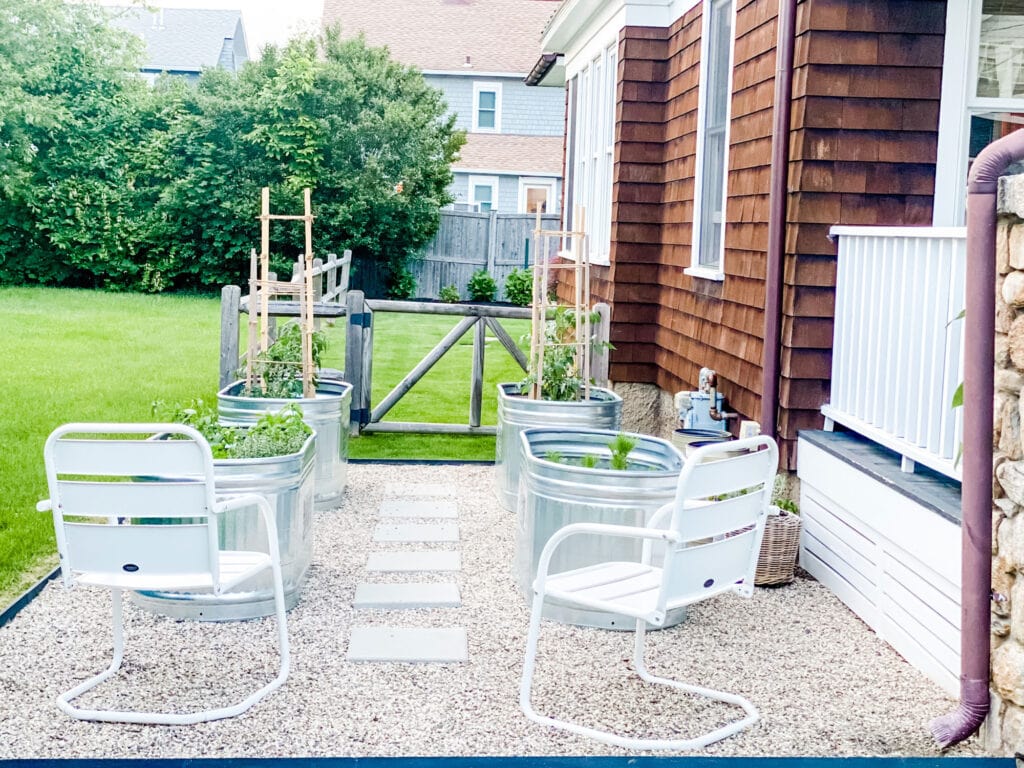 What you need and how to make a stock tank garden
Surprisingly, or maybe not, you don't need that much! It depends on where you are going to be placing the stock tanks. Keep reading to see the complete list with prices!
The most important thing for a garden is the sun. Since a garden needs six to eight hours of full sun a day, that meant our side yard was the only option. When we were getting started, a few of our neighbors were a bit skeptical. But once we finished and it started growing, no complaints.
What are the benefits?
Less weeding. Since we installed the stock tanks on a bed of gravel lined with plastic, we have minimal weeding.
We used the 2′ x 2′ x 4′ tank size. Since it's 2′ high, there's no bending over, making it easier to maintain.
It looks neat and organized.
Safe from bunnies. We live on a narrow peninsula, so we do not have deer like most of Connecticut, but the bunnies, that's another story. However, bunnies cannot reach the stock tanks.
How to get started building a garden

Filling the stock tanks to prepare for seeds, herbs, and tomato plants
First, prepare the stock tanks by drilling drainage holes in the bottom of the tanks. We used a 1/2″ metal drill bit and made nine holes in each tank.
We then put small mesh circles over each hole to prevent the holes from plugging we secured with a glue gun.
Fill each tank halfway with topsoil.
Then fill the remainder of the tank with potting soil. Every year you can add fresh soil as needed in the spring.
When planting in early spring when there's quite a bit of rain, it's a good idea to add a thin layer of Semican Mulch to cover the soil to protect your seeds from getting washed away. It's chopped hay and straw. It helps control weeds, adds organic matter to the soil, and helps control moisture. It decomposes naturally throughout the season.
What to plant in the stock tanks
Flower Seeds -Since it was our first year, there was a bit of trial and error. We probably put too many flower seeds in each of the two tanks we reserved for flowers, but we still did get a great supply of cut flowers that lasted through October. You can see the beautiful pink cosmos in this post from late September.
Tomatoes – We planted two tomatoes each in two of the tanks. That seemed about the right amount of space. Brent made simple cages from wood and bamboo stakes. This kept them growing straight and also supported them. We have tried basic round tomato cages, but they were never sturdy or tall enough to support them throughout the growing season. The stakes did the job, and we had tomatoes well into late October.
Herbs – This year, we used one entire stock tank for herbs. We have been propagating basil all spring and have several plants. The thyme came back from last year, and we filled in with a few other herbs.
Herbs in the Stock Tank Garden
The herbs last until late November. We covered them if there was even a little threat of frost, and most stayed pretty resilient throughout the fall.
How to make a stock tank garden and the cost break down
I get this question a lot. I think we spent approximately $1,000, excluding plants/seeds. Here's how it broke down.
Four Stock Tanks 2 x 2 x 4 size – $500
Pea Gravel and Top Soil (Delivered) – $150
Weed Control Fabric – $30
Pavers – $30
Wood Stakes and Bamboo Poles for Tomatoes – $50
Garden Soil – $60
Semican Mulch $15
Mesh Circles for Drainage Holes – $10
Labor $200
Shop the post

Now let's go check out what these bloggers came up with for garden ideas!
10 Summer Gardening Ideas

How To Hang Patio Lights // Happy Happy Nester
How To Pull The Yard Together // Finding Lovely 
Backyard Deck Decor // Craftberry Bush
How To Make A Stock Tank Garden // Most Lovely Things

How To Arrange Garden Containers // My Sweet Savannah 
Clay Herb Garden Markers // Modern Glam
Amazing DIY Strawberry Planter // Twelve On Main

How To Grow The Best Tomato Plants Ever // My 100 Year Old Home
How To Plant Moss Basket Container Garden // Inspiration For Moms
Cheap Simple Front Yard Landscaping Ideas // The Happy Housie