We have tips for hosting a simple dinner in the garden: what we served, how we set the table, and what we gave our guests. I am so happy to be joining seven lovely friends today for summer table ideas.
Why host dinner in the garden?
Why not? It seems I've done everything from the backyard, the porch, a park, and the beach, so dinner in the garden as it is at its best, just made sense. I love a theme to get me started with ideas. I wanted everything to be garden related from the tablescape to the menu to the parting gift.
What to serve at a simple garden dinner?
Since it's dinner in the garden, the meal has to be simple, but special at the same time. One of my favorite summer meals is this steak salad. It's easy to make an hour or so ahead of when guests are due to arrive. It's wonderful served hot or room temperature. We used to take it to beach get-togethers every summer. The dressing is made of fresh garden herbs making it perfect for a simple garden dinner party.
Use fresh herbs instead of flowers
Garden flowers of course, if you have them. We have a few cosmos starting to bloom, but our zinnias and nasturtium have yet to yield any flowers. So we will use fresh herbs in jars placed inside these lovely bags from UASHMAMA®. You may remember them from my recent office organization post. (I'm borrowing them from my desk for the evening). For a little color on the table, I added red and yellow cherry tomatoes in the center.
Tips to Make your guests comfortable
There are a few things I always keep in mind when hosting an outdoor party no matter the size.
Shade
If the party is during the day I always make sure to have umbrellas and sunscreen. There is nothing worse than trying to relax when you know you're getting too much sun. I have a basket with sunscreen readily available.
Blankets or wraps
When the sun goes down it can get quite chilly even mid-summer. I like to have wraps or cozy blankets on each chair for guests to use without even asking their host.
What to do about bugs
When you have an outdoor party there are always bugs. For some people, this can really be awful. I use Flyaway Sticks from Terrain surrounding the garden to help keep bugs at bay. I also make my own Bug Off using essential oils. It smells great and it's all-natural. I have a small bottle for each guest to apply as needed.
The oils I use are citronella, geranium, peppermint, lemongrass, and sometimes cedarwood.
Focus on the Table
When it comes to decorations, beautiful food and simple flowers or fresh herbs are all that are needed. I chose a block print tablecloth from Amazon in mostly green and white and used both white and black dishes. Cayman glassware is from Serena & Lily.
I lit votive candles in small jars and used these napkin rings and coasters to match the rustic garden setting with galvanized stock tanks.

Parting Gifts
I love to send my friends home with a little thank you gift for coming to the party. It means so much to me when someone says yes, I want to spend the evening with you and I'll make arrangements to be there. If you really stop and think about it, that's a big deal. We are all busy and pulled in many directions. So when someone says yes to a little party I'm having, I am truly honored. And I do my best to let them know that I appreciate their company.
A small gift like a book or a little package of shortbread cookies or jars of homemade granola. I typically make the gifts part of the theme. So for this little garden party, it's small citronella candles that smell so lovely made with citronella, orange, and pine essential oils. I'll also give everyone a small bottle of all-natural insect repellent to take home with them.
How I make these adorable citronella candles for small parting gifts
supplies needed:
small glass jars or cans
essential oils
Candle pour pot or an old pot
pencils or chopstick
small squares of fabric, rubber bands, and twine

Directions:
Prepare your glass cups or cans. Place a dot of hot glue at the bottom of the jar or can or on the wick metal piece and place it in the center of the jar. Use a chopstick to make sure it is secure. Hot glue dries very quickly.
Take a pencil, twig, or a chopstick and wrap the wick around it so that the wax will dry straight once your pour the melted wax into your cups.
Melt the wax in a candle pour pot or an old pot. It's helpful if it is a pot that has a pour spout, especially if you are using jars or cans that are small like I am.
Melt over low heat and watch closely. Depending on how much you are melting, it takes very little time.
Add essential oils right into each cup. For a small yogurt cup, I add a total of 40 drops.
Pour into your prepared cups and allow to harden. Again, depending on the size of the jar or can, will depend on the time it takes for the wax to harden. Leave undisturbed until the wax is hard.
Cut the wick and then wrap them up! I cut a small square of fabric and placed it over the top. I secure it first with a rubber band and then twine.
Make sure to check out these posts for more wonderful and creative outdoor table ideas!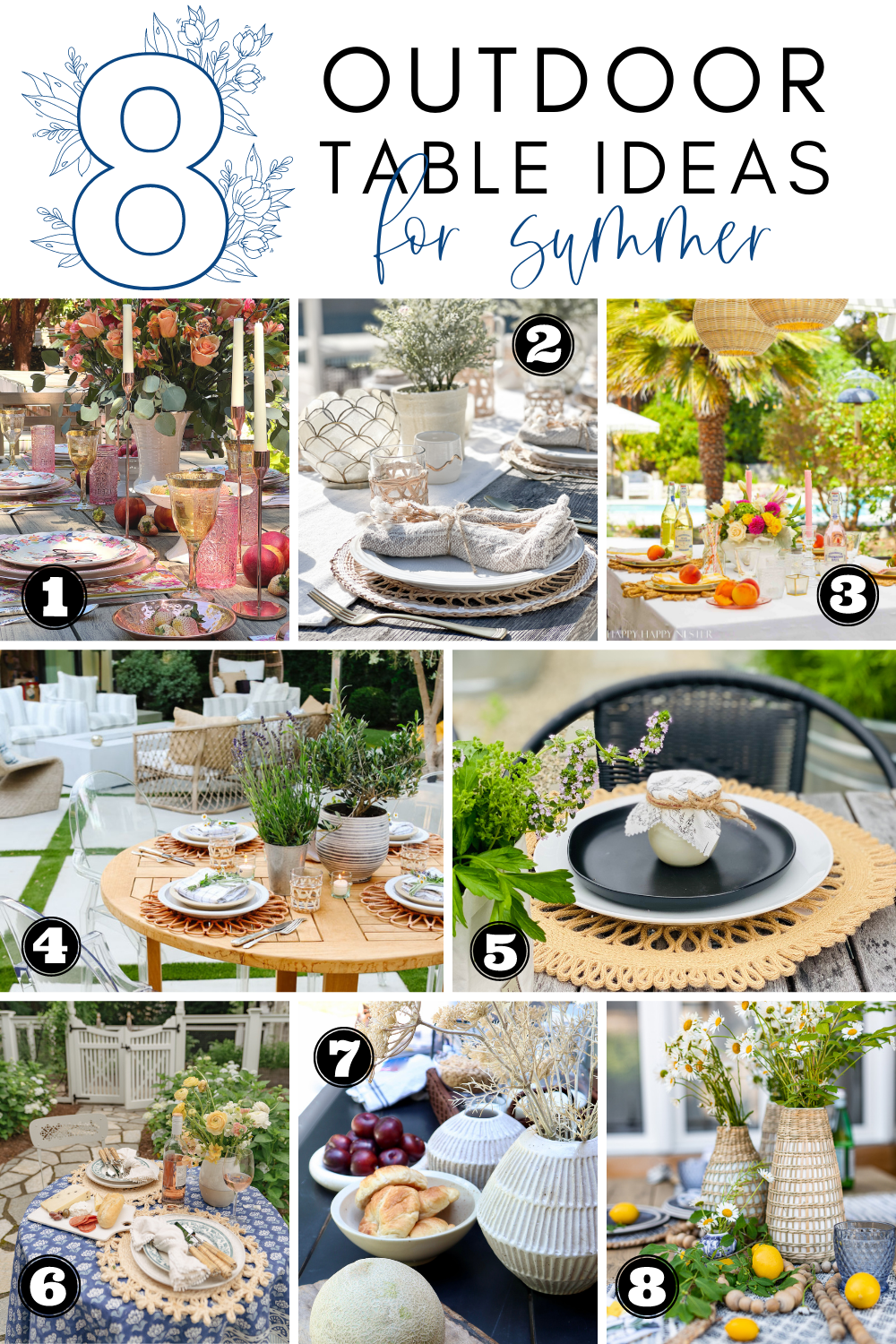 Title:
Tips for hosting a simple dinner in the garden
Keywords:
Tips for hosting a simple dinner in the garden
Last Updated:
July 6, 2022