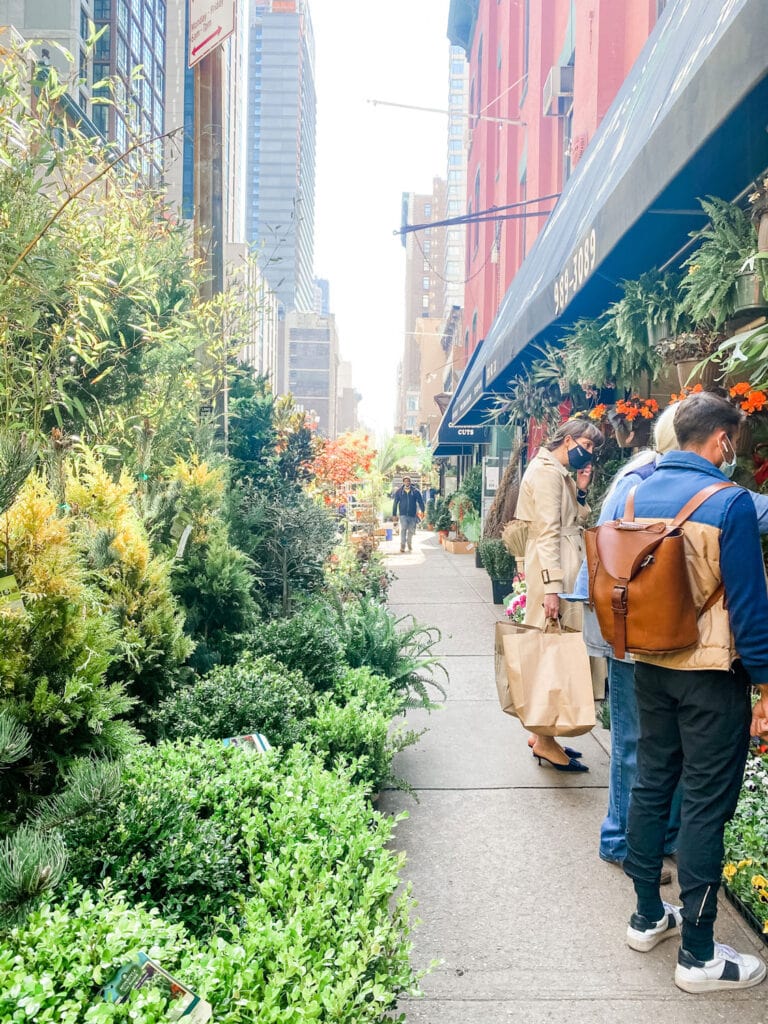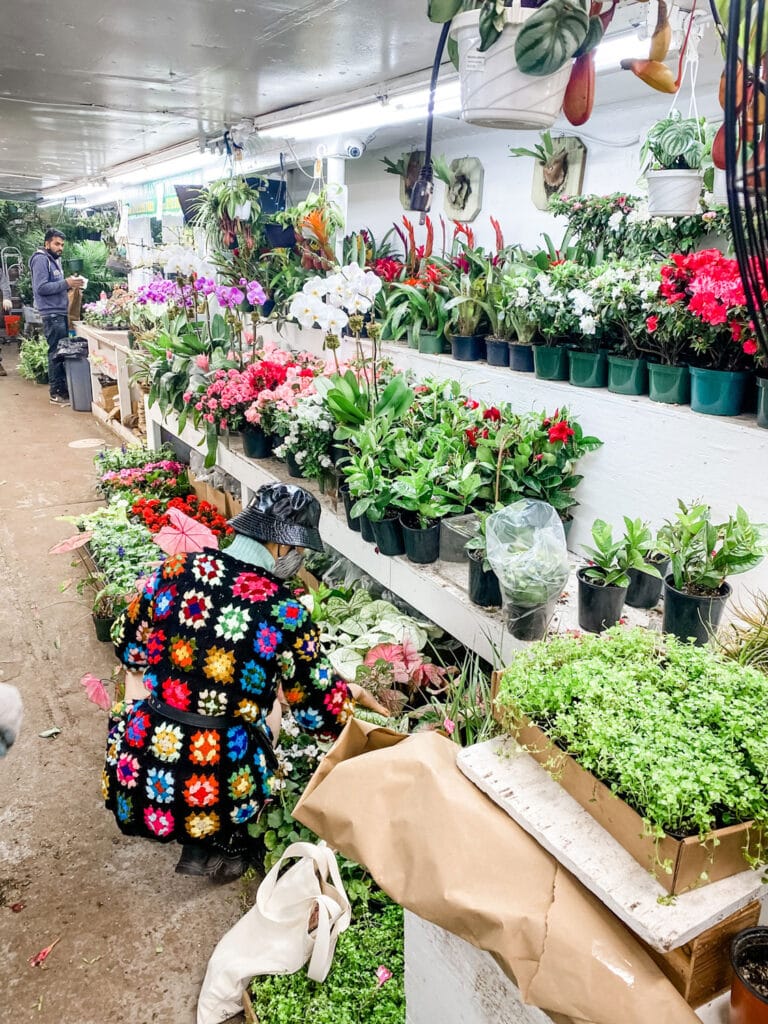 I have a few tips if you are thinking of visiting the New York City Flower Market that might help, especially if you are driving into the city. First off, you'll want to book a parking spot ahead of time. The garages fill up quickly in this area and you can do it the same day, and save some money too. We parked about three blocks away and paid $21 for several hours. I'm glad we reserved and paid in advance because it was full when we arrived, but we were okay because we paid using the Spot Hero app. I like to find street parking, but on a weekday in this area, it's not possible. It's all truck parking until at least 6 pm long after the market has closed. If you buy something large, like a tree or some shrubs, you can go get your car and pull up to load.
[mv_video doNotAutoplayNorOptimizePlacement="false" doNotOptimizePlacement="false" jsonLd="true" key="zhk8usyua1cxxcpgslgp" ratio="16:9″ thumbnail="https://mediavine-res.cloudinary.com/video/upload/zhk8usyua1cxxcpgslgp.jpg" title="NYC Flower Market" volume="70″]
Where is the NYC Flower Market?
It's on West 28th Street between Sixth and Seventh Avenues. The minute you turn the corner, you'll know you're in the right place! Seasonal plants, trees, and shrubs spill out onto the sidewalk making narrow pathways to go from shop to shop.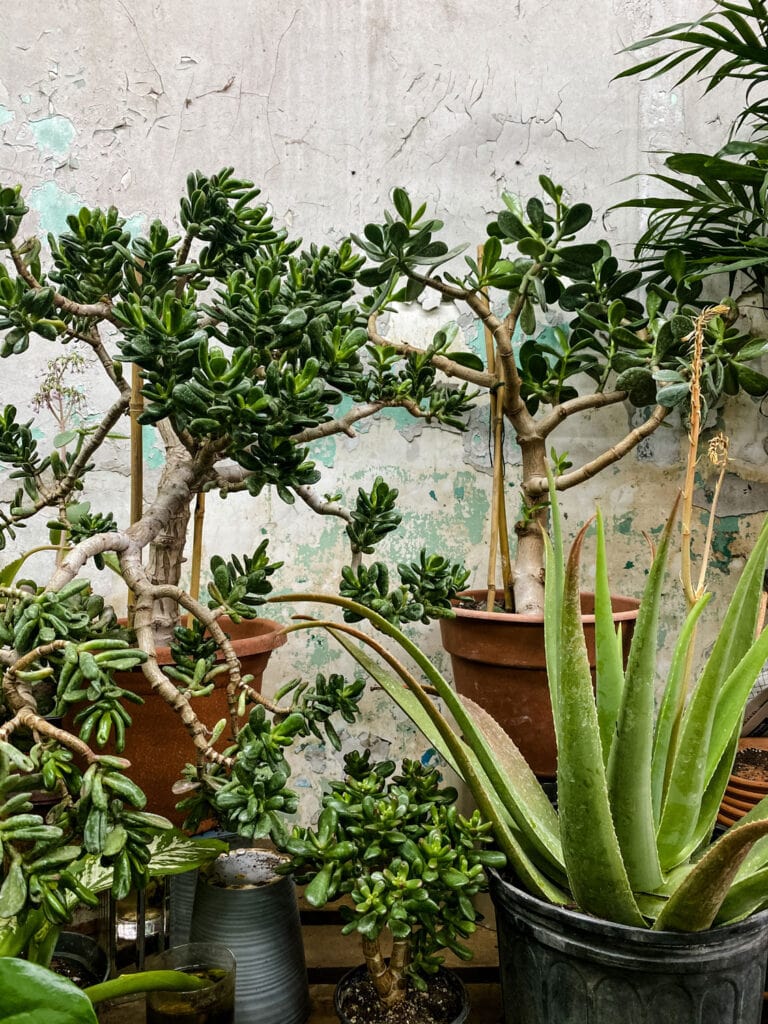 What time should I arrive?
You've parked the car, now what? This is my favorite part. There are several shops on West 28th Street between Sixth and Seventh Avenues. The shops open at 5:30 am and close between 10:30 am and noon. I typically plan to arrive around 8:30 or 9. Well past the professionals, but I don't want to be rushed. There are plenty of places close by to have a coffee if you arrive too early. (They only allow professionals in the early morning).
Should I have a plan of what to buy?
Yes, if you are buying for an event, a dinner party, or even something for your home. Look first, make a note of the shop and go back. There's always a lot of everything. I take photos of what I like and the shop exterior to keep track of what I might want to go back and buy.
Do I have to buy only Seasonal?
No, there's always a good selection of flowers and plants. Of course, it's best if you are looking for seasonal plants, flowers, and greenery. Some things, like roses, are available at all times. Today, mid-April, I did not see one lilac. I'm sure in a few weeks the heavenly scent of lilac will fill the air on West 28th Street!
Cash only?
Many of the vendors take only cash, but a few are taking credit cards. I don't know if that's a new thing, but bring cash just in case.
What else will I find at the NYC flower market?
Houseplants! Almost every shop has a wide selection of houseplants. Ones that are often difficult to find, although I do often have pretty good luck at Home Depot. Some shops specialize in tropical plants and others more cacti and succulents. But if you are looking for a popular or rare plant, you'll find it here!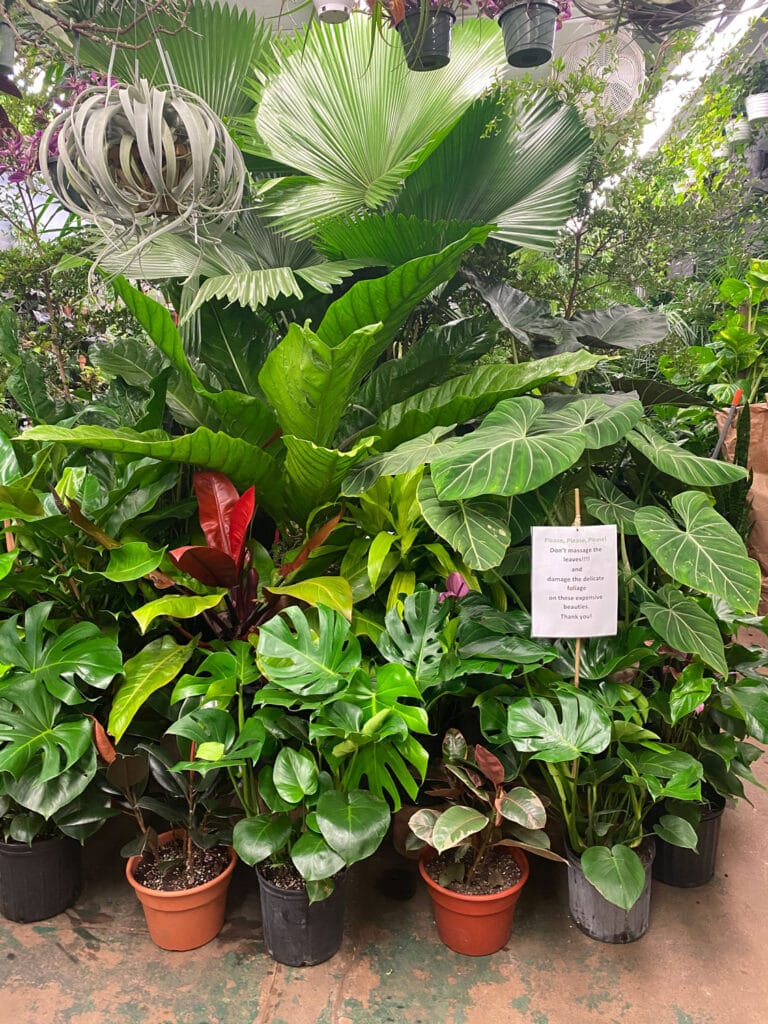 What about dried flowers?
Yep, you'll find dried flowers too! This has become quite a trend so I was not too surprised to see it here as well. One shop, in particular, specialized in dried flowers, J. Rose. They also have gorgeous fresh flowers too!
Looking for supplies?
One shop, Jamali Floral & Garden specializes in everything for floral from containers of all kinds to ribbons, stones, baskets, teak wood containers as well as zinc, raffia, bamboo stakes…really anything you could think of to use with plants or flowers.
A round-up of planters I love!

You might also like this post on spaces before and after using houseplants! What a difference plants make in your home!