Where I work these days . . . mostly.
When Mary Ann and Cindy suggested we do our next Project Design on home workspaces, my first reaction was, yes, what a great idea, since we are all working from home. And then I started second-guessing because my home workspace is not like the beautiful images I save to my Pinterest board titled, "Work & Creative Spaces." In fact, it's far from it, but I like to be authentic and even though my space is far from perfect, I did get inspiration from those Pinterest images. My workspace is just what I need in terms of space and organization. It's in a corner of the attic opposite the wall with windows, which sounds dreadful, but it does keep me focused. There's no daydreaming looking out the windows, which I find suitable. I am easily distracted!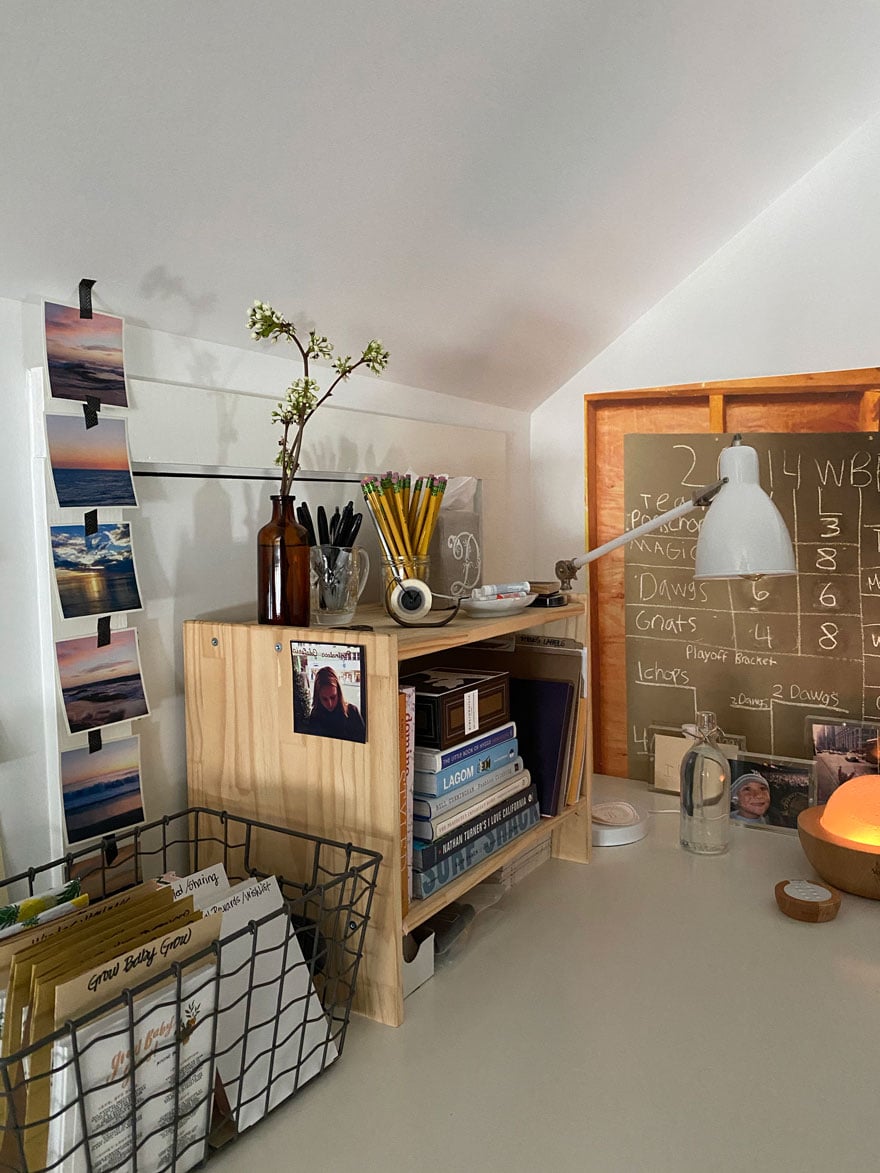 When creating this space I used only what I already owned. The Ikea desktops and trestle bases were in our old attic. When we moved we put them in the basement until one day I decided the attic space (when my kids are away) is perfect for my office. Well now in our current situation, we are all working from home and somehow we have managed to stay out of each other's way. Occasionally Patrick needs the attic to record his podcast, but for the most part, it's working quite well.
Sunset photos of Dana Point, CA
I like to be surrounded by plants and nature. Since there's no light on this side of the room, I can't keep a plant alive. So I keep clippings from my house plants and the trees outside. I have a basket of seed pods and stacks of beach stones. The postcards are from Obvious State and the sunset photos are from my favorite beach, Strands in Dana Point, CA. Small items that were given to me by friends/readers. Those items always keep me inspired. I have a few framed photos and office supplies in small dishes, bowls, trays, and baskets. I also have my Aria diffuser with the wood base and glass dome. The amber glow and bubbling of the water are peaceful and comforting. I've been diffusing orange and peppermint lately. Did you know diffusing peppermint is excellent for focus?
Surround yourself with small treasures from travel & friends
Now make sure to check out these bloggers for some major office envy! Mary Ann has San Francisco views, Cindy has beautiful views of her garden and Carla might be sharing her studio or her home office where she's now working…I guess we will have to wait and see!
Shop the Look