This week I attended a wreath-making workshop at Terrain using dried florals. I thought I would share the materials that Terrain provided.
Every week I join my friends Cindy and Mary Ann to share our favorite things of the week, and this lovely workshop was one of mine for sure! The only thing that would have made it better…having Mary Ann and Cindy attend the workshop too!
Terrain has beautiful wreaths that are made and ready to hang, but attending a workshop at one of my favorite stores to make my own, was a really nice experience.
I've made several wreaths using foraged finds over the years. thought by attending a workshop, I might learn a few wreath-making tricks, but there really are no secrets to creating a beautiful wreath if you have a few supplies.
Pick a Color Theme
I chose a neutral color theme of natural and peach for my wreath. I used Starflower Scatter, preserved leaves, Gypso Bunch, moss, and dried Lagurus Bunch. I made two posies and wrapped the coated floral wire around to secure it in a couple of places on the wreath form. I attached the moss and scatter flowers with hot glue. I used a bit of the coated floral wire to hang the wreath. A frayed canvas ribbon would look nice, and the color is perfect.
The Supplies You'll Need to Make a Wreath Using Dried Florals
A wreath form (We used 14″ grapevine wreath forms) Terrain has these that would work well and pretty on their own, too.
An assortment of dried flowers, leaves, grasses


The Tools You Might Need for Making Wreaths
Pruning shears
Scissors
Hot glue
Kraft paper to cover the work surface

How much time should I allow for making a wreath?
Once your supplies are ready, assembling a wreath does not take much time. The workshop at Terrain was an hour. It gave everyone enough time to review the materials and plan. Everyone was done making a beautiful wreath at the one-hour mark.
Wreath making is messy, so you may want to work outdoors (weather permitting) or cover your work surface if possible. The good news is that it's pretty easy to sweep up because it's all dry material.
A few things to think about when making a wreath with dried florals
Decide if you want to make a wreath fully decorated around the entire wreath form or just part of it.
Design your wreath where you make two similar arrangements and then put them on the wreath in opposing directions, meeting in the middle.
Use dried moss to hide the stems in the middle.
Kids could join in wreath-making fun but definitely help with using the hot glue.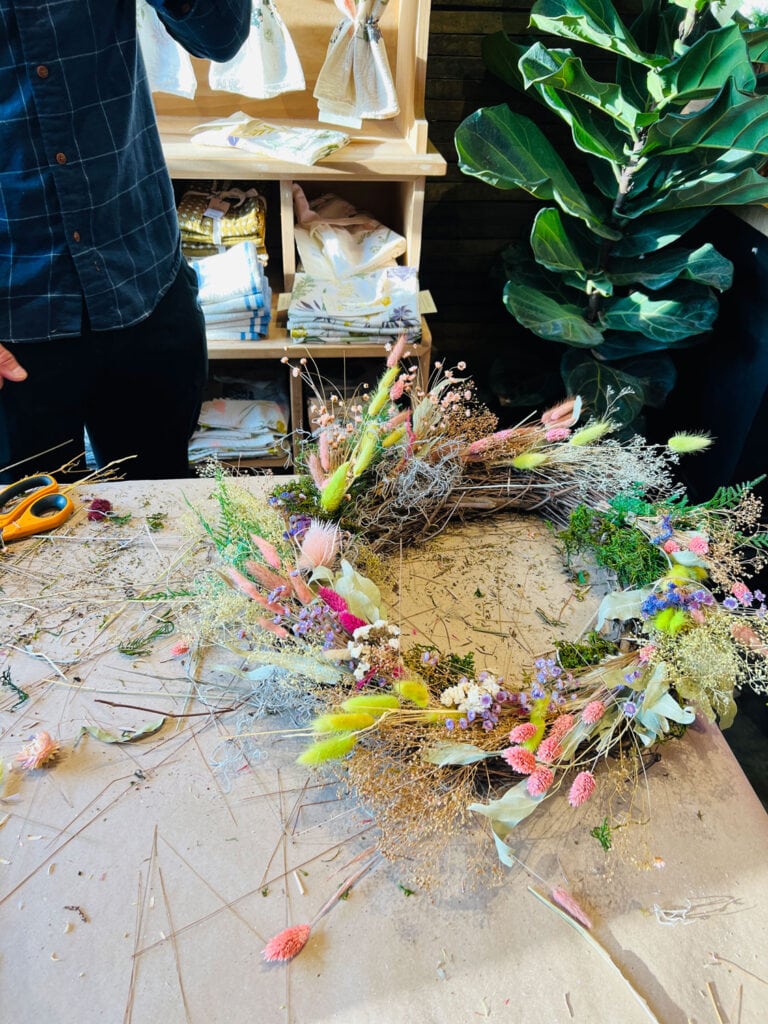 If you enjoyed wreath-making at terrain with dried florals, you might also like these posts on wreath-making:
A few other things that caught my eye this week!
These pants at Alex Mill
While in SoHo this week, we stopped at the Alex Mill store to see what they have for spring/summer. My favorite shirt I wear year-round is from Alex Mill, so my hopes of finding a few things were high!

These pants are so comfortable. Run true to size, and I'll wear them every other day…until forever. I bought them in two colors.
The Neil Pant in Herringbone, Ecru, and Vintage Olive
Looking for a House in LA?
Since my friend Diane Karmen bought a house in LA, I've followed her real estate agent, Mary Regal, on Instagram. She posts really pretty houses, but this week…oh my goodness. It was love at first site!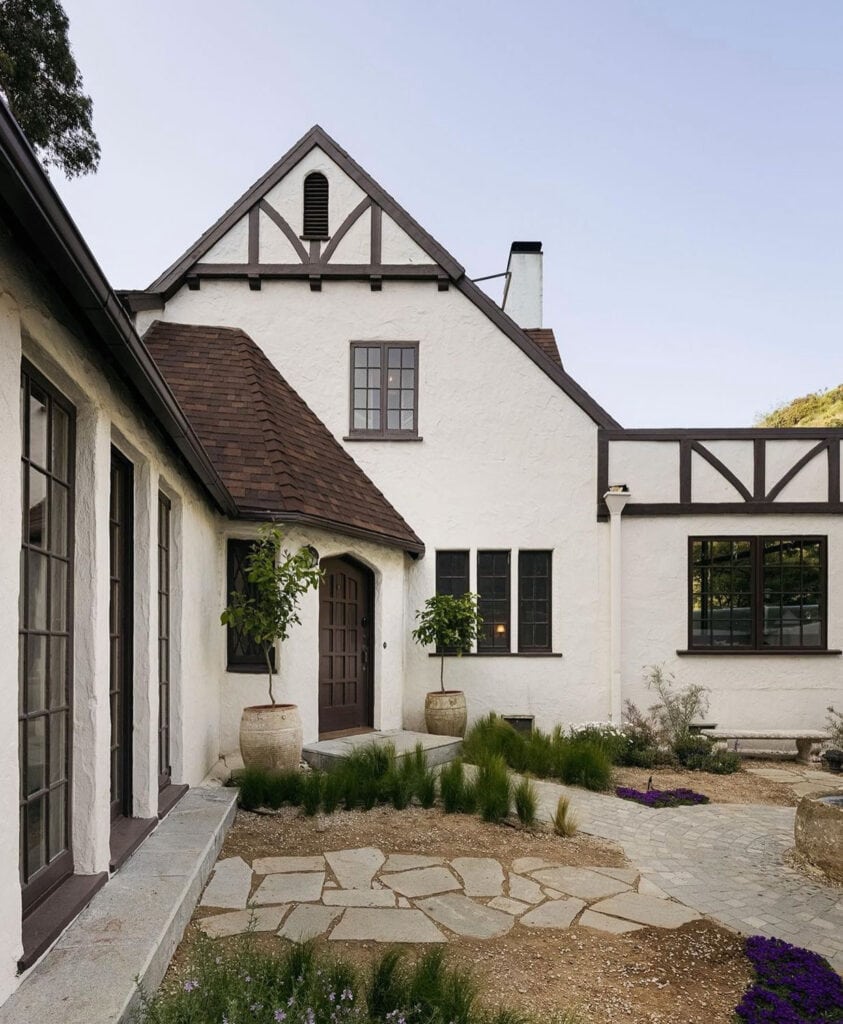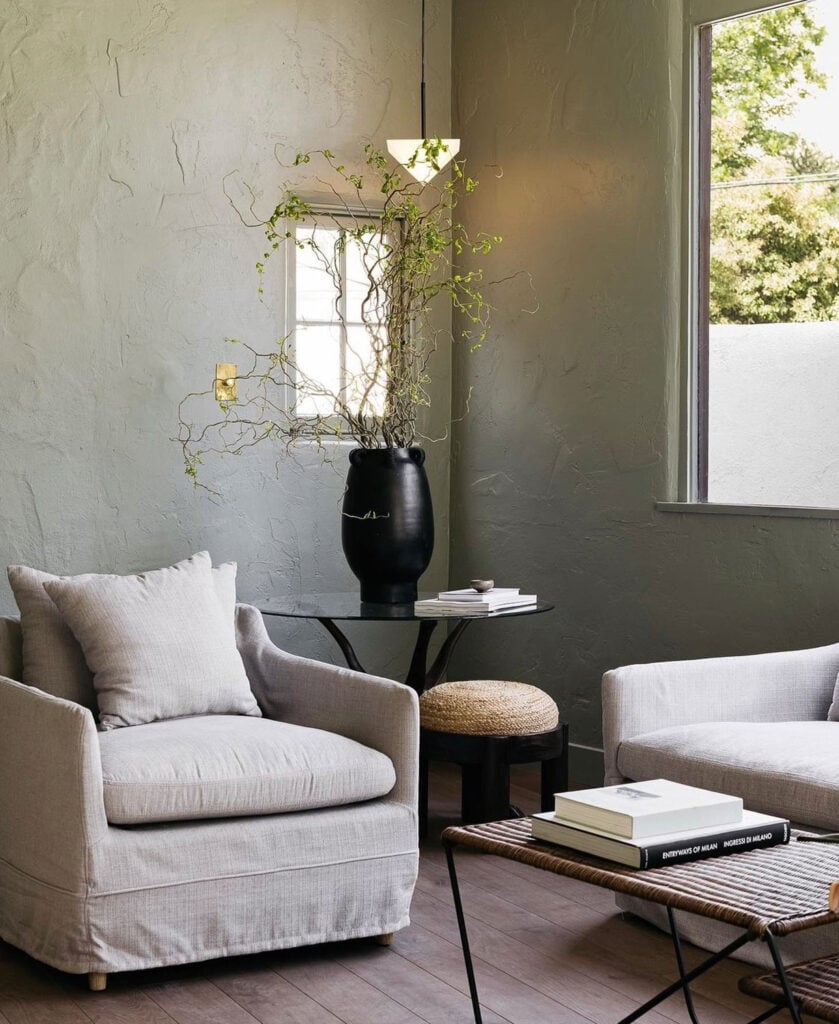 I love everything about this house. The earthy organic green throughout and the kitchen's black granite or soapstone countertops. The claw foot tub and the dark wood vanity.
The patio with the brick and patterned patios. Love the combination and how it divided the conversation and dining area.
If you are in the market in LA, contact Mary Regal at Compass.
That's it for me! Let's see what Mary Ann, who is in LA this week, and Cindy found in their travels.
Pin for Later