Today I'm joining my blogging besties, Cindy and Mary Ann, for a holiday home tour! I love keeping it simple with inspiration from nature and household things I craft into holiday decorations. So let's create simple Christmas decorations with nature and paper!
A favorite corner gets even cozier with new cushions for the winter months from Patio Lane.
My corner nook is probably my favorite space in the house. Brent built it about a year after we moved into this house, and making it a built-in with custom cushions from Patio Lane is the best part.
Patio Lane has a custom cushion builder where you can design your cushions exactly how you want them. This time, they had all of the dimensions, so I just needed to add my fabric selection. I only needed covers, no foam, since I am just swapping out the covers. Patio Lane has the best customer service should you need help, but seriously the cushion builder tool makes it very clear, and you feel confident ordering online.
Mary Ann used Patio Lane for the daybed in her new home. You can read that post here!
You can see the original post here, where we used a more year-round Sunbrella fabric.
We chose Sunbrella fabric so we don't have to worry about spills or fading. The fabric is so soft you would never guess that it's a high-performance fabric. I decided to use my creamy white Cozy Teddy Faux Fur Pillow Covers and Faux Fur Alpaca covers for more of a winter look and not just holiday.
Paper crafts and homemade decorations inspired by nature get sprinkled throughout the house.
For the photo shoot in Better Homes & Gardens, the stylist used a beautiful piece of fabric on the back of the sofa. I've been trying different things ever since and love the look of adding that extra layer and how it changes the room. This is a Libeco throw. Cindy uses her Libeco throws all over her home, and even wears them! So versatile. We have a few in the shop and some Libeco linen hand towels. Read Cindy's post here, where she shows how she uses her Libeco linen throws.
MLT in Better Homes & Gardens (center photo) and this year on the right!
The gold star on top of the tree is from John Derian in NYC.
Simple Mantel Decor for The Holidays
A pinecone garland mixed in with several votives and stockings hung from a twig suspended from two stocking holders. Clay tags mark each stocking with an initial; the photo was from our Christmas card when the kids were little. I love how we can use it as "art" in our Samsung Frame TV.
How to Create Christmas Decorations with Nature and Paper!
There are so many craft projects in the above photo I don't even know where to start! Paperbag snowflakes came in three, maybe four sizes (using all the bags I could find), and trees, not just felt trees, but I made them with paper this year.
If you zoomed in on the table and saw those San Marzano tomato cans…I dressed them up with a little tinsel garland and used them as containers for paperwhites. I added a few hazelnuts on top, and they look pretty cute! You can see more on Instagram right here @most_lovely_things
Paper Ornaments Made from Cupcake Liners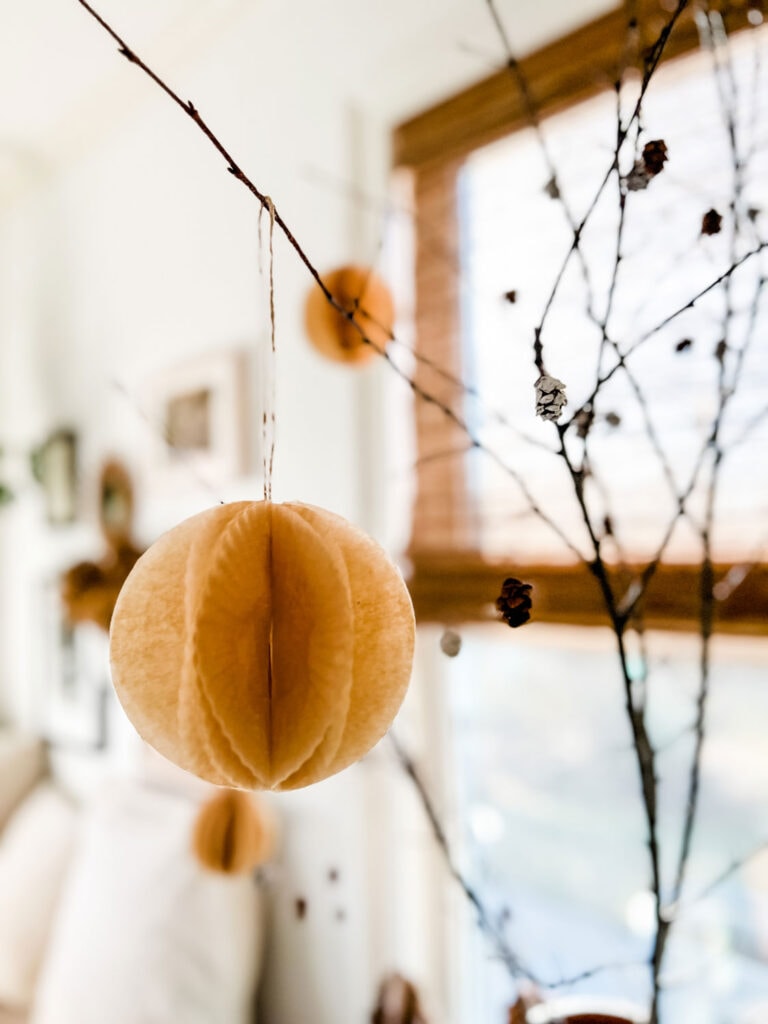 Last year I used a large Anchor Hocking jar with white beach rocks to hold a few bare branches in place. I made white paper ornaments with circles I cut from white butcher paper. You can read that post here. This year, I'm leaning into the natural color of brown (think dried hydrangeas), and so I used natural kraft paper cupcake liners.
The Supplies You'll Need to Make Each Ornament
To make each ornament, take 15 cupcake liners and iron them flat. I used a regular iron and made sure the water tank was empty.
Then fold each in half and add a dot of hot glue at the middle edge of one side, seal it together so that you have 15 half circles.
Now take the half circles, add a drop of glue on each end, and glue the stack together. It takes patience when using vellum paper to ensure that the glue will hold. Once they are all glued together in a stack of half-circles, add a few drops of hot glue down the inside and your twine. Fan open the ornament and glue the outer two pieces together to make a ball.
Hang on branches, in a window, or on the Christmas tree! The light naturally filters through the paper!
Make nostalgic paper chains using wrapping paper.
Supplies to Make Paper Chains
Strips of paper cut the same size (depending on how large or small you want your paper chains to be)
Tape
Scissors
This simple craft will take you back to elementary school and snow days when all you needed was a roll of tape, a glue stick, and a stack of construction paper to make paper chains. It's such a nostalgic and fun way to decorate and create Christmas decorations with nature and paper!
Vintage Crates Hang on the Wall
The vintage crates started as a way to hide the Nest thermostat, but they provide a little extra space for things like cookbooks and bowls of seasonal fruit and nuts. I used extra wide frayed canvas ribbon to hang our photo holiday cards. You can read more about how I make frayed canvas ribbons in this post!
That's it for our little cozy home tour; I can't wait to see Cindy and Mary Ann's new homes decked out for Christmas! Let's go!