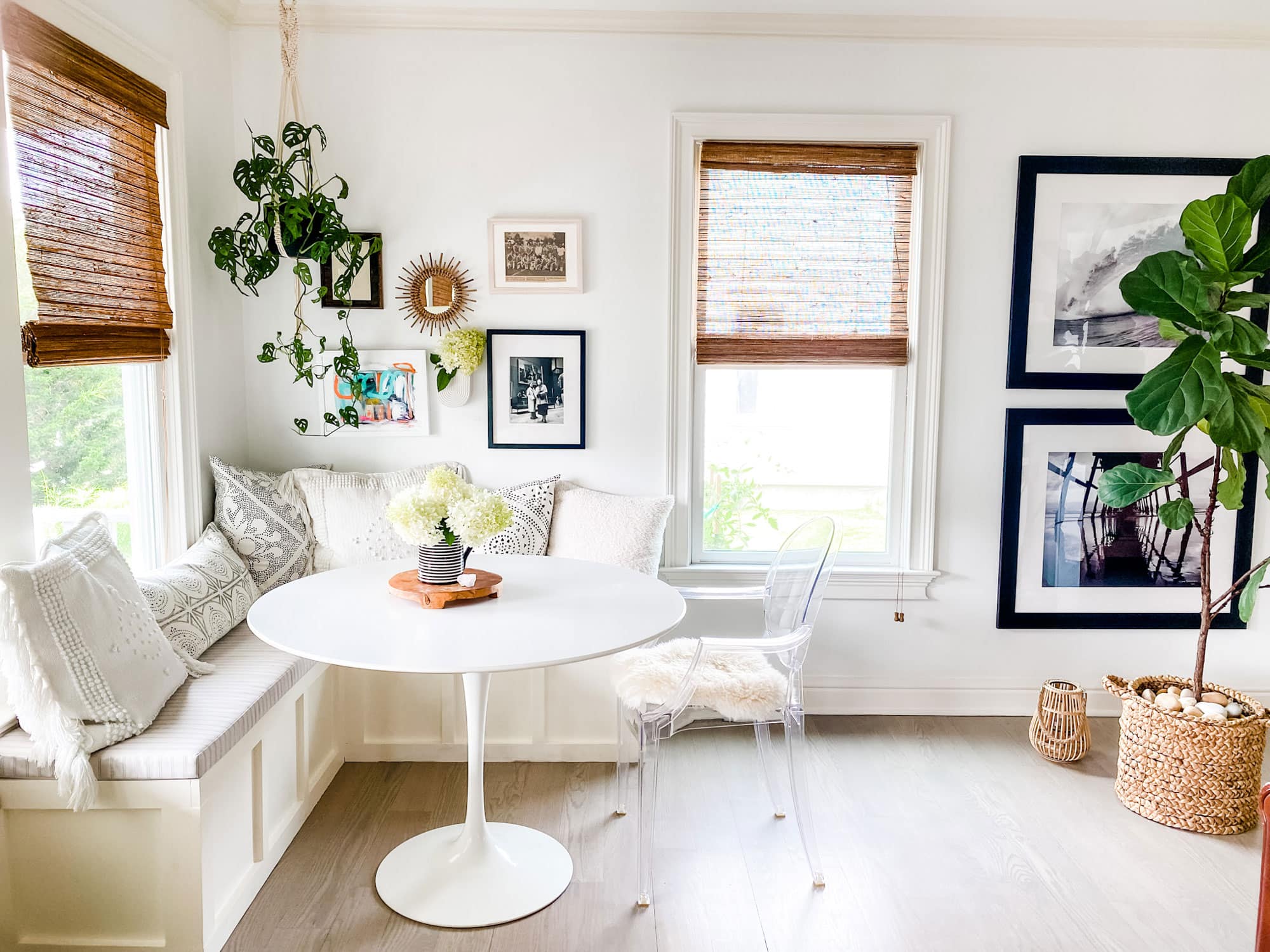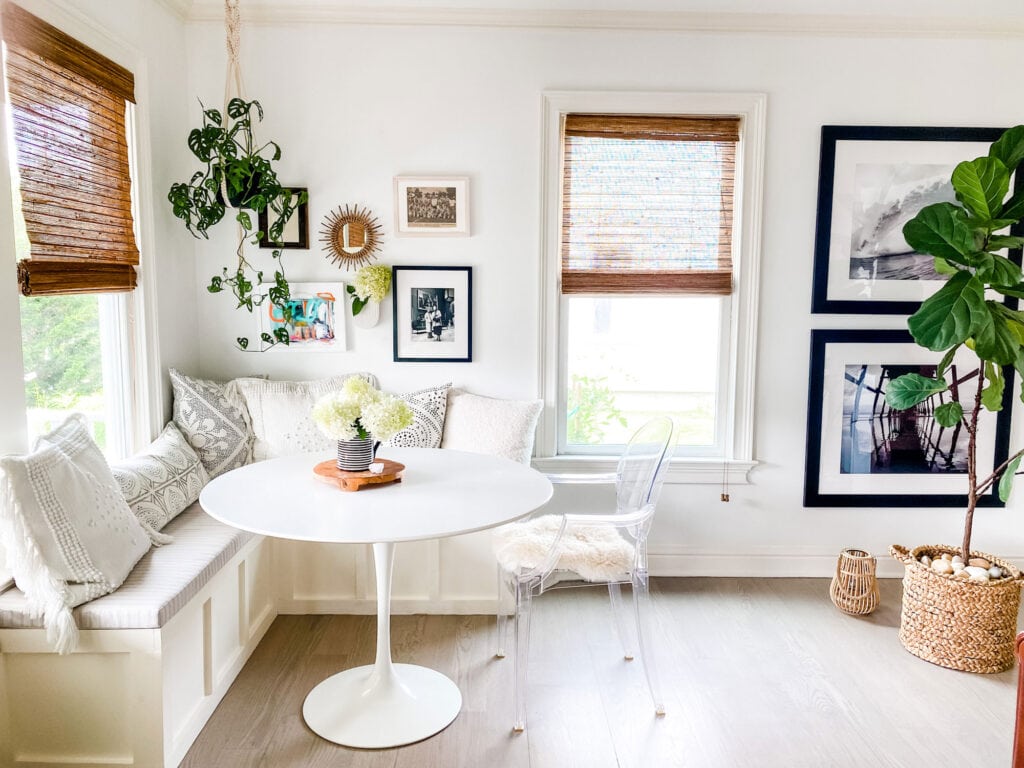 Use code MOSTLOVELY for 10% off your order at Patio Lane through September 30th, 2021!
We made a custom banquette in an unused corner of the living room and as much as we would like to step back and admire our handy-work, it's really the cushion that steals the show here and transforms the bench into a super-cozy corner. We turned to Patio Lane for our cushions. Continue reading to learn more about the simple process of ordering custom cushions to fit your bench, but first, here's how we made the built-in banquette.
Adding a corner banquette where there was once only a large plant in this same space!
A corner bench turns an otherwise nice corner of a house that once had a large plant occupying it into space where you just want to hang out. Combined with a table, you can work comfortably here or you can eat while watching one of your favorite movies or a game. It's just simply a place where you'll want to spend time and since it faces the street, it's great for people watching too!
Step 1: Selecting the Appropriate Area
The first step is selecting the area for your bench and then determining the size. For our bench, we had to make sure it fit underneath two windows. We were working with our existing round Saarinen table. Here are the dimensions we used:
18 ¾" deep
17" high
Left part of the L-shaped bench is 62" long
Right part of the L-shaped bench is 38 ½" long
But you can customize the dimensions to fit your space. This is the space and table we had to work with. You can see a similar corner banquette that we built in our New Canaan kitchen in this post.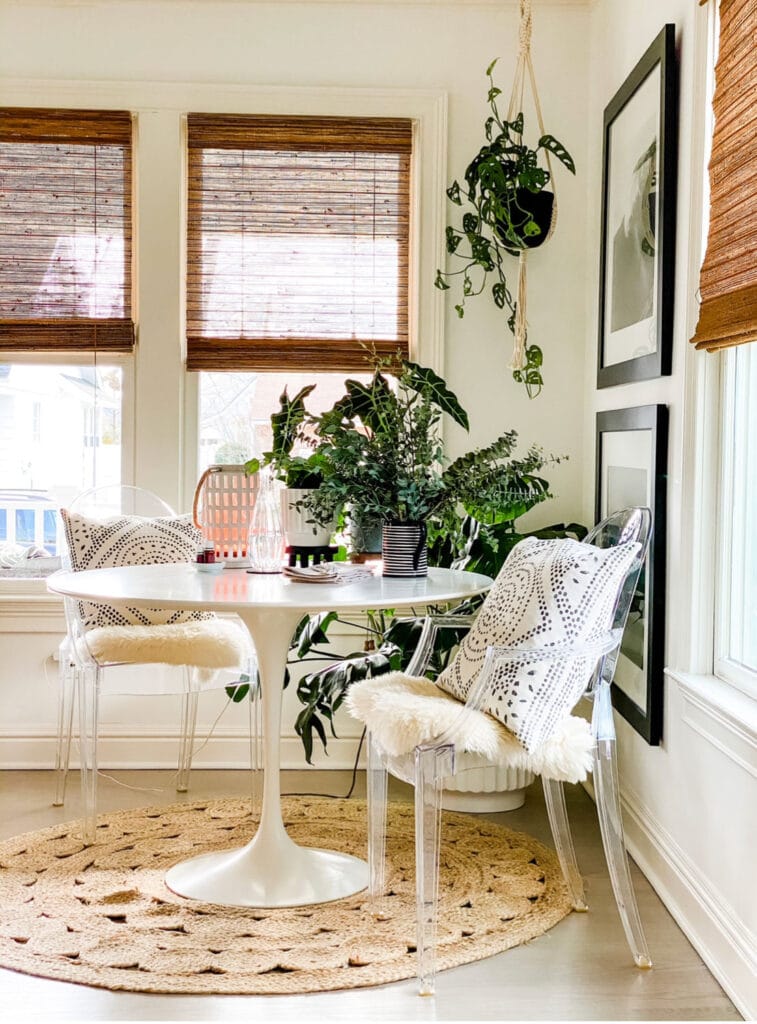 Step #2 Building the Frame
The next step is building the frame of the bench to your previously determined dimensions. Not being a licensed contractor or an engineer, there is no magic to the spacing of the supporting 2X4s. You just want to make sure you have enough support to prevent any sagging with multiple people sitting on it.
What you'll need for the Wood
Once you've determined the size of your bench you'll need to calculate how much wood you need. We bought all of our wood at The Home Depot. For the frame, we used standard 2X4s and for the tops and sides, we used the ⅝" pressboard. If you prefer, you can use plywood. The reason we chose press board is that it provides a smoother finish without the grains of plywood which is the look we were going for.
For the frame around the press board, we used standard pine 1X4s and 1X1s for the interior of the frame. For those of you unfamiliar with various kinds of wood, you can buy different grades. The more finished the grade, the more expensive it is. We used a middle grade wood so that there would be less sanding than when buying low grade pine.
We anchored the frame to studs in the wall and then screwed it securely to the wood floor.
Step 3: Attaching the Top Pieces
Once you have finished the frame and feel it is secure, we cut two pieces of the pressboard for the top of the bench.
Note: we have a table saw and a miter saw that we used for the project. However, if you don't have any saws, Home Depot will make most cuts for you. If that is the path you are taking, you have to be very exact and organized with the cuts you need. There is little room for mismeasuring in this case.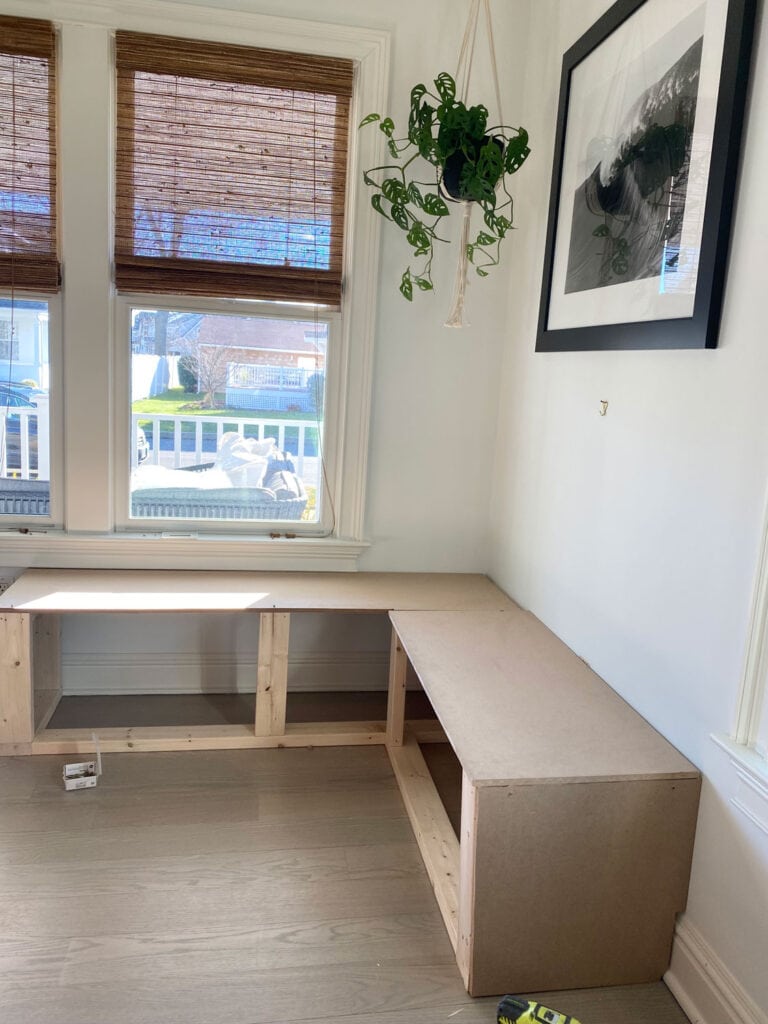 Step 4: Attaching the End Pieces
Next, we cut and attached each end piece. If you need to work around existing molding like we did, we bought a tool that conforms to the curves of the molding that can be used to draw the shape on the wood. You can then use a jigsaw to cut around the curves. There are many tools like this available. We just chose the one Home Depot had in stock.
Step 5: Attaching the Front Pieces
Next we cut the pressboard and attached the front of the bench in two pieces.
Step 6: Patching and Sanding
Once the tops, sides and fronts were in place, we filled in all the screw holes and any imperfections in the wood that were there or that we had nicked in the assembling process.
Since we were assembling the bench inside the house, we did most of the major sanding outside prior to assembly to keep from creating a major dust Tsunami inside the house. However, there were places that needed to be touched up and we did that by gently hand sanding and cleaning as we went.
Step 7: Caulking
Next we used standard paintable latex caulk around the frame and any places where there were visible gaps. For someone who is not a perfectionist (like me) but would like to appear as one, caulk and wood patch are my best friends. They can help hide almost any imperfection in construction.
Step 8: Painting
Finally, we used interior latex satin paint. Some people like to use semi-gloss but we tend to think it is too shiny. Check out the different finishes from the color charts at your paint store to determine which one you like. It is all personal preference.
Step 9: The Cushion from Patio Lane
Once the bench was finished, we ordered custom cushions from Patio Lane. Patio Lane is my go-to for all custom cushions! We used them in our attic for an extra-long window seat and we even used one for a small narrow window seat in Madeline's apartment. A cushion makes all the difference and they could not make it easier to find what you are looking for in terms of fabric and custom design. They have a Cushion Builder Tool that takes you through the process beautifully. You then select your fabric, the cushion, the fill, the size, and the height desired, and then you place your order. If you are still a little unsure, they have a YouTube video that takes you through the process, and should you have questions as I did the first time, customer service is so helpful! A few weeks later you'll receive your cushions and once unwrapped in a matter of minutes, you are ready to invite people over to your new cozy space!
Materials Needed for the Project
The Wood You'll Need
2X4s pine
⅝" press board
1X4 pine
1X1 pine
The Saws You'll Use
List of the Materials You Will Need
Wood screws (I like to use GRK Fastener trim and finishing screws. They are easy to work with and there is no pre-drilling required.)
Spackle
Putty knife
Sandpaper
Paint brush
Paint