I'm sharing my favorite French pharmacy finds for skincare products from Citypharma in Paris. Everyone seems to be talking about Citypharma, and now that I've been (twice), make that three times, I can see why.
I was a little nervous about finding what I needed without speaking the language. The ladies were all so helpful, and of course, they spoke English.
It was overwhelming when we first walked in and discovered how busy it was. The store is relatively small, packed with French pharmacy products. But equally as impressive as all of the products lining the shelves was the available staff willing to help find what you need.
If you are looking for assistance in finding what you want/need, then go anytime, and even if it's busy, you'll have no trouble finding help. If you want to experience the store with less crowds, go at 8:00 p.m. They close at 9 p.m., but at about 8:30, the store is almost empty.
Where is Citypharma located?
Citypharma is located at 26 rue du Four in Saint Germain—just a block from the Saint-Germain-des-Prés Metro stop and about 2 blocks from Cafe de Flor.
Here's what I bought:
A soft and creamy texture in a stick balm. We loved it so much that we bought several more the next day.
La Roche-Posay Sunscreens
We were first introduced to this at the U.S. Open tennis tournament this year. We received a gift of the 100 SPF Body & Face sunscreen from the American Express lounge. Little did we know how popular it was and how amazing it is, even for sensitive skin. It comes in several SPF formulas. Anthelios Melt-in-Milk Sunscreen that's suitable for adults and children.
La Roche-Posay even has a spray sunscreen with an SPF 60, if that's what you are used to using.
I might need to go back for the Ulta Light Face Sunscreen in SPF 50 and 60 to wear under makeup.
La Roche-Posay Cicaplast B5 Balm was also recommended. It's a healing ointment for dry and irritated skin. It's fragrance-free and baby-safe.
La Roche-Posay Lip Balm for parched lips with shea butter and ceramides.
AHAVA deadSea Water Deep Nourishing Hair Mask leaves your hair feeling so soft. Just use it in the shower after shampooing your hair, wait two or three minutes, and rinse with cool water. I could not believe what a difference this made in my hair.
Caudalie Vinoperfect Radiance Serum seems to be the product that's on everyone's list of items you must buy in France. Apparently, it is the best-selling worldwide anti-dark spot serum. It can be used on the face and neck.
I also purchased a few Caudalíe Hand and Nail Repairing Creams. One small package came with a lip balm.
For minor cuts and burns, including sunburns.
These products were recommended to me by the helpful staff. I overheard several conversations (in English) of women asking for specific products recommended by friends. But, as the helpful woman working at Citypharma pointed out, not everyone has the same skin. So I'm trying KORRES skincare, which is quite reasonable and only a little bit more on Amazon.
I have normal skin and am searching for a product where the ingredients are dermatologist-recommended and help with fine lines and wrinkles. Nothing too expensive, and KORRES seems to be just that.
KORRES Volumizing Serum-in-Moisturizer
KORRES Restorative Overnight Facial
KORRES 360º Eye-Lift Super Serum I needed a new eye cream and love the idea of a pen applicator.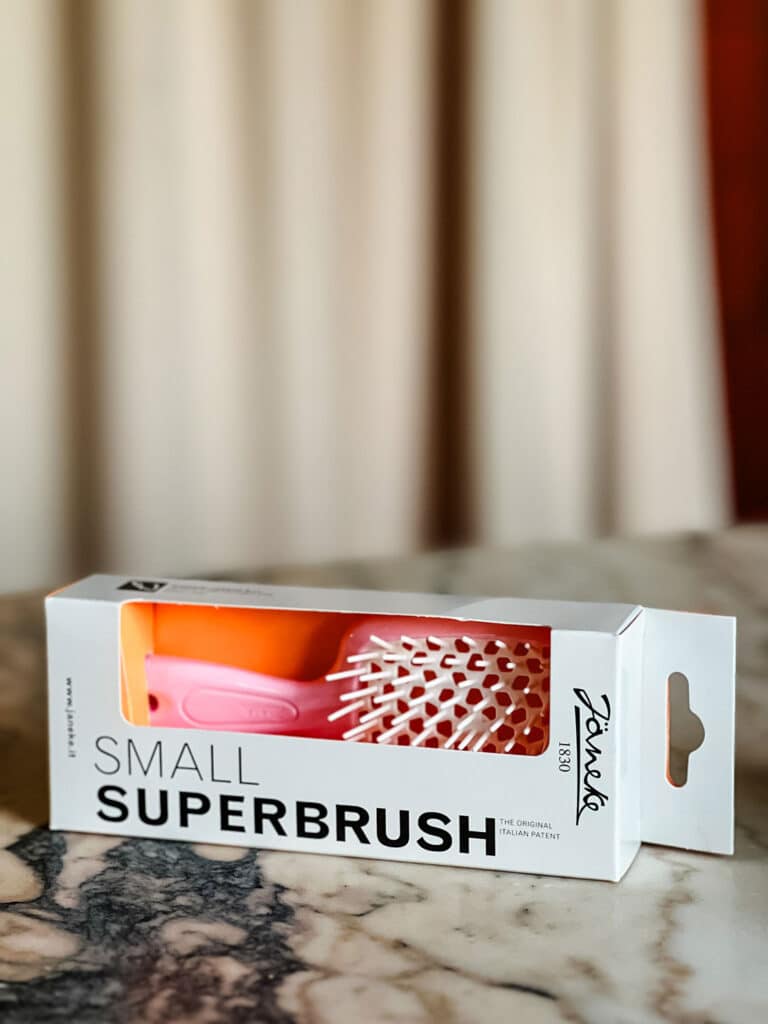 I noticed a few people with these hairbrushes at the hotel pool (yes, our hotel in Paris has an outdoor pool; read more here), and then I saw them at Citypharma.
They are perfect for detangling wet or dry hair and anti-static.
I've known about this product for quite some time. It's available almost everywhere, but it's worth mentioning in my favorite French pharmacy finds because it's such a great all-around make-remover cleanser.
It's easy to see why Citypharma has such a cult following.
You can get almost everything I purchased at Citypharma on Amazon. However, it is quite a bit more expensive. I like the products enough that when I run out, I will definitely buy them on Amazon – even though they are more expensive. There is one exception. KORRES products are only slightly more expensive on Amazon.
Visit my favorite French pharmacy finds in the Amazon store here.
Pin for later!
More Sunday Favorites:
I rave about these all the time. I've been wearing the no-show Compression socks from Comrad and cannot believe how comfortable and supportive they are. We have been walking 13-15 miles a day. At the end of the day, my socks have not slipped, which has always been a problem when wearing no-show socks.
Comrad offers four sizes, which means you can find a fit that won't slip or slide while still offering arch support.
Here's a link to get 25% off!
That's enough favorites for one Sunday! Let's see what Cindy and Mary Ann found this week.
Shop the Post