My favorite decorations at the holidays are twinkle lights and candles.  I kept it pretty simple this year, but never short on my two favorites!  The house looks, smells and feels like Christmas from the moment you walk in the door.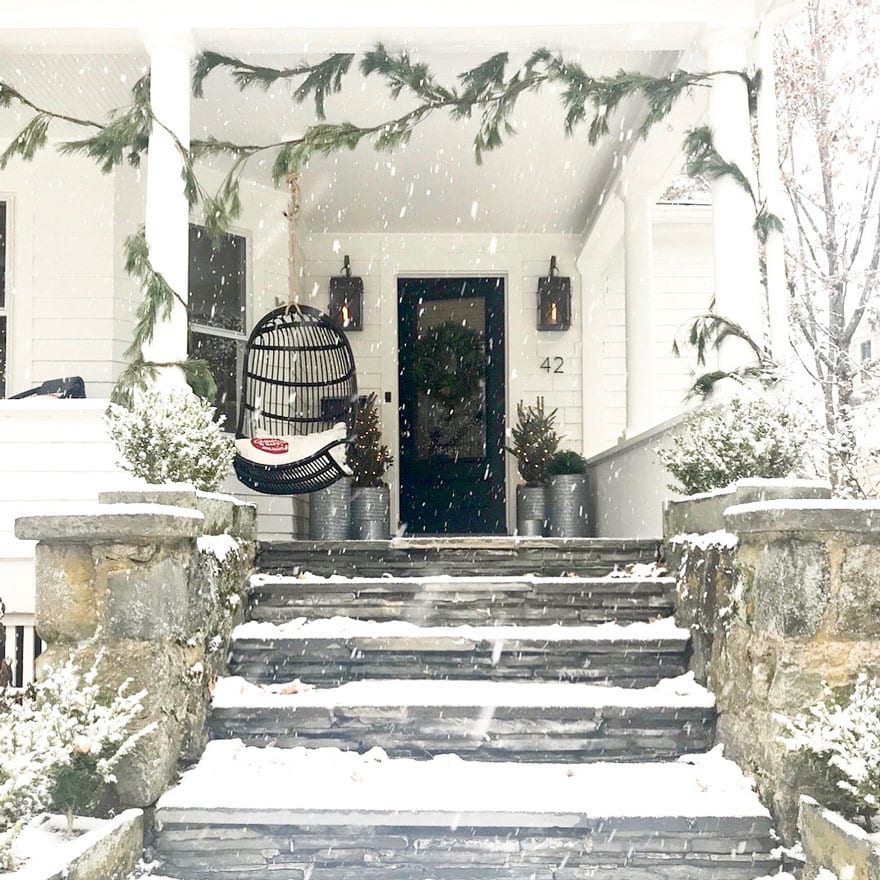 Our entry has small closet that's great for all the coats, boots, hats and winter gear that you have when you live where it's cold, but one of the first things we did when purchasing our home built in 1900 was to add hooks.  I don't think anyone had ever hung hooks in the entry of this house.  Hanging a coat, a hat or a bag on a hook is far more likely than putting it away in a closet.  I'm not sure how people managed without them for over 100 years!  Our is made from reclaimed wood we found in Red Hook, Brooklyn after Hurricane Sandy. We tried to hang hooks on the wall, but old plaster walls made that difficult.  Hooks on wood made it possible and adds a bit of history.
We are officially empty nesters as Madeline is living in New York City after graduating from Bucknell in May and Patrick is a freshman at Syracuse.  When they both come home for the holidays, I want them to feel Christmas from the moment they arrive home.  That meant keeping some traditions like a big tree with all of their favorite ornaments.  The ones from their grandmother that signify every important event and activity through the years.  Like playing the violin, going to Australia, playing golf, surfing and for Patrick–mostly baseball related ornaments. 
A very heavy old crock in the dining room that I found at an antique mall with Brooke holds a small tree decorated with cinnamon house ornaments and dried citrus.  It smells so good!  The crock normally holds a monstera plant, but it's too heavy to move.
This year I added new stockings from the Hearth and Hand Magnolia Collection from Target.  How could I resist since they are black and white? I used old candlesticks with black candles and two sets of the Nesting Houses.  The little angels are from when I was a child. I love to mix old, new and vintage with fresh greens on the mantel.  We used to have a vintage mirror but it fell and the frame broke into pieces.  We replaced it with this one from Serena & Lily.
I have sprigs of evergreens in vases and bottles all over the house.
In the front of the house I have a small tabletop tree from Terrain.  I love it!  It is decorated with vintage ornaments that I found while going to flea markets with a dear friend while living in Southern California.
In the kitchen I hung a pine cone garland and added twinkle lights, fresh citrus on kitchen twine and swags made from our evergreen trees.  I added a few cinnamon sticks and dried citrus.
A wood board from Terrain holds a fresh evergreen sprig, a mini conifer and a scented candle on a Saarinen table with Riviera chairs from Serena & Lily.
Candles, sprigs of evergreen in an old bottle from our first trip to Paris and a Tiffany bowl of white beach stones from our recent trip to Montauk on the coffee table for a small touch of Christmas.
Thank you for visiting our home tour as part of 12 Days of Holiday Homes hosted by 11 Magnolia Lane and Evolution of Style.  Thank you to Lynch Creek Farm for sponsoring again this year and supplying everyone with a beautiful wreath.  We each were able to select the one that suited our decor.  Naturally I chose the Bare Traditional.
Make sure to head over to my dear friend Cindy's home for her tour, I know you are going to love it! Then make sure to check out the home tour of  Painted By Kalya Payne.