Today we are talking about trends that are here to stay. There are those trends that you just sort of know will never last, and there are those that you know are timeless. For me, I have never been one to jump on a trend just because it was the "in" thing. I hate the idea of having a certain look that eventually seems dated. A lot of that has to do with the 80s. Not a particularly great decade for certain design aspects, if you ask me. Now the 70s, that's another story.
When Mary Ann, Cindy, and I decided on this post topic for one of our Project Designs, I immediately started a list. It didn't take long before I had a list of 1o trends that I think are here for the long run! Please, tell me in the comments what I got right, wrong, and what did I forget?
1. White Subway tile
Large Scale Subway Tile
I have always loved simple white subway tile. I think using it in some form will always be considered current. Subway tiles can be inexpensive, like the rectangle in a bright white or slightly off-white color. from Home Depot. The 3″ x 6″ size that costs around $1.26 per piece making it a great option. I've used this many times in kitchens and bathrooms and have never regretted it. Of course, there are also subway tiles in hand-made ceramic with more of an organic feel that looks stunning. And subway tiles cut from marble. I prefer the traditional brick-like pattern for installation, but I also like the more modern ways people are using Subway tiles. Then there's the dark vs. light grout. Again, done right, I think both ways are here to stay.
2. Painted Stone & Brick
I have always preferred painted brick over brick that has been left natural. With stone, especially on the exterior, I tend to say leave it alone, for the most part. Stone fireplaces, that's another story. One of the best decisions we ever made was to paint the stone fireplace in our former home in New Canaan. The home was built in 1900 and years later, someone removed a window and added a massive raised hearth fireplace that did not fit in with the style of the home. When I first saw it, I wanted to demo it. That was going to be expensive and messy. So, as with most projects, I simply say, "what if we paint it?" The trick is to paint the brick or stone white like the walls, trim, and ceiling. The results are that it sort of goes away, but leaves behind texture which is okay! I even used creamy white pillows and painted the simple mantel white, not wanting to draw more attention to it. You can see the before in this post if you are curious!
We painted our stone fireplace black in this house!
3. Foraged Flowers
Foraged flowers, leaves, plants, and even weeds have become quiet in fashion these days. Many would still prefer a bouquet of store-bought flowers in a vase over something more earthy and loose like a foraged bouquet, but I think it's a trend that is not only here to stay, but one that will continue to gain momentum. One of the many things I've learned over the last year during the pandemic is to look at things a little differently. Making a bouquet from something that I've foraged from a walk to the beach and mixing it with a few garden flowers or some Dusty Miller from my outdoor planters gives me as much joy as going to Trader Joe's and buying a bundle of flowers. You can read more about foraged flowers in this post and this one.
4. Pottery and Ceramics
All photos above are from @urbancottagehome
This is another trend that I think is back and here to stay. Even in the earthy colors of the 1970s. As we shift from wanting everything in our homes to be shiny and new, we lean into the idea of craft and handmade pieces over mass-produced items. I know I would prefer to have a small collection of hand-made dishes, bowls, cups, and serving pieces that I use daily and display beautifully when not in use. People are wanting to enjoy things as both art and function. Steve from Urban Cottage Home is brilliant at collecting, using, and displaying pottery.
4. Shaker Pegs
Photo Credit: Home Song Blog
Shaker peg racks have been around forever. They are the perfect thing for many types of rooms. Add them to a small bedroom along a wall, in a hallway, in a kitchen. Use them to hang clothes, tools, tea towels, coats… You can make them as we did for our kids' rooms or buy them and hang them like a coat rack. Either way, they are simple and functional and here to stay!
5. Rattan furniture & Accessories
Hanging Chair // 2. Shore Bench // 3. Venice Rattan Chair 4. Palms Rattan Chair // 5. Mattituck Armchair

Rattan has been having a moment and I think it's recognizing that rattan mixes well with traditional as shown in many rooms by Mark Sykes, and more modern as seen in the pages of the Serena & Lily catalog. It has never gone out of style and probably never will. It adds a bit of casual to a more traditional room, and it blends beautifully with the more trendy bohemian styles. If you're not sure if it's a trend, add something small like a lamp, mirror, a tray, or a side table. Rattan really does bring in a nice vibe to any style.

6. Built-in Banquette Seating

Photo Credit: Kara Rosenlund
Photo Credit: @theranchuncommon
Serena & Lily in Westport, Connecticut

I love built-in banquette seating for several reasons, but most importantly is that it means one very important thing…it says, "we have room for you!" Having four chairs around a table means there's room for four people. Having the same size table with two chairs and a corner bench as in our former kitchen meant we could make room for one or two more! I love that! We are currently building one in the corner of our living room using the same round Saarinen table, and I think the built-in bench anchors space more than having just a pair of chairs. Built-in banquettes are here to stay! They are practical, and they look great! Remodelista had an excellent article on the built-in bench/booth.
7. Collage Walls
Photo Credit: Brady Tolbert
Photo Credit: sf girl
Art above the South Seas Console Table at Serena & Lily in Westport, Connecticut

I have an entire Pinterest board with inspiration for collage walls. I have been drawn to them for years for their collected look and artistic feel. I like how you can mix photographs, drawings, paintings, graphic art, and kids' art to create a one-of-a-kind gallery. There are many versions of this and it might take a few extra nail holes in your wall to get it just right, but trial and error is sometimes the only way to do it. I adore Brady Tolbert's style and recently saw him showing his floor to ceiling collage wall come together in a short Instagram video. He makes it look so easy, but we know it took time. Follow Brady on Instagram @bradytolbert and look for his black, white, and brass kitchen photo on his feed to see his collage wall come to life!
8. Kitchen Open Shelving
I know some people are completely against open shelving, but I think I will always love it! Whenever people say to me that they have way too much "stuff" for open shelving, I can't help but think…"sounds like you have too much of everything."I love Steve's approach and it's both practical and beautiful!
Photo Credit: @urbancottagehome
I have always loved the idea of open shelving in the kitchen. It gives you a chance to be creative with the display of everyday items. Our kitchen in New Canaan gave me the freedom to change things up as often as I wanted, but it was also practical that I could keep those things that we used all day, every day right where we could access them easily. I think practical open shelving using everyday items is here to stay! Steve's kitchen from Urban Cottage Home is filled with timeless features like subway tile, wood cabinets, marble counters, and open shelving for his collection of pottery.
Brady Tolbert's simple white shelves with brass brackets hold everyday items along with some treasures and art
Photo Credit: Brady Tolbert
9. Trays

If trays are considered a trend, then it's here to stay because of the practicality of it. A tray next to the stove can corral oils, different kinds of vinegar, salt, pepper, and other condiments. On a coffee table, it can display a small collection of items, like a plant, a book, and a frame, making it appear pulled together and a little more organized. On a bathroom counter, a tray can neatly keep a stack of hand towels, makeup brushes, and other toiletries.
Photo Credit: @dianekarmen
10. Houseplants
I did a whole post on the idea of a house with plants and what it feels like with no plants. It looks like you're moving when there are no plants. Plants add so much to any space and if it's a trend, I think it's here for the long run! You can read more and see before & after plants in the house in this post.
Black, white & green!
A Peg Board in the Bathroom to display plants and bath salts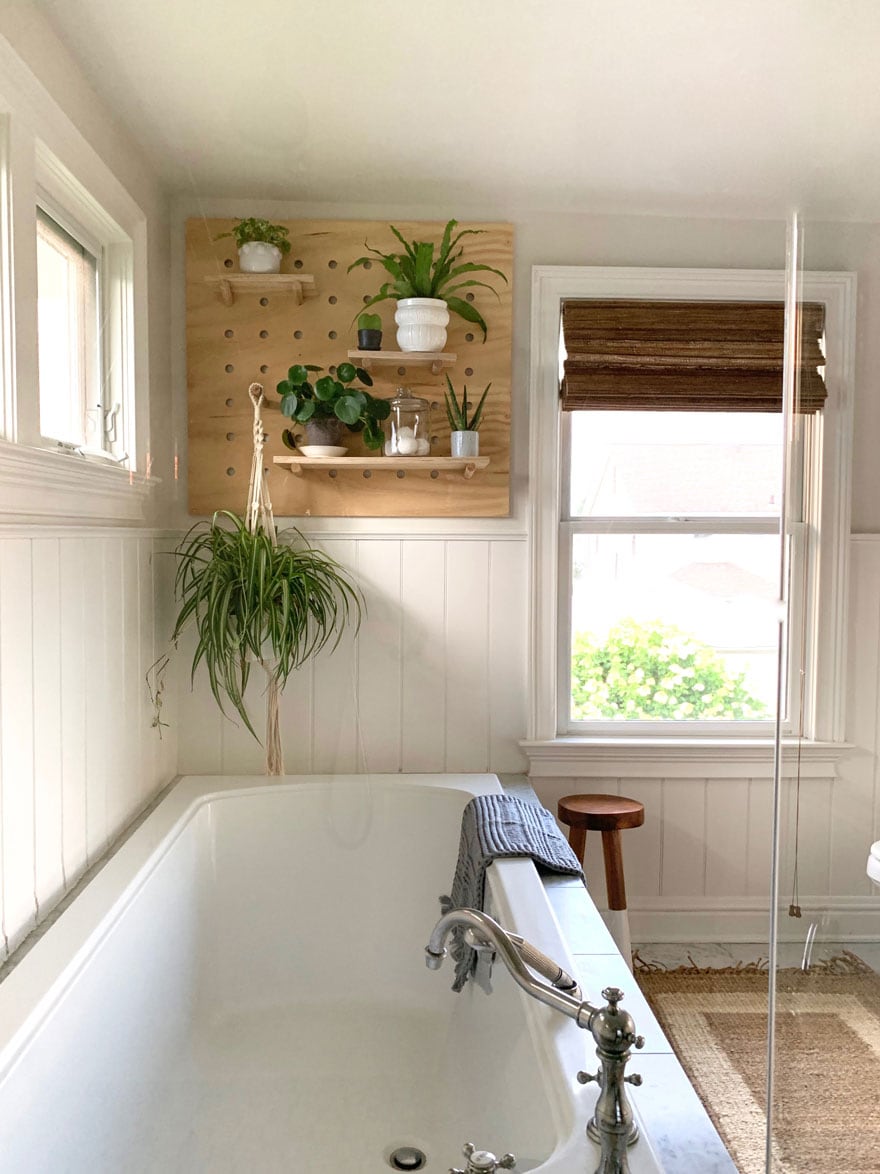 Pegboards like the one we made for our bathroom are probably a trend, but the plants…they are here to stay.
Make sure to check out these posts from designers that will have much to say on the topic of trends.