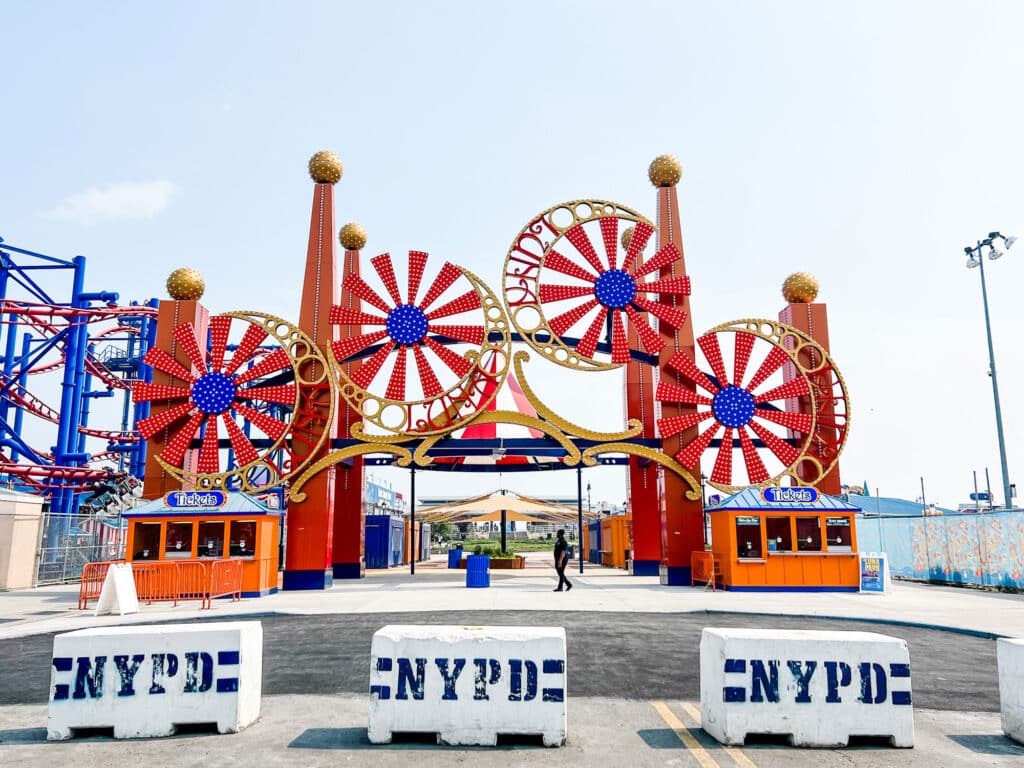 Why Coney Island, New York City is Worth a Visit. Nestled along the bustling 2.7-mile boardwalk and at the southern tip of Brooklyn, New York, Coney Island has been hosting and entertaining visitors for over a century with its timeless charm. From the iconic Wonder Wheel Ferris wheel to the legendary Cyclone wooden roller coaster, this classic landmark holds a special place in the hearts of locals and tourists alike.
We spent a recent afternoon wandering through all the rides and games, strolling along the boardwalk, eating, of course, at Nathan's Famous Hot Dog stand, people-watching and just generally enjoying an early summer afternoon at this seaside resort.
Coney Island is one of those few places where you can really feel like you experienced Coney Island the way it has been portrayed in all the movies it's been featured in. It really hasn't changed. And even though it's experiencing a revitalization, they've managed to keep the original charm and romance. It's definitely worth visiting.
A fun fact about the origins of Coney Island
Not long after the end of the Civil War, the construction of new railroads brought loads of new visitors in greater numbers to Coney Island. As a result, demand for hotels, restaurants, and entertainment increased rapidly, and Coney Island experienced its "Heyday" from approximately 1880 to the early 1900s.
It was originally divided into three seaside resorts, each catering to a different clientele. The working and middle classes visited West Brighton. Brighton Beach appealed to the upper-middle classes. And Manhattan Beach attracted wealthy socialites.
Today, Coney Island is going through the initial stages of revitalization. They've upgraded the amusement area (known as Luna Park), brought in a baseball stadium (home to the Brooklyn Cyclones), and it plays host to many annual events primarily in the summer season; live music, concerts, and festivals. It's also home to the famous Nathan's Hot Dog.
The Iconic Nature of Coney Island Boardwalk
Coney Island is probably most known for its iconic boardwalk – also known as the Riegelmann Boardwalk. It's over 100 years old and stretches approximately 2.7 miles from West 37th Street to Corbin Place in the borough of Brooklyn.
Few places in the United States have been featured in movies as many times as Coney Island (Two Weeks Notice, Uptown Girls, Brighton Beach Memoirs, and Men in Black, just to name a few). And, of course, there's Taylor Swift's song titled "Coney Island" from her Evermore album.
But what is it that makes Coney Island so iconic? For starters, it's not your modern-day high-tech amusement park. It's very old school and takes you back in time. The smells of cotton candy and fresh funnel cake hang in the air. Maybe it's because the boardwalk sits right on the beach. Or maybe it's the slower pace of everybody and everything. Or maybe it's because admission is free, and you buy tickets or day passes for the rides and all the games to win any variety of stuffed animals. And yes, they even take cash for the games. Whatever the reason, it's a stark reminder of the simpler days and times.
If you plan on enjoying many rides, the best way to do that is with a day pass. A four-hour day pass for unlimited rides is $65 for everyone over 48″ tall. And for little kids under 48″, it's $43. You can buy individual ride passes as well. The little kids' rides range from $4.00 to $8.00 per ride. The rides for older kids and adults range from $8.00 to $12.00 per ride, with the exception of the Sling Shot and Sky Chaser, which are each $22.00.
Arcade Games at Luna Park in Coney Island
Where can you park at Coney Island?
We visited Coney Island on a Thursday afternoon in early June and were surprised by the lack of crowds and ample parking – which made it even more enjoyable. A great place to park is on the side streets. We parked on Stillwell Avenue, just off the main street of Surf Avenue. But while strolling through the park, we saw ample parking on all the side streets. The parking was metered and, to our surprise, was $2.00 for every two hours. Where else in NYC can you find parking that inexpensive?
​Coney Island is accessible by subway. Take the D, F, N, or Q Train to Coney Island-Stillwell Ave.
When is the best time to visit Coney Island?
The park is open seven days a week from Memorial Day to Labor Day. It does open on weekends in April and May and also through September and October. If you want to avoid the crowds and hopefully enjoy some good weather, we'd suggest a weekday in early to mid-June before the NYC schools are out for the summer break.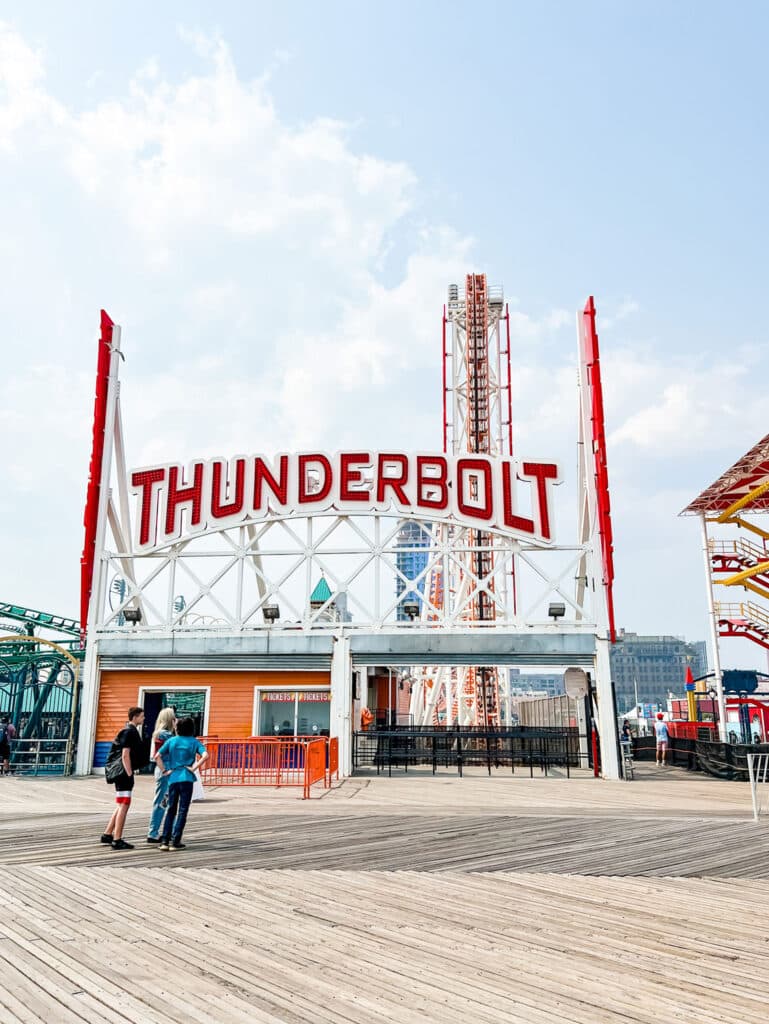 Souvenirs at Coney Island
We couldn't leave without a $20 Coney Island t-shirt! Coney Island Beach Shop is a family owned shop that carries everything from sand toys, shovels, beach chairs to towels, sunscreen, and T-shirts. Located on Stillwell Avenue between Surf Avenue and the Boardwalk.
Don't forget the popcorn, cotton candy, and a supersize banana!
What's a girl to do without her very own inflatable supersize banana won at the arcade? Bragging rights at least.
The Boardwalk & The Beach at Coney Island, NYC
As we were leaving Coney Island, I couldn't help but reflect on how many generations have been bringing their kids here to enjoy a day of fun and excitement. It hasn't really changed all that much. And it's one of those few places left where the nostalgic charm and old-school operations haven't been replaced by modern technology and conveniences.
Pin for Later
If you like reading: Why Coney Island, New York City is Worth a Visit, you may also enjoy these posts about New York City.
6 Fun Things to Do in Hudson Yards, New York City
Tips on Visiting the New York City Flower Market