6 fun things to do in Hudson Yards, New York City! Welcome to our first post in a series sharing some of our favorite things to do in New York City. I am often asked for suggestions on where to eat, what to do and where to stay, so I thought why not break it down into a series of posts. 
We have only recently been spending quite a bit of time exploring the area around Hudson Yards. We love the High Line and the whole area is a really great place to spend some time and there is a lot to see.
Long before Hudson Yards became Manhattan's newest cultural center, it was an abandoned elevated railway under which the Long Island Railroad stored trains that weren't in use. Fast forward to the current day and you have 28 acres of newly developed living, shopping, entertainment, culture, dining, and outdoor space. And it's worth checking out. It's easy to spend an entire day exploring the best things to do in Hudson Yards and here are a few must-sees along the way.
 The High Line at Hudson Yards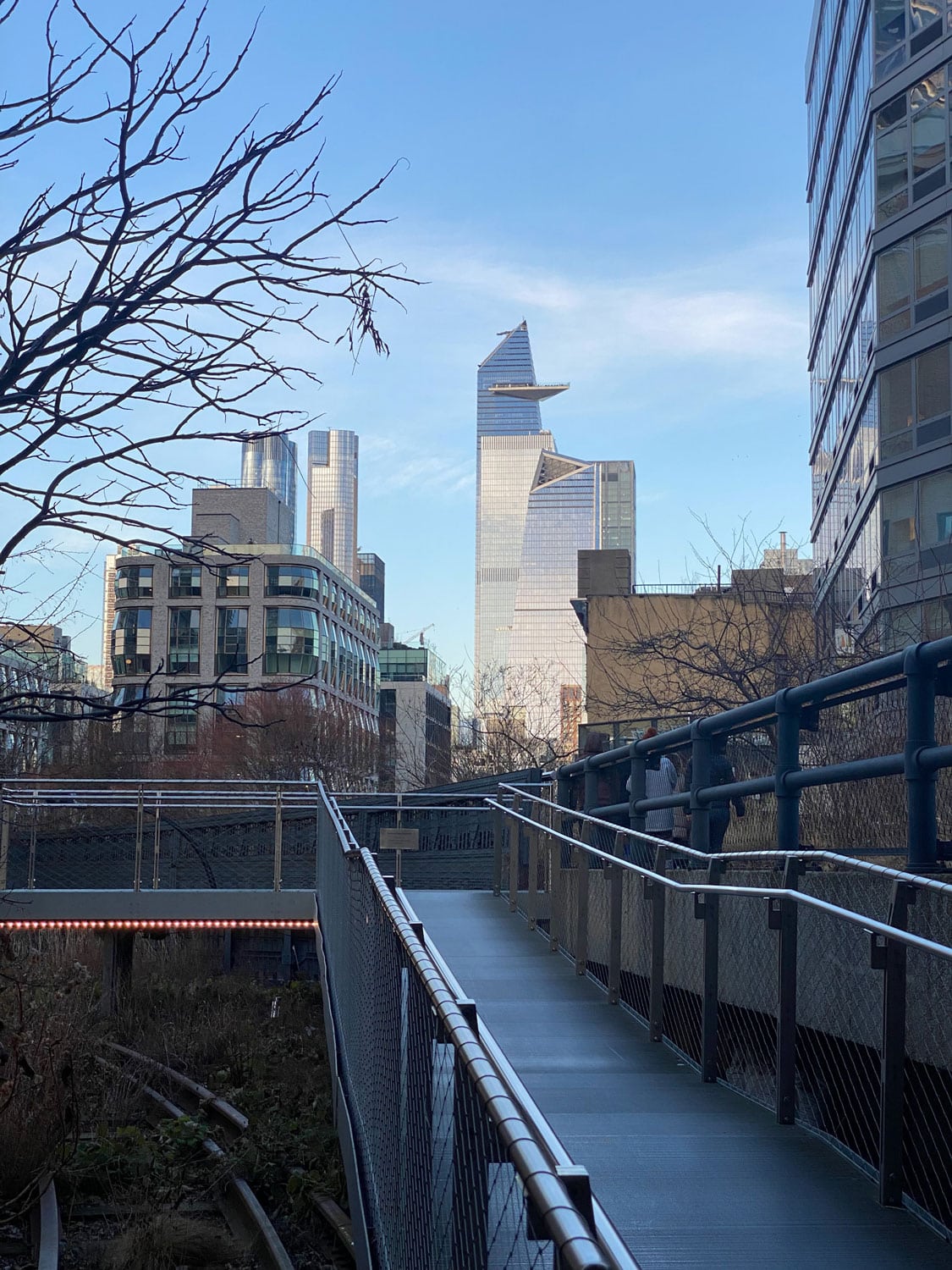 The High Line is a 1.45-mile green space built on the tracks of an abandoned above ground railway. In addition to the views of the neighborhood and the Hudson River, what's interesting is how it encompasses landscape architecture, urban design, and ecology. It's worth taking a few minutes and reading some of the placards along the way.
The High Line starts at Gansevoort Street which is where you'll find The Whitney Museum (in the Meat Packing District a few blocks below 14th Street) and runs through Chelsea to 34th Street where it ends at the Hudson Yards mall and home of The Vessel – the next stop on your adventure.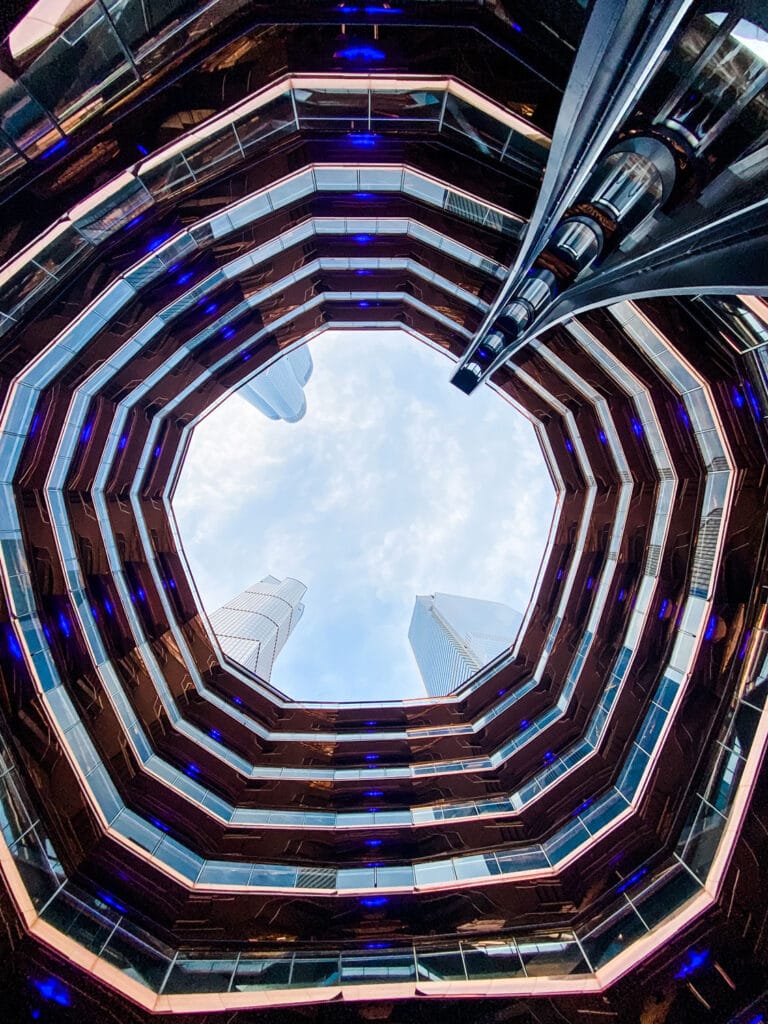 The Vessel is definitely the showpiece of Hudson Yards and is nothing short of spectacular. It's a 16 story structure with intricate staircases leading up 150 feet with amazing views at the top (and along the way) of the city, the neighborhood, and the Hudson River. Currently access to the top of the Vessel is closed, but you are allowed to walk into the center of the base to see the view from within. And it's free!
Hudson Yards Mall
Hudson Yards is a very nice modern mall with all the top-name brands and certainly worth checking out. But most importantly, it's a convenient place to find clean restrooms (not easy to find in NYC) and get a quick break from either the heat or the cold. 
A look inside the Hudson Yards Mall & The Vessel at Christmas
It's absolutely magical at Christmas time but equally as stunning all year round for its modern design and architecture.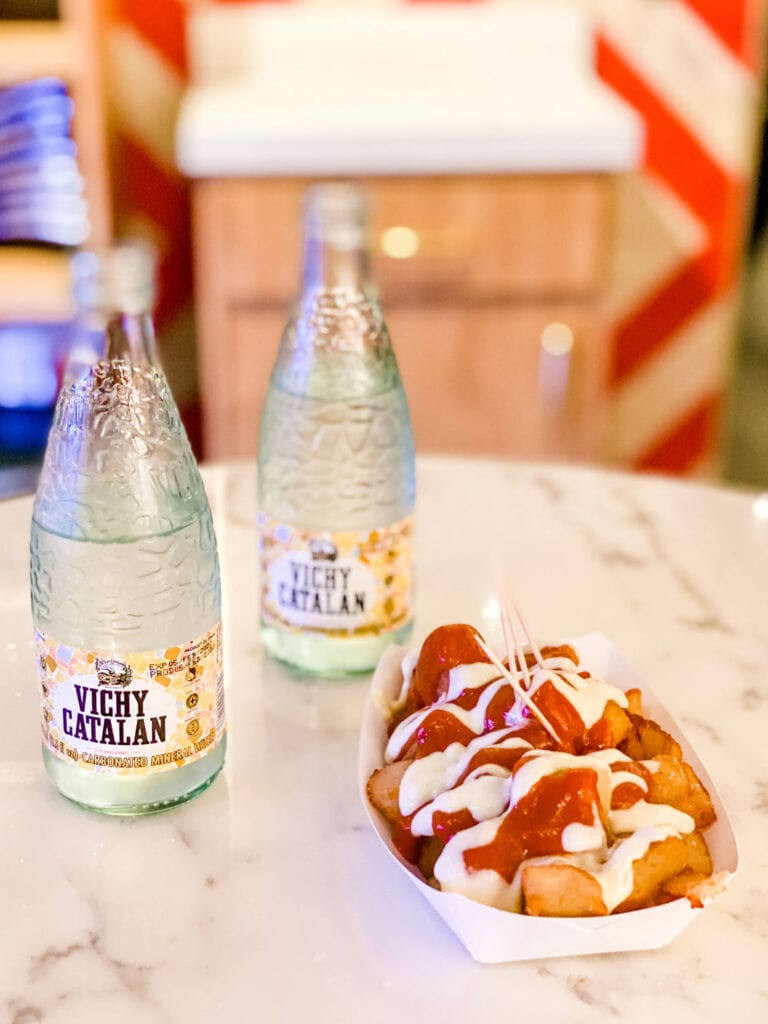 On the ground floor of the Hudson Yards Mall, you'll find the Spanish eatery of Mercado Little Spain. According to Chef Jose Andres, it's "a veritable love letter to Spain."
There are at least 10 different smallish-type restaurants under one roof and you'll find a variety of food options from all the different regions and corners of Spain. The sights and smells will make you feel like you're in Spain and will be hard to pass up without at least a few samplings. You can sit down for a nice meal, grab some food to go, or browse through the Spanish market and assemble your own picnic of snacks and treats. There is something to be found for everyone.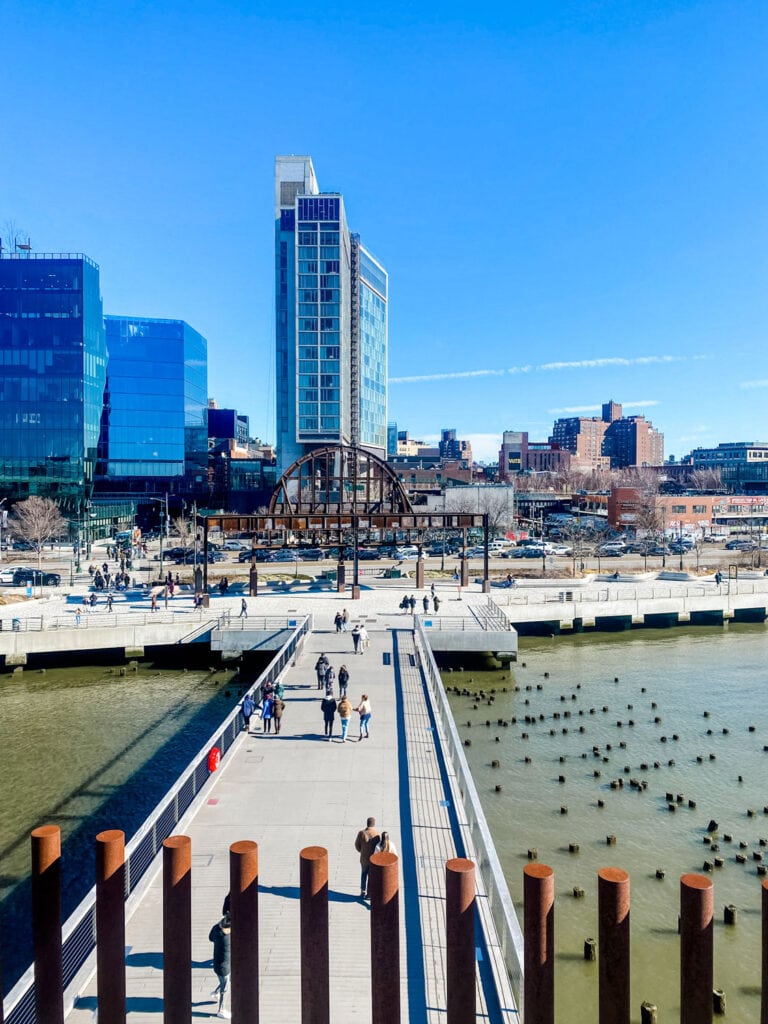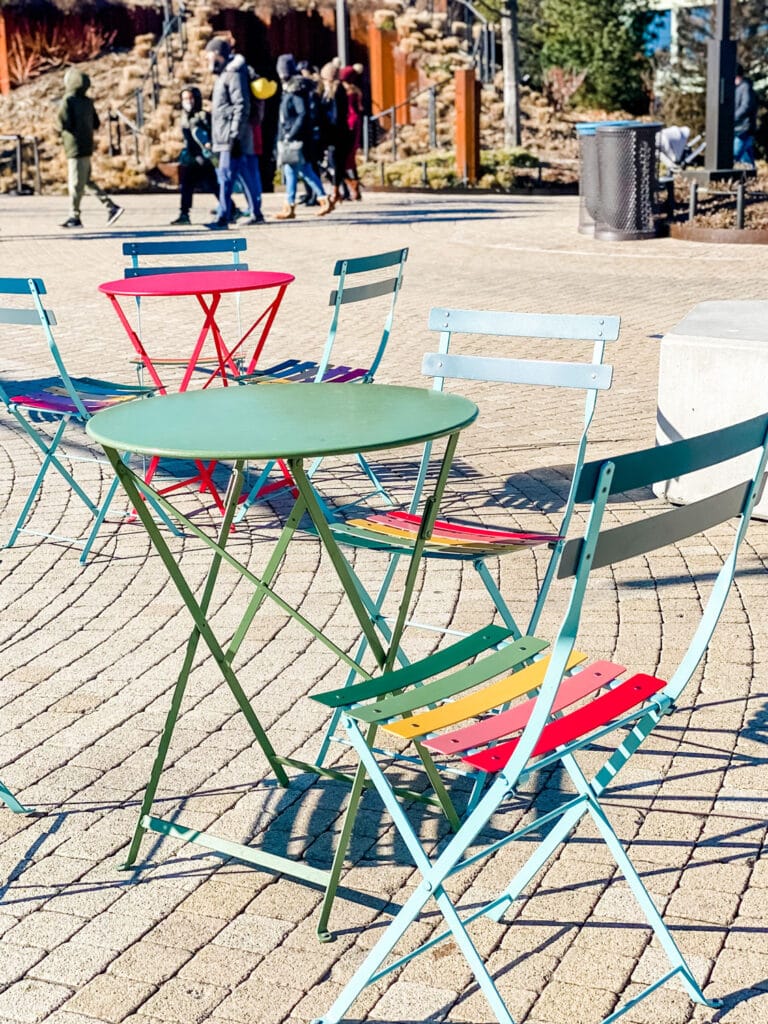 As the name suggests, Little Island is located at Pier 55 along the West Side Highway and about one mile from The Vessel.
Little Island is actually an artificial island built on top of the Hudson River. It encompasses almost 2.5 acres, has an open lawn, concession stands, and an amphitheater where you can enjoy summertime concerts and performances. It boasts 35 different species of trees, 65 species of shrubs, and over 270 species of perennials and grasses. When it opened, approximately 66,000 bulbs and 114 trees had been planted.
The amphitheatre at Little Island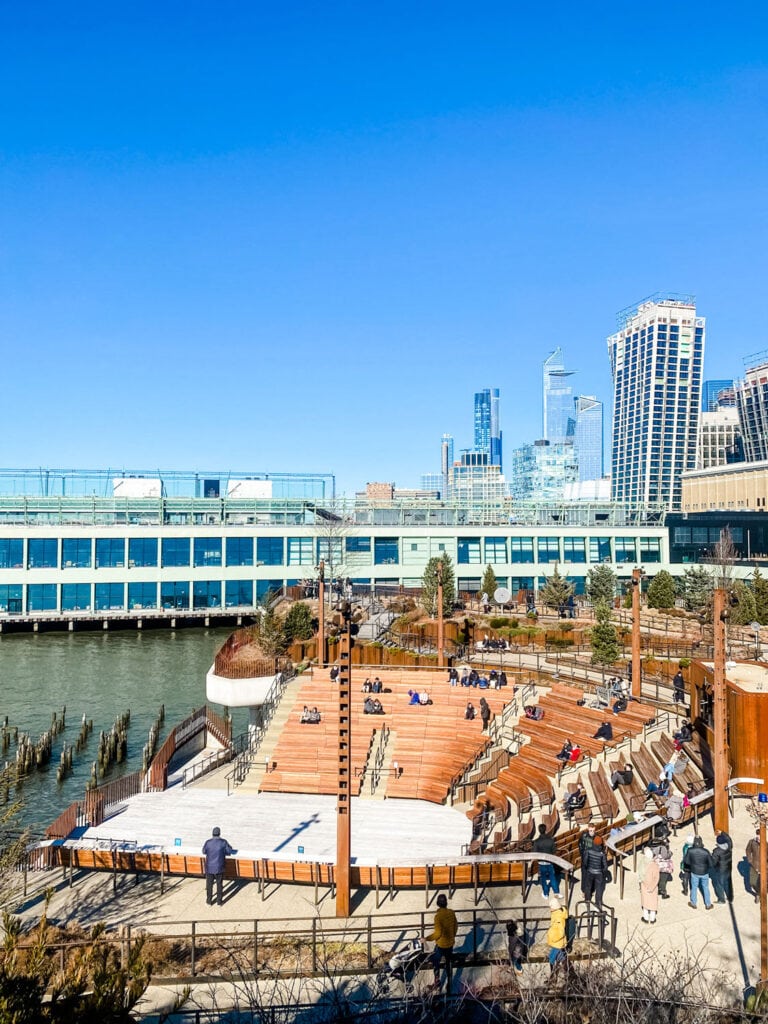 There are multiple musical installations throughout Little Island. One of the more charming ones is the chimes that play when activated by the squares you step on. So fun to watch and take a turn!
If you're looking for a bit of a thrill along with a panoramic view of the city, you might want to visit The Edge. Although a bit pricey in my mind, you may find it exhilarating. It starts with a $38 entrance fee and that comes with what The Edge says is an "immersive multimedia experience" before you head up 1,100 feet to an open platform overlooking NYC. On a side note, it is the highest outdoor deck in the Western Hemisphere. For an additional $17 you can enjoy a glass of champagne while taking in the views. And for the super adventurous you can strap in, helmet included, and climb a flight of outdoor stairs to the top of the skyscraper and dangle over the edge – but that will set you back another $185.
We will be back soon with another post about our favorite things to do in New York City! If you have any requests on areas you want us to cover, please leave a comment!
In the meantime, check out this post where we share our favorite New York City desserts and this one on cafes in New York that feel very French!