I'm in France for three weeks, and this is mostly what I packed. This is an updated post, and I'm wearing almost the same as what I wore last year at the same time. I made a few swaps for some newer pieces from Eileen Fisher.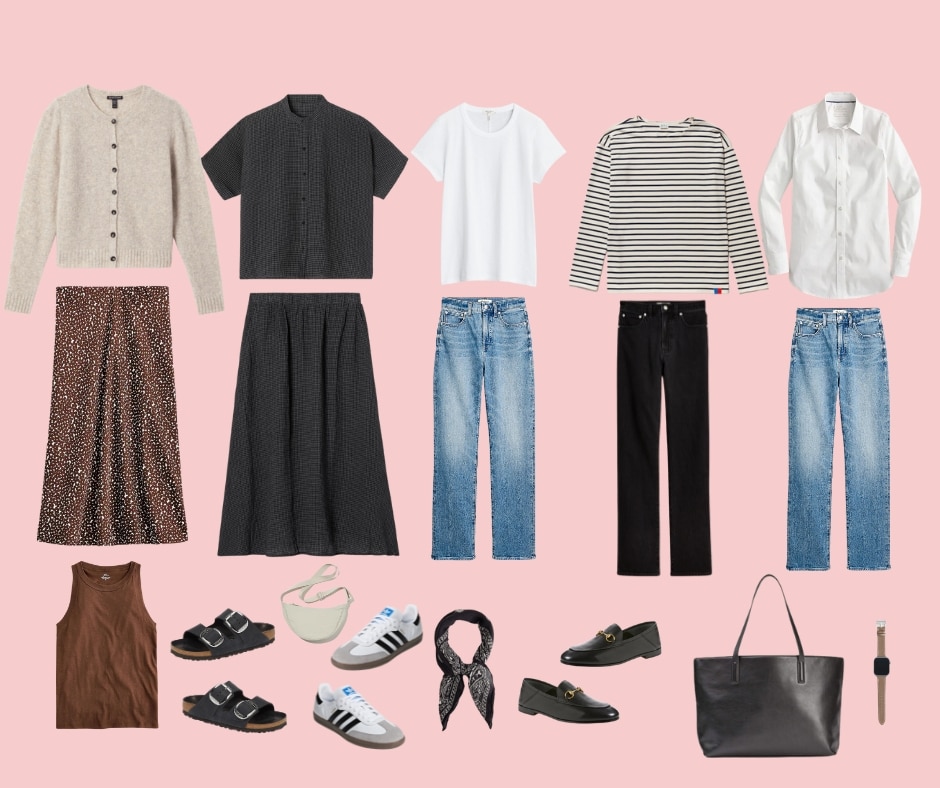 cardigan // slip skirt // tank // short sleeve shirt // Birkenstocks // midi skirt // round mini shoulder bag // Adidas Sambas // white T-shirt // '90s straight jeans // bandana // Kule stripe T-shirt // '90s straight black jeans // Gucci Brixton Loafers // classic white shirt // Black leather tote // leather Apple watch band
France in September
I created my ultimate packing list for France in September when the seasons will change from summer to fall while we are traveling.
We will spend time in Paris, Provence, and the coast to make things even more complicated than the seasons changing.
I did not buy anything new for the trip!
I'm wearing this pair of black pants I bought at the Nordstrom Anniversary Sale last year. Nordstrom still has them because they are the best pair of black pants! Don't let the name of these trousers potentially turn you off. They are called the New York Irving Skinny Stretch Wool Pants. I feel like the name sounds like a fancy pair of leggings. They are not at all that! They are very flattering pants that could be dressed up or down. I know these will be my go-to pants for years to come! When I find something like this, I wear the heck out of it and take it on every trip!
Here's why I didn't purchase anything new
I think my packing list could be considered a capsule wardrobe
I wanted to keep my packing list to a minimum, so taking something new is risky. What if I decide I don't like it? Or worse, what if I see a photo of me wearing it, and it's terribly unflattering? That's why I stick to the basics and will be an outfit repeater…over and over on this trip!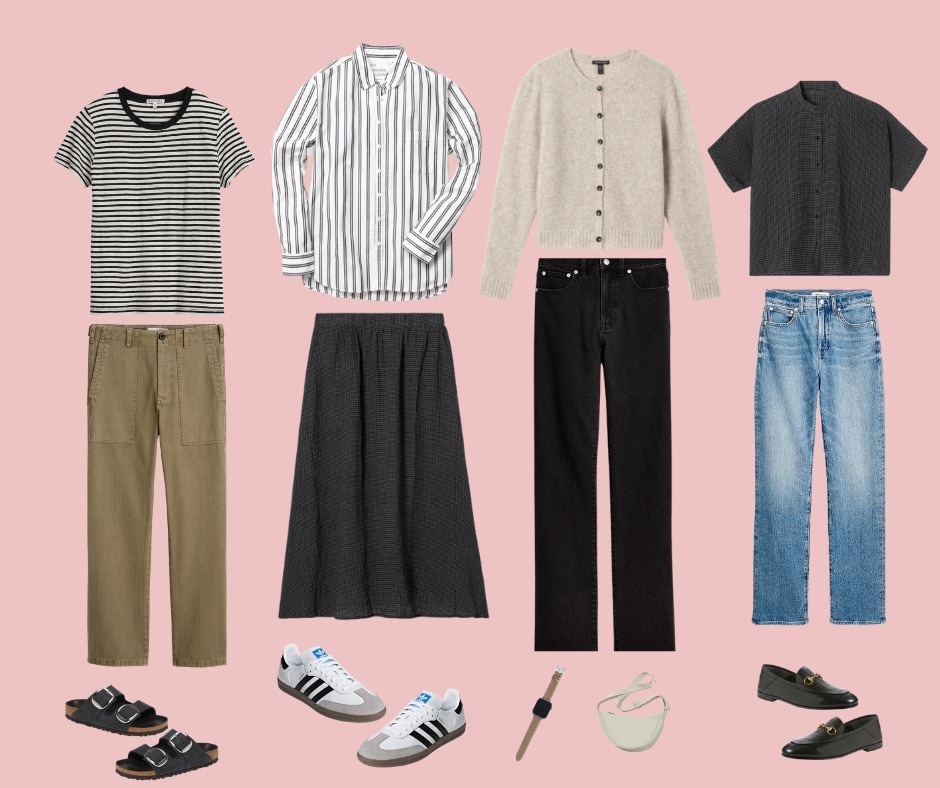 stripe T-shirt // Niel pants // Birkenstocks // stripe button-down shirt // midi skirt // Adidas Sambas // crew neck cardigan // Birkenstocks // round mini shoulder bag // leather Apple watch band // short sleeve shirt // '90s straight jeans // Gucci Brixton loafers
Denim, stripes, olive, and black work with everything in my closet and in my luggage
I really stuck to the basics for packing for this ultimate packing list for a month in France.
Almost every item in my suitcase can be worn together. A lot of black, white, denim, and stripes. This year, I added some brown pieces. Everyone has been saying that brown is the new black, and I love it!
Cardigan Sweater from Eileen Fisher // Midi Skirt and top from Eileen Fisher // Adidas Sambas // Gucci Brixton Loafers // Round Mini Shoulder Bag from Uniqlo // T-shirt from Rag & Bone
The 90s straight Jean from Madewell // The Classic White Shirt from Crimson // Checked Camp shirt from Eileen Fisher
Bottoms
I have blue and black denim jeans, a nice pair of trousers, and my go-to pants from Alex Mill. I am also wearing a pair of black Lululemon pants on the plane that I could wear for a yoga class or a hike. They are sold out at the moment, but I also like these from Athleta.
The midi black skirt can be worn with flats, Birkenstocks, or sneakers.
Tops
Black, white, and gray t-shirts. This striped shirt that's great with everything and can be layered over a t-shirt. One white shirt and one blouse.
I love these T-shirts in black, gray, and black and white stripes from Lululemon for workouts and travel. They can easily be hand-washed in a bathroom sink and hung to dry.
Cardigan sweater and black leather tote from Quince // Black long sleeve T-shirt
Jackets
A jean jacket since it's great with everything. I'm also bringing this denim shirt/jacket and this sweater blazer from Quince.
Sweaters
I am bringing only one sweater. A cardigan that I can wear as a layer with a blouse, T-shirt with jeans, or wool pants. A cardigan is a great classic piece that can be worn a little more dressed up or under a jean jacket with a graphic T-shirt for a day of flea markets.
Shoes
I know we will be doing a ton of walking, so I am only bringing shoes with that in mind. I'll wear sneakers, Birkenstocks and Gucci loafers with the skirt, trousers, and jeans.
Underwear
The only items I always buy new for a big trip are bras! There's something fabulous about how a new bra makes you feel. I only bring two, a nude and a black bra. These are my favorite bras.
Accessories
a black and white silk bandana
a few bracelets and a necklace with charms (I shared on my Instagram the charms I chose to wear while I'm away from my kids).
Beach/pool
We will spend a lot of time at the pool and on day trips to the coast. This cotton-linen beach shirt from J.Crew is perfect over a bathing suit. I love it because it's not at all sheer; it's long sleeve. (I can always roll them up), And you don't necessarily feel like you are wearing a coverup.
1. My Luggage
I love this Briggs & Riley bag for many reasons. I've had bags with an expansion feature, but they never really amounted to much extra space. This bag has a one-touch expansion feature. You press a button and pull up the sides to easily expand the size of the bag. Then it compresses, so you can still fit it in the overhead as a carry-on.
I also just started using these travel compression bags that I learned about from Samantha Brown. I try not to use them when I start travel, but instead on the return.
This is the perfect unisex lightweight crossbody bag. It's great for keeping your passport, money, and anything else you need. It's roomy enough to keep a lip balm, a little makeup, and even a travel toothbrush/toothpaste. The Uniqlo bags come in several neutral colors. Wearing it in a color like this makes it feel a little less like a tourist than wearing a basic black bag. But that's just me! Currently on sale for $9.90!
Shoe Bags
I use the shoe bags that come with shoes and always save them to use with sneakers and shoes that don't have them. These waterproof shoe bags would be nice to have, though.
I have been using these for years. I love how it keeps everything organized for both long and short trips. Some people use a cube for every outfit, but since everything I pack can be worn with every item, I sort by tops and bottoms. Travel cubes often come as a set. I use the smallest one to keep chargers organized using these twist ties.
3. Comrad Compression Socks are always on my ultimate packing list for any travel
I've talked about these socks before. Comrad Compression Socks are the best. I wear knee socks for travel and cotton ankle compression socks every day. They make a difference in how my legs and feet feel after a day of wearing them! You can click here and save 25%!
4. Toiletries
Lumify Eye Drops
If you haven't tried Lumify eye drops, do not wait to try them just for travel. I use them almost every day, but especially when I travel. Just one drop and no red or bloodshot eyes! Genuinely amazing, in my opinion.
Sunscreen
While I intended to visit a few pharmacies in Paris to stock up on my favorite things, one item I'll be sure to pack is sunscreen. We La Roche-Posay, and it's available on Amazon.
Shampoo & Conditioner
I find that even luxury hotels don't seem to have hair conditioners. So, I always pack my own shampoo, conditioner, and soap. I love this brand, and they have travel sizes that you can refill when you get home with these. Hot tip: If you search travel size, you can buy the refill, pump bottle, and travel size, and it's less expensive when you bundle. I do it every order, give them to my kids, and keep them in the guest bathrooms.
Reusable Water Bottle
We always bring reusable water bottles. I love how airports and many public places have water-filling stations. I can't remember if they have as many in Europe, but more and more places have them here, which obviously reduces single-use water bottles.