A few weeks ago I had the opportunity to collaborate with the owner of a beautiful home in Westport, Connecticut, to stage it to be put on the market. I knew it would be the perfect kitchen to share for our latest
Design Challenge: How to Style Your Kitchen Like a Pro.
The owners have relocated to Chicago and took many of their personal items with them, including some furniture and art. The perfect amount of furniture was left to stage the entire first floor and we both did a little shopping to warm up the kitchen and coffee tables.  We started with items they had in storage and then filled in with things from Target, Ikea, and Terrain.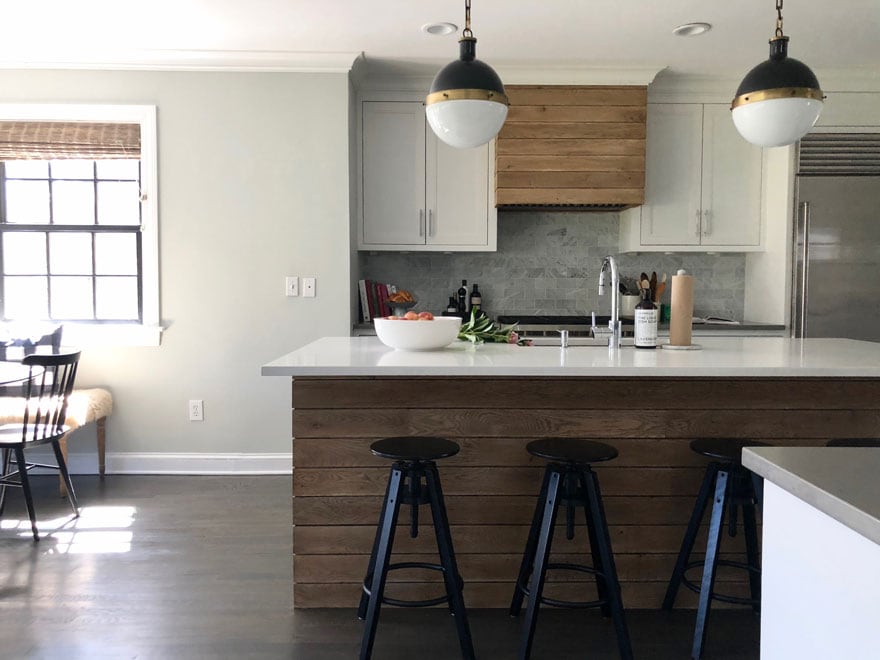 Reclaimed Wood, Marble Subway Tile & Caesarstone
The kitchen island and hood have reclaimed wood so we knew we needed to stay away from stools that were made of wood.  They originally had leather stools, but the Dalfred from Ikea really did work, and at the right price of $40 each. The home has beautiful black windows and black and brass Whitman pendants, which tied in the black stools.

With the open shelving, I took cues from Diane Karmen's kitchen and used several Anchor Hocking Heritage Hill jars filled with all items that were black, white, or natural. Remember, we're staging the house, so it doesn't have to be completely practical. For a cohesive look, we used Oreo Cookies, large marshmallows, graham crackers, Hershey's chocolate bars and RXBars.  To fill in the blanks we used a galvanized cake plate, Le Creuset pots and a Bose speaker.
We took the bench from the mud room and used a sheepskin and pillows. The table is from Room & Board and the Salt Chairs are from DWR.


The kitchen with Caesarstone countertops, marble subway tile, and the reclaimed wood on the island needed just a few things to make it look like someone would love to cook and entertain in this gorgeous kitchen. Fresh flowers, a bowl of apples, and a few plants help make the space feel warm and lived in.
Open Concept Living and Kitchen  Space
The kitchen opens to the family room, making it the perfect space for entertaining. Double doors lead to a beautiful private yard and patio.


Enlarge Photographs of your Local Area for Art
They originally had art that fit this space perfectly, so I knew the size I was looking for when I started thinking about options.  During our conversations about staging the home, the owner said she wanted it to "feel" like Westport, a coastal New England beach town.  So on a very windy and cold afternoon I went to Westport's Compo Beach and snapped a few photos.  I enlarged them for $9.99 each at Costco and used Ikea frames. For a total price of $60 we had two large pieces to use above the fireplace that tied in the local area.
Westport, Connecticut
This is the beautiful home of Jackie, founder of Room Tailor, based in Chicago. You can connect with Jackie on the website or on instagram.
Now head over to each of these designers to see how they styled their kitchens.  We had the choice to use our own kitchens or ones that we've designed or worked on. Everyone has different styles and all come from different parts of the country, so no two will be alike!
SaveSave
SaveSave