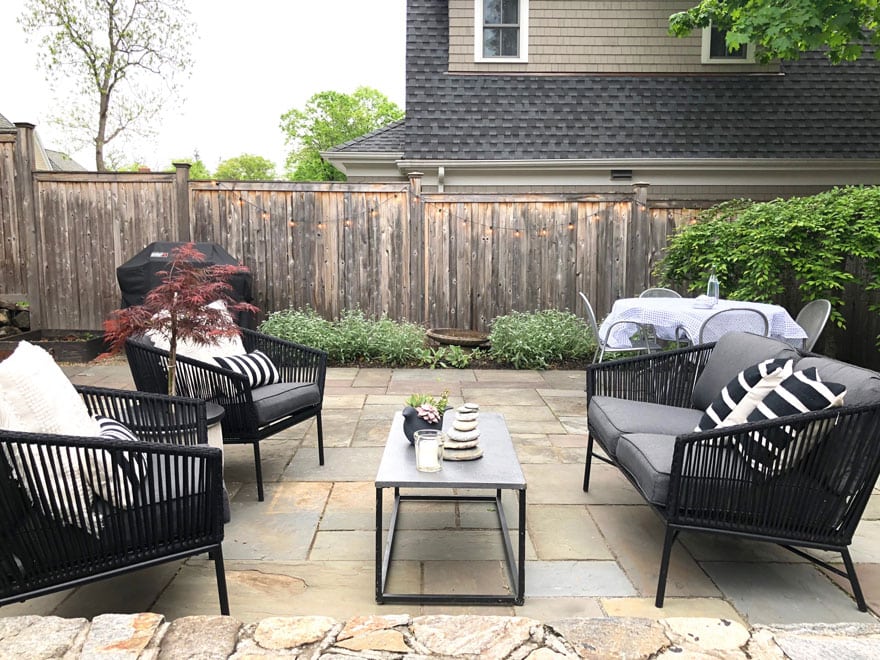 Now is the time to plan your outdoor spaces to get the most use out of them this season. We can't wait for summer! What we love most is spending time in our outdoor spaces: the porch, the backyard, and the garden. But if you don't order outdoor furniture now, you may miss out! Outdoor furniture sells out quickly!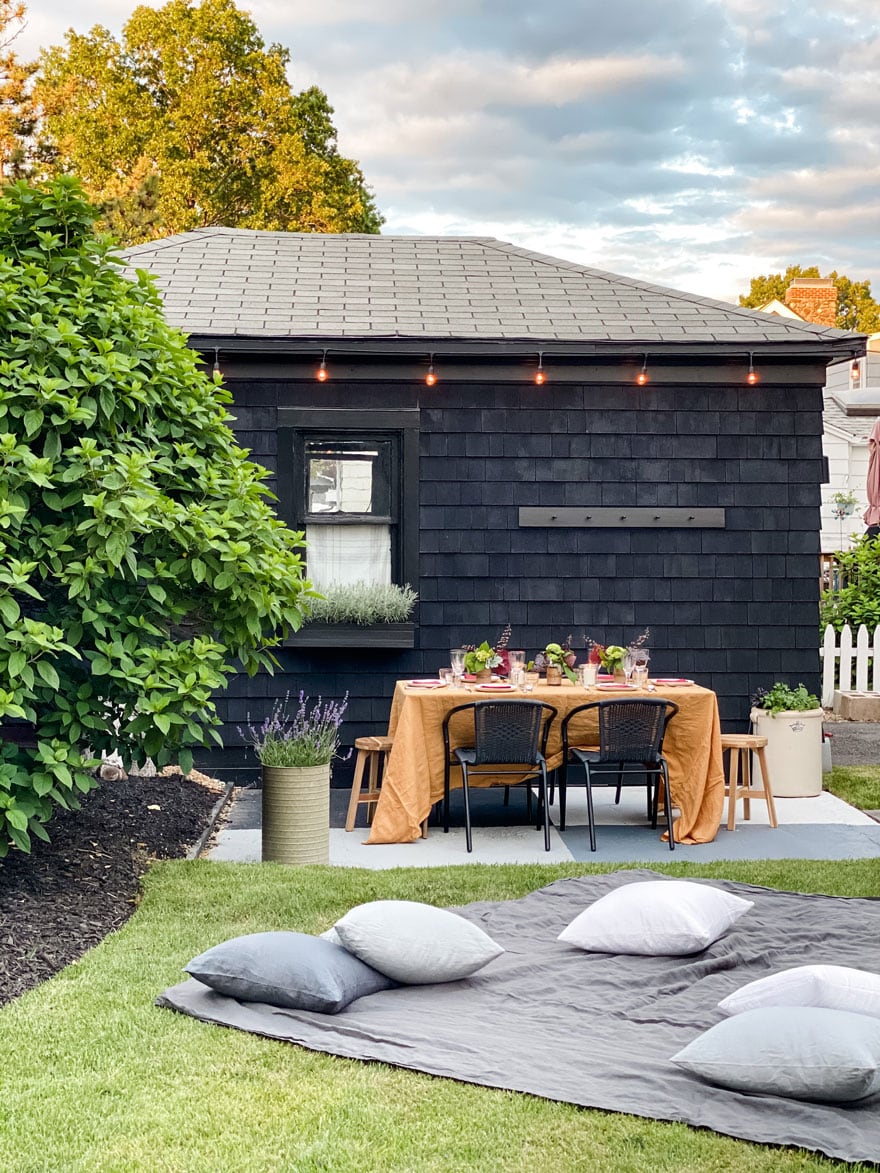 We bought outdoor furniture from Target that we used at our former home in New Canaan, and we are starting our fourth summer at this house by the water. You don't have to spend a fortune to have beautiful, long-lasting outdoor furniture.
Although, if money is not an issue, Serena & Lily has gorgeous outdoor furniture for any style. You can see more in this recent post.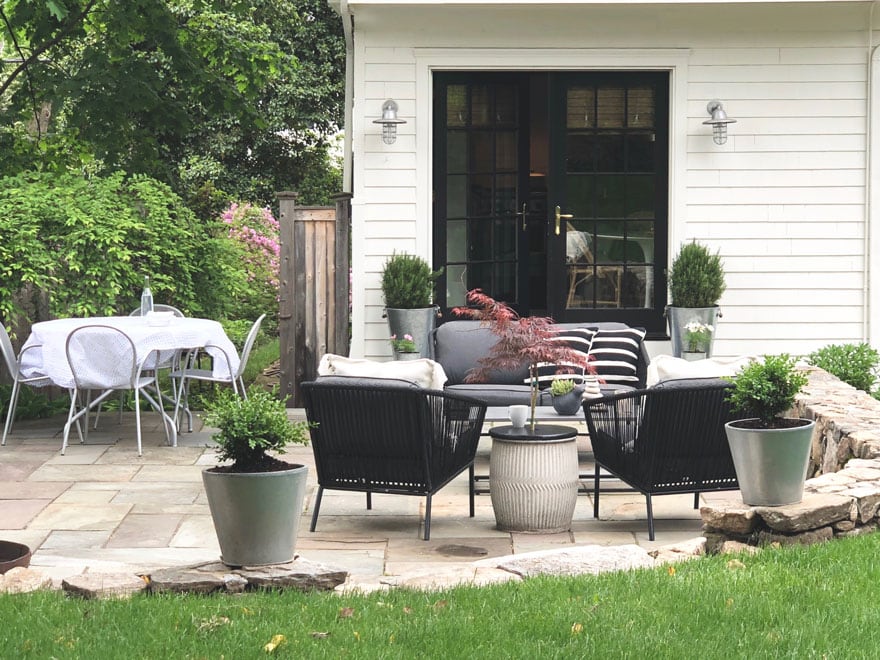 We don't even bring our outdoor furniture inside or cover it for the winter. We remove the cushions and store them for the winter from the backyard furniture, but on the porch, we leave them as is. In the winter, there are days when you can enjoy a brief moment in the sun out on the porch. Those days are few and far between, but I never want to miss out when they happen.
We mixed a few side tables, lots of outdoor pillows, beach house blankets from Serena & Lily, and planter pots from Terrain for a pulled-together look for all our outdoor spaces.
Mixing it up is the best way to achieve beautiful outdoor spaces. Avoid "sets" and choose a color theme. We used black, gray, white, and rattan. Some items are expensive, like the Montecito pillow covers. We have used them consistently for five years, and they are still like new after a wash a few times a year!
The patio furniture from Target is also holding up great and was very reasonably priced. It's all about balance and mixing it up.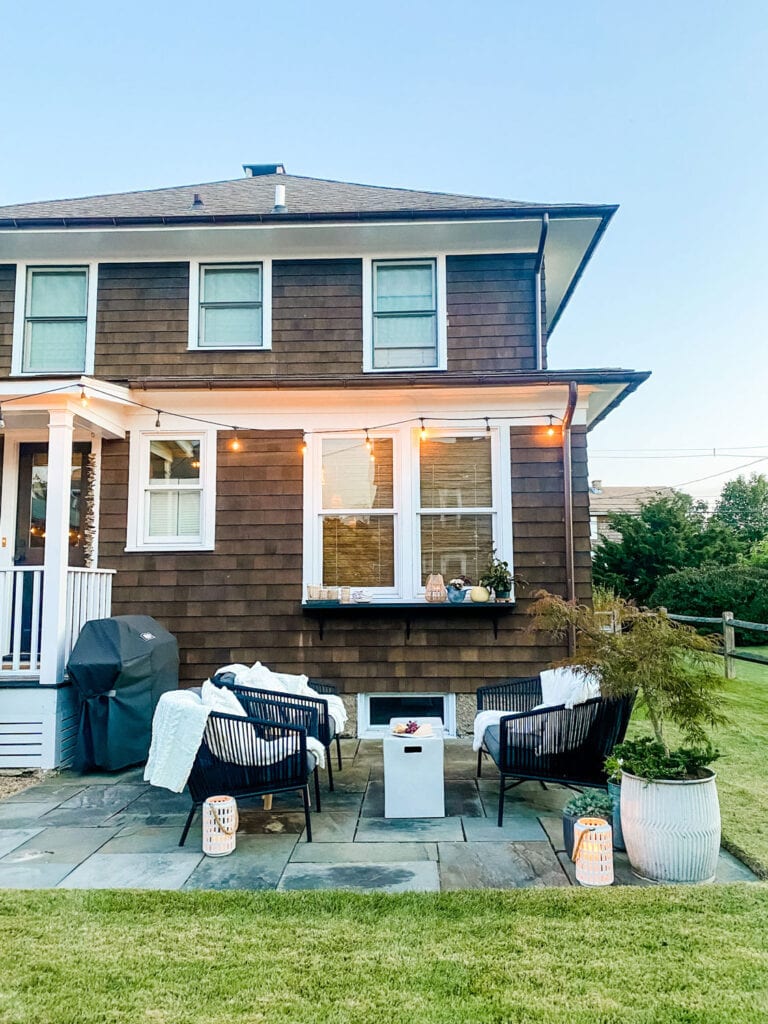 The Potting Bench for Gardening & Serving Drinks
We plan to stain the potting bench black to use as both a potting bench and a drink station when entertaining.
We Enjoy Our Front Porch From Morning to Night
Hanging Chair // Dip-Dyed Stool // Planters // Montecito Pillows // Beach Blanket Throws // Lanterns // Stools
Potting Tables/Benches that Also Work for a Drink Station
Potting Bench // Patio Bar/Potting Bench from Studio McGee // Potting Bench Rejuvenation // Potting Bench from Pottery Barn // Potting Bench from Wayfair (Black or Natural)
The Best Outdoor Dining Chairs
Wicker Stack Chair // Aster Folding Patio Chair // Ojai Stackable Dining Chair (Black) // Outdoor Riviera Dining Chair from Serena & Lily (5 Colors)// Rattan Indoor/Outdoor Restaurant Stack from Wayfair
Well Priced Outdoor Accent Tables & Stools
Faux Wood Hourglass Accent Table // Maldive Martini Table// Wood Stump Accent Table (Black) // Faux Stone Accent Table from Studio McGee // Safavieh Modern Concrete Side Table from Walmart (gray or white)// Crest Garden Stool/Table from Crate & Barrel // Nicasio Stool
Comfortable Outdoor Club & Lounge Chairs
Pasadena Patio Club Chairs (Pair) // Saracina Home Midcentury Slat Chair // Aluminum & Rope Vlub Chair (Black & Gray) // Mackworth Roope Patio Club Chairs // Ojai Patio Lounge Chair
Outdoor Sectional Seating
Project 62 Sectional // Opalhouse Latigo Sectional // Tucker Wicker Sectional (Gray) // Aston Mid-Century Acacia Wood Sectional
Outdoor Dining Tables
Dining Table Set with Benches // Fairmont Rectangular Steel Patio Table (black) // Round Dining Table (Black) // Natural Wood & White Dining Table
Outdoor Accessories
Earthenware Tray from Studio McGee // Zig Zag Lumbar Outdoor Pillow // Sun Bleached Striped Outdoor Pillows // Triangle Stripe Outdoor Pillow // Minimal Stripe Outdoor Pillow // Montecito Pillow Cover // Tofino Hurricane // Tortola Lanterns // Calas White Ceramic Lantern with Rope Handle // Outdoor Woven Lanterns From Pottery Barn (3 Colors)
Thank you for reading about outdoor spaces; you may also like this post about our new outdoor planters from Terrain!
And this post on our new Solo Stove that we love!