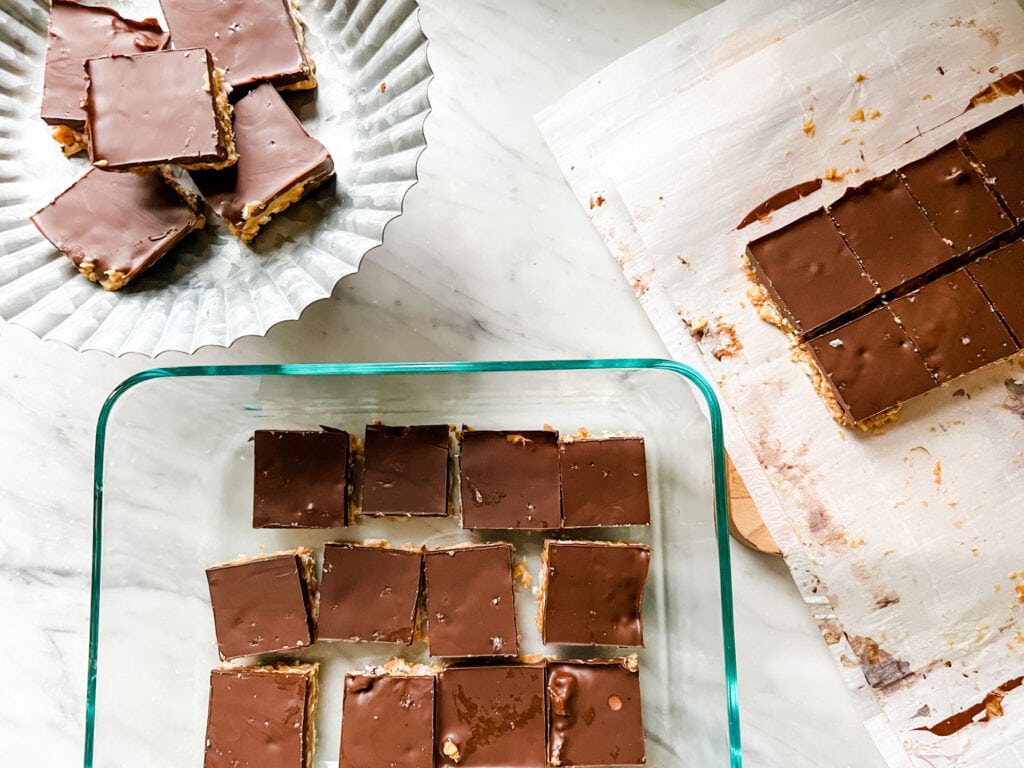 Easy no-bake peanut butter crunch bars. I love a no-bake treat. I've been making protein bites or energy bites for a few years now, and sometimes I'm too lazy to make balls. Making them into bars is even easier and no less delicious.
This recipe is based on one from Dada Eats. I love the addition of lightly salted rice cakes. Total game changer! A little square makes such a delicious treat. Sweet and a little bit salty!
In case you are new here, I join my friends Cindy and Mary Ann every Sunday, and we each share our favorite finds of the week! Mine had to include these bars and a few other things that caught my eye!
The Ingredients You'll Need to Make These Peanut Butter Crunch Bars
Peanut butter
honey
Dark chocolate chips (or your favorite kind of chocolate or a combination).
coconut oil
Special Equipment Needed:
An 8×8 pan with square edges (square edges make it easier to cut the bars).
Parchment paper – Cut the exact pan width of two rectangles, but leave enough on the ends for overhang.
Binder clips (optional, but it does keep the parchment paper in place).
A heat-proof glass bowl can be used with a pan as a double boiler or in the microwave.
Silicone spatula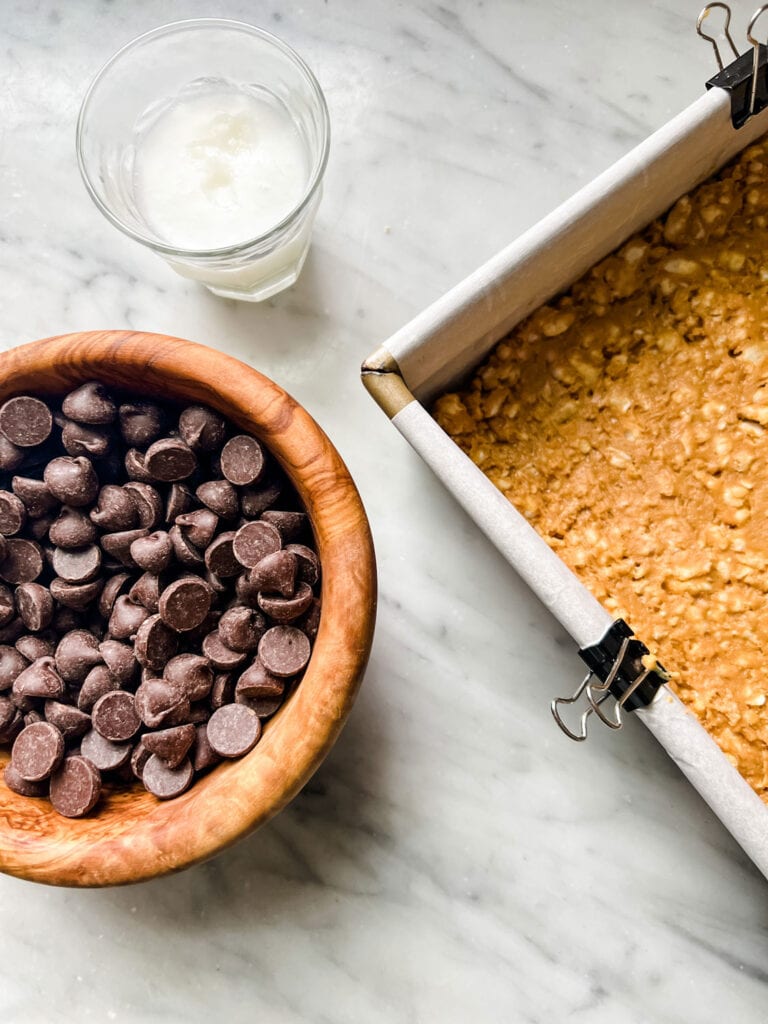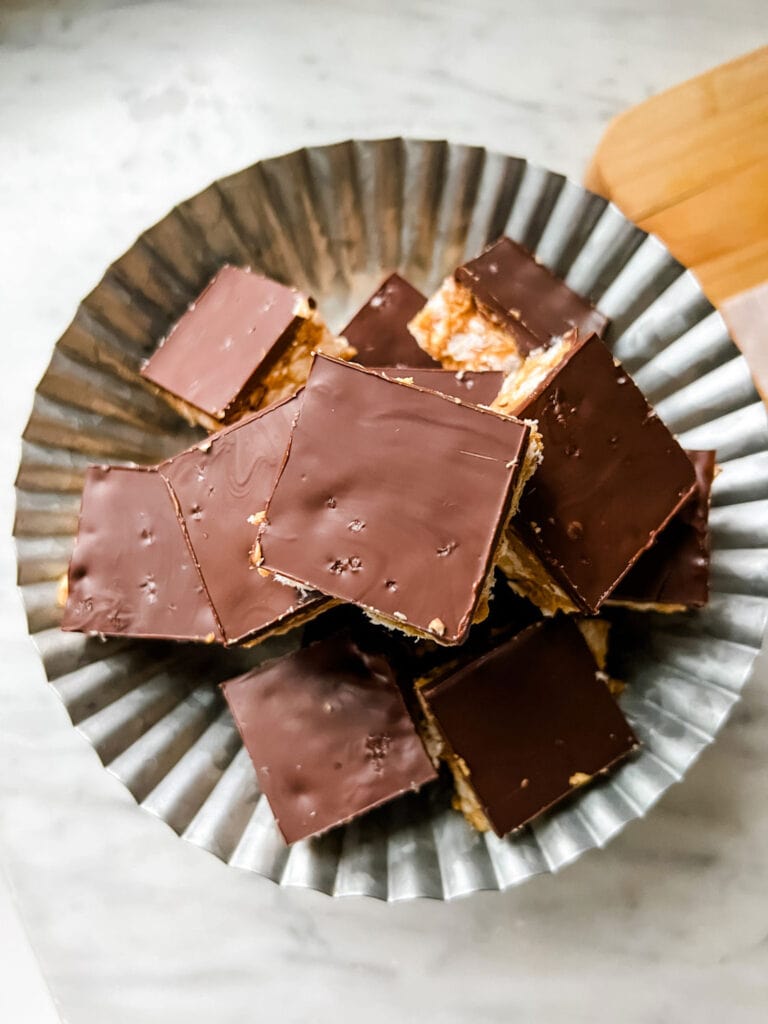 Print
No-Bake Peanut Butter Crunch Bars
A no-bake treat that gets its crunch from lightly salted rice cakes. 
Prep Time:

15 minutes

Cook Time:

8 minutes

Total Time:

23 minutes

Yield:

2

4

1

x
1 cup

creamy peanut butter (or any nut butter)

4

lightly salted rice cakes

1/2 cup

honey

1 1/4 cups

of dark chocolate chips

1/4 cup

coconut oil
Flaky sea salt
Instructions
Melt the peanut butter in a heat-proof bowl over a pot of simmering hot water on the stove or you could melt it in the microwave.
Add the honey and stir to combine.
Mix in the crumbled rice cakes.
Line an 8×8 baking pan with parchment paper.
Spread the peanut butter and rice cake mixture evenly on the bottom of the pan.
Then melt the chocolate chips and coconut oil over a pot of simmering water or in the microwave until smooth.
Pour the chocolate over the layer of peanut butter and sprinkle with a bit of flaky sea salt. 
Refrigerate for at least an hour and cut into squares. Serve cold and store in the refrigerator.
Keywords: no-bake, dessert, bars, peanut butter, chocolate
If you liked Easy no-bake peanut butter crunch bars, you might also like this recipe: Tahini Chocolate Chip No-Bake Protein Bites recipe.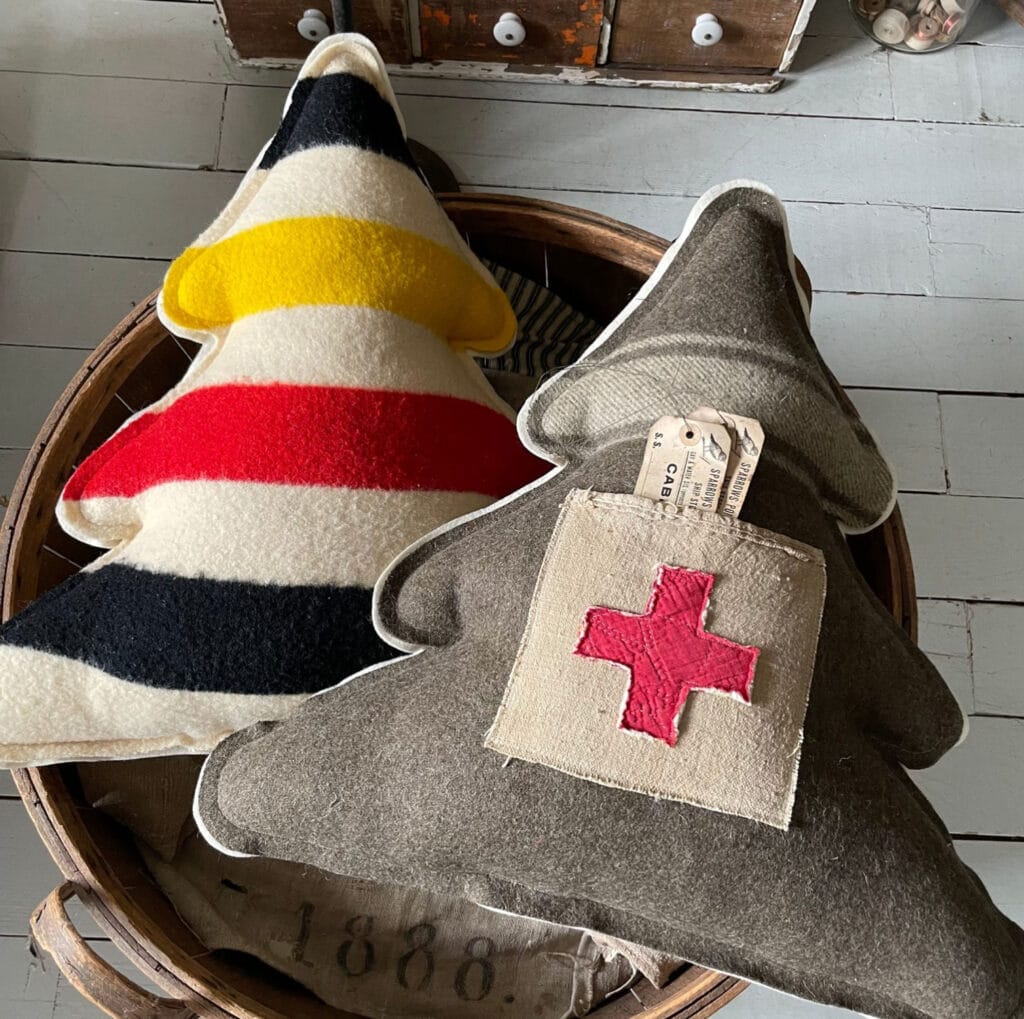 Christina is a maker and a picker working in a converted barn in New Jersey. She sources well-loved textiles and gives them a new life. Check out her adorable tree-shaped pillows. She's launching her new website today, so act fast if you see something you like! The site launches on April 16, 7 pm EST.
Make sure to follow her on Instagram @thehalseyhomestead
This Tree Stump Outdoor Table
When I posted about my new black tree stump outdoor side table, I had not yet received it. I did a round-up of a few favorites in this post, but I have to say, this $100 Target table is my favorite.
It's so pretty that I could see a couple of them, or even three, as a grouping of coffee tables between a pair of sofas. I kind of love that look of a trio of round tables. Modern, yet it works with traditional. But we love it outside too!
Gallery Walls
I have been a fan of gallery walls since I was a child. My friend's mom had a gallery wall mounted on wool felt pieces as frames. I think they were art cards from museum gift shops, but I could not be sure. This was in the 1970s, so who knows? But this little corner of art left a big impression on me.
I loved this article on gallery walls from Elsie Green. You will probably recognize a few from Pinterest. I have a Pinterest board on Gallery Walls and have pinned a few of these over the years. Follow me on Pinterest here!
Gallery Wall at Elsie Green
You might like this post on Gallery Walls on Big Walls.
And this one…A Shop Tour of Elsie Green
Cafe Curtains
I'm a huge fan of cafe curtains. Nothing fancy. In fact, the simpler, the better. I'm considering adding them to my kitchen and dining room windows instead of shutters. If only I could sew!
Remodelista – Trend Alert: Cafe Curtains Get a Glow Up
Check out this article from Remodelista on the popularity of unfussy cafe curtains.
A Dining Room with Simple Cafe Curtains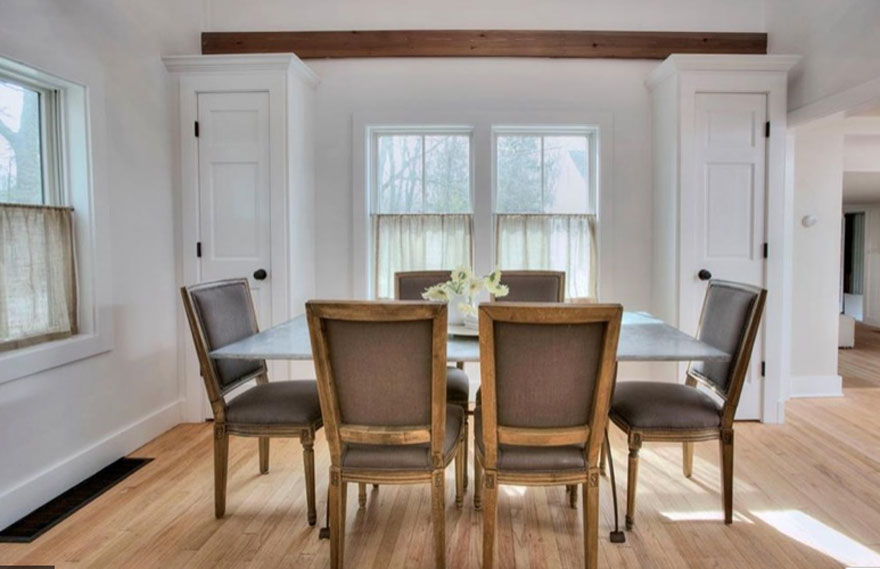 You might like this post that I wrote featuring my friend Karen Angelo. Karen used leftover fabric to make simple cafe curtains in the dining room of her Connecticut cottage.
Let's see what Cindy and Mary Ann found this week in their travels!
pin for later