Making a simple cuticle oil that also removes stains is something too good not to share! This time of year, if you're like me, your toenails have been covered with nail polish since the first hint of sandal season. I usually go to the salon and look away when they remove the polish, knowing they are probably discolored and horrible looking. This is why I keep choosing a color like this or this!
I removed my polish at home and, for a few days, thought that maybe I would have to wait weeks before I could wear open-toe shoes again. Then I remembered the cuticle oil I make using essential oils and tried it.
Within a few hours, my nails were about 70% clear. I applied the oil twice the first day and then repeated it the next day. By day three, they were back to normal, clean-looking nails with almost no discoloration. I went to get a pedicure and just had a buff as I do with my fingernails. So when you're ready to give your nails a break from polish, make this simple cuticle oil that will also remove stains!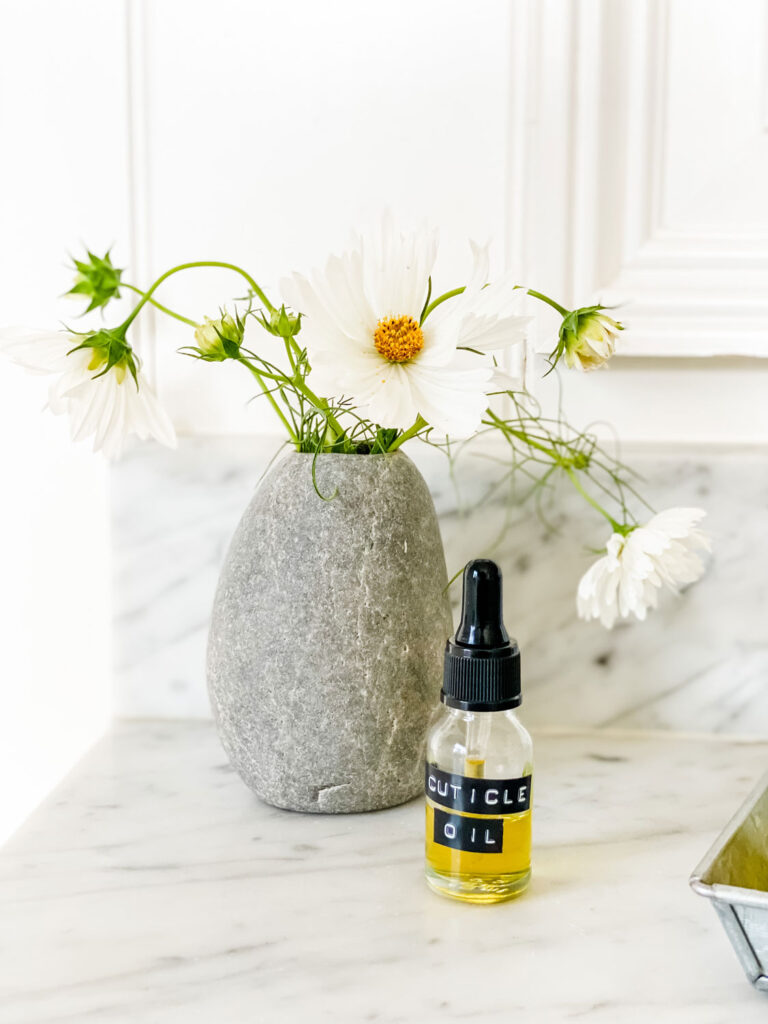 Why did I want to remove my nail polish?
I usually do this in the winter to give my nails a break. I typically add manicures and pedicures to my to-do list when I travel. But for an extended vacation, I think I'll try going all-natural. It's so much easier not to worry about finding a nail salon.
What supplies do I need to make cuticle oil?
Lemon Essential Oil
Rosemary Essential Oil
Eucalyptus Essential Oil
Clove Essential Oil
Where Can I buy these oils?
From me! I love them so much that I do sell them. Feel free to email me with any questions @annie@mostlovelythings.com, or here is a link to the oils you'll need. You will also need a carrier oil and a small dropper bottle.
Print
Make a simple cuticle oil that also removes stains!
This combination of oils works beautifully as a cuticle oil, but as an added bonus, it removes the discoloration from nails after long-wearing polish.
20

drops of lemon essential oil

10

drops of rosemary essential oil

10

drops of eucalyptus essential oil

10

drops of clove essential oil
Instructions
Add drops into a clean glass bottle, and then add jojoba, argan, or carrier oil.
Add a dropper to the bottle.
Apply to nails once or twice a day.
What are some other household uses for these essential oils?
Here are the ways we use lemon essential oil
Laundry Stain Remover
Lemon essential oil is my all-time favorite. It smells amazing! But aside from the intoxicating fresh lemon scent, it's a household staple around here.
If you've ever had a stubborn stain where you've tried everything, and maybe at best, it lightens the stains, then you need to try lemon essential oil. It has saved many pieces of clothing and table linens. Grease stains can be the worst to get out of some fabrics. I use lemon straight from the bottle onto the stain and then add a little dish detergent on top. Rub gently and launder; depending on the stain's severity, it's either completely gone, or you may have to repeat one more time. In this post, you can read more about how I use it in the laundry room.
Odor Remover
Add a few drops to your baking soda in the refrigerator. I use a shaker like this; fill it with baking soda and about 10-20 drops of lemon essential oil. I place it in the back of my refrigerator and refresh it around the first of every month.
All-natural washing machine cleaner
Instead of buying those packets or tablets to clean your machine, try this all-natural method. Use white vinegar, baking soda, and lemon essential oil. Add it to the drum and a little vinegar and lemon essential oil to the soap dispenser. Use the machine setting for tub or machine cleaning. Finish by wiping everything down, including the washing machine boot seal. Then toss in the rags and run one more hot cycle. Even Architectural Digest wrote about a method that uses all-natural cleaning. Read more here.
Rosemary Essential Oil
I add rosemary essential oil to a spray bottle with a little witch hazel and then top off the bottle with distilled water. It helps with scalp issues and tames the grays!
Eucalyptus Essential Oil
I keep a bottle in the shower. Just a few drops make it feel like a spa.
Clove Essential Oil
Clove eliminates mold. I add about 10 drops to my bottle of Thieves Household Cleaner that I keep in the bathroom.
The kind of essential oils I use and why it matters
I use Young Living Essential Oils because they are pure, therapeutic-grade essential oils making them safe and effective.
Make a simple cuticle oil that also removes stains, if you like td this post, you might also like this one on all-natural insect repellent.
Shop the post