Let's tour Serena & Lily's Roslyn design shop. It's the brand's newest shop, and it's gorgeous.
Every Sunday, I join my friends Cindy and Mary Ann to share our favorite finds of the week! Today it's all about my recent visit to the newest Serena & Lily store!
I spoke to Allyson McGrath, Senior Vice President of Design Shops at Serena & Lily, about the latest store opening. She said she was looking for a location on Long Island when she came across an old building with a for lease sign right in the village of Roslyn. It was once the town's police department. Allyson said the building was vacant and in need of a lot of work, yet in just a little over a year from her first walk-through, it is now home to the brand's newest shop.
Serena & Lily has 18 beautiful design shops all over the country. When I worked at the Westport store, it was only the third location after San Francisco and Wainscott in The Hamptons.
Each Design Shop is Different and Unique
Each shop is very different. The Wainscott store is in a converted service station turned antique shop, now Serena & Lily's Hampton location. The Connecticut store took over a historic home, but first, it had to be moved across the street to the existing location on Elm Street in downtown Westport, CT. It's what makes each location so special and part of the community.
1489 Old Northern Blvd.
Roslyn, New York
The Roslyn store is on a stretch of road through town, giving the shop great visibility. I am sure the town of Roslyn was thrilled when the historic building was renovated beautifully. Even the landscaping is perfect.
Décor at Serena & Lily
Serena & Lily is a one-stop shop for home interiors and outdoors. They have a small but well-selected amount of small items perfect for making a house a home.
Gorgeous baskets to use all over the house. Serving pieces to use every day and when entertaining. Items that add that extra layer of warmth to a home that serves as art and function. Why have boring glassware or a tray when you can use beautiful pieces that enhance your home and lifestyle? To me, that's what Serena & Lily is all about. Elevating the everyday! Because every day is special!
Items From the Above Photos on the Main Floor of the Design Shop
Lima Baskets // Montara Floor Mirror // Sunflower Wallpaper // Palmetto Wallpaper // Bowden Pillow Cover // Asheville Pillow Cover // Heath Pillow Cover // Mendocino Pillow Cover // Bowden Pillow Cover // Milos Pillow Cover // Pryce Pillow Cover // Driftway Bookshelf // Yarmouth Swivel Chair // Grey Lady Shelfie™ // At Home on the Water book // Feel Like Home book

As described in the catalog, the Palmetto wallpaper design by Serena Dugan- "Serena's version of an Indian damask looks bold and gorgeous on walls. Loose, painterly lines and fresh colors strike a perfect balance between preppy and bohemian."
Atwater Mirror // Palmetto Wallpaper
Entertaining by Serena & Lily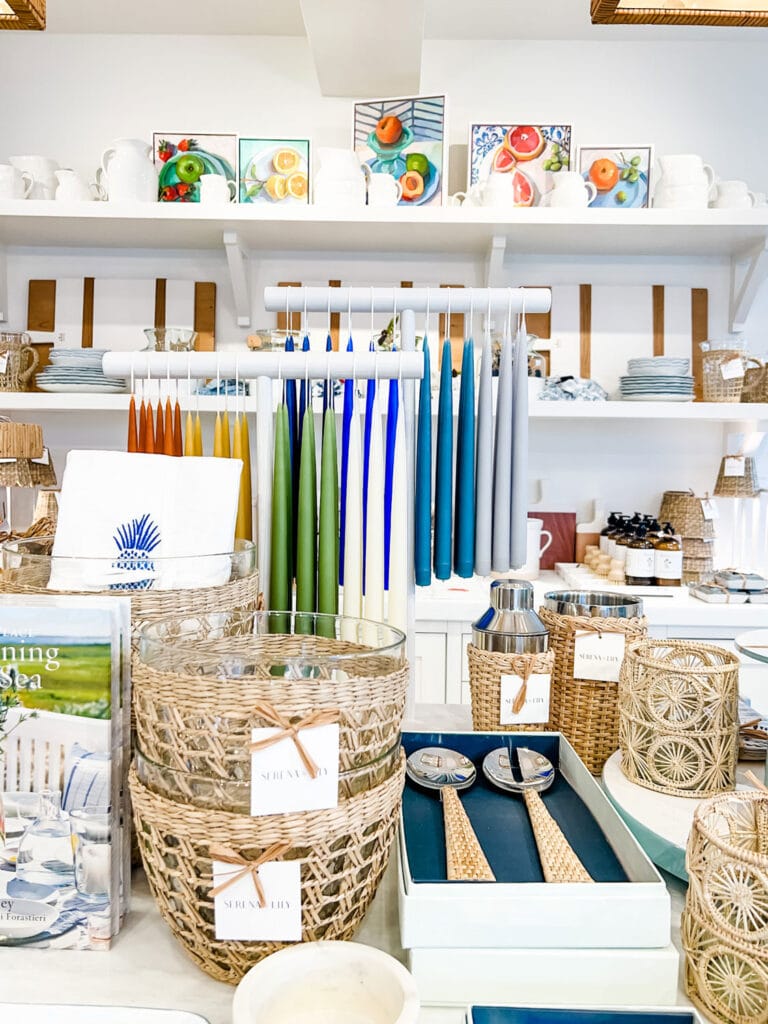 Poetto Vase // Vine Napkin Rings // Talum Serving Set // Talum Cocktail Shaker // Isles Vessel // Woodbury Serving Board // Cayman Glasses // Carmel Rattan Taper Holder // Tapered Candles Set of 6 // Bamboo 5-piece Placesetting // Catalonia Coasters

The Outdoor Deck
Tofino Hurricane // Tofino Sofa // Tofino Swivel Chair // Cabrillo Side Table // Rockmere Garden Table // Bamileke Coffee Table // Salt Creek Lounge Chair // Salerno Outdoor Pillow // Eastport Striped Umbrella // Perennials Ridgewater Pillow Cover // Perennials Stripe Pillow Cover // Les Jardin Roam Solar Lantern // Madaket Outdoor Baskets

I hope you enjoyed seeing a little of the Serena & Lily Roslyn Design Shop. If you have a store near you, drop in for some inspiration. The stores change over several times a year, and every time, I am amazed at how beautiful, new, and creative they get in designing and redesigning each space in every shop.
Shop my favorite Serena & Lily items in our home here!
Let's go see what Cindy & Mary Ann found this week!
Make sure to read Cindy's Ageless Style post this week and Mary Ann's post on her new pool!