I'm joining the 2019 Holiday Tour of Homes again this year and sharing our front porch. This year instead of each blogger sharing their entire home, we are choosing one room. At first I thought this took the pressure off not having to get the entire house ready and then I thought…wow, that's a lot of pressure to get one space just right. Wouldn't you know…it snowed all day just in time for taking photos of our outdoors! The timing could not have been better.
our outdoor spaces in winter
I love making our outdoor spaces beautiful in the winter. Even if you live where it's snowy and cold, your front door is still the space that makes that first impression of your home. It kind of gives people an idea of what's to come once they enter your home. Lighting, natural greens and candle light will welcome you on the front porch and once you walk in it's pretty much the same. If it's the weekend, Brent is probably making something yummy and you'll smell it as soon as you open the door!
I stick with simple evergreens so that after Christmas it looks wintry, but not too holiday. In the past I've used Dogwood branches and with their natural red color, they look beautiful…until January. But they are frozen in the soil until March. I thought about hanging lights and then decided to go very low maintenance and put a strand of larger Christmas lights in a big Anchor-Hocking jar. Candles are in the planter on the stool. The metal bench is from Target and a new addition that works as well outside as it does in the dining room.
The Side Door gets holiday treatment too!
This door is at the side of the house and is the entrance to the basement. When we bought the home a few years ago, it was apparent that no one ever gave much thought to making this look like a proper entrance. It's where everyone sees it, so why not make it look beautiful? We foraged the greens and stuck them into the galvanized planter. We also added greens to our door basket and the leftover swag from the front door. The sconce is from Barn Light Electric and we upgraded to the Dusk-to-Dawn Photocell, which I highly recommend. It means never having to come home in the dark!
Enter to win a wreath like ours
*****Giveaway Closed! Winner has been notified*****
Our beautiful front door wreath is from Lynch Creek Farm. It is the Blended Bay wreath and you could win one too! The wreaths from Lynch Creek Farm arrive so fresh and last all season. Make sure to leave a comment and follow @most_lovely_things and @lynchcreekfarm on Instagram for a chance to win a wreath like this one. Contest ends December 3rd at 7pm EST. You can order it with a beautiful bow, but I like things a bit informal and just used rope from the hardware store.
Our Backyard in Winter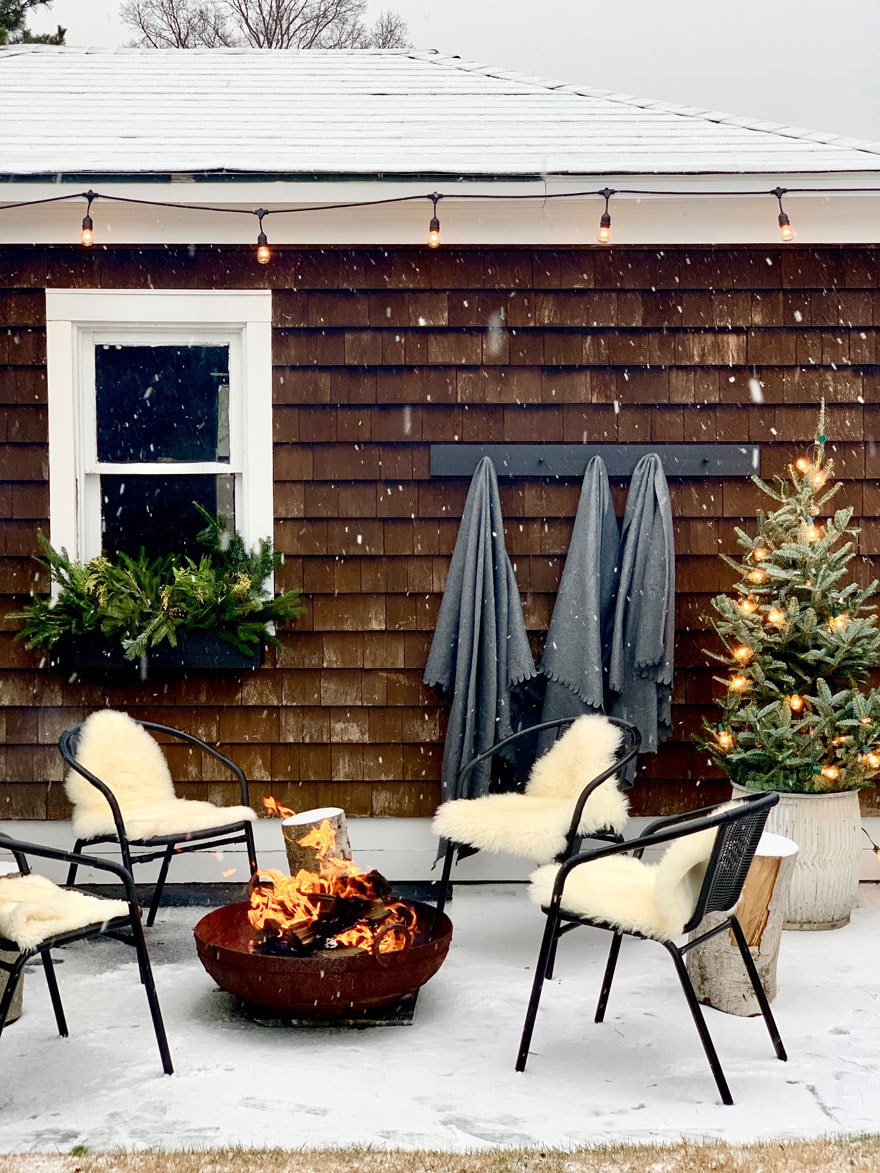 Remember this patio from spring? With a fresh layer of snow, a roaring fire and sheepskins on the chairs, it makes it fun to be outside during the first snow of the season. A tree from Home Depot and foraged greens in the window box and falling snow is all it took to transform this little patio into a magical wonderland.
Thanks for visiting our holiday home tour and make sure you visit Heather at Southern State of Mind to see what she has in store sharing her outdoor spaces.
SHOP THE POST

Monday, December 2nd (Front Porch/Outdoor Spaces)
Cyndy at The Creativity Exchange | Julie at Less-Than-Perfect Life of Bliss | Annie at Most Lovely Things | Heather at Southern State of Mind | Sara at Sincerely Sara D | Rhoda at Southern Hospitality
Tuesday, December 3rd (Entries/Dining Rooms)
Amy at 11 Magnolia Lane | Tammy at Pink Peppermint Design | Tam at Citrine Living | Cindy at Rough Luxe Lifestyle | Heidi at Home by Heidi | Deb at Seeking Lavender Lane
Wednesday, December 4th (Living Rooms/Dens)
Marty at A Stroll Thru Life | Heather at Setting for Four | Jen at Stylehouse Interiors | Rachael at This is Our Bliss | Amanda at Dixie Delights | Paige at The Pink Clutch
Thursday, December 5th (Kitchens, Laundry Rooms, Misc Spaces)
Summer at Summer Adams | Heather at Setting for Four | Andrea at Life on Cedar Lane | Emily at Eleven Gables | Laura at Duke Manor Farm | Amy at 11 Magnolia Lane
Friday, December 6th (Bedrooms)
Christy at 11 Magnolia Lane | Jenny at Evolution of Style | Heather at The Heathered Nest | Shand at Quarters One | Amanda at Sincerely Marie Designs | Christy at Our Southern Home
You might also like this post: A Connecticut Cottage at Christmas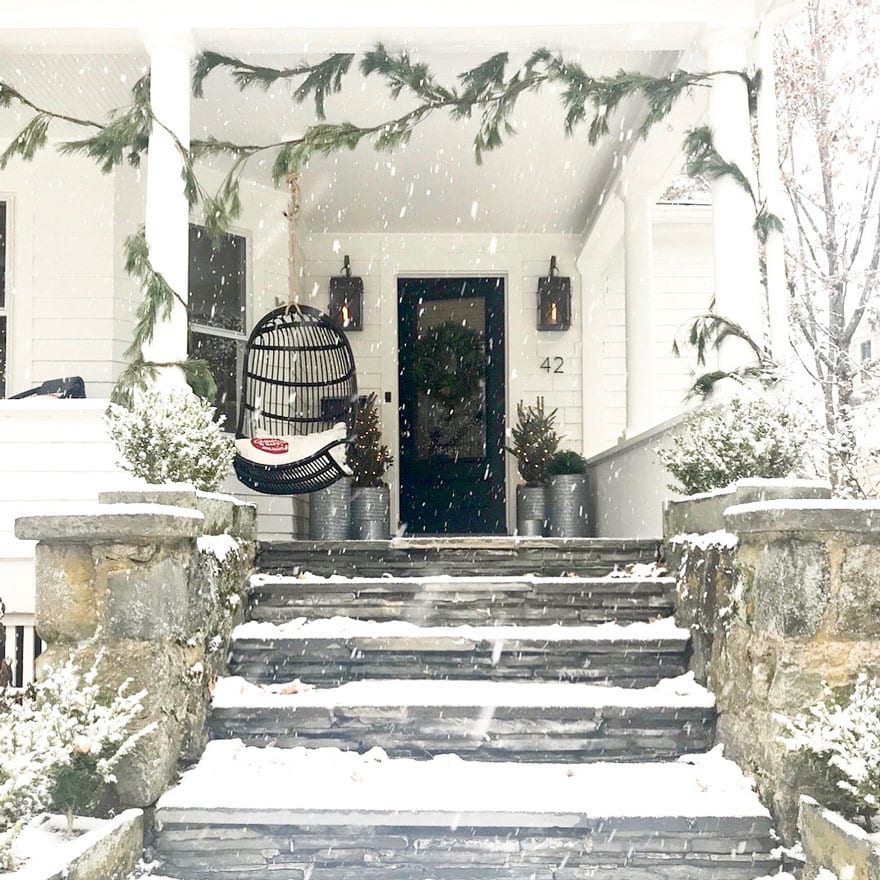 Or this one: Central Park in Snow